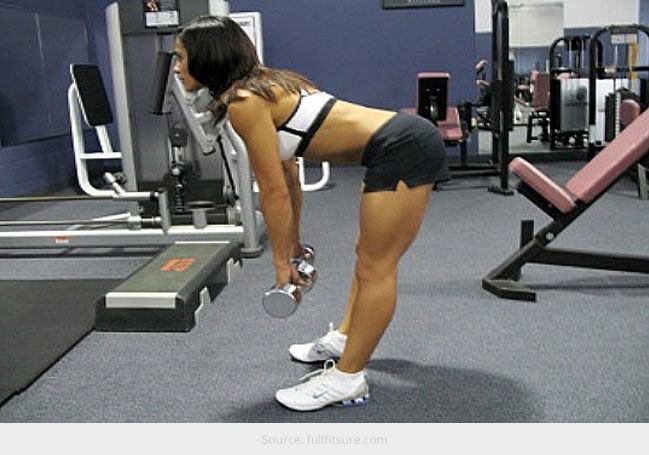 Only if attaining a sexy derrière would have been a quick endeavor – the world wouldn't be going mad over the jealous-worthy backsides of Jennifer Lopez and Kim Kardashian. But when it comes to getting an attractive backside, believe us when we say, it is all about getting a right combination of cardio and regular strength training exercises, and healthy diet. You would need to shock your lower extremities from the calves to the hips. Irrespective of the fact that you are a beginner or a gym rat, today we have for you some awesome butt-sculpting exercises, which will burn up the calories, leaving you with a shaped up rear view.
Exercise for a Sexy Butt 1: Brazilian Butt Sculptor
Brazilian ladies are known their curvatures and sculpted back side. Dedicated upon the charm of such firm butt women, here's how you can tone your butts and get curvy back using a stability ball. Start by lying face down on the stability ball with both your palms and toes touching the ball. While maintaining this posture, place the stability ball firmly resting on your pelvis. Flex your glutes and raise your legs as high as you can. Hold this position for a couple of breaths and bring the feet together. Perform this exercise one after the other and repeat for 8 counts.
Exercise for a Sexy Butt 2: Quadruped Hip Extension
If there is one super effective exercise out there that can activate your glutes within a short span of time, then it has to be the quadruped hip extension exercise. To perform this exercise, kneel down on both your legs and hands. Now, put your hands under your shoulders and place your knees right under your hips. Start by lifting your knee off the floor, making sure that you are straightening your back and tightening your stomach muscles. Maintain your knee in a 90-degree position for the count of 5 and now get back to the starting position. Repeat this exercise for 10-12 times, and repeat this exercise with another leg.
Exercise for a Sexy Butt 3: Barbell Hip Thrust
This exercise thrusts and shapes your hips for a whole new curvy appearance. To perform this exercise, start by sitting on the ground by placing your shoulder against the bench. Keep your knees bent while performing this exercise. Now, place a barbell with desired weight on your lap. Gradually raise the barbell by flexing your glutes and pushing the barbell up. When your body forms a straight line from shoulder to knees, maintain this position. Now, slowly get your hips on the floor. You have completed one full exercise this way!
[sc:mediad]
Exercise for a Sexy Butt 4: Reverse lunges
To perform this exercise, start by standing up straight and by bending your knees slightly, start by putting your left knee above your left ankle. In the process, make sure you are tightening your stomach muscles and relaxing your shoulders. Now, bend your left leg at 90 degrees as you lower your right knee onto the floor. Stop right at the point where your knee touches the floor and push it towards your other leg and stand up. Complete 10-12 steps and switch legs with your right leg.
Exercise for a Sexy Butt 5: Squats
Squats is one of the best exercises, which helps in toning your backside muscles and flattening your tummy. For this exercise, start by standing up straight keeping your knees in shoulder-width apart direction. Bend your knees slightly, sit down and lower your hips towards the floor. Go as low as you can, stopping only when you ideally reach the 90-degree angle. While performing this exercise, do not allow the knees to move forward from your toes. Come back to the starting position and complete 10-12 repetitions of this exercise.
There you have it, our list of top 5 sexy-butt exercises, which will help you in toning your booty and shaping gluteal muscles effectively.