Most of us consider wearing the same outfit as another person, totally embarrassing and offensive. But the B-world has a different way of perceiving this scenario making it both competitive and fun.
As we were browsing through the social media feeds, we stumbled upon two fashion-faceoffs that could keep you engaged.
Sonakshi Sinha v/s Shilpa Shetty
Sonakshi Sinha and Shilpa Shetty were both spotted doing Arpita Mehta style and each style has been customized to meet the individual's demands. While both opted for the similar floral lacy crop top, Sonakshi chose the typical traditional look by opting for floral lehenga and dupatta.
Unlike Sonakshi, Shilpa gave her style indo-western vibes by coupling her crop top with easy breezy pants and floral bell-sleeved floor-length cape.
While Sonakshi chose to pin her hair sleek and soft, Shilpa went with the mid-parted wavy signature hairdo. Which style would you prefer?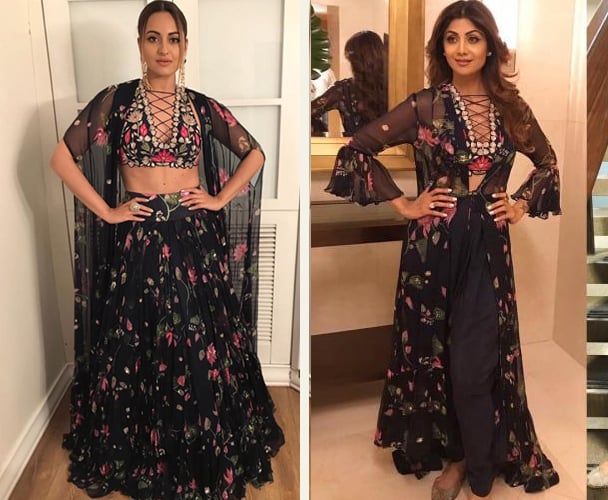 Rakul Preet Singh v/s Neha Dhupia
While Sonakshi Sinha and Shilpa Shetty customized their outfits, Rakul Preet Singh and Neha Dhupia have done a ditto style.
Rakul Preet attended a charity event in Hyderabad dressed elegant and chic in a Shantanu & Nikhil outfit. Neha Dhupia was spotted doing the same style at the Miss India 2017.
While Rakul Preet chose to go zero with accessories, Neha Dhupia added sparkling jewelry and a black Bottega Veneta clutch.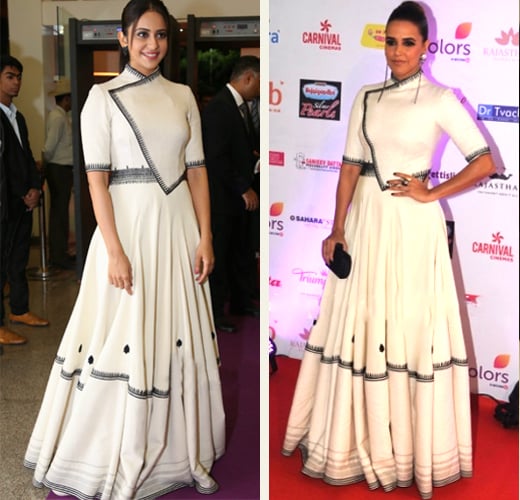 We believe both the divas did spectacularly in this fashion faceoff, but who's your favorite?
Images Source: Instagram