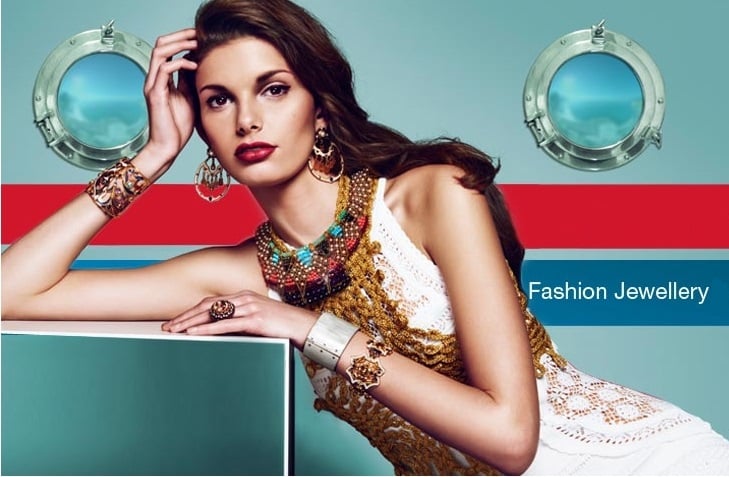 Spring, as the brand new season is fast approaching with bright colors, some more light and not to mention cute dresses; the fashion runways are already geared up to bid farewell to the chilling winter days.
While big fashion brands like Fendi and Chloe are now sending down their models being clad in beautiful spring jewelries; the less popular jewelry houses are also making big news in the circuit for their unique designs. Read on to find out more!
After spending hours on browsing over latest designs by world's prominent fashion brands, my heart finally fell for particular labels, Fendi being the first one. Fendi's spring jewelry collection is an investment to be cherished upon the rest of the life. Every piece of jewelry has a story to tell and this is the reason I am drooling over Fendi's spring collection 2014 designed by jewelry designer Delfina Delettrez.
The collection includes earrings, bracelets, brooches and rings. My personal favorite is Fendi's iconic fur motif. The fur motifs along with other quintessential accessories are a graceful mix of Art Deco and whimsy elements, which can dramatically spice up any outfit you wear giving you a luxury feel.
As per Fendi's jewelry designer Delettrez,
"This jewelry collection is a migration of tropical birds and colored roosters towards the body while they mutate into rings, bracelets, and earrings. Free to interpretation… that leaves an initial suspense."
While every piece of jewelry has a story to tell, you would love to carry it everywhere you go. And when it comes to my getting ready even it's for a movie, I just cannot leave my spring jewelries behind as now I feel incomplete without them.
Akong London Spring 2014 Jewelries
Another brand, which has recently caught my attention, is Akong, whose spring collections are quite a rage these days online.
Do have a quick sneak peek at jewelry designer Nicole Akong's CV and you'll quickly fall in love with this uber-talented designer's collections. Theatrical, eclectic, and exotic are used to refer her creations even by the critics. The self-taught London-based designer keeps coming up with accessories offering new designs apt for the upcoming season.
And this time, the jewelry designer has come up with some enigmatic accessories designed especially for Spring 2014. Her latest Imperial Collection channels the Swarovski elements imbibed with rich heritage of Chinese dynasties crafted into bracelets, necklaces and earrings.
As per Akong, her collection is about "concubine-meets-girl about town". The rich embellished spring jewelries are instant head turners with high on drama and opulence.
Akong London is now worldwide popular for its pompous fusion of components encrusted with gemstones and pearls along-with intricate-cut glass and crystal pieces. To create some drama, the designer also adds feathers, fur along with velvet and chains to give an edge to her accessories. Akong's standout hand-crafted jewelries have already earned a cult status among the style cognoscenti and is now in bigger picture of the fashion press as well. Elle, Vogue, Harper's Bazaar and Marie Claire are among the many newsstand magazines that frequently mention her label. As per the designer,
"I like to harness the power of a piece to convey confidence. The Akong girl is 'fierce'. She loves to look fabulous, cool and relaxed – we try to channel the 'model on duty' look."