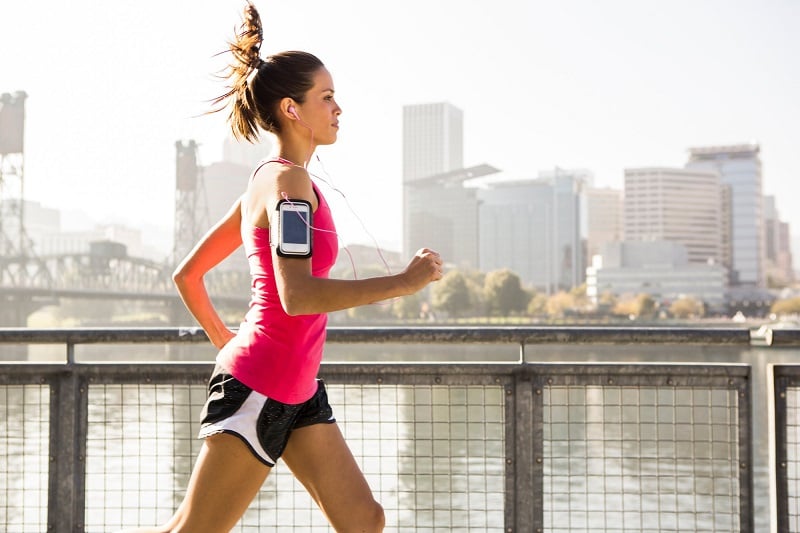 For years, people have been looking for a motivation to join gym or wake up early to go on jogging. And with the advent of wearable gadgets, many electronic companies came up with the idea of fitness trackers – which they claimed to be the ultimate motivation.
A personal activity tracker, which is believed to help reach the goal, has undergone several upgradations. And with advanced features adhering to fitness, these wearable gadgets are now all the rage.
From companies like Nike and Samsung to LG, Adidas and Polar, all have geared up to induce the best possible features for fitness conscious on the go.
Did you know the first fitness gadget was launched in 1981, which were wearable heart rate monitors for athletes? These wristwatch-sized bicycle computers monitored speed, duration, distance etc.
By 2006, the much evolved wearable fitness tracking computers were available with highly integrated fitness training and planning software and started to be sold as consumer products.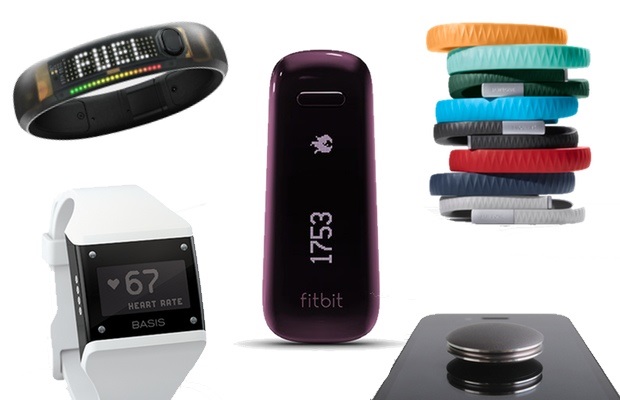 Today, there are dozens of options available in the market that gather forage of biometric data all stacked in a wrist-watch or band like wearable device. Last year, the market didn't witness an impressive elevation in fitness gadgets in terms of statistical sense.
However, 2014 is believed to offer a different story thanks to the mass craze in wearable technology. The industry today is beaming up with giants like Sony, LG, Samsung and Nike along-with lesser-known companies such as Fitbit closing the gap.
That being said, there is an array of fitness trackers lined up in the market, each designed to suit individual likeness and requisites. While most of these wearable devices are effortlessly designed to be worn directly around your wrist like resembling watch or bracelet, other trackers easily clip to the pocket or zipper, thereby becoming an ultimate style statement even working out in gym or jogging around.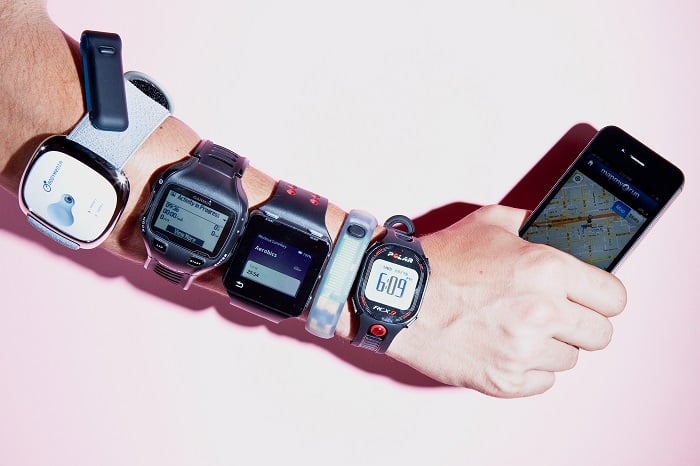 Though each device, offered by different companies, touts specialized features and functionality, most of them report everything from the amount of calories being burned on the run to the number of times one wakes up while sleeping. The more advanced features include monitoring heart rate, elevation gain, and travel distance that are relevant among other statistics required for a sports person.
To make it more appealing, these fitness devices are compatible with Smartphones via built-in Bluetooth, where they automatically sync in health data accompanied by others apps. They even let the user know about his/her progress through wealth of analytical trends and charts.
Now that's called smart technology accentuated with doses of style quotient!
Let's discuss about the top 3 leading fitness trackers, which are now ultimate style statement as well for figure conscious fashionista on the go. That brings us to the much popular –
Samsung Gear Fit
While fitness trackers and smartwatches come a dime a dozen, Samsung has however managed to combine the best of both. The brand claims to offer the perfect solution through their Gear Fit – a fitness wrist band flaunting a stylish design with curved screen, as well as a heart rate monitor, pedometer and a few smartwatch features thrown in for good measure.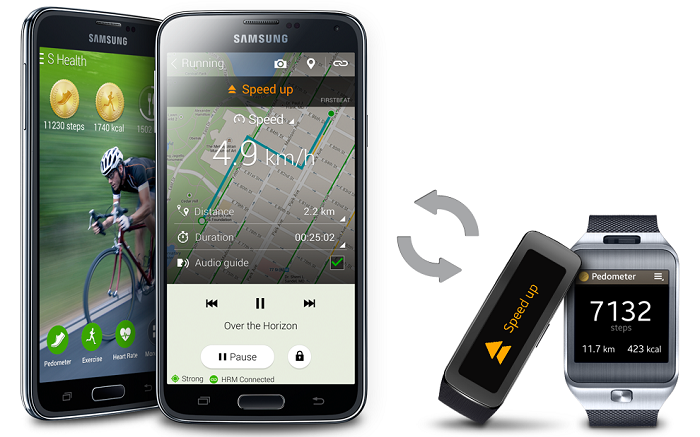 Samsung's Gear 2, which has a more stylish design than its predecessor, features a refined design, heart rate monitor, bulbous camera, built-in IR blaster and heart-rate monitor. The My Apps features preloaded and third-party watch apps, which can also be removed from Favorites, the top-level menu on the watch.
Nike Fuelband
Nike offer their latest Nike+FuelBand that tracks your daily exercise and the calories burnt while doing those activities. For every activity, the LED in this Nike band will light up, thereby letting you know your progress.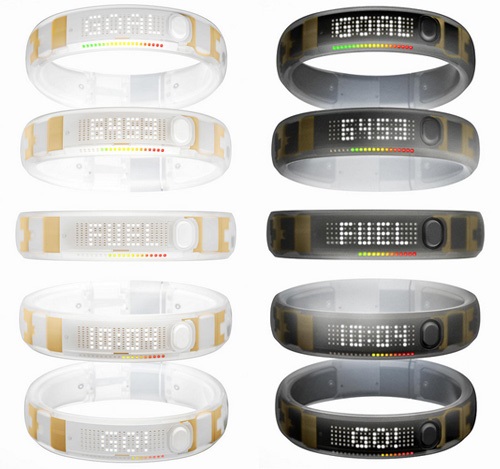 You can set these goals, view detailed progress, and unlock achievements to stay motivated, or share it with your social networks via its iPhone app.
The wristband comprises of motion sensors which tracks your movement throughout the day, which is then translated into 'Nike Fuel' points. These points then let you compare yourself to others, regardless of the sports you're doing.
The device also counts the steps you take – 10,000 per day are seen as a good indicator of a healthy lifestyle. By this you can keep a track of your daily physical activity.
LG Lifeband Touch (Android/iOS)
It seems even LG has also joined the rat race. The OLED, touch-scroll screen of this hi-tech band enables the user to track steps, calories that are burned, elevation, and monitor messages from Android and iOS devices with the swipe of a finger.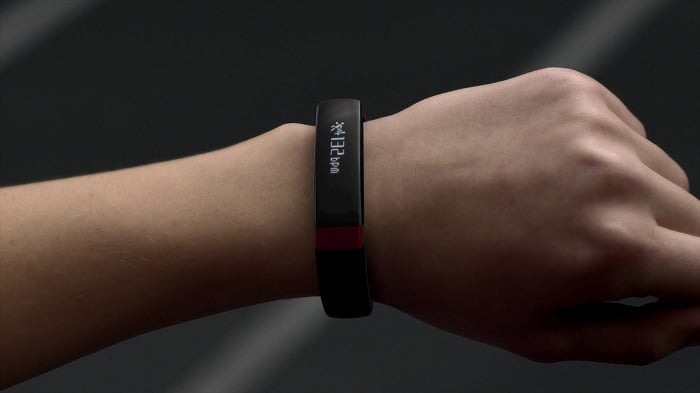 Besides, the wearable gadget is compatible with third-party apps and also features a 3-axis accelerator measuring acceleration forward, backward, and side to side.
Hope this helps! Stay fit stay fashionable!!