Summer temperatures are soaring high, and this is a time when we get all sweaty and smelly. But wait, you can beat that for sure, when you choose to wear fruity floral perfumes. These are fragrances that help elevate the mood and set the zing for the summer season as well. Right from work to beach parties, night clubs to casual hangout with friends, there are lovely fruity floral perfumes for you to wear and be happy in. Check them out!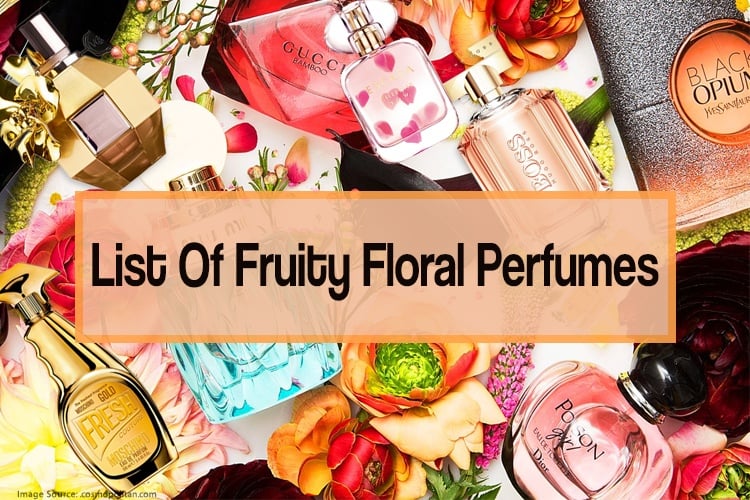 It is not an easy task to choose a perfume that is right for you. However, it may get easy for you if we told you that there are approximately five beautiful fragrances. They are-
Wearing any of the perfume fragrances mentioned above is just not about your personality to flaunt, but it is mood-based too. And you would also want to wear a perfume based on the given day and how you feel as well, isnt it? This is why, when you want to feel ultra feminine and chic, you must try out from a range of fruity floral perfumes. Citrus perfumes are very masculine to say, but if you are in a mood quite playful, you can wear a mix of fruity floral and citrus perfume.
While most women love wearing oriental perfumes, to add a touch of mystery to their mood, they mix it with woody too. And it is for special occasions or when they are out on a special date with a special someone that they choose such tones and notes to wear. Finally, if you have deep nostalgia for something, the gourmand perfumes come into play.
How Do You Choose The Right Perfume For The Summer Months?
While we are going to talk about Fruity Floral perfumes, we would ask you to look for lighter versions of them than what you otherwise normally wear. It would help enhance the mood during the sweltering summers. If it is categorized as EAU FRESH, the perfume then would be light, else it is not.
Summer ready fragrances are a plenty for you to choose from. Some of them are widely available in wood and citrus based. But again, they are not feminine to sniff and feel. They are good options though, but nothing beats the charm of light fruity floral fragrances, which are breezier and charming to say the least. They smell nice, they last for long and they don't seem to be too loud as well.
To get the real smell of the perfume, one should try it when they are out and about outside the store. The real smell of the perfume is also felt when you are not in an air conditioned room.
For the summer months, beach inspired fragrances are a hit, but bigger hits are the floral fruity ones such as jasmine, daisies and roses. They are light and nice. The beach inspired ones are are cool and airy to wear. Fruit floral notes ensure that you smell great all day long.
The weather is hot out there, so you could try perfumes that have a single note to them. You do not wish to wear something pungent while the weather beats you down, now do you? Jasmines are nice, so are lavender and roses. They might seem to be powerful but for the summer months they are perfect.
Fruit inspired floral perfumes are a rage now, and some of the most popular ones are lime and strawberry, or even grapefruit as well. They are very soothing and crisp, and pep you up for the long day to come.
When picking up the best fruity floral perfumes, you should spend time deciding on which fragrance is right. Trying testers and then buying the perfume on the spot is actually not the right way to shop. What you should do is to spray a little of the fruity perfume on your wrist, and then walk around a little. If the smell on the wrist after five minutes to ten is still enticing, go ahead and buy it.
Remember, since the weather climes are rising, what you would need is a fragrance which is light and nice. You don't wish to be caught in something intense and heavy, because that is a sure shot recipe to a headache.
For work, you could wear light blossom perfumes which will leave you smelling fresh and happy all day long. Even a dash of vanilla could be great.
If you are heading to the beach, a minty coconut-ish perfume would be nice to wear
For a special date with someone special, rose or sweet almond with a touch of citrusy thrown in with flower fragrance perfumes would be nice.
For a walk in the park maybe, you could have orange blossoms and a touch of flower fragrance perfumes of your choice mixed. It wont be too loud or too strong.
After a spa maybe you could have a mix of watery elements with fruit floral perfumes of your choice- jasmine and daisies would be nice.
So now that we have given you a gist on the flower fragrance perfumes that can be worn during the summer months and how it enhances the spirit, here are a couple of must try perfumes for the season.
Ariana Grande Moonlight EDP
Ever wondered what would happen if there was a mix of sweet black currant and juicy plum notes? You have got to wear a perfume like that to know the magic it creates. This is what this perfume does, and the packaging looks super cool and feminine too.
Marc Jacobs Daisy Deluxe Anniversary Edition EDP
Tantalize your senses all day long with the Marc Jacobs Daisy Deluxe Anniversary Edition EDP. This is a fruity floral perfume that can be worn to work all through the week. You would strike the right chord with the boss and the clients you have to meet.
All Good Scents Jasmine EDP
It has the best of all floral touches in it, such as cloves and jasmine, and even with notes of cinnamon to stir and titilate the senses too. The aroma is long lasting and can be worn to work or to special events, parties and nightclubs too.
Narciso Rodriguez Fleur Musc For Her EDP
This is a perfume that is best worn when you are out to meet that special someone or are on a special date with your beau. The erogenous mix of rose and pink pepper in this concotion is a special one; one that would blow the mind away with every whiff.
Escada Celebrate N.O.W EDP
Spicy, warm, wet and sweet at the same time, this is a perfume that enhances the mind and the spirit on a hot summer day. Wear it to work or to college or even to a special party, and everyone would want to hover around you for the smell.
Aerin Tuberose Le Jour EDP
For the enigmatic woman in you, you need something that strikes a punch. It could be a mix of floral to woody, musky to tantalizing and more, and this is exactly what the perfume would give you.
Hugo Boss The Scent EDP
We love this perfume because it can be worn just about anywhere. It is very chic, feminine and versatile too. The fruit floral accents in it are strong, and there are plenty of gourmand tones in it which makes it a very modern perfume to own.
Moschino Gold Fresh Couture EDP
We wonder if this perfume is a fruit salad or a fruity spray. Well, what do you expect with a mix of fruity tones, such as mango and white peach, pear and oranges and grapefruit in it. It is a boombastic affair we say and for the summer months it seems apt.
Viktor & Rolf Flowerbomb
Standing true to its name, this is a perfume that has high fruity floral notes to it, tantalizes the senses from the moment you wear it. Perfect to wear for parties or to work while the summer months are on. This is a whiff that you would not want to forget for many days to come.
Kilian Gold Knight EDP
Passionate, splendid and a very daring perfume amongst the many fruit floral perfumes around. This is a bottle that holds the seductive powers of sophistication. A spray of it is more than enough to enliven your hot summer day, and hence it is a must try.
Do write in and tell us, which of these floral fruity numbers caught your fancy the most. We are eager to hear from you. And if there are fruit floral perfumes that you use, do let us know which ones and why!