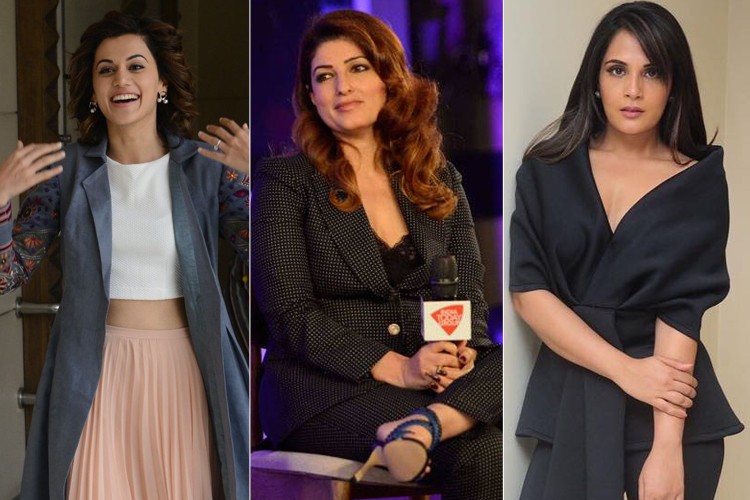 The annual event, India Today Women Summit and Awards 2017 recurred this year on the 24th of March at the ITC Maurya property in Delhi, to acknowledge and commemorate all the super woman who with their grit and work empowered a whole new generation of women.
The event provided a befitting platform to women from distinct walks of life who went beyond their set peripherals, negating stereotypical facts associated with women and achieving breakthrough results, to voice their thoughts and opinions, and sharing their journey to create a perfect mirage of an ideal modern day woman.
Among all the famed pretty faces who were invited to the event, a host of leading ladies from the tinsel town, who are known for their unconventional conduct made an appearance to trigger the spirits of the femme brigade.
These B-Town beauties with brains exuded their unorthodox and individualistic personas, dressed in their most fashionable self.
Scroll down to see all that the leading ladies from the glamour world wore, to the awards night, for increased impact on the minds of the women masses.
Tapsee Pannu
Taapsee Pannu raised eyebrows with her performance in the movie Pink, centered around sexual abuse with women. A strong and opinionated woman in her own right, Tapsee Pannu has always been on the forefront as far as empowering woman suffering from eve teasing and sexual abuse is concerned. The lady never shies away from condemning ruthless men who even today behave like scavengers feasting on women for their pleasure.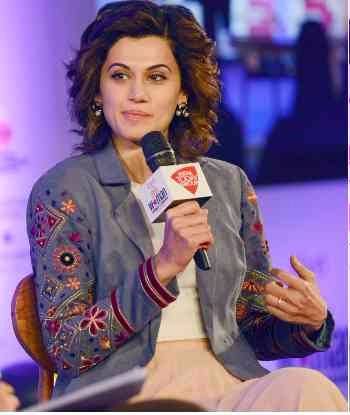 At the India Today Women Summit, Tapsee held a session named, " Fight like a girl, Punch like a woman" belting out some cool life lessons. In the pursuit of encouraging women to take their personal safety seriously, the actress actually packs a few powerful punches while conducting her session.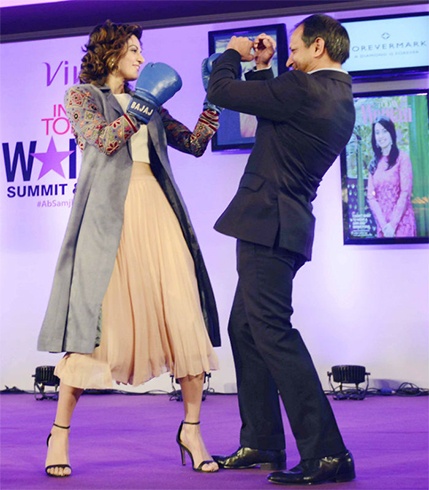 For the event, stylist Devika B dressed up dauntless muse in a pleated peach midi skirt from Asos paired with a satin white crop top from Madison On Peddar. To ensure a more holistic look, Devika layered this casual dress up with a grayish blue long jacket from the house of Abhisri by Srishti. The embroidery that adorned the sleeves and the back of the jacket added all the charms to Tapsee's appearance. The actress sealed her look for the evening with a pair of pearl drop hoops from Avanatam and a pair of black strappy sandals. Her wavy short hair updo along with her flawless makeup courtesy Nikki Rajani caught all our attention.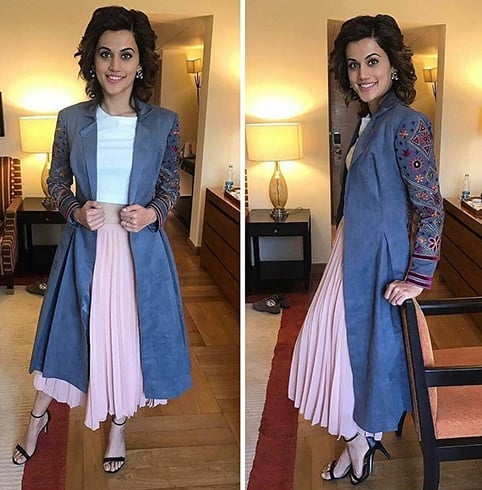 Twinkle Khanna
Bollywood beauty and star wife, Twinkle Khanna, better known today as Mrs. Funnybones, has delighted all her readers and followers with her uncanny take on social issues and society wrapped in layers of sarcastic humour. Her wit and her bizarrely unusual way of reading in between the lines has got her all the appreciation. Her thoughts translated into light reads, indeed force you to ponder over present day situations.
[Also Read: 9 Times When Twinkle Khanna Left Us In Awe!]
To appreciate the efforts of this talented writer and columnist, The India Today Women Summit And Awards, presented Twinkle Khanna with the India Today Writer Of The Year Award.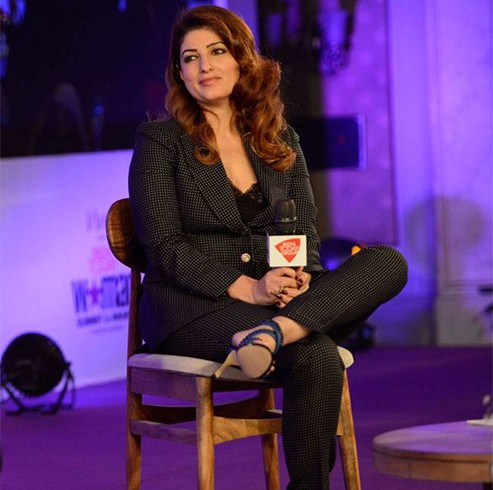 Also, Twinkle was invited to conduct a session earlier in the day, to share her take on topics like love, marriage, feminism and humour. With an array of strong statements, the woman wooed all her listeners with her wit and thought process. A few statements worth being mentioned include:
[sc:mediad]
On husbands:
"Husbands are nice, handbags are nice, you can live without both but they do make life more comfortable",
On Motherhood:
"Barbie, fairy tales – it's detrimental to feminism. The witch was probably a princess once, who got tired of her prince coming off his high horse and 'saving her'."
On Humour:
look for the absurd in the tragic – which is the thing that keeps you going
And On Writing:
What writing does for me is to kick the midlife crisis out of orbit. Instead of thinking about the lines on my face, I think about the line I'm going to write next.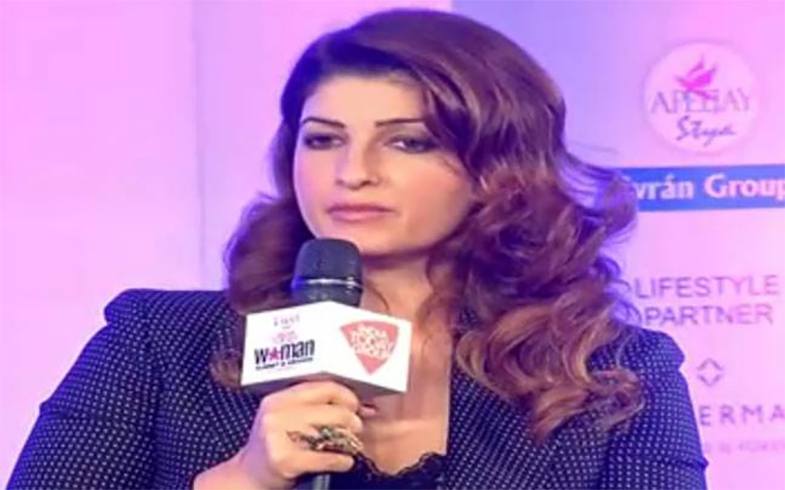 To accept the prestigious award, her first for writing, this gorgeous lady and a fine dresser, suited up to render a strong and refined appeal.
Cladded in a black chequered pant suit with a distinct motif on the blazer Twinkle displayed her knack to dress up just right as per the occasion.
To amp up her all black look, the woman opted for blue and green sandals to adorn her feet and beautiful blonde locks.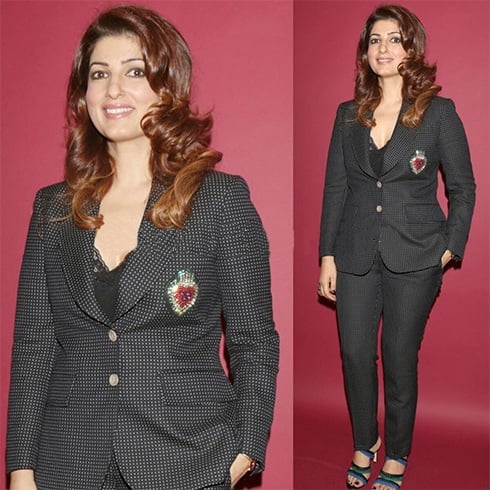 Hema Malini
Veteran actress Hema Malini was the Guest of Honour at the Summit, entrusted with the responsibility of handing out awards to the women achievers of the year.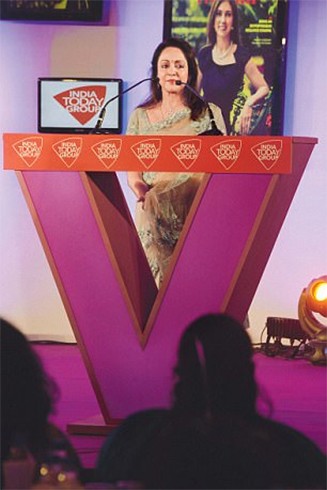 To hand out the awards, this dignified personality resorted to her favorite outfit, a saree. Draped in six yards of a sophisticated peach saree adorned with light blue embellishments, Hema put her most elegant foot forward.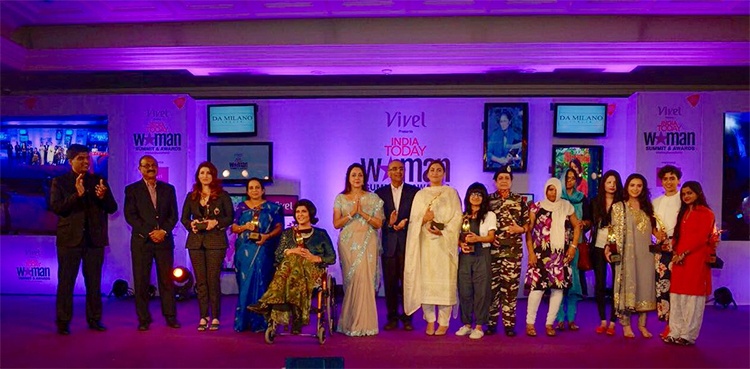 A simple hairdo and delicate diamond jewellery completed Hema's Indian avatar.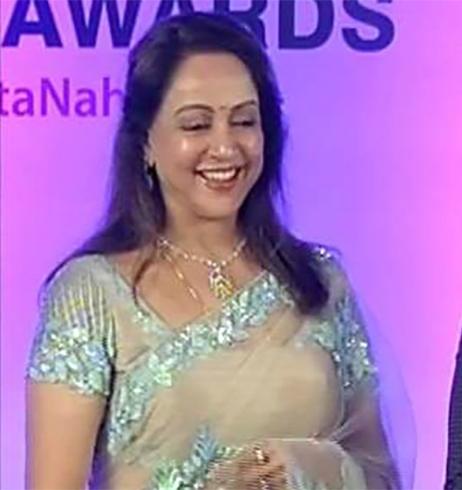 Richa Chadda
A powerhouse of talent, actress Richa Chadda is known for playing out of the box characters that present woman as strong and iconic beings.
At the India Today Woman Summit and Award Night, Richa Chadda was invited to speak on a much-debated topic, Feminism along with Dangal actress Sanya Malhotra and VJ Bani J.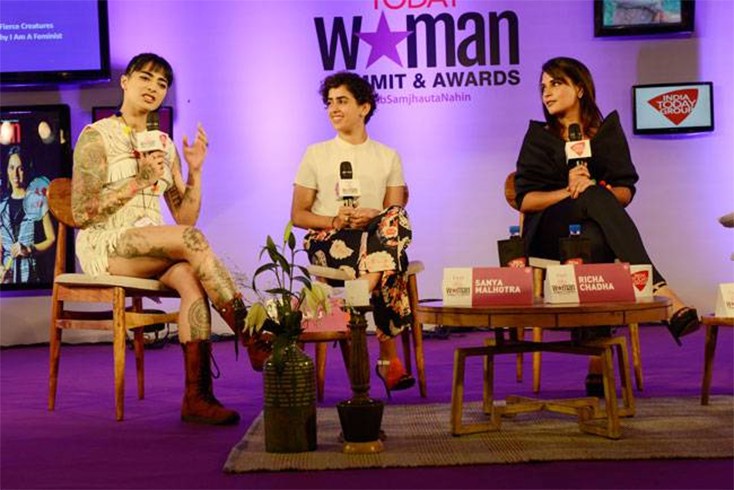 The compelling session titled, " Why I am A Feminist", had Richa shed spotlight on what feminism means to her. The woman is a firm believer of the fact that Feminism is simply common sense. In her view, if women spend half as much time discussing the problems they face, their work, marital issues and sexual abuse instead of reading how quinoa is good for you, it will change your life.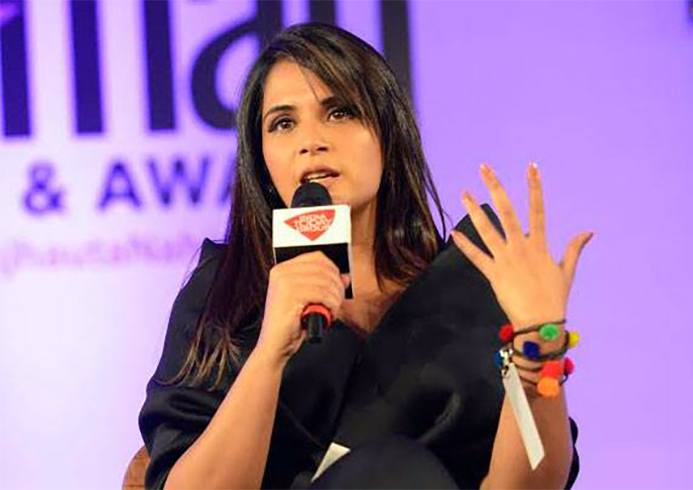 Well, we do agree with Richa on that.
For the session, the lady dressed up bossy glamourous in an all black pant suit from Label D. Credits to stylist Trisha Adjani for dressing up her muse the powerful yet sexy way. The broad plunging neckline coupled with a cinched waist looked splendid on Richa's frame. The woman sealed her look with a pair of black high heels from Aldo and earrings from Aquamarine.
Leaving her blow-dried tresses open, Richa added some softness to her otherwise bold and beautiful appearance.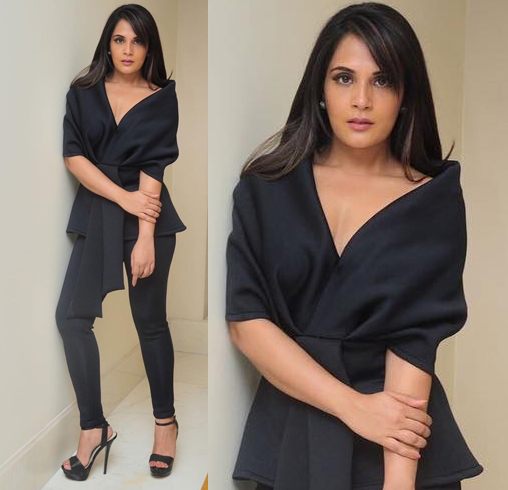 Swara Bhaskar
Actress Swara Bhaskar, a yet another actress who believes in doing the unusual with panache made headlines with her open letter at the India Today Women Summit and Awards evening.
The woman is known for her expressiveness when it comes to sexism. Talking about hypocrisy, sexism, and misogyny Swara shared her experience reading out a letter written by her.
For her appearance at the session, the woman restricted to a monochromatic color palette, donning a black casual blazer and ankle length pants with a white blouse.
The outfit boasted of dramatic accents like the extremely bell sleeved blouse and the exaggerated feather pumps.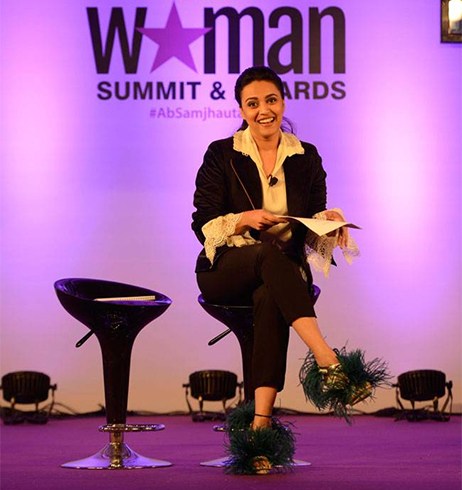 With these superwoman taking the centre stage, the India Today Woman Summit and Awards 2017 evening was indeed a power packed sealed with a touch of tinsel town glamour.
Images Source: intoday.in