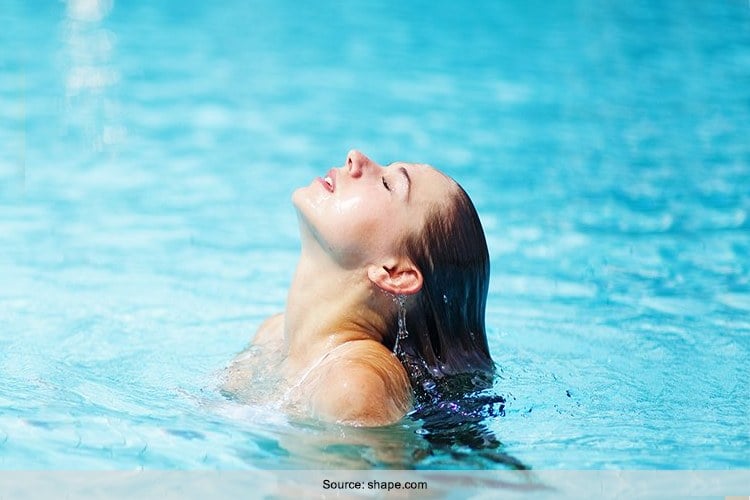 There are many ways that chlorine shows up in our lives. Not just the pools where we swim or bathe, where it is used as a disinfectant, but also for water sterilization and in manufacturing medicines, paper, textiles etc.
Even though you think you are using the best shampoo for swimmers, chances are that the chemical is messing your hair and skin more than you thought off. When oxidation happens, it corrodes the skin and hair, and this can lead to fine lines, wrinkles, hair brittleness and more. This is because chlorine chemically reacts and destroys the vitamin E and essential fatty acids in the hair and skin. If that is gone, do not expect the hair and skin to be in their primmest health.
You may have noticed people who have swum too much in chlorinated waters, they would have discolored hair, or straw like and frizzy hair, breakage of hair too high, dry and brittle hair, hair that shines less and lacks lustre, less volume hair, itchy and dry skin, dry scalp and flaky scalp, damaged skin pores and hair cuticles, rashes on skin, burnt skin, acne and pimple skin, allergies on skin and premature ageing in young people too. An occasional dip in super chlorinated or normal chlorinated water can lead to all of this. So what do we do? Here are tips on how to protect the hair and skin from chlorine exposure!
How to protect hair and skin from exposure to chlorine
We shall tell you more about the best shampoo for swimmers, and the names of many best shampoo for swimmers too, however, let's focus first on skin and hair care for swimmers!
Not all cases of swimming would leave the skin and hair dry, and dead. If you like to swim, please go ahead and do so, and follow these skin and hair care for swimmers tips that would keep you protected while you dip in for pleasure!
1. Outdoor pools over indoor pools- What happens is that outdoor pools allow the gases emanated from chemicals used in cleaning the pools to escape quicker than what happens with indoor pools. This means lesser contamination to the hair and the skin, and overall inside system health too. Outdoor pools would not have you left with skin and eye irritation, lung issues, and sinus problems too. A very well ventilated indoor pool only should be chosen if outdoor pools are not your fancy!
2. Before you swim, you must shower- This is important because the hair and the skin we have and live with, will absorb the chemically treated indoor pool water more when dry, than when wet. Think about it. Hence, soaking up well would be the right thing to do, and you do not have to use shampoo now. However, you can apply hair oil or conditioner or a lotion for the hair or skin before jumping into the water. It would be best to use virgin coconut oil on the hair and skin and have an oil bath before you enter the pool. This would form a protective layer on the hair and the skin.
3. A swim cap- This is one of the best ways and a very tried and tested traditional way to protect the hair from any damage. Once the soaking in the shower is done, you must apply conditioner or hair oil and emulsify the hair well. Now, this is for both, the indoor and outdoor pools. Wear your swim cap once the hair is emulsified and it prevents the hair from being over-exposed and resists maximum chlorine too.
4. For the skin, apply lotion- Lotion with SPF in it would be the best thing to use on your skin, should you not want to use coconut oil and take a dip in the pool. This gives the skin an extra layer of protection, and your skin would not feel the effects of chlorine on it too.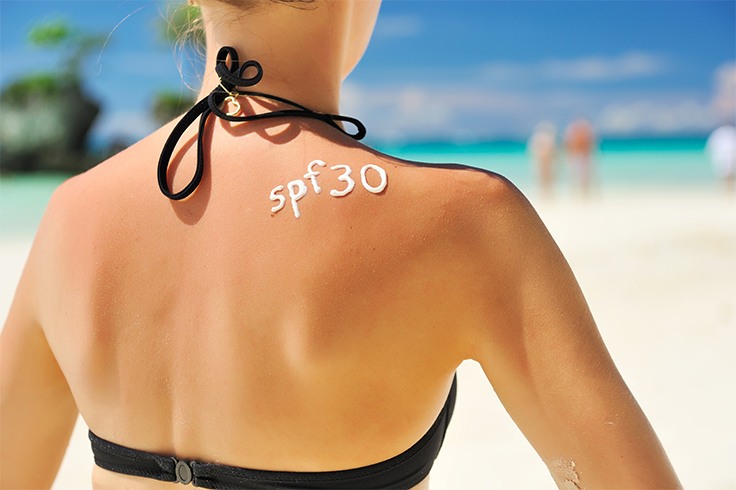 5. Bathe after a swim- A wash up after swimming is a must-do. And do this with a gentle shampoo which should be paraben and sulfate-free. The skin too should be washed with herbal soap, so that all the chemicals on the skin and the pathogens are killed and eradicated too. Soak up well and lather well, and wash up with very fresh water for more than five minutes to ensure you are cleansed thoroughly.
6. Come back home and rinse again- Once you are done washing up at the pool or the beach, you must come home and bathe again. This time, use two cups of apple cider vinegar in your bath water to bathe with. This gives you a clarifying rinse and is also known as one of the best skin and hair care for swimmers, which is why ACV is known to be a build-up remover and one of the best swimming skincare products to have too.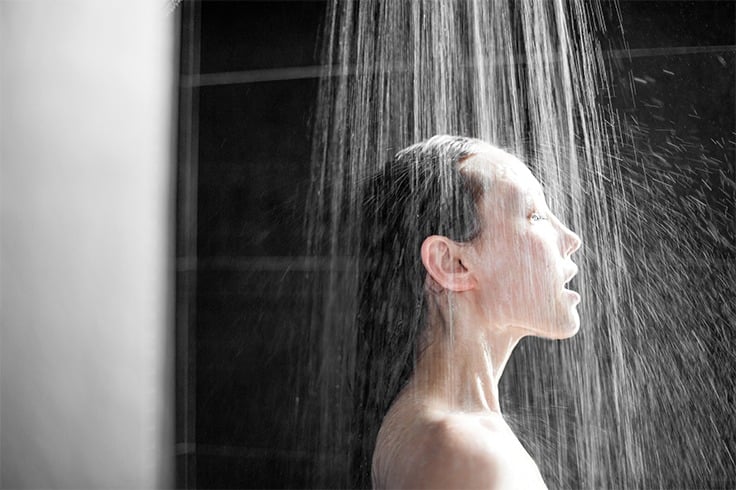 7. Do not forget to moisturize – When you bathe at home, it is pertinent that you apply a protective and a deep layer of conditioner for the hair and the skin to absorb, and to be nourished with. You can also use coconut oil or any natural carrier oil to do the same. And do not use hair dryers to dry the hair. If there are tangles, using a serum can help. But allow the hair to be naturally dried or patted dry.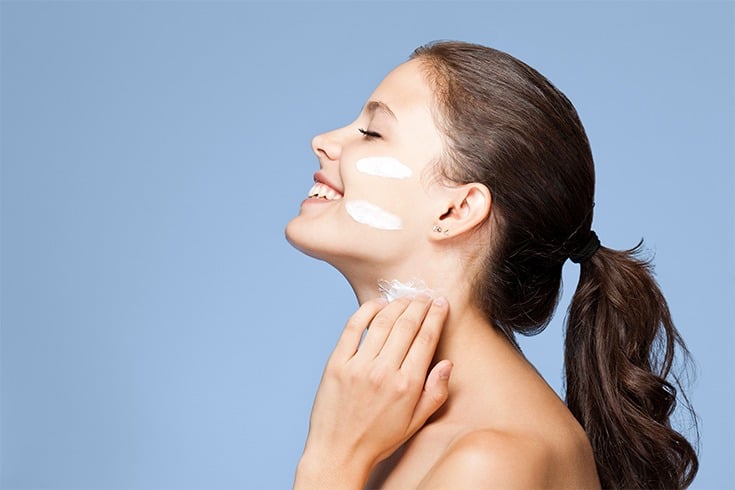 We hope this information and tips on skin and hair care for swimmers make sense.
Here are steps to ensure that the chlorine from within the body is removed!
Steps to follow
Start by removing off your swimsuit immediately, once you are done with the swimming.
Get into the shower
Mix half a cup of distilled white vinegar and half a cup of water in a cup
Use this as a hair rinse in the end
Rinse the body with a herbal soap and the hair with a herbal protein based shampoo if you cannot find the right chlorine removal shampoo. Just a coin-sized amount would do
Emulsify the hair with the chlorine removal shampoo and massage the scalp too.
Rinse hair off the chlorine removal shampoo with warm water
Now take the mixed vinegar water and wash the hair ends first
Wait for five minutes
Rinse the hair now from the root to the tip
Rinse the scalp
Wait for another five minutes
Lather up the body once again with a herbal soap and rinse well, do not touch the hair
Wash up the hair and the body well, and pat dry
Use a leave-in conditioner for the hair and allow the moisture to set in.
You must wear a swim cap if your hair is lightened, pre-lightened, recently colored, chemically treated, straightened or permed. The chlorine would break the cuticles and damage such hair. If the hair is colored blonde or shades lighter, the hair can turn green from chlorine. If this is the case, you would then need a chlorine removal shampoo for each hair wash to bring back the normal hair color.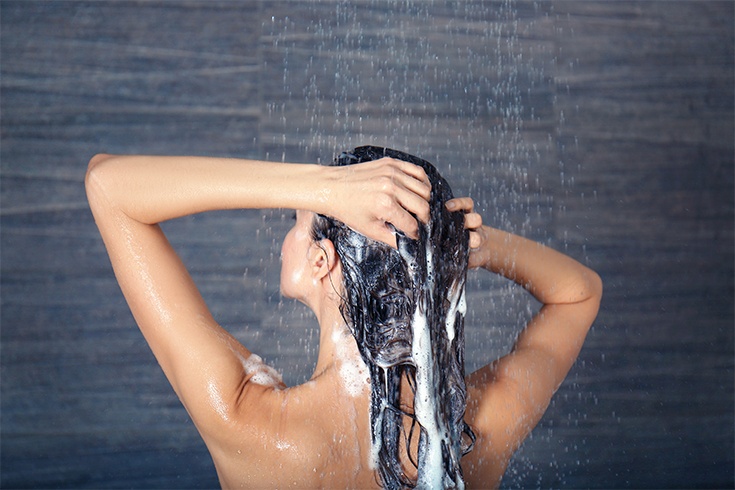 These were tips on mostly how to protect the skin and the hair for those that swim indoors or in indoor pools. Let's take a look at some tips for outdoor swimmers or beach swimmers!
Beach swimmers, hear hear!
If you are a beach swimmer, the sun is a big reflector. This means, more sunburns and skin damages than ever before whilst you enjoy the beach. Wear your best swim cap to keep hair dry and learn what next!
You must stop the use of alpha hydroxy treatments, AHA creams, exfoliants, glycolic peels etc, a week before the swim session. This is because, AHAs peel the stratum corneum layers of the skin, which makes the skin thinner than before and more sensitive to the sun.
Check not the SPF number but how generously the SPF is applied to the skin. Every hour a good amount of SPF based best lotion for swimmers should be used.
Take care of the hotspots on the face- the oiliest parts of the face where more oil is produced because of open pores. These are natural oils for sure, but when present, they do not allow the SPF to work at its best. If you have an oily to combination skin type, you then would need to use more SPF on an hourly basis. And do not forget to apply SPF at places such as the eyelids, the ears, the hairline and top of the feet too.
Even when in the shade, do not forget to wear your SPF, because the ocean water reflects the radiation on your skin. You would still need to reapply generous amounts of SPF on the skin, and this is because your umbrella isn't foolproof!
Also, please wear the best swim cap to keep hair dry and sunglasses to keep the skin safe from the radiation. Radiation brings in the onslaught of free radicals and they would cause premature aging if left unchecked.
Salt water can surely destroy pathogens, which is why if you have acne, experts suggest swimming in the seas or the oceans. However, do wear the right SPF and then hit the waters.
If you are planning to hit a party by the beach, do wear mineral makeup only. This adds more protection to the skin and all mineral powders have SPF30 at least in them.
So here were a couple of tips on how to keep safe when swimming out there. Let's take a look at some easy and affordable ways now to stay safe in chlorinated and salt infested pools!
Do not forget to neutralize
What we mean here is that you should use vitamin C to neutralize the chemical structure of choloramine and chlorine, so that it does not affect you. There are fairly affordable vitamin C shower heads and bath bombs available in the market, which are effective up to 99 percent to neutralize chlorine and chloramine in the water. But ensure that you use them with cold water pools only, because hot water pools create steam and this could cause chemical health risks when you unknowingly inhale the same.
You can also make a spritz or spray bottle, with a teaspoon of the vitamin C
Dissolve Vitamin C it a cup of distilled water.
Spray it over the body and then enter the pool for a swim or hit the beaches.
It would do a fantastic job of keeping you and the skin or hair on you safe.
Do not forget to wear your best swim cap to keep hair dry, and then spray after swimming again.
The vitamin C solution needs to be rubbed in, rinsed out and rubbed in again. But before all of that, you must oil bathe with coconut oil, and then spray vitamin C to maintain the balance of the skin and hair acid mantle.
We did promise you names of some amazing shampoos and soaps to use, so here they are.
1. Some of the names of the best shampoo for swimmers,
Macademia Professional Endless Summer Sun & Surf Shampoo
Dphue Clarifying Shampoo
Ultraswim Chlorine Removal Shampoo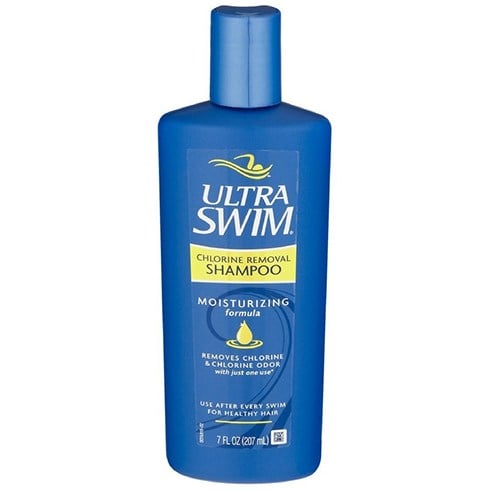 Ouidad Water Works Clarifying Shampoo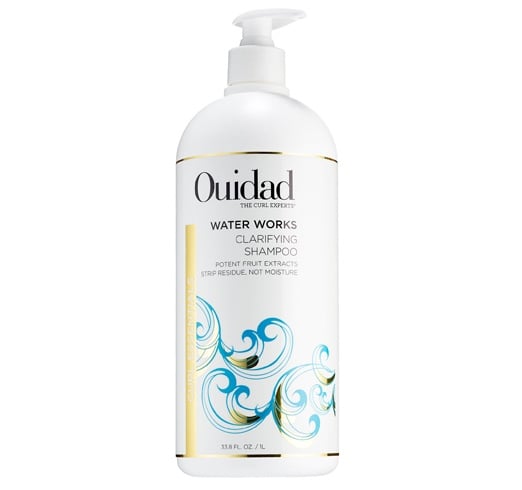 Bumble And Bumble Sunday Shampoo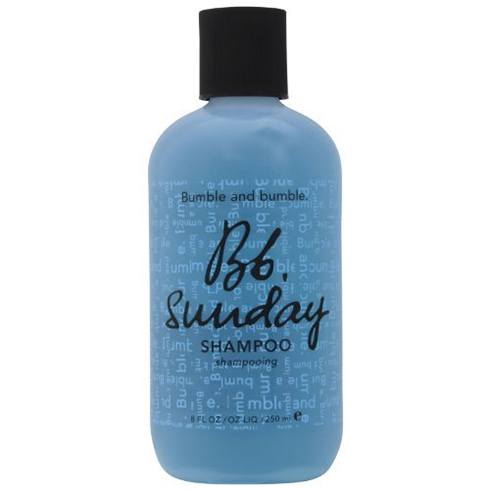 2. Some of the names of the best swimming skin care products,
CLINIQUE Beauty Sun Care (FS ,No Colour) Online India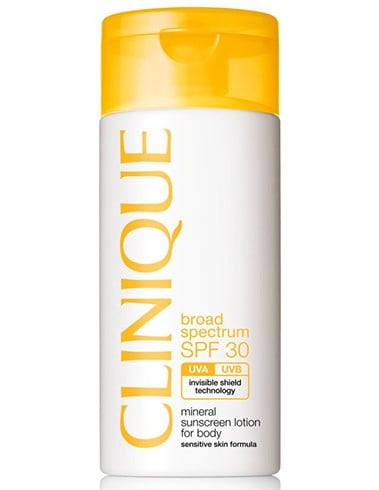 Neutrogena Ultra Sheer Dry Touch Sunblock SPF 50+, 30ml

Bioderma Photoderm Spot SPF 50 / UVA 38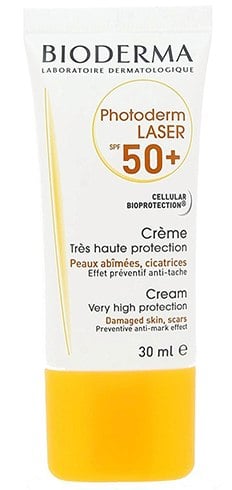 Avene Very High Protection Emulsion SPF 50 (50ml)(Face Treatment ) at Purplle Best Beauty Products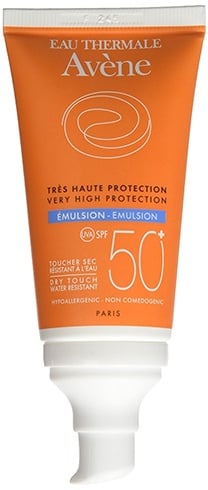 Himalaya Aloe & Cucumber Refreshing Body Lotion – 200 ml

3. Some of the names of the best chlorine removal shampoo,
Babo Botanicals Swim & Sport Shampoo
Tri Swim Shampoo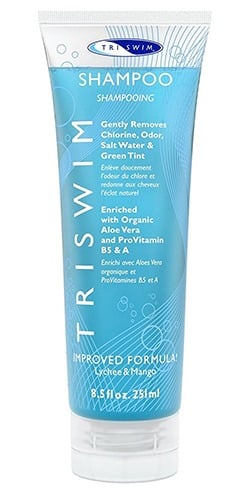 Paul Mitchell Shampoo Three
Ion Swimmer's Shampoo
4. Some of the names of the best lotion for swimmers,
Purenaturals Tan Care Swimmers Oil – 50ml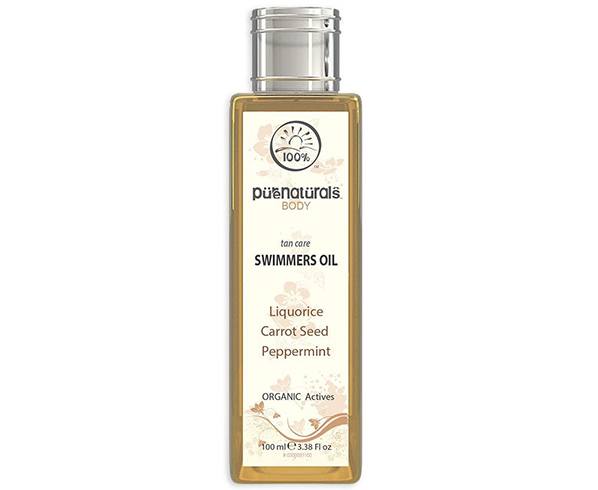 Biotique Bio Sandalwood Lotion 50+ Spf Sunscreen For All Skin Types In The Sun Very Water -Resistant (120 ml)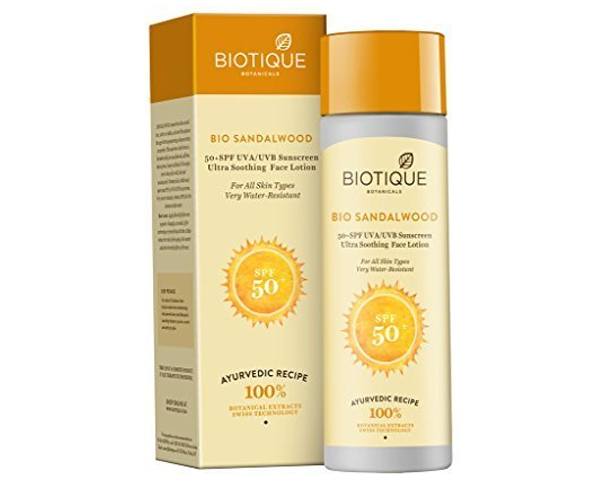 We hope this mini guide on skin care tips for swimmers and skin care after swimming, along with the names of the products to use, why swimming in chlorinated water is harmful and more, makes good reading sense. Do enjoy your swim sessions, but do take care of your hair, skin and overall health as well. Have fun!