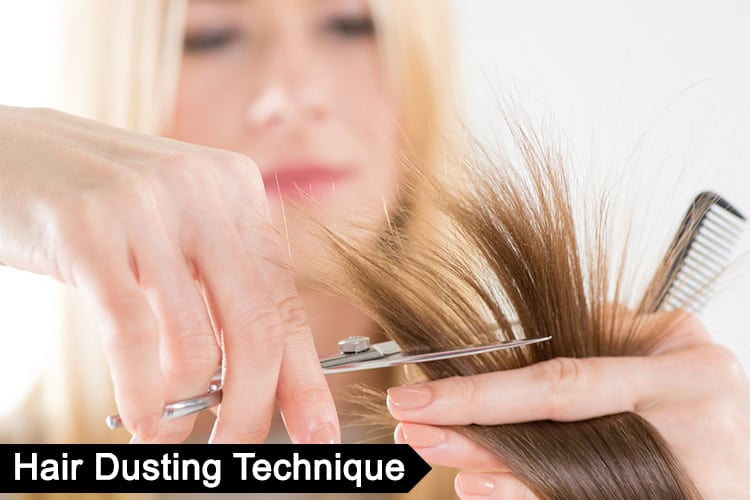 It is a dream for us to have long, bouncy and lustrous hair; hair which shines and shows off our good health too. But if we have to keep the hair looking healthy and to grow it well, we would need to trim and chop it now and then. What happens then is that we lose length. Disappointed? Relax, and read on.
What should you know about Hair dusting trend?
Introducing the latest buzz words – hair dusting. It helps you keep your long hair, healthy and nice without having to make it undergo the scissors. Here today we shall talk more about What you should know about Hair dusting trend.
While we tell you more about What you should know about Hair dusting trend, let us introduce you to who brought this trend forward. It was LA hair stylist, Sal Salcedo that introduced the concept of hair dusting to the world, and now it is the next best thing to a haircut and is turning into a major craze as well. A little hair dust powder and a specialist using the right hair dusting technique will do the job.
This is a technique that will help smoothen your hair out. It would snip a little of the best hair first, which then would allow all the bad hair to come to the surface, which further then gets snipped. So, you would be losing all the bad hair more and not the good hair, and hence there is nothing to worry.
Way to dust your hair?
To begin with, your hair first needs to be divided into equal proportions. This should be done so that you focus and concentrate on one section at a time.
Now take each row and twist it between your index finger and the middle finger. This helps bring out the damaged ends to the forefront and pop up, and this exposes the hair which you would need to dust at the end.
If you do see a knot or a split end, you would then need to trim just an inch at the strands end. This would be just enough to get the damaged ends removed.
When this section is over, we take the next section and do the same for the rest of the hair as well.
Pros of hair dusting
There are a number of pros when it comes to using the concept of dusting hair. We have already told you how to dust hair, how to dust split ends, and the same way can be used by the hair technician on how to dust thin hair, dust split ends, cut split ends etc.
To begin with the pros, the first thing to know is that hair dusting is not costly. It is very cheap on the pocket; much cheaper than what an actual cut would be. Secondly, you must realise that it would be a healthy boost being given to your hair post a hair cut. Thirdly, hair dusting assures you of the length you want to keep and you would not have to sacrifice the length or the health of the hair.
Are there any cons to hair dusting?
Only one big drawback to this concept would be the timing. It is a very effective technique for sure, however, hair dusting can take time. You cannot rush through the technique one bit. Hence, only when you have the time to go for a hair dusting ritual, do so. You really need almost an afternoon for it to be done.
Is this a new trend?
Not exactly. The concept of hair dusting has been around for long and is not new as such. However, thanks to the latest hashtag trends doing the rounds across social media, it has turned out to be a phenomenon as such.
How often can it be done?
For how to dust thin hair, coarse or normal hair, it would be best to follow the advice of your hair technician at the parlor. It is a hair technique that can be done on any hair, except if the client has hair diseases or disorders.
For every five to seven weeks, the haircut technique can be done, and it all depends on the amount of heat damage each strand have suffered. Hair dusting is a kind of a haircut but without the hair being cut.
It is a rule by hair experts that they tell their clients between every chop of the hair and dusting, one should bring down the use of thermal tool styling and should invest in heat protectors for the hair. This helps the hair stay moisturized and nice, and also helps the hydration of the hair stay intact too. And in turn, you would have healthy hair again as well.
Are there home remedies to get rid of split ends?
Yes, there are home remedies for you to get rid of split ends, and here are five of them. This is for those who still want to try the holistic DIY way to save their hair, and not opt for hair dusting. Please check out the five ways below.
1. Olive Oil Conditioning
You would need half a cup of olive oil, which should be warmed well with methi seeds.
Let it cool down to room temperature and then apply it on the hair length. Wrap a hot towel around the head.
Wait for ten to twenty minutes and then wash off the hair with a normal shampoo.
How it works:
What happens here is that the oil soaks into the cuticles and makes the hair smooth and shiny. This leads to lesser roughage and lesser split ends from happening. Do this once a week and you would notice the difference.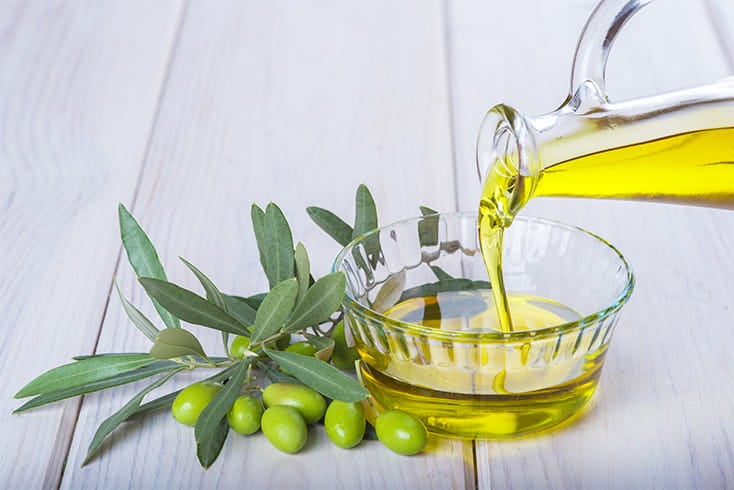 2. Use An Egg Mask
You would need to beat an egg into froth well and add a little honey to it.
Make a good frothy mixture of the same and apply it on your hair, from tip to root. Emulsify the hair with your fingers well and wait for half an hour.
Wash off with herbal shampoo using cold water thereafter.
[sc:mediad]
How it works
With a lot of protein in an egg, your hair would be nourished and cared for. A main component of the hair is protein. When protein is lost from the hair, the hair turns frizzy and brittle.
This should be done once a week for the hair to be strong and nice, sans split ends.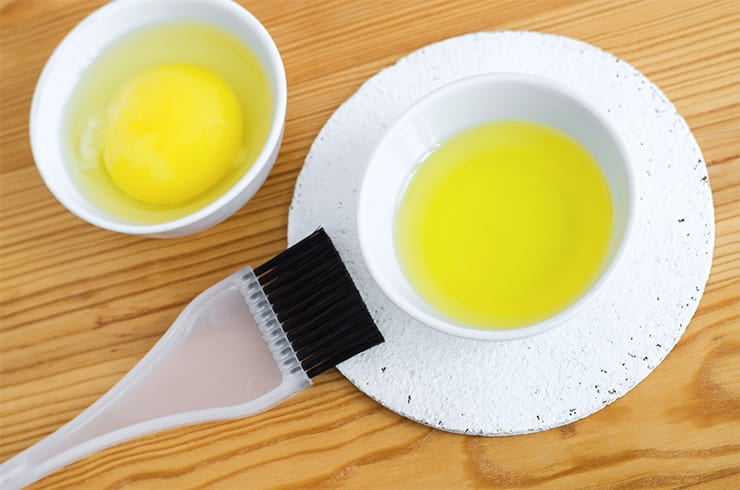 3. Papaya Hair Mask
You would need to blend a cup of ripe papaya with half a cup of curd. Blend it well till it forms a gooey paste.
Apply the mixture on your hair and let the mixture sit on your hair for half an hour. Now wash the papaya mixture off with cold water and shampoo your hair normally.
How it works
Split ends can be dealt with using the paste of papaya. The fruit is rich in antioxidants and vitamins, and amino acids as well. And it is proven to be a great help to combat split ends too. This should be done once a week, for your hair to be free from split ends and other issues.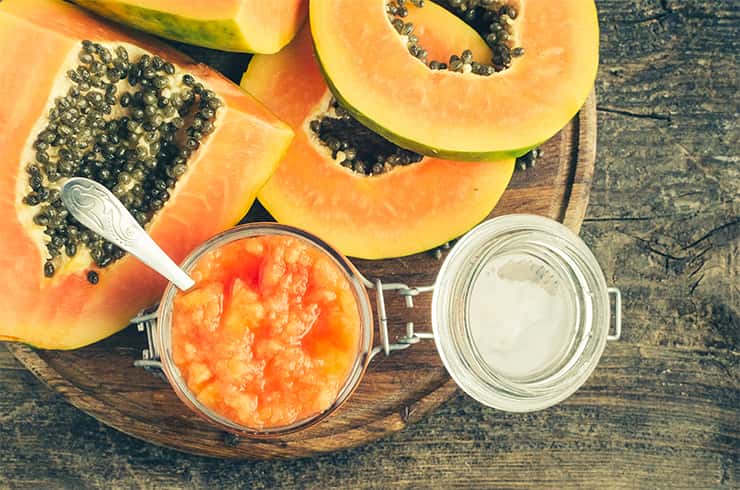 4. Honey Hair Mask
For this hair mask, you would need to mix a good amount of honey with half a cup curd. Make a gooey paste of the two.
Apply the same on the hair from root to tip. Let the mask be on your hair for half an hour.
Emulsify your hair with your fingers, focusing more on the split ends and the ends of your hair.
Now wash your hair off with a herbal shampoo.
How it works
There is lot of natural goodness in honey, which can help remove split ends and moisturize your hair too.
This should be done once a week.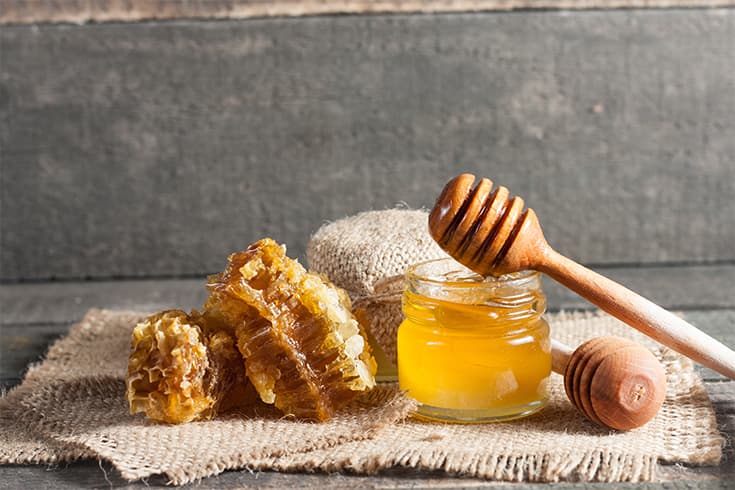 5. Hot Coconut Oil Treatment
Warm up a cup of coconut oil and add to it a teaspoon of honey.
Let the mixture cool and then apply the same from root to tip on your hair.
Massage and emulsify your hair well. Wrap a hot towel around your hair for ten to fifteen minutes.
Remove the towel and then wash your hair with warm water and shampoo. Towel dry the hair gently there after
How it works
Coconut oil has healing properties and moisturizing properties for your hair. This is why, we are here to tell you how to use hot coconut oil treatment to get done with split ends.
Do this once a week and the shine of your hair will be back, and in time the split ends would reduce too. If you wish to leave your hair oil on your hair overnight, you can do so.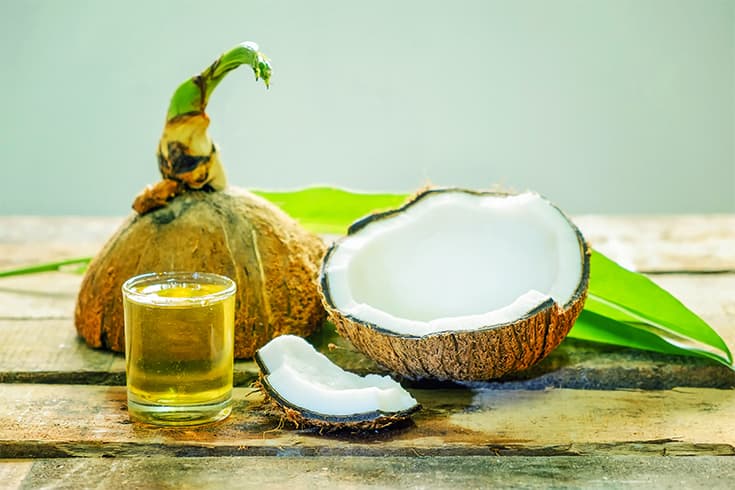 We thus hope you now understood the concept of hair dusting, and would show this new technique to your parlour lady to try as well. If you have already tried hair dusting, do write in and let us know the experience. We are eager to hear about the same.