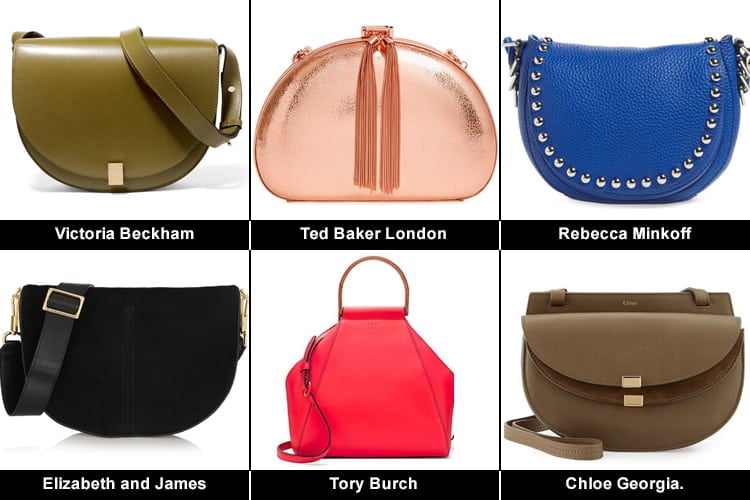 "This season, our accessories are pared back and refined, with a focus on natural, effortless style. Great bags really took center stage, from Lee and James to the Rory tote, and Ella and Half Moon — all done in materials and prints that echo the collection."
— Tory Burch, American fashion designer, businesswoman
Tell me one time of the day when we see the Moon. It is at night, right. So you think you have earned the points? No, the Moon am talking about can be seen in the day as well as on fashion walks and ramps.
Me kidding?
Nope. B'cos I can't contain my excitement as I bring you half moon handbags for 2018. They stand out for their geometric style and usher a new wave of handbags this year. Style queens like Victoria Beckham have sported the half moon bag. So much that the fashion world has of late been obsessed with the unusual shape of half moon handbags. Not just the shape, but size too – big, small, to overlarge.
BTW, the half moon bags are also known as saddle bags and bucket bags. They can literally hold the universe and at the same time give a chic looking edge to any outfit.
Trendy Half Moon Bags for 2018
Here are trendy half moon bags which will help you get a head start on the trend business. And guaranteed to make you swoon. On the half moon business, you can also explore a half moon purse and half moon clutch.
Victoria Beckham Half Moon Box Leather Shoulder Bag
Victoria Beckham's bag as you see in the image below has been made in Italy from smooth army-green leather. This crescent-shaped accessory is fully lined in tonal suede and decorated with complementary gold hardware. The strap is easy to adjust – you can make it really short if you're wearing it cross-body.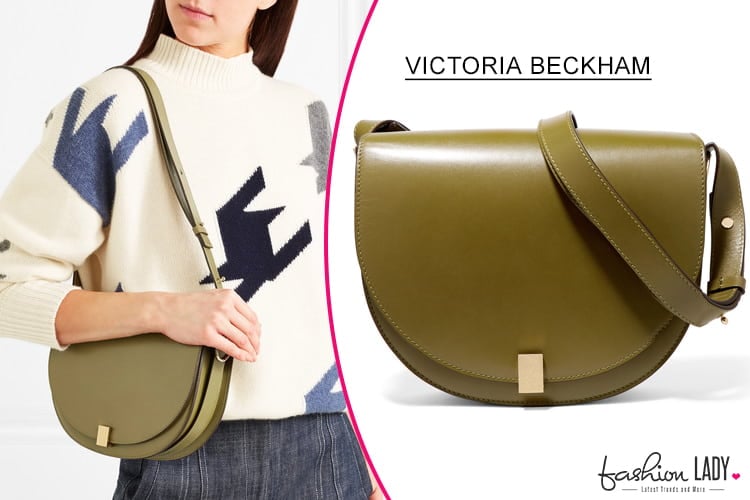 A.P.C. Half-Moon Bag
What's likeable about 'Sac Demi Lune' Leather Crossbody Bag from A.P.C.? The understated elegance of glazed Italian leather. And the clean, timeless curves of a polished crossbody bag. This trendy half moon bags certainly makes for an understated style statement. It has a convertible strap drop and gleaming logo embossing. Two-way top –zip closure is yet another feature of this half moon bag apc. Colours available – Beige, Noir, Noisette and Sable. The curved design of A.P.C. Half-Moon Bag is already sold out at most retailers.
Price: INR 32,295.77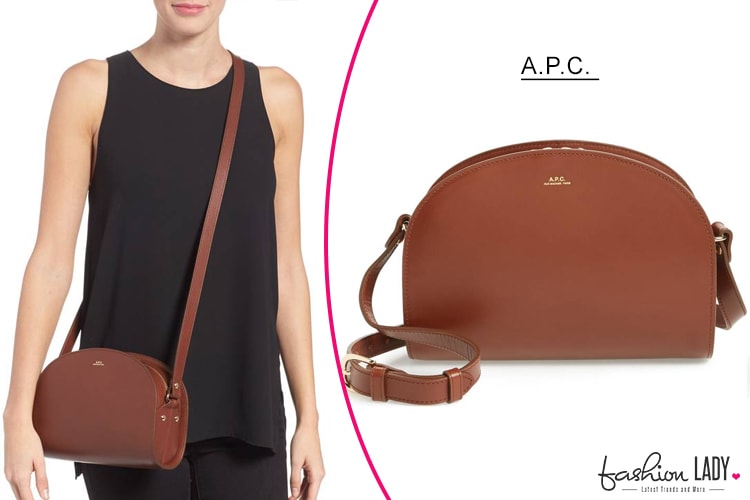 Hey do you know what A.P.C. is? It's a French brand and its full name is Atelier de Production et de Création – a celebration of clean lines and simple patterns in its minimalist designs (not just denim but also a range of clothing and accessories).
Tassel Clutch From Ted Baker London
This clutch bag from Ted Baker in rose gold color helps you style the half-moon bag for evenings. A gold-tone tassel adds to the Art Deco-era of this half moon handbag. Get ready to cherish the sophistication of a metallic half-moon clutch and a svelte snake-chain strap. Other features include clasp closure, signature print lining, interior wall pocket and optional drop-in crossbody strap (which can be tucked inside).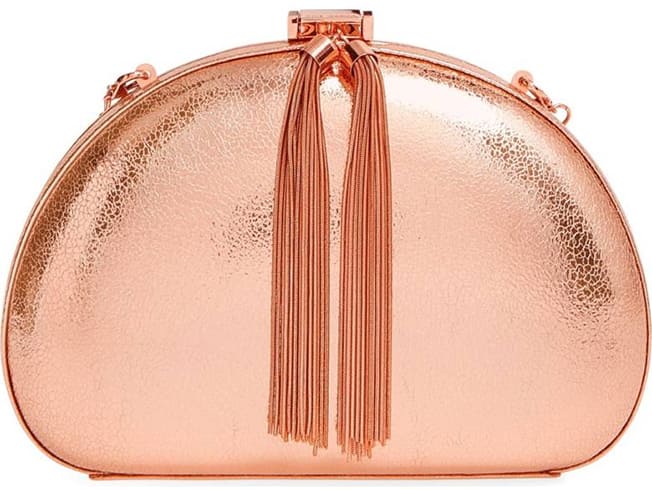 Unlined Saddle Bag From Rebecca Minkoff
This handbag is one of the newest additions of Rebecca Minkoff – an industry leader in luxury handbags, accessories, footwear, and apparel. Crafted with pebbled leather, it stands out thanks to its round silver studs, and a tassel detail on one side. To convert this half moon saddle bag into a clutch, you just need to tale off the shoulder strap.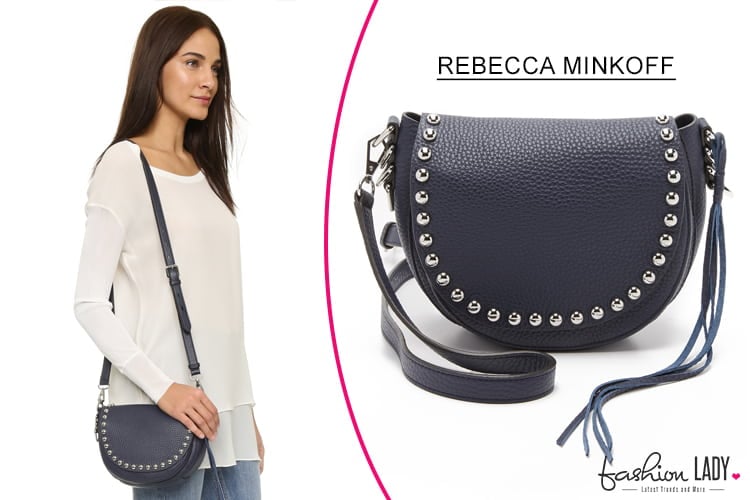 ASOS Half Circle Clutch Bag
An affordable way to sport the half-moon look, this ASOS clutch is made from durable polyurethane that looks like leather. Also has zip closure with a long tassel pull.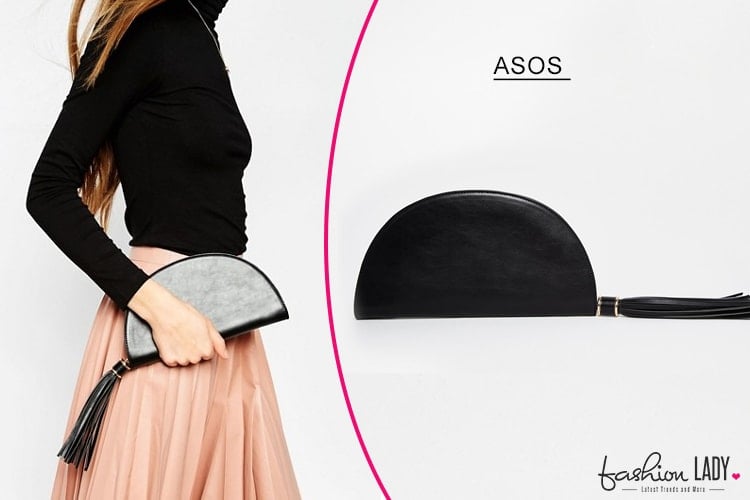 Zara Tote With Metallic Straps
A take off from a half moon bag, this handbag trends spring 2018 can be carried by the circular metal handles or thin shoulder strap. Feel the goodness of this terra-cotta shade adding color to your neutral ensembles.
[sc:mediad]
Price: $50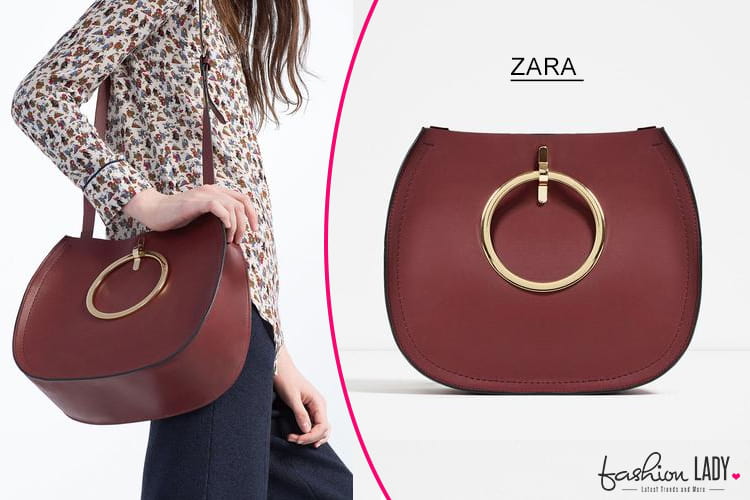 'Rima' Leather Crossbody Bag From Mackage
This half moon handbag from Mackage perfectly combines style and convenience. Being of smaller size, it is easy to carry. At the same time, it has storage capacity for plenty of essentials with its inside zip pockets and suede interiors. Gunmetal hardware details are a Mackage signature. Exterior magnetic-snap pocket makes it an impressive add-on to the list of half moon handbags for 2018.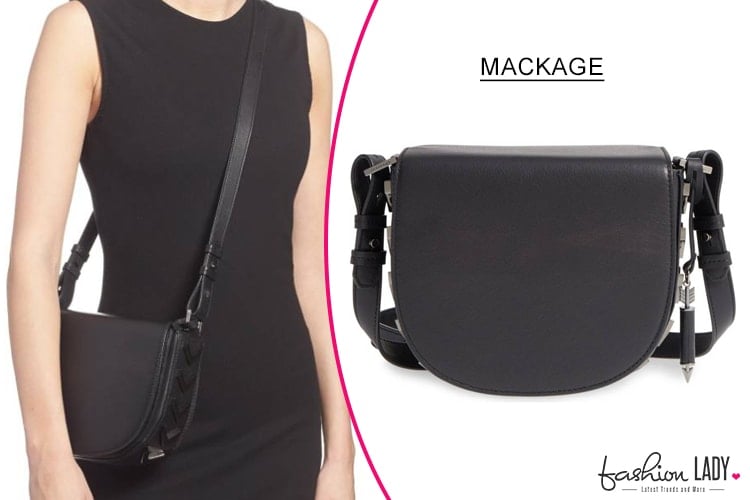 Chloe Georgia Mini Leather Crossbody Bag
If you wish to have a designer rendition, then here comes this fantastic and trendy half moon bags from Chloe Georgia. Puts a cool spin on the half-moon style. Has 2 compartments for your belongings in the front, and the smooth back lays flat against the body.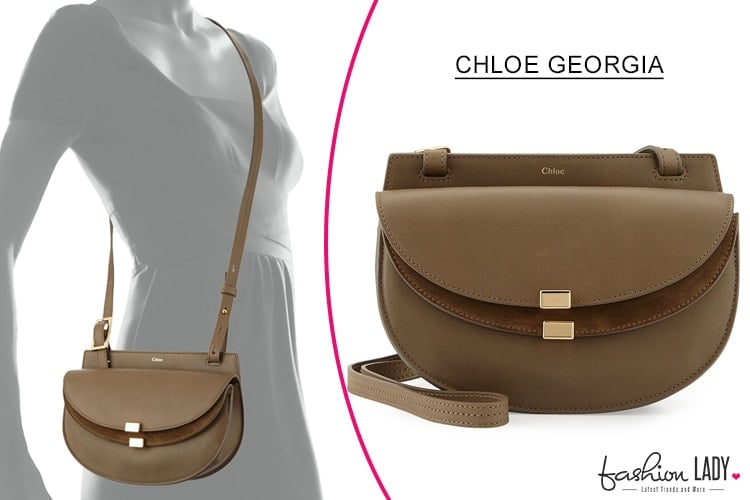 Elizabeth and James Scott Moon Small Suede Shoulder Bag
There are so many ways you can wear the Elizabeth and James "Scott" Moon bag. Its wide shoulder strap can take on weight of daily use items, and can be removed when you wish to sport a clutch. Choose from two colours – black or mustard-colored suede.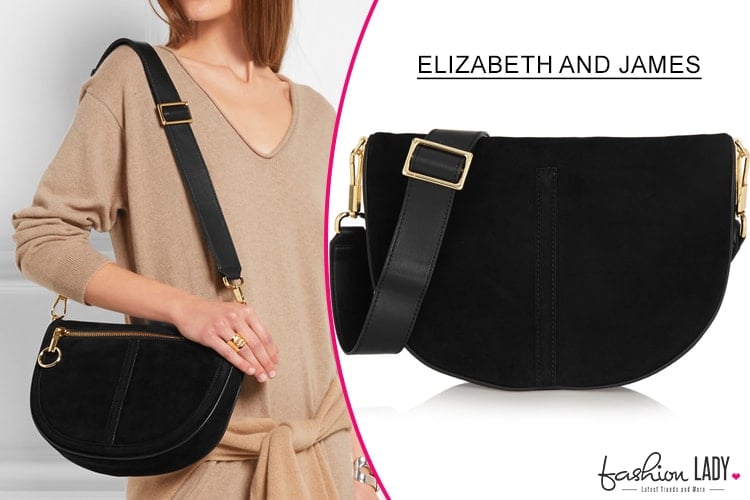 Tory Burch Dowel Leather Half Moon Bag
Welcome a whiff of architecture in this cherry red half moon handbags for 2018 from Tory Burch. Carry it by the wooden handles on top, or across the body with an adjustable strap. Hand-stitched leather in it makes a convincing statement.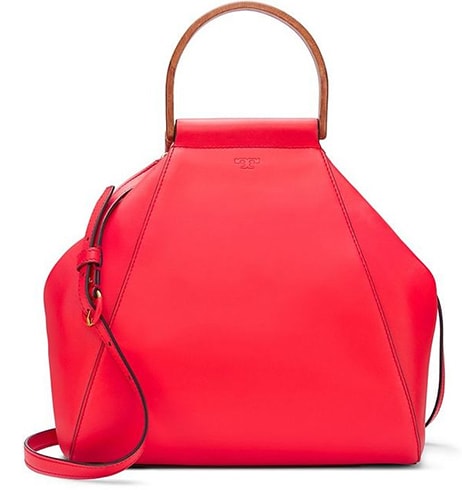 You must be wondering what kind of outfits will look appropriate with half moon bags? Go in for oversized trendy half moon bags made of leather. If you have a social invitation for a cocktail party or any event, pick a half moon clutch that has decor details in it. And if you like casual and comfort or sporty styles, then choose half moon belt bags (yeah, belt bags are the new thing trendy this season).
For now, tell us how trendy you found the concept of half moon handbags? Do you have one or you aspire to bag one now? Write your comments and replies.