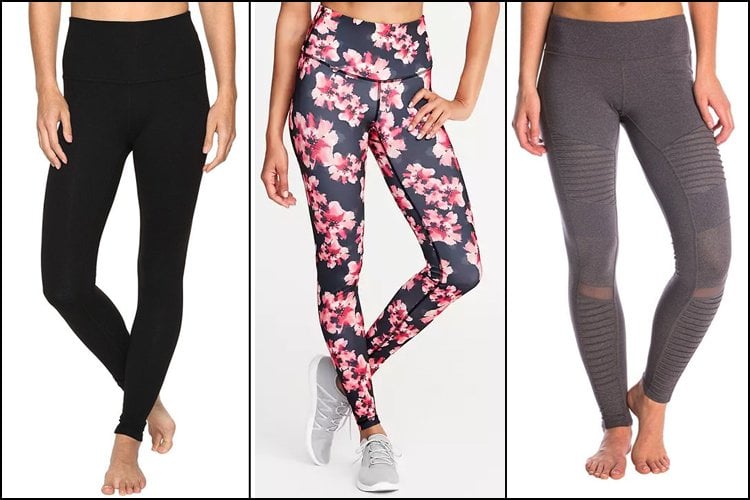 If you need a morning companion for your runs and jogging, fortnightly trips to the post office, gym sessions, or just lounging around the house, then there is no better companion than a comfy yoga pant. With diverse options such as designer yoga pants to slimming yoga pants to thin yoga pants, fitness makes you suddenly look good.
Not all yoga pants are created equal, so I have narrowed it down to these favorite pairs that give you superb comfort and look ultra stylish too!
Read on to find the top 10 bestselling yoga pants and best yoga pants 2018 and smart leggings that act like your own personal yoga teacher. Do vote for your favorites!
1. Two-Tone Warmup Legging From Outdoor Voices:
Best Overall
OV brings you the hottest yoga pants and this one is no exception. This revolutionary design with color-blocked panels and a full-length inseam flatters your form like no other legging. It is made with a premium body-hugging material. The sculpting warmup legging gives you the best butt in two colors – Dove & Ash and Navy & Charcoal.
Other features include waistband pocket (to hold the essentials), 4-way stretch (to enhance comfort). The fabric is designed in such a way so as to hide the sweat.
Says Refinery 29 "These leggings are the perfect pick for running errands or heading to yoga".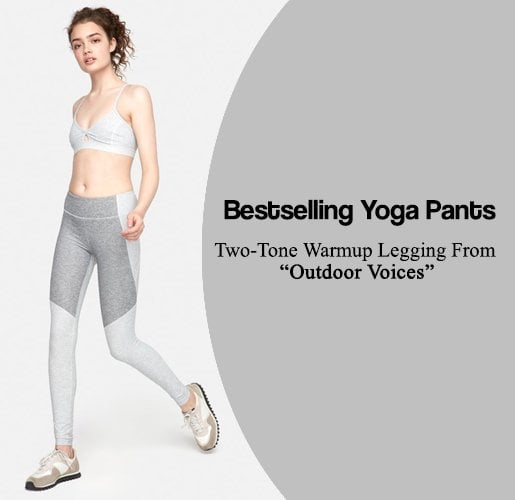 2. Old Navy Compression Leggings:
Best Budget Buy
If there is one place where you will find stylish looking and colorful athletic gear that won't pinch your pocket, it is Old Navy. These High-Rise Compression leggings for Women sit high on your waist –in a way that makes you stand out from the crowd. Colors are much urban savvy – from Mariner Blue to Pink Watercolor Floral.
Other features include moisture-absorbent material which keeps you comfy and dry, narrow ankle and flat-lock seams which prevent chafing.
You might not believe but apart from XL and XXL, these top yoga pants also come in XS and S.
3. MICHI Mirage Leggings:
Best Splurge
Detailed with tonal, mixed-texture panels, MICHI leggings are made of performance-jersey fabric. The brainchild of Canadian designer Michelle Watson, MICHI offers you activewear with strong, sensual, seductive, and sleek looks.
Talking about product details, these hottest yoga pants have an 8-way stretch fabric and an extra-wide waistband – so comfortable you'll never want to take them off. What further makes them chic looking is the signature cutouts and mesh inserts stylish enough for you to head to a brunch after your workout. What's more, the matching strappy sports bras are equally swoon-worthy.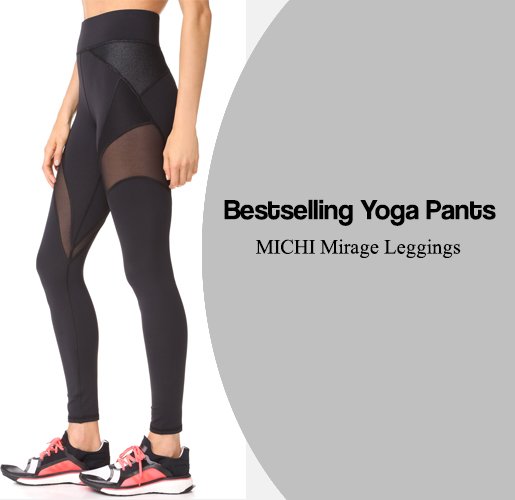 4. Wunder Under Hi-Rise 7/8 Tight Full-On Luon:
Best High-Rise
Put on these hi-rise tights with a cottony-soft feel. They fit you like a second skin (no muffin tops experience!), and so perfect for yoga or doing the gym. It comes with no-dig waistband and has added Lycra fiber for stretch and shape retention. The colors of this four-way stretch yoga pants include True Navy, So Merlot, Black, Vintage Grape and Black Cherry. Incredible support and coverage are what you get.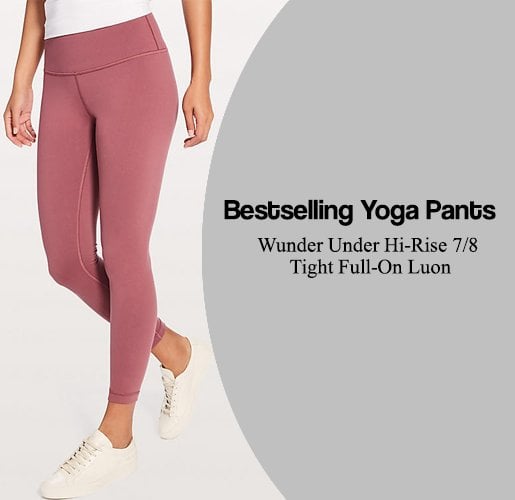 5. 90 Degree by Reflex – Power Flex Capri:
Best Capri
A favorite for thousands of people which is why 90 Degree by Reflex is one of the top 10 bestselling yoga pants and best yoga pants 2018.
Order a pair and get ready to say hello to a yoga Capri you will never want to take off!
These high waist tummy control 22-inch yoga Capris meet all the parameters well – affordability, fashionable, comfort, and quality. The dual purpose it serves: for sweating or sitting back and watching the game. That's why this versatile Capri is a must-have for your active wardrobe.
What is 90 Degree by Reflex? A lifestyle brand that combines style, comfort, fit, and performance. Aims to please the exercise enthusiast and the everyday fashion consumer. Just perfect for fitness enthusiasts and athleisure lasses.
Features include a wide, high rise waistband, a hidden pocket to keep your belongings, moisture wicking fabric, 4-way stretch material to promote both compression and support. There is also a gusset crotch to support free movement and interlock seams which minimize rubbing and chafing. There is a choice of 39 colors to take your pick from.
6. Sweaty Betty Reversible 7/8 Leggings:
Best Reversible
Fun, flashy, reversible prints (no one will know you are wearing two completely different pants) that are a great match for barre and Pilates workouts. Check out Sweaty Betty Reversible Leggings which are fully opaque and can be worn both printed and black side out.
Product details include super stretchy opaque fabric that can be worn reversibly from an exclusive print to black.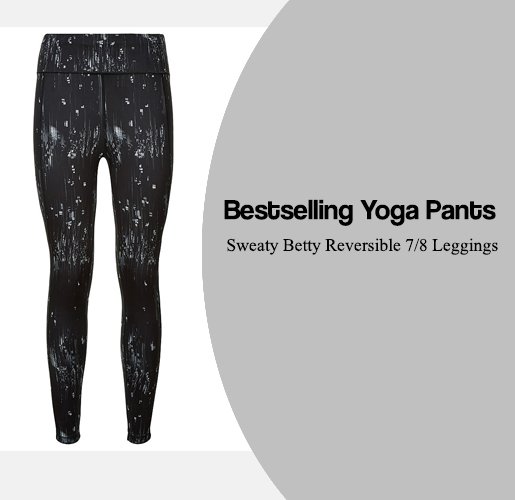 7. Fabletics Salar Printed PowerHold Capri:
Best Plus-Size
Fabletics yoga pants are and remain a favorite for several reasons – there are plenty amazing prints to choose from; they are made with a 4-way stretch fabric; they have a chafe-resistant design, and the UPF 50 capacity rating is ideal for outdoor activities. Just wear it with seamless underwear. Size ranges from XXS to 3X (saw the massive and impressive range in size?)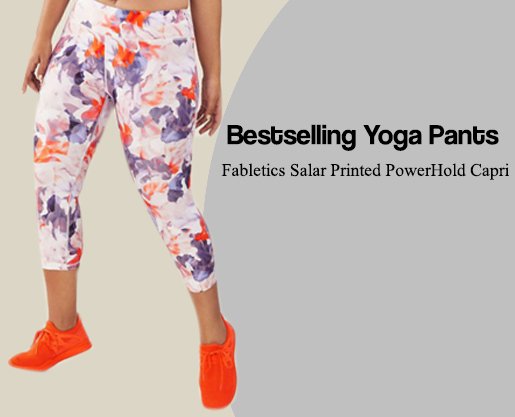 8. Beyond Yoga High-Waist Long Leggings:
Best for Lounging
Some voodoo magic is there in high rise Beyond Yoga leggings. The softest yoga pants, brand Beyond Yoga is also one of the most comfortable thanks to its wide waistband. Ideally, a favorite pick when you just wanna lounge around or run for weekend errands, when jeans just aren't happening.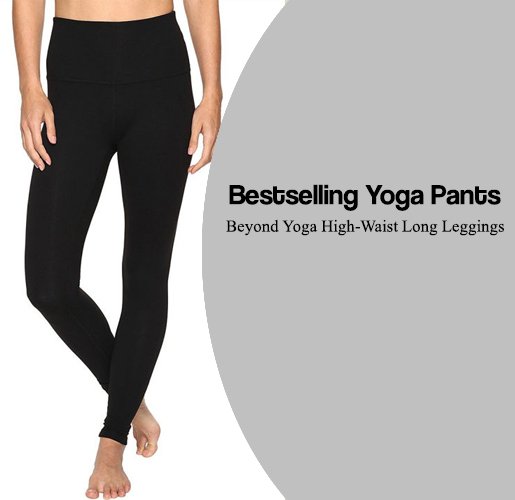 9. Alo Yoga Moto Leggings:
Most Stylish
An on-trend moto-inspired legging with quilted style stitching on a contrast glossy fabric. A package of ultimate performance nylon spandex, and glossy performance fabric. It means you can take your workout style game up.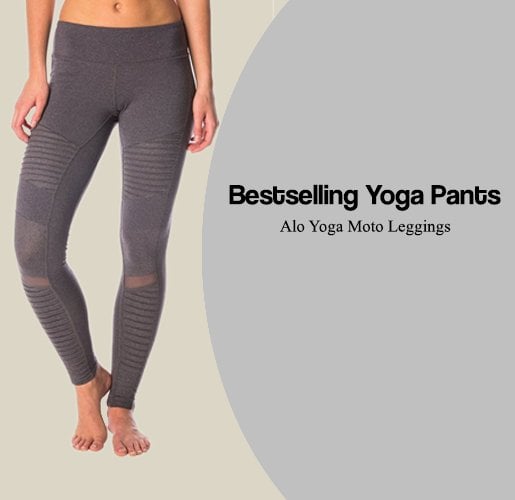 10. Nadi X Smart Yoga Pants:
Best for Perfecting your Form
Nadi X has woven-in technology with sensors around the hips, knees, and ankles that provide gentle vibrations for easier yoga. Connect to the Nadi X mobile app (currently available for iOS only) and your pants will do the work. It's like having a private instructor on demand! Apart from tech benefits, Nadi X Smart Yoga Pants also look and feel good.
In short, when you can't always make it to the class, here are Nadi X – best yoga pants 2018 of the future. Recommended for beginner-to-intermediate yogis who need that extra bit of practice to perfect the pose.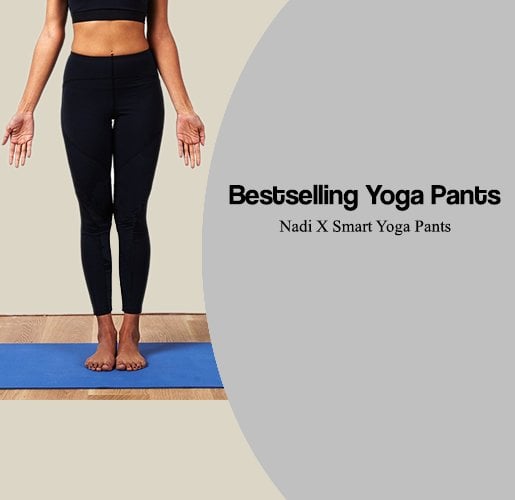 So dear yoga fan, which of the top 10 bestselling yoga pants do you have the hots for? Tell us which of these recommended slimming yoga pants are the best yoga pants 2018 according to you.