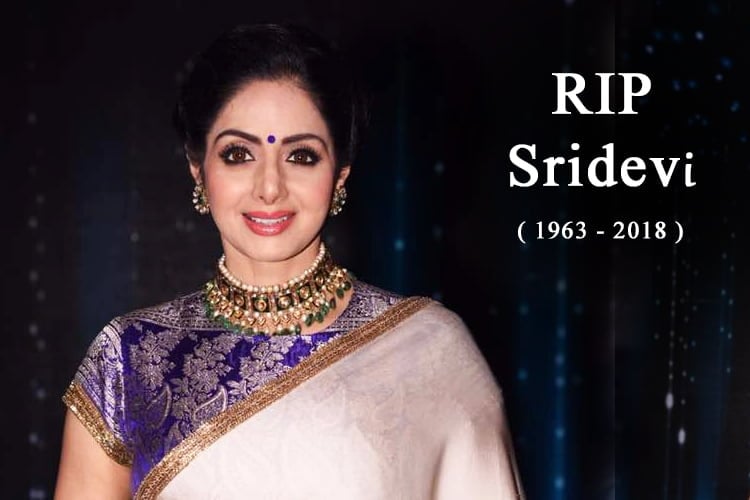 She was born to act. Natural acting is her genre, somewhat rare these days. She left millions of viewers crying into sheets of paper with her brilliant and meaty performances ever since she started acting. She made us giggle like a child with her comedy roles. Her dancing eyes and feet didn't need any training from the fleet of accomplished choreographers. Such was her unmistakable foot-tapping. She started her career at the age of 4 in the 1967 Tamil film Thunaivan when it is time to play with the Barbie dolls. Only she knew when to make that stupid grin, or give that mesmerising loving look. She embraced marriage and motherhood when she was at the top of her game. She has delivered some knockout performances year after year, from her childhood days till this very minute as you read this piece. She put up such an entertaining show in such a short span of time that it is hard to believe Shree Amma Yanger Ayappan known as Sridevi is no more with us.
All of 54, Sridevi left us to tears with her shocking passing away from a cardiac arrest in Dubai on February 24, 2018. She had gone to attend a family wedding, but fate played it all wrong. Is she the Indian version of Audrey Hepburn or Meryl Streep? You decide. But the #Sadma we as movie fans got is hard to forget and overcome too. Her 'Mere Haathon Mein Nau Nau Choodiyan' to 'Kaate Nahi Katate Ye Din Ye Raat', 'Morni Baaga Ma Bole Aadhi Raat Ma' to 'Chandni O Mein Chandni' and iconic songs will keep resonating in our ears for many more years to come. That was the sweet charm of Sridevi movies.
Take a look at Sridevi last video before she breathed her last.
Cameron Bailey, Artistic Director, Toronto International Film Festival, tweeted, "Shocked to hear of the passing of India's legendary Sridevi. Honoured to have been in her presence in 2012 when she visited Toronto for English Vinglish. She made countless millions fall in love with her characters "
Actor Par Excellence
Versatility thy name is Sridevi!
She virtually ruled the acting horizon in the 1980s and early 1990s.
Don't know how many of you will agree with me – but Sridevi can very much be taken as the female version of the famous, charming and seasoned Hindi film stars like Amitabh Bachchan, Dilip Kumar, Raj Kapoor, Dev Anand, Rajesh Khanna and many more. So well-deserved was her recognition that Sridevi was called India's first female superstar. YES!
Now don't be under the impression that Sridevi acted only in Hindi films. She was equally a part of Tamil, Telugu, Malayalam and Kannada films. In fact, she has acted in over 300 films and has won 5 Best Actress awards from Filmfare.
Let's decode Sridevi movies:
What was Sridevi first movie? Moondru Mudichu in 1976 where she was the lead actress and Rajinikanth was the villain.
This is what Rajinikanth had to say on Sridevi death news "I'm shocked and very disturbed. I've lost a dear friend and the industry has lost a true legend. My heart goes out to her family and friends. I feel the pain with them, RIP Sridevi …you will be missed."
Sridevi's first Hindi film was 'Julie' released in 1975. What was her role since actress Lakshmi played the role as Julie? My dear, Sridevi played the on-screen younger sister to Lakshmi.
What was Sridevi's first Hindi film in which she was the lead, actress? Solva Sawan released in 1979 which was a remake of Tamil film 16 Vythinile.
Talk of on-screen chemistry and Sridevi has worked with the Jumping Jack Jeetendra in not just a few films but 16 films! And guess what? Most of these films were super duper hits. The film Himmatwala released in 1983 is an example.
Remember Steven Spielberg? Ya ya, the famous Hollywood director who had made the film Jurassic Park. Can you beat it he had offered Sridevi a role in this international hit in 1993 but her heart and mind were on Bollywood films. So she declined this offer to be a part of Jurassic Park. You can say her choice sets were equally unique as herself.
Miss Hawa Hawai, the one, and only Sridevi was the first choice to play a lead role in director duo Abbas- Mustan's Baazigar film which had Shah Rukh Khan. The female roles eventually played by Kajol and Shilpa Shetty was to be played by Sridevi in the role of twin sisters.
Roop Ki Rani Sridevi was the first choice for the film Beta directed by Inder Kumar which had Anil Kapoor as the main actor. Since Sridevi had acted in many films opposite her real bro-in-law Anil, she declined the offer to act in the film Beta.
Before acting in Yash Chopra's major hit film Chandni, Sridevi's voice was dubbed by other artists. Why because she was not much familiar with the Hindi language. It was in Chandni that Sridevi had dubbed for herself.
Who is Sridevi husband? In 1996, Sridevi tied the knot with film producer Boney Kapoor.
In 1997, Sridevi took a break in films in order to shift focus on her family.
Fifteen years after taking a break from acting, it was in 2012 that Sridevi made a comeback to films by starring in Gauri Shinde's English Vinglish. This was a superb film which added yet another feather to Sridevi's powerhouse of acting. The film was entertaining but Sridevi was the true entertainer and the biggest motivator in learning English! Ha ha.
In 2017 – just last year, Sridevi played the title role in 'Mom'. This critically acclaimed film had Nawazuddin Siddiqui and Akshaye Khanna.
In the upcoming film slated for December this year, Sridevi had shot for a cameo role in Shah Rukh Khan's film Zero.
In 2017, veteran actress Sridevi was given the Padma Shri award, the third highest civilian award, from President Pranab Mukherjee.
Sridevi was Chaalbaaz, Chandni, Mom in every way. In her big rolling of eyes, pulling of faces which conveyed the adventure of a little girl in Sadma to the gorgeous looking Chandni whose stunning curves and beauty is hard to forget. Where is the Queen Bee? Where is her poise and sophistication? Where is that pure electricity who lit up the screen? Her fans never got enough of her, and now they can't.
All I can say is our heart-felt condolences are with her family. Do write back and tell us how you found this Remembrance on Sridevi. It will take some time for her lovers, family, and co-stars to face this huge celluloid setback. The best way to overcome it is to hum the songs she sang in the movies that made her rare, and beautiful! Like this below.

Recommended Articles:
Blast From The Past – Sridevi's Fashion Timeline
Sridevi Fashion Proves True The Old Adage "Age Is Just a Number"
Sridevi Brought Back The Trend of Solid Colored Fashion With Elegance
Sridevi Mesmerizes Us With Her Eternal Beauty On Filmfare July 2017
Has Sridevi at 50 Proved You're Never too Old to Look Hot