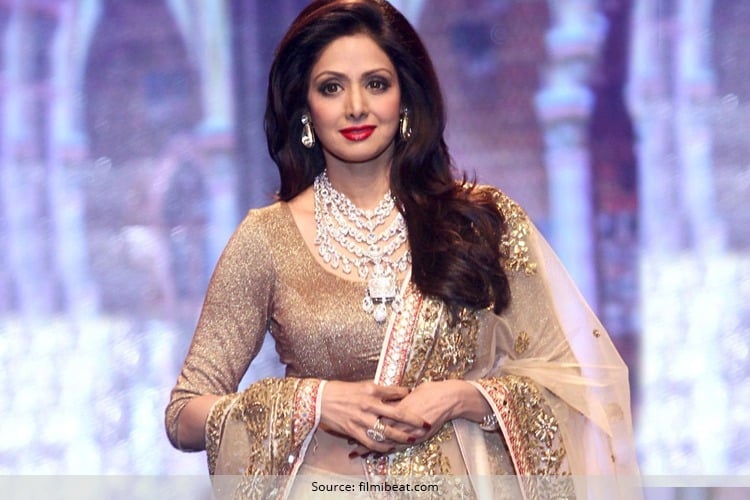 Sridevi started off in Bollywood way, way, way before my time. I have known Sridevi ever since I was a kid and have always admired her up-to-date sense of fashion. Be it her Nagin days or the days when she was the glam doll of Bollywood. She's always been on top of her fashion game.
Show her picture to someone in their forties and they will marvel at what a fashionista Sridevi was and how she never backed down from exploring new styles.
Sridevi started in Bollywood as a child actress, she has a lot of experience when it comes to acting, dancing and delivering mind blowing dialogues (especially in that cute accent of hers), but she's also an expert on setting the floor on fire with her hot celebrity mother looks!
Before we marvel at her present day sense of fashion, let's rehash the past and look at how she changed the fashion game, back when she was on top.
[Also Read: Has Sridevi at 50 Proved You're Never too Old to Look Hot]
Blue Saree
This blue saree of Sridevi paved way for simplistic fashion in Bollywood. While she was confessing her love on a windy night to Mr. India, she killed everyone with her plain blue saree and a big blue bindi. Her kohl-ed up eyes were rather expressive and her blow dry hair were like cherry on top!
Nau Nau Chudiya
Sridevi created lot of trends, but this one – nau nau chudiya remains popular to this day! When she danced to this song back in the day, girls envied her and boys were amazed by her. Her mathapatti , hair accessory, (back in fashion again) and her jhumkas were a popular demand and tailors were swarmed with request of Sridevi k jaisa pink lehenga.
Nagin
Then came those Nagin days when Sridevi just blew everyone's mind with her fabulous performance. Not just that, but her costume, makeup and hair were so on point! Here's a picture to prove that.
Back on Top
Then, after a long haitus, Sridevi made it back with hit movie English Vinglish. Her role of a mother required her to be docile and wear saree's. But she knocked this role to perfection and made saree's fashionable. Gotta love her floral prints!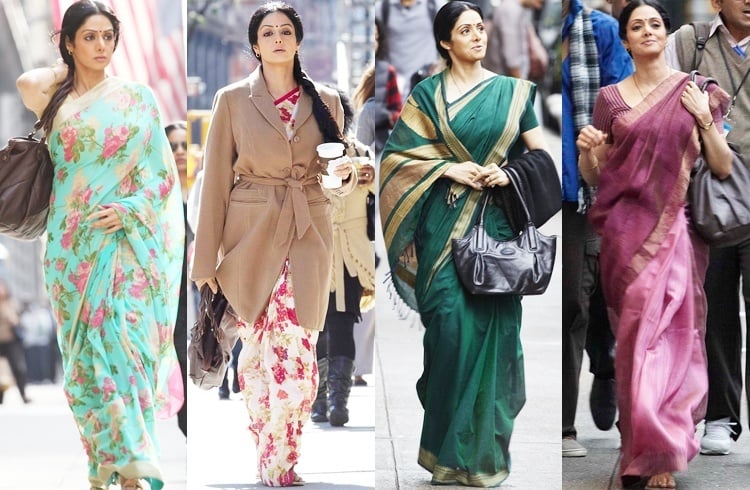 Suit up!
Well, we would think that anyone can wear a saree. But Sridevi showed us she could wear a man suit and rock it with total elegance! Do you guys see the cut outs and her sleek hairstyle? We just have total admiration for this lady!!
[sc:mediad]
Glam doll
Here's another example for those of you who thought that Sridevi couldn't glam up anymore. In a fiery red dress, she looks smoking hot. How she manages to carry that plunging neckline, only she knows. What we know is she carries it very well!
Yello Queen
Another look where Sridevi totally nailed her appearance. In her yellow and gold toned Manish Malhota saree, Sridevi looked breath-taking. She carried the strapless blouse with panache and fancy updo hairstyle gave her quite the graceful look. Don't you agree?
Between so many looks, we are sure you guys agree with us. Sridevi's sense of fashion is gold! She can carry anything with grace and elegance and that's the thing we love about her.
Here's wishing her A Happy Birthday!!