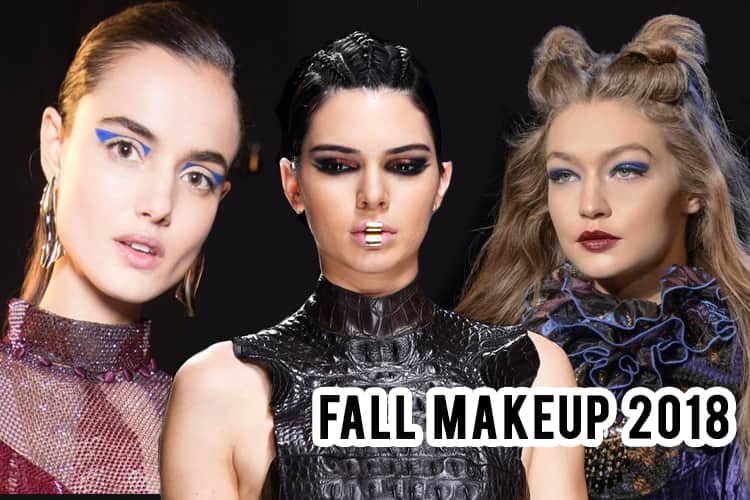 Fall makeup look is one of the most anticipated and fun trends ever, like colorful eye shadow, power brows, glitter lids, two-toned lips, and so on. If you are looking to switch up things this year, we have all the fall make up look inspiration you could possibly need.
1. Reinvented Smoky Eyes
This fall, makeup artists took the smoky eye to a new level. The new black makeup can be worn on the outskirts of the eye while the brow bone can be smudged using dark shadow for a refined smoky look.
How to get the look:
Use glittery black shadow all around the lid and below the lower lash line.
Line the eyes using eye kohl intense.
Finish off the smoky look using an eye gloss.
Tips:
Shades of warm brown and dusty grey can be used to get the smoky eye effect. This can be suitable for both day and night.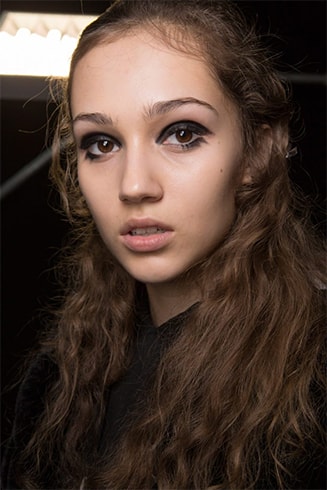 2. Glitter Lids
Few special moments call for high glamour. And putting glitter on eye lids can not only give you the wow factor but is also the perfect fall makeup look. Applying the glitter can be a bit daunting, especially if you don't know where to start. The trick is to use the right tips for right touch of glamour.
How to get the look:
Apply eye shadow and glitter after applying foundation because the glitter will go all over the place.
Apply eye shadow if you want to use a color. Make use of brush or clean finger tips to apply the primer or adhesive to your eyelids.
Dip a damp fluffy eye-shadow brush into the loose glitter. Pat the glitter onto your closed eye lid. Continue until you feel the glitter has settled into place.
Tips:
You can remove the eye glitter using olive or coconut oil. Apply few drops of the oil in cotton. Firmly press the cotton and slide it off your eyelids. You can also do the same using a gentle makeup remover wipe.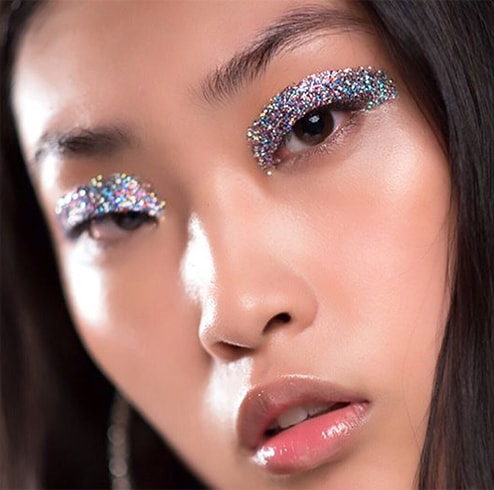 3. Major Colored Brows
Have an interest in filling your light eyebrows daily? Well, you shouldn't be surprised with this major brows trending this fall. You can get yourself an in-salon eyebrow tinting or prep yourself to do your own brow tinting.
How to get the look:
First, make sure your brows are clean and makeup free.
Brush the brows with a spoolie. Apply a thin layer of Vaseline around your eyebrows to prevent skin staining.
Use an eyebrow tint permanent color kit. Empty one capsule of color in a mixing bowl and add an equal amount of developer cream. Make use of a little spoon to mix it into a creamy paste.
Make use of a wet cotton pad or paper towel to wipe off the color. Use a little bit of pressure to wipe off.
Allow the brows to dry completely.
Repeat the steps on the second brow.
If you get color on your skin, make use of a damp cotton swab to wipe it off.
Tips:
If the colored brows come too light, repeat the process over. Allow the brows to dry completely before you try again. It can last up to six weeks and you can refresh by week three or four.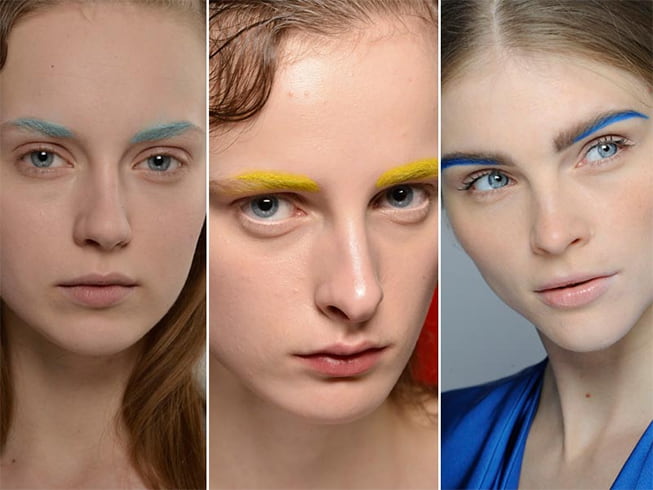 4. Hint of Eye Color
This fall, forget creating smoky eyes on your outer corners. Instead, elongate your eyes using fresh fall makeup colors. Whether it's a semicircle, rectangle, eye color has gone up a level this fall and can be worn high on the upper eyelid. This is a minimalist way for maximum eye enhancement.
How to get the look:
Floating eye liner is one of the top beauty looks. It has both a sharp and minimalist element to it. You can add a stack of hot pink and take your eye makeup look to a whole new level.
Add a flicker of true blue color which can be visible better when it catches the light.
Tips:
Create cool ways to wear eye shadow using vibrant color combos like blue and violet, red and yellow, depending on what you are wearing. This is a fresh and fun take on the usual winged liner.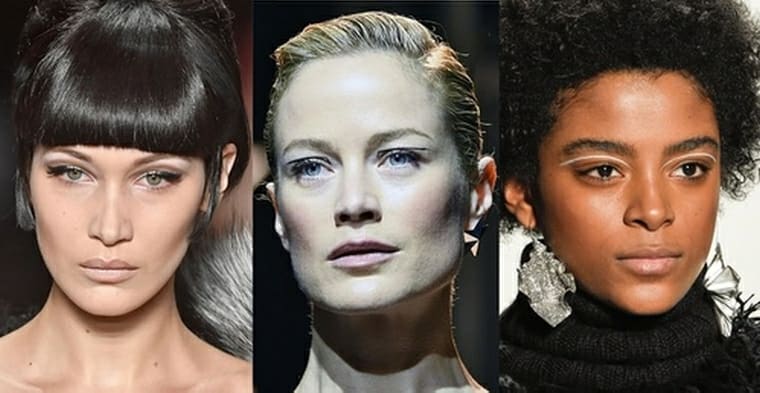 5. Jeweled Washed Lids
People often assume smoky means black. But in the makeup terminology, smoky eyes mean a gradation of colors which gets rendered into jewel tones. For this simple fall eye makeup, you can add blends of pinks and purples.
How to get the look:
Apply translucent powder over your lids using a clean brush.
Place the richest shade of your eye palette over your crease and exaggerate the outer corner a little.
Dip an angled liner into the darkest shade.
Trace your original eyeliner application to intensify it.
Extend a little beyond outer corners, so the color plays subtly over the shape of a cat eye.
To get the flick, start from the bottom of your lash line to ensure your eyes will match daily.
Tips:
Colored lids may intimidate most of you. But there are no rules with color and therefore allow your makeup to be your final accessory.
6. Grunge Lips
The gothic look was everywhere on the ramp this season. This dark lip look can be brought to life using black shadow. You can also make use of blood red lips and wine colored lipstick to get the grunge look.
How to get the look:
To keep up with the essence of a grunge look, look out for cappuccino or burgundy lip shade.
If you are going for a defined eye look, opt for a simple matte nude lipstick.
Tips:
When applying your base, remember to use less coverage. This beauty look keeps its focus on natural skin and not adding coverage.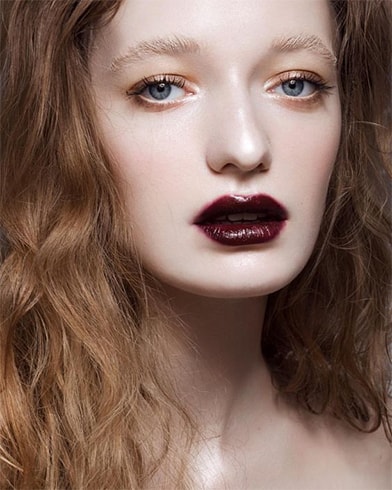 7. Oversized Lashes
This fall, super long lashes are at the top of the trends. You can apply false lashes on the lower lids. A slightly space-out beauty look may bring out that wow factor.
How to get the look:
Make use of multiple coats of super curling and lifting mascara to create the oversized lash trend of your own.
Tips:
This is a really dramatic look and you can try depending on your comfort.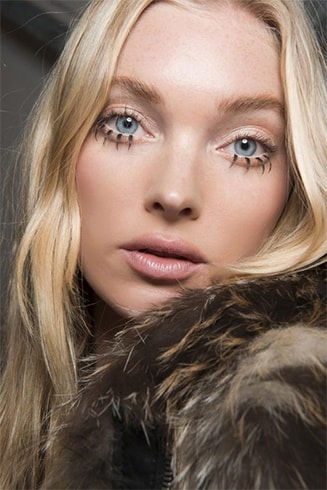 8. Tribal Look
Sport face paint with eyelids covered in tribal drawing. This is a no-holds-barred arty look.
How to get the look:
You can create a stunning look using colored eye liner.
The look has subtle and adorable tribal appeal.
Tips:
Try splashes of neon to get an amazing finish look.
9. Glowing Skin
Makeup is all about bringing out the best in you and your facial features. One makeup trick for fall is to highlight the defining face features and to improve the skin tone.
How to get the look:
Apply liquid foundations that smoothly glide over skin.
This can leave you with a glowing, wet finish.
Tips:
This can allow you to capture the light in the best way possible.
10. Statement Lips
We're on the hunt for lip inspiration for fall. That's why we have referred to runways, red carpet, and makeup artists for coolest lip colors and finishes for our daily makeup routine. What more? They're all amazingly wearable.
How to get the look:
Try neon pigments, dark shades, and blurry faded and two-tone shades this season.
Make the lip colors bold.
Tips:
Just don't highlight the lip area but make it the focal point of a look.
11. Graphic Eye Colors
Define your looks by creating an exaggerating flick partly using several colors or an electric cat eye.
How to get the look:
Use white shadow over white brows for an exciting look.
Create the winged eye using electric blue for an exaggerated look.
Mix two pop colors for a sensual finish.
Tips:
This is an edgy look bound to arrest everybody's attention.
12. Double Ringed Eye
The double ringed eye is another dramatic fall eye makeup look. The look can be created in four color variations. Try this fall makeup looks for a themed party.
How to get the look:
Use shades of red and purple, purple and blue, teal and blue, and orange and green.
Tips:
Keep the rest of the face bare and minimal.
[sc:mediad]
13. Neon War Paint
Are you ready to wear the season's newest glowing trend? Keep reading on how to slip in the neon eye makeup fun along with how to do your lips.
How to get the look:
For creating the neon war paint look you need to apply the color in your crease.
You can create this look using a small, pointed eyeliner brush and a neon eye shadow color.
Neon lights are all about achieving a bright look. You will need a blending brush to blend the color.
Tips:
Wear a fuchsia and orange based lip color to finish the look.
14. Sharp Contouring
This fall, we are looking forward to the transformation from the heavy contouring to a lighter and sharper contouring makeup. In 2018, sharp contouring is the fall looks makeup.
How to get the look:
Try on achieving a glowing skin and sharp contouring.
Finish with grey-brown eyeshade to bring out the look of a woman in charge.
Tips:
This is a minimal yet powerful beauty look. When it comes to contouring, no filter needed.
15. Bedazzled Eye Lids
Jeweled studded lids are quite dreamy. The use of crystals over lids makes it a cool trend.
How to get the look:
You can apply crystals randomly along the lids.
Keep your skin minimal and bare.
Make use of moisture cream and a concealer to finish.
Tips:
You can also glue actual pearls over the inner corners of the eyes using lash glue. Blend clear lip gloss over the lid for balancing off the look.
16. All-around eyeliner
There is a common belief that lining your eyes all the way around your black liner closes them off and makes them look smaller. But this fall look, you can blend eyeliner up and around the eyelid until it touches the wing. This has all the sultriness of smoky eye using a single eye shadow color.
How to get the look:
You can also use a liquid liner for creating that sharp wing.
Tips:
Keep the face bare and minimal while trying out this eye look.
17. Soft Golden Eye
This may be the fall inspired makeup for 2018, but we're getting serious Indian wedding vibes with soft golden eye and bronzed skin.
How to get the look:
Apply soft golden eye shadow blended right up to the brow bone.
Finish off with bright cherry lips.
Tips:
The soft golden eye will be a more wearable look if you keep it on your lids alone.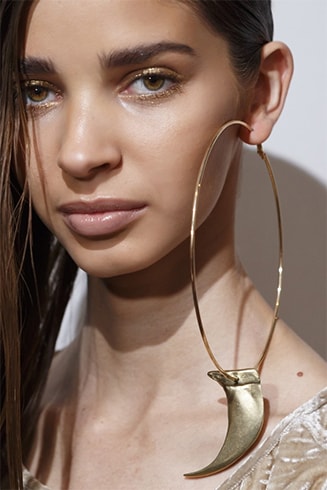 18. Sunny Shades
Add a touch of sunshine to your lids. Keep a natural slate face slapped with vibrant, canary yellow eye shadow for perfect eyes. Yellow is universally flattering and suits any skin tone. Bright sunny yellow in particular works for everyone.
How to get the look:
Apply the color all over the lid.
Keep the lips bold and keep the rest of the face neutral.
Finish with groomed brows, lip balm, and a hint of peach or pink on your cheeks.
Tips:
Prep your lids with concealer and eye shadow primer before applying yellow eye shadow.
19. Bright Pink Cheeks
Subtle cheeks are essential all year round. But this season, a touch of extra blush to your cheeks similar to your skin tone is the trend. This is the perfect look to carry when it's chilly outside.
How to get the look:
If you have fair skin, opt for pale or baby pink.
If you have medium skin, pick peach or coral.
If you dark sin, pick berry or deep rose shades.
Tips:
You want your blush to look natural. So do not apply your blush so high up that it reaches your hairline. Also, do not apply it below the apples of your cheeks.
[sc:mediad]
20. Two toned Lip color
Ever felt undecided which lipstick to wear for a day or night out? Well, looks like this new trend of two toned lip color will solve your dilemma. This trend involves wearing two lip colors at the same time.
This lip trend keeps each color completely separate.
How to get the look:
Make use of clashing colors to increase your wow-factor.
Use a lip brush when using bolder shades for exact precision.
Tips:
You can even experiment with two different lip textures, like matte and satin lipstick. The combination is endless.
21. Power Brows
The new power brows are the trending coordinated color combo this season. Each arch are penciled to striking shape and shaded perfectly to match accompanying lengths. You can match the brows with luminous complexions and pink pouts.
How to get the look:
If your brows are sparse or uneven, use a brow pencil to fill in spotty areas. Use short strokes, and then blend using a brow brush for a natural look. However, do not overdo it.
If your brows are thin, make use a brow powder instead of a pencil. This can amplify your shape better and give a softer finish. Follow the powder trail using a tinted wax to hold onto the color for bold arches.
If your brows are too light, aim to create your brows equal or slightly darker than your natural hair color. First, make use of a powder to lightly create the desired shape. Next, use a gel formal for creating darker, fuller brows.
Tips:
This beauty look is not for the fainthearted and should be worn with oodles of confidence and a wink of the eye.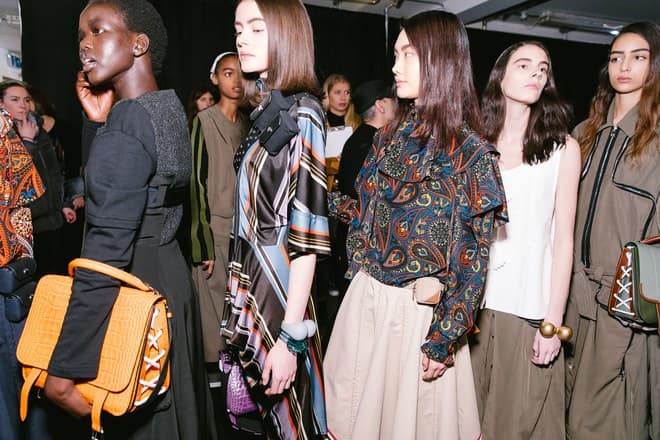 22. Flecked Glitter over Hairline
A little glitter over your hairline goes a long way to create attention. This displays a bold new iridescent makeup statement.
How to get the look:
This makeup look is inspired by oyster diving.
Dust a halo of gold and turquoise flecked glitter along your hairlines.
Carefully allow it to cascade down the forehead and upper cheeks in a gradient effect.
Tips:
This extreme wear of glitter may not be practical for daily life, but it provides an inspirational take-off of sparkle to party wear makeup. You can also smudge the glitter into the inner corners of your eyes. When it comes to glitter application, imperfection is encouraged.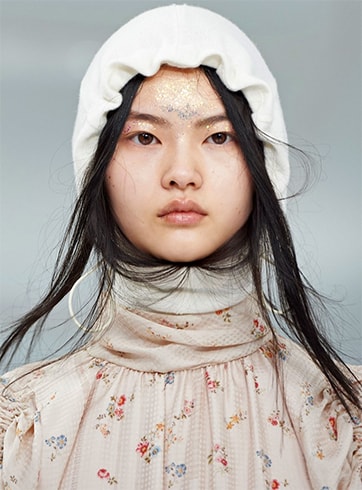 These are the fall makeup 2018. Hope these looks inspire your makeup game. Write in to us and share your favorites. We look forward to hearing from you.