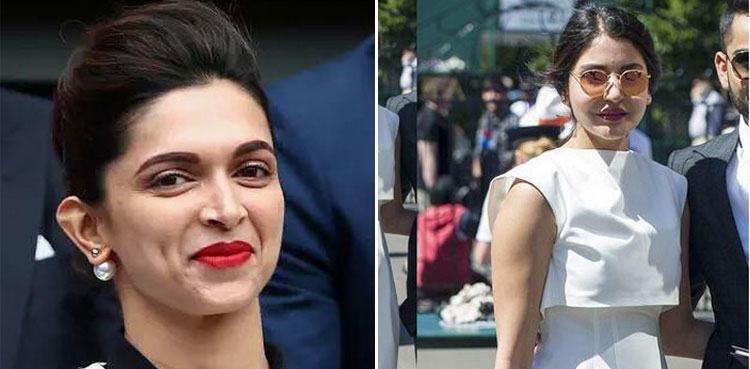 The whole world is going crazy at the moment for two specific reasons (well, there may be more than 2, but our fashion world approves of only 2).
Wimbledon Match Fashion!!
We have given you all the latest deets from #ShahidKiShaadi and then the grand #ShahidMiraReception but we haven't filled in you guys on the Wimbledon front.
First things first, Sania Mirza along with Martina Hingis won the Wimbledon 2015 and their joy can only be explained in one picture –
Woot woot Sania!! You make us proud!!
And then, we have to talk about the fashion scene at Wimbledon. Celebrities from all over the world are flying in to watch the match and there were two special Bollywood beauties who made it to the match. Lady long legs aka Deepika Padukone and Pouty Lips aka Anushka Sharma.
[sc:mediad]
Let's see what they wore!
Deepika Padukone:
Deepika Padukone has always been a sports enthusiast and looking at her watching the match came as no surprise to us. She was accompanied by her family (and due to this, she also missed the #ShahidMiraReception) and was really excited and gracious during the matches. Here are some of her looks.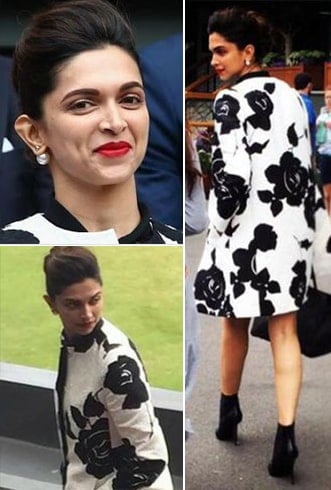 Dolce and Gabanna rose printed coat accompanied by her black Birkin and sexy pumps comprised her look. Completing her look were double sided earrings by Dior and red lips. You guys like or love? We do the latter!
Anushka Sharma:
We don't know why Anushka Sharma was there but she was there and looked super formal (probably because Royal Box seating required her to dress the formal way) with her darling boyfriend – Virat Kholi.
One thing we loved about Anushka's appearance was how she kept it classy! White dress, bag and ballerinas from Valentino comprised her look, and to say that she looked boho-esque chic would be an understatement. With Virat on her arm and a dazzling smile on her lips, Anushka looked no less than a diva.
What do you guys think? Who looked better?