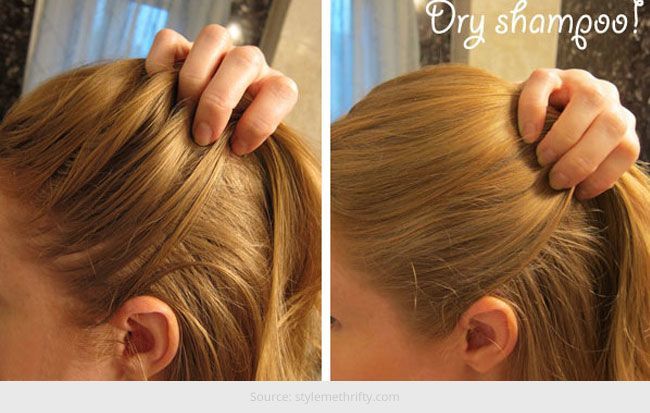 Quite recently we have been bombarded with so many mails either thanking or asking to share more beauty and skincare tutorials. To add to our DIY's here we have an article on how to make homemade dry shampoo.
Do read to learn to make your own organic dry shampoo!
Before we start our tutorial let's first know more about dry shampoo –
What is dry shampoo?
Dry shampoo is actually a typical granulated substance normally used as cleansing agent without usage of water. That's why it is known as 'dry shampoo'.
When should you use dry shampoo?
Even though dermatologists suggests that we wash our hair every other day, over washing with regular shampoo can make the hair dry and if you've colored your hair then chances are your hair dye may fade. So, in order preserve your hair color and keep it moisturized, it becomes necessary to use a protective cleansing agent i.e. dry shampoo.
Moreover, you can use it 2-3 times per week without having to worry for hair loss or dryness. Besides, when you are in rush and cannot afford to wash your hair then dry shampoo becomes an ideal option. This is the best hair product for women on the go.
How does dry shampoo work?
I have already mentioned that hair can be dried up by regularly using shampoo, so dry shampoo is recommended. Why? That's because the ingredients present in the shampoo cleans up dirt and oil from the scalp, thereby making the hair look shiny and bouncy.
How to make homemade dry shampoo?
Ingredients required :
Cornstarch – 1 tbsp
Water – 4 tbsp
Rubbing alcohol – 1 tbsp
Mixing bowl
Small spray bottle
5-6 drops of essential oil (lavender) for fragrance
How to prepare –
[sc:mediad]
Mix all the ingredients in the bowl
Pour the solution into the spray bottle
Shake the spray bottle before every time you use it
Always spray the solution to the roots that is sufficient to dampen
Brush the hair
Now use hairdryer while running your fingers through the roots
While the above recipe was for normal hair below is a list of ingredients used in dry shampoo for distinct hair types –
Ingredients for dark hair –
Cocoa powder – 2 tbspns
Corn starch – 2 tbspns
Essential oils – 5-6 drops
An old makeup brush
Ingredients for light hair –
Warm water – 1 cup
Arrowroot – 1/4 cup
Vodka/witch hazel – 1/4 cup
5-6 drops of essential oil
Ingredients for light hair –
Cornstarch – 1/4 cup
An old make-up brush
5-6 drops of essential oil
So those were a few DIY tips on how to make homemade dry shampoo. Hope this helps!