Religiously for a long time now, we have been bringing the international magazine covers to your coffee table.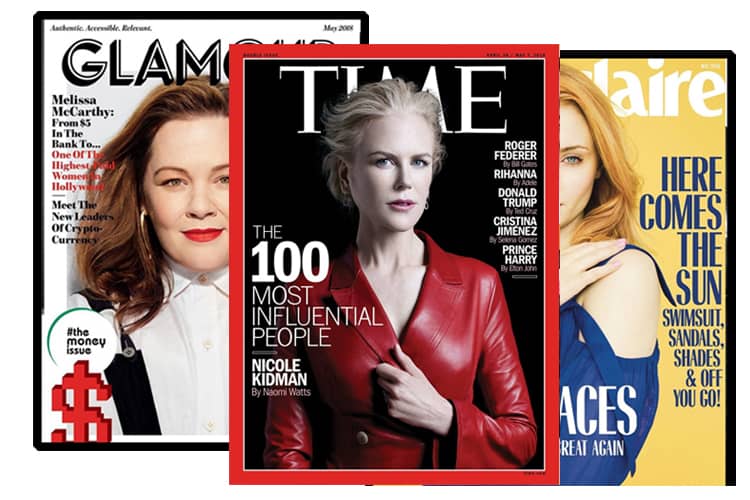 Besides offering some inspiring stories and the latest dose of gossip from the glamour world these global glossies have managed to catch our attention by making our fav celebs up their oomph quotient while posing for their cover.
International magazine covers for May 2018
1. Evan Rachel Wood For C Magazine:
Evan Rachel Wood, the American model, and actress gleamed and glazed on the C magazine cover for May 2018. The 'Westworld' star shone bright and beautiful wearing a metallic Ralph Lauren jumpsuit along with Melissa Joy Manning earrings and Gorjana rings. Posing for Amanda Demme's lens with a stern expression and sleek out of the way hairdo, she rendered the perfect California attitude with her style.
L – The diva did a boho chic style in a Louis Vuitton crisp coat, pants, and black sneakers.
C – In a Gucci bell sleeved top and shining pants, Evan Rachel was her fashionable best for one of the cover shoot images.
R – The diva rolled in an interesting suit style in Thom Browne jacket and shorts.
L -Flaunting her slender body was Evan Rachel in a Dior jacket and pants.
R – Cosy and comfy was the diva in a Balenciaga coat. Speaking of being drawn to unconventional roles, the diva also showcased her unconventional fashion choices.
2. Kerry Washington For Essence:
The Olivia Pope of Scandal, Kerry Washington graced the cover of Essence for the May 2018 edition. Speaking strongly about how her role as Olivia Pope has reformed her personal choices, Kerry Washington surely caught our attention and her strong fashion sense got our eyes glued to her.
In a one-shouldered black Ben Taverniti gown and Jennifer Fisher hoop earrings selected by stylist Joseph Cassell Falconer, she looked ravishing.
With her curls pinned back and luscious lashes, Kerry Washington posed perfectly personifying the perfect mix of fashion, glamour, and grace.
Check out the cover shoot here with us-
3. Melissa McCarthy For Glamour US:
Inspiring us with her story of success and how she climbed the ladder from earning $5 to becoming the highest paid woman in Hollywood, Melissa McCarthy graced the cover of Glamour US.
Wearing a crisp white high necked Yohji Yamamoto blouse and Ariana Boussard-Reifel earrings, she looked bright and shining on the cover. With her dazzling smile, red matte lips, piercing gaze, Melissa looked luminous.
4. Nicole Kidman For Time Magazine:
The Time magazine decided to post many different covers with strong, fashionable women featuring on a few of them. Nikole Kidman graced one of the covers in a red leather jacket. Her piercing blue eyes, blonde messy updo, and the perfectly highlighted features elevated her simple style a notch higher.
5. Jennifer Lopez For Time Magazine:
One of the Time's 100 Most Influential people, Jennifer Lopez graced its cover. Looking angelic in a white flowing gown with wings like a fringe cape, she knocked us off our feet.
Her blonde hair rolling down her shoulders and her deep red matte lips locked our gaze.
6. Tiffany Haddish For Time Magazine:
The American actress, Tiffany Haddish was one among the many who graced the cover of Time magazine. Wearing a pastel blue-gray outfit, Tiffany looked casual yet captivating. With her curls rolling down, fluttering luscious lashes, and flaunting blue-based makeup, she left us impressed.
7. Sasha Lane For Allure:
With innocence in her eyes, Sasha Lane, the 22-year-old actress posed for the cover of Allure for their May 2018 edition. Wearing a yellow outfit, a red eyeshadow, and a quirky braided hairstyle, she was trendy and experimental.
Take a good look at her altering cover shoot styles.
8. Charlize Theron For Elle US:
Charlize Theron, the South African actress chose to hit the beach while shooting for the Elle May 2018 cover. She was captured stunningly by Mario Sorrenti in a black Dior coat and swimsuit.
With her messy hair falling on her face, and sun-kissed makeup, she left us spellbound, gaping at her toned frame.
L Tall and sexy was the diva in a Tom Ford jumpsuit.
C Posed wonderfully in a Marc Jacobs knit bodysuit and Stephen Jones for Marc Jacobs boater hat.
R – In Valentino coat and pants, she looked splendid
9. Marie Claire US:
This May 2018, Marie Claire chose five fresh faces to grace its covers. The five fresh faces included Issa Rae, Yara Shahidi, Sophie Turner, Katherine Langford and Riley Keough.
Yara Shahidi and Issa Rae were captured on camera by Erik Madigan Heck for the 'Fresh Faces' issue.
The 19-year-old successful actress, Yara Shahidi dressed in a Chanel outfit for the cover of Marie Claire. Natural-toned glossy lips, curly hair and driving gaze rounded her simply stunning pose.
Issa Rae, the 'Awkward Black Girl' star graced the cover of the May 2018 edition of Marie Claire. Wearing the Burberry label, Issa Rae created a stunning pose. The purple lip shade, the high updo, and her purple eye makeup looked fancy on her.
Sophie Turner, the Game of Thrones star finds her way onto the cover of Marie Claire, May 2018. In a royal blue cold-shoulder dress, she looked enigmatic. The blue color surely reflected well on her skin tone, complemented her eyes and added more charm to her style.
Katherine Langford, the star of the famous Netflix show, '13 reasons why' graced the cover of the Marie Claire magazine. In a red Valentino outfit, powder blue eye makeup, she looked absolutely worth tons of compliments.
Riley Keough, the eldest grandchild of Elvis Presley, was one of the divas who graced the cover of Marie Claire for May 2018. In a soft pink Louis Vuitton outfit, Riley looked desirous and glamorous.
10. Amal Clooney For Vogue US:
Amal Clooney, the drop-dead gorgeous Lebanese-British barrister, activist landed on the cover of Vogue, May 2018.
Dressed in a bright pink Alexander McQueen outfit, she was an eye-candy. Her wavy hair, luscious lashes, and coral lips helped her cast a hypnotic spell on us all.
In a black and white polka dotted, one-shouldered maxi dress by Johanna Ortiz, she looked classy and sexy.
She looked smart and casual in a Fendi top over a pair of denim.
Bold and beautiful was the lady in an Oscar de la Renta sweater and Frame leather pants.
11. Zoe Kravitz For InStyle US:
InStyle US picked the American actress, model and singer Zoe Kravitz for the cover of their May 2018 edition. The magazine decided to issue 4 subscriber covers and we love every cover style of the diva.
For one of the covers, she chose to go bossy with her outfit and quirky with her accessories. In a crisp black and white suit style, an eye-mask and deep teal blue eyeliner, she looked gorgeous.
Feminine and sensuous was the diva in a pink floral outfit and sheer headgear for one of the cover photos. With pink eye makeup and blush, she looked fascinating.
She turned on her quirkiness and posed with a feathered headgear for one cover shot.
Lastly, for one of the covers, she looked super classy and elegant in a gold-toned pleated outfit. Glowing makeup and coral toned lips rounded her style well.
Hope you enjoyed the show!