Revision rhinoplasty just like most surgeries is an art and a science. Continued success in revision rhinoplasty requires wisdom, good judgment, and accumulated experience that is backed with knowledge. The surgeon who is undertaking revision rhinoplasty needs to have a detailed understanding of the various anatomic variations. The surgeon also has to have the much-needed experience and surgical techniques. Additionally, the revision surgeon needs to have the knowledge of surgical changes that happen and how improvement can be achieved when the result is not pleasing.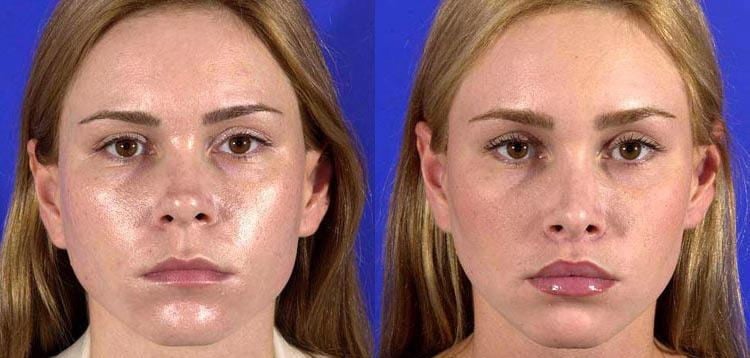 The national revision rate of primary rhinoplasty is between 8-15%. The sad bit is that there will always be a number of patients who want revision rhinoplasty. Surgeons who are experienced with revision rhinoplasty usually have a high level of satisfaction at the end of the surgery. One thing to remember is that complications can still occur even if a well-done surgery is performed.
Revision surgery is different from primary rhinoplasty in many ways. You will easily find obliterated tissue planes, over resected precious tissue, and you will also find weak cartilages because of the healing forces. The quality of skin and elasticity has to be factored in the planned surgery because it is a limiting factor. Additionally, a careful analysis has to be done on the bony structure and the current cartilage.
Having gone through what revision rhinoplasty entails, let us look at the various surgical treatment plans available.
Hump Reduction Under Direct Visualization
Over the years, surgeons have indicated that the bony pyramid can be repositioned, reliably reduced, or even augmented (endonasal approach). However, open rhinoplasty can allow the nasal dorsum to undergo precise contour refining. There is a tendency of surgeons to treat the bony pyramid in a closed fashion even when the open approach is being used.
For some surgeons, the closed approach has worked to address the problems on the bony profile. But when a rhinoplasty procedure that is open is being performed, the hump reduction procedure is undertaken. With technical challenges on the positioning of the combined with nasal dorsum, a different osteotome may be used that is different from the one that was used in closed hump reduction.
Powered Rasp
This is an alternative method to the manual rasp. Powered rasp can be used in place of a manual rap, but it is used in places that have less soft tissue trauma, and the site is visible. The powered instruments are useful for smoothening the bony margins of the roof that is open; they are also used to correct bony irregularities that are isolated, for instance, in revision rhinoplasty. The use of powered reciprocating rasps can result in a much more appealing result with lower incidence of palpable or visible bony dorsal irregularities.
There has been great growth in powered rasping. It is now available in operating rooms, and there is also a reusable rasp-attachment. Although this type of rasp is advantageous, some surgeons switch to the air driven powered reciprocating rasp because of the handling features and high reciprocating speed.
DNE and Endoscopic Septoplasty
When a patient reports nasal obstruction, DNE (Diagnostic Nasal Endoscopy) is done to evaluate the patient who wants to undergo revision rhinoplasty. According to Levine, it was reported that 39% of patients who had complaints of nasal obstruction underwent an endoscopic examination that indicated results that traditional rhinoscopy did not identify. Most of the patients of Levine had seen other physicians for the same issue, and they never received the right treatment. Patients who wanted to undergo cosmetic nasal surgery and they also had nasal endoscopy allowed additional pathology diagnosis that was not on anterior rhinoscopy that includes enlarged middle turbinates having concha bullosa, obstructing adenoids, nasal polyps, choanal stenosis and chronic sinusitis. If there is persistence on septal deviation posteriorly after septoplasty is done, revision septoplasty may be required to counter the persisting nasal obstruction. Since mucosal flaps are usually adherent after septoplasty, a traditional approach to revision septoplasty may present some difficulty, including septal perforation.
[sc:mediad]
Composite graft for alar retraction
Patients with extreme conditions of alar retraction usually go for auricular composite grafts. To get the best donor site, the cartilage and the skin of the anterolateral layer of the ear, located just below the inferior crus of the other ear serves as the best source. If there is a need for a small composite graft, the donor site can be closed. But if a large graft is needed, then a revolving floor or postauricular flap may aid in the closure.
When undertaking a precise pocket approach, composite grafts are easy to place. When performing more extensive revision rhinoplasty, using wider elevation, there can be a concern that the composite graft may not stick in position.
Computer Imaging
Although computer imaging is not a surgical technique, computer imaging has been a mandatory tool that has been used in revision rhinoplasty. Most surgeons cannot perform cosmetic rhinoplasty when computer imaging has not been done. Computer imaging is done in each exam room through a computer network. The photos of the patient are uploaded to the screen of the computer and imaging is done.
Computer imaging is used by the surgeon to communicate the goals of the surgery. It is not an after picture of how things will look like, and it is not a guarantee of how things will go. It is just a simple way of sharing how the surgery intends to be undertaken. A surgeon then prints out the preoperative photo on a routine basis and shares the goal photo and places them on the wall of the operating room when surgery is taking place. This is with the intention of referring to the pictures as the surgery is progressing.
For more information regarding how you can take revision rhinoplasty, contact Dr. Andrew Frankel today. You can log onto his website where you will find all the procedures undertaken by Dr. Frankel. You can make an online appointment through the website to inquire with a revision rhinoplasty expert in Beverly Hills.