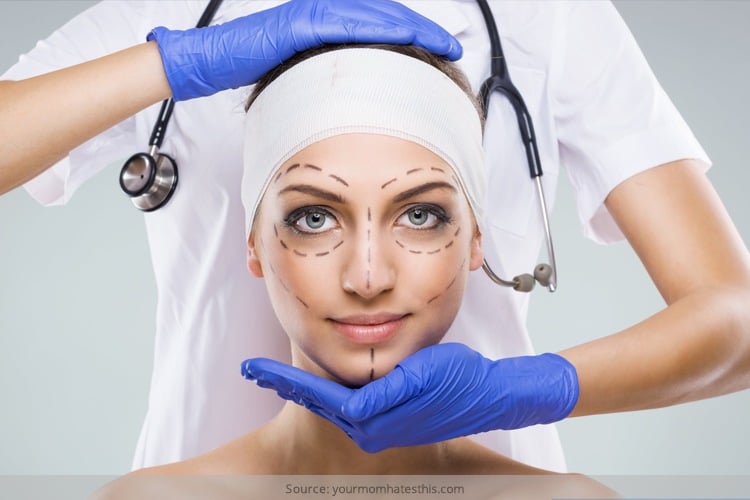 In recent times, plastic surgeries to alter your body parts have become so common that it's like batting your eyelids! Once an item kept hidden in the closet, it is accepted with cool aplomb today, even by Hollywood celebrities! Also known as 'mommy makeovers', these have become hotter and trendier as ever! However, no matter whether you are considering a tummy tuck or a cheeky lift, it still implies going under the knife which will not only cost you an arm and a leg but would also alter your body in a big way! Before committing to it, look into some major factors to consider when getting plastic surgery.
1. Get Certain
Getting your wants, need and aims clear counts among the foremost factors to consider when getting plastic surgery. While cosmetic surgery is an elective surgery which is just not necessary and you undergo it at your whim but it still is a dramatic physical alteration surgery! Thus its why, how, what, etc. must be thoroughly thought out! It should be something that you desire for yourself and not what your someone else expects of you. Your body should also be fit enough to undergo the surgery.
[Also Read: The Saga Of Hollywood Plastic Surgery]
2. Do Not Be Shy In Digging Facts
Now that your mind is made up, next step is cosmetic surgery what to know beforehand! Resort to the World Wide Web to know all about it! Forego shyness and approach any friend or relative who have undergone the procedure to dig out facts, experiences, any inconveniences, the surgeon etc. Knowledge can be your best arsenal in taking right steps in the right direction!
3. Some Procedures May Not Give Immediate Results
One of the important facts about cosmetic surgery is that its result may not be immediately visible! For instance like when going for lip correction, it may swell post-surgery and results may not be evident until a couple of days or even a fortnight. You must be aware of the time required and possible complications if any.
[sc:mediad]
4. Pick On Right Artistry And Expertise
A plastic surgeon is no less than an artist and expert who can lend you beautiful and amazing results! However, even plastic surgeons have different specializations. One who is an expert in breast augmentation or body contouring may not be suitable for an eyebrow lift or a nose job. Look for the one who best fits your bill and is within your reach. A wrong selection here can make the entire procedure go haywire.
5. Get Into A Personal Meeting
Ensure to have a meeting with the surgeon before committing to the procedure. Ask oodles of questions and get the entire guide to safe plastic surgery! Communicate clearly your expectations and if possible, even images of faces and bodies that you want to be constructed on you. Getting open and candid will not only help you nail your dream post-operative vibe but also prevent any revision procedures. Understand, not all post-operative results are re-correctable!
6. Check The Credentials
Unfortunately, with the procedure's rising popularity, there has been a mushrooming of surgeons who lack proper skill, training, certification and even license to practice! Thus it's vital that you check upon the credentials, licenses, testimonials, certifications, possible meet with previous clients who had undergone the same procedure that you desire, etc. At the end of the day, you must be absolutely certain about him/her and trust him implicitly.
7. Be Realistic In Expectations
Cosmetic surgery should always be approached realistically. It's not something that would suddenly turn you into a swan from a duck! It would simply improve a body part and not bring about any major transformation to make you overnight beautiful. If in doubt, do not opt for it and always remember to seek an advice from a mental health provider.
8. Expect The Unexpected
Plastic surgeons are no magicians! There can be no surgeon who never has faced any complications. Generally, a success rate of 95 percent is considered acceptable. Alternatively, the result may vary on you from that on your friend. Not only are your skin different but your different lifestyle and genetics would also have some say on the results! Thus it's smart to keep room for that margin of error.
9. Evaluate The Facility
Ensure that the location is convenient for you and the facility is properly licensed. Remember, it need not be a hospital but it must be surgicenter approved, comfortable and updated with all possible tools and requirements. It should be inspected periodically. The help staff like the anesthetic should also be well trained and certified. Double check on all your safety factors!
[Also Read: Bollywood Plastic Surgeries that Horribly Went Wrong]
10. Check Your Diary
Checking your diary for time constitutes amongst critical factors to consider when getting plastic surgery! Depending on your procedure, your recovery period may vary from days to weeks! Even after the initial pain, bruising, aches or any other discomforts have disappeared, you might still face some restrictions that you must be able to accommodate.
This covers your go-to list before opting for cosmetic surgery. Do share your thoughts on this or of you feel something has been missed out!