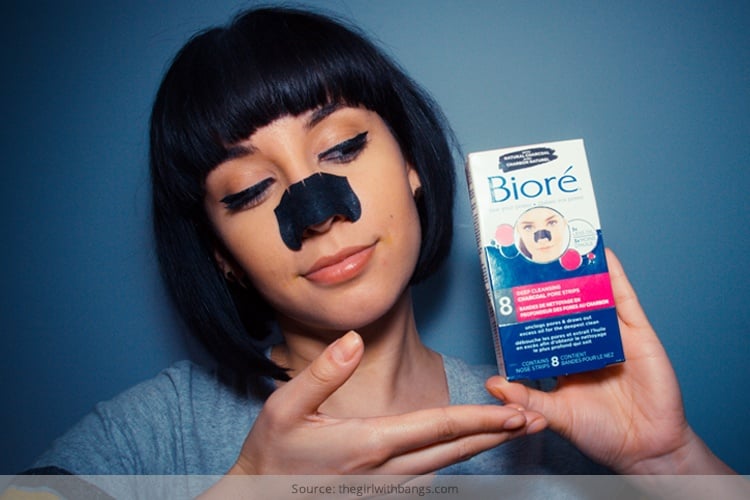 Agreed, they may end up looking a little weird, but they are actually the best things that you can get for those pesky blackheads on your nose. Not only are blackheads pretty hard to remove, but they also make your skin look terrible. Pore strips for blackheads are however the best removal technique. They might not look that great but if you really want to know how to get rid of blackheads, read this article and get to know about the best pore strips available in the market right now.
Best Way To Remove Blackheads
Nose strips are a genius invention. They are especially great for all those women who want the best way to remove blackheads without getting into the painful and conventional process of removing blackheads with that torture device. Not only are blackhead nose strips easier to apply, but they are also readily available and inexpensive too! Just get a strip, stick it on your nose and let the magic happen!
Best Pore Strips For Blackheads
Pore strips are a necessary evil-really! Sometimes they might be a wee bit painful, but trust us- they are all for your good. In fact, once you use them, there is no going back and trust us, you won't be able to live without those nifty little strips. Let's check out some of the best pore strips that are available in the market right now.
[sc:mediad]
Dr. Jart+ Pore Master Patch (Available at Sephora for Rs. 500)
These are hands down the best pore strips that you can lay your hands on. The double action blackhead removal process ensures that all your pores are removed without much ado and you get a shiny and poreless nose. The first step is to press the dry patch on your nose and wait for ten minutes. The add water to the pore and let it settle down on your pores for another ten minutes. Strip it off and see a whole new nose! It has some amazing tea tree extract to coo down your nose and remove the redness.
Bioré Deep Cleansing Pore Strips Combo (Available in Sephora for Rs. 670)
This one has been in the market since so long that it has now become a trusted name in the blackhead removal strips arena. The application method is a little bit different that all other blackhead pore strips because you need to apply water to your nose before you stick it on. Once that is done, the strip will take about two to three minutes to settle down on your nose. Slowly you will get a cooling sensation and then you can pull it off. Your nose will be squeaky clean. It is one of the best pore strips available after Jart+ (which explains why we put it after Jart+)!
[Also Read: Best Beauty Brands in the World under Budget]
Earth Therapeutics Clari-T Pore Cleansing Nose Strips
Many of us haven't even heard of these pore strips, mostly because they hardly advertise! But they are pretty much effective and great for your skin thanks to their all-natural products. The tea-tree extracts that are in these strips (They come in a pack of 30) are extremely mild on sensitive skin and will prevent breakouts on your skin too. But they might dry out your skin a little. Use them if you are prone to skin breakouts but at the same time you want those blackheads gone!
Boscia Pore Purifying Black Strips (Available at Sephora for Rs. 1800)
Yes, they are a little on the expensive side, mostly because they work very well. The only reason they did not feature on our best pore strips list on the top is because they might be pinch your pocket. The biggest problem with most pore strips is that they do not harden and you have a hard time removing them. But with these strips, blackhead removal is actually a breeze! Try them if you want a painless and soft pore removal strip.
So, these are out top picks for the best pore removal strips. Let us know in the comments which ones you liked the most!