Finding out the beauty secrets of celebs is one thing. Knowing about Padma Lakshmi's beauty secrets is something else- like winning a lottery.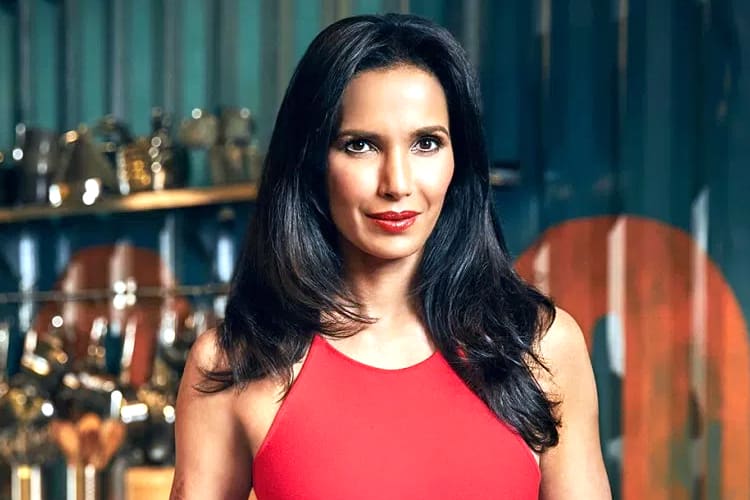 Padma Lakshmi is internationally applauded as an actress, food expert, model, and The New York Times best-selling author. She is not just any entrepreneur, but a savvy one with several companies of her own.
But when you talk about Padma Lakshmi's ageing, you will run short of words. Its hard to believe she has crossed 45. What did she do to deserve the skin she has? Went for botox or face jobs?
Padma Lakshmi Breaks Down Her Skincare Secrets one by one.
Excited?
OK, for starters, this is what Padma Lakshmi told PeopleStyle for the 5 Question-based Video Series.
My secret is my diet…I think the reason people don't believe I am the age that I am is because I always ate well in my 20s.
She continues:
"What you eat shows up on your skin, on your hair, on your nails and on the whites of your eyes. And people don't realize that!"
Lakshmi admits to have indulged in a guilty pleasure or two, but overall, she credits taking care of herself inside-out is the secret behind her youthful glow.
I really didn't take sun or at least, not without a lot of sunblock. And I eat 50 percent fruits and vegetables. That really, really makes a difference," Lakshmi says.
Feeling beautiful and strong is important to Padma Lakshmi. This could be one of the reasons why she launched a beauty line with M.A.C. Cosmetics, aimed at women with medium skin tones.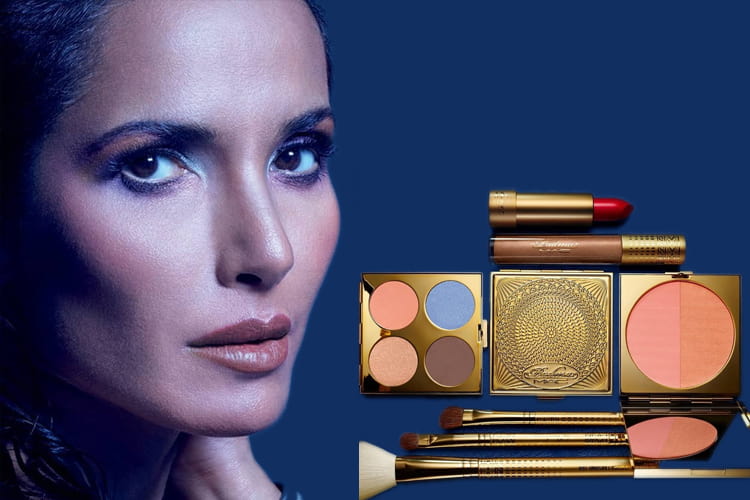 Is that all?
No, Padma Lakshmi passes along her beauty wisdom to her daughter Krishna, who is all of 8.
I teach her that beauty comes from within," says Lakshmi. "Beauty is skin deep but that 'dumb' and 'boring' are to the bone. We can buy you beauty but we can't buy you smarts!" she says. "Pay more attention at school because that is what is going to make you more powerful.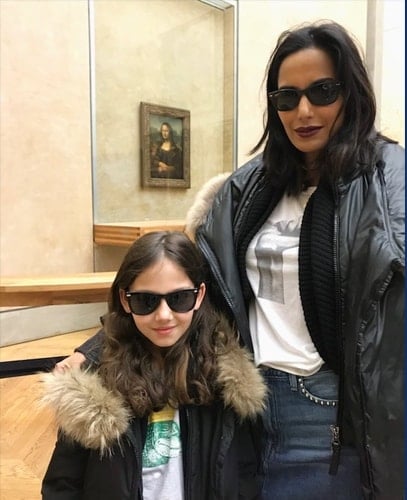 Beauty Things Of Padma Lakshmi
What Padma uses to keep her skin looking fresh and healthy can't be anybody's guess. It's a secret, after all.
Why should you feel disappointed when the secret on padma lakshmi beauty tips is out of the bag?
Well, one of Padma's secret weapons is her knowledge of natural remedies. A fact she verifies when she says "It's my Indian heritage coming out".
A case in point – Padma Lakshmi uses "honey" to get impurities out of her face.
It's antibacterial, but it's also a smoothing agent. You cleanse your skin, and then put the honey on a dry face — if you put honey on a wet face, it'll slide. Then you just play the piano on your skin.
Apart from honey, Padma Lakshmi also uses jojoba oil and tea tree oil in her beauty regime.
Though the Indian born-international celeb likes to move away from big-brand skincare products, there are few items, which she swears by. Here are some of her favourite cosmetic items – the favorite cleanser, exfoliant, and more.
1. Amla Purifying Cleanser
Tracie Martyn, the maker of this Amla-based cleanser is one of Padma Lakshmi's favorite facialists. This purifying cleanser is an all-natural brightening and soothing face wash – which reduces the appearance of pores.

2. Tracie Martyn Face & Body Resculpting Cream
This is a firming cream not just for your face but also your hips, thighs, legs, arms, and torso. In fact, any area of the body which needs lifting and moisturizing.
What does Padma Lakshmi say after using this awesome beauty product?
I'll actually use that on my thighs before a lingerie shoot, or if we're doing something that's very exposed. It just makes your skin firmer.
Got your answer, I hope? In fact, this padma lakshmi skin care tip will help so many models out there whose skin always needs to look perfect and plump from head to toe.

3. Tracie Martyn Enzyme Exfoliant
Meet this yet another product from Tracie Martyn that Padma Lakshmi loves. So kicked Padma is of this skincare product that she calls this exfoliant "fantastic." It's got to be so, since it has pineapple enzymes and alpha-beta fruit barks acids, kaolin clay, kojic acid and witch hazel to revive dull and damaged skin.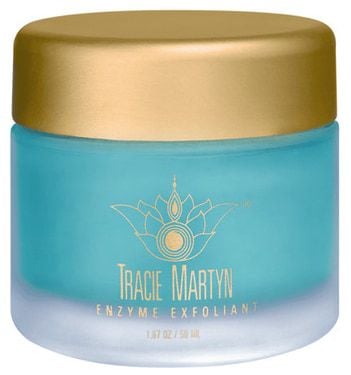 4. RevitaBrow
For all kitty party ladies and working women, this padma lakshmi beauty tips is an award-winning formula – because it conditions eyebrows, and defends them from breakage. 92% of users of RevitaBrow Advanced enjoyed a bolder, fuller-looking brow.
Says Padma Lakshmi "I do use RevitaBrow because I'm one of those models who plucked all their eyebrows out in the '90s!"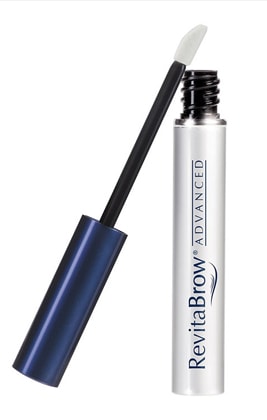 5. EltaMD Clear Broad Spectrum SPF 46
This facial sunscreen is for the acne-prone skin. It so happened that Padma Lakshmi's doctor gave her this SPF. And then this is what Padma said:
I use the 46 SPF because I have hyperpigmentation issues.
Padma further adds that she "avoids staying out in the sun, and will cross the street while walking to find the shady spots."

Diet Pattern Of Padma Lakshmi
Good diet habits shows on the face. And padma lakshmi's diet is ample proof. In fact, she insists her diet is simple to follow. And how?
She says:
I eat a lot of vegetables and fruits. I eat fish, chicken and shellfish. I also eat a lot of lentils and beans.

When I'm not on the show, I'm pretty plant-based. I was raised as a vegetarian in India and in America. We had a vegetarian home. I didn't really start eating meat until I was a teenager, so I'm used to eating like that. It's hard for your body to process meat.
Meat-lovers – the last line in the above comment is for you.
Here is another shock coming your way as Padma Lakshmi breaks down her skincare secrets:
I don't drink alcohol. I don't eat fried food. I don't eat red meat. I don't eat any dairy, except low-fat cottage cheese and non-fat yogurt. I don't eat sweets. Oh, and I don't eat flour.
Does she live on air? No. Padma Lakshmi's strict eating habits might seem tough to follow but remember – no pains, no gains.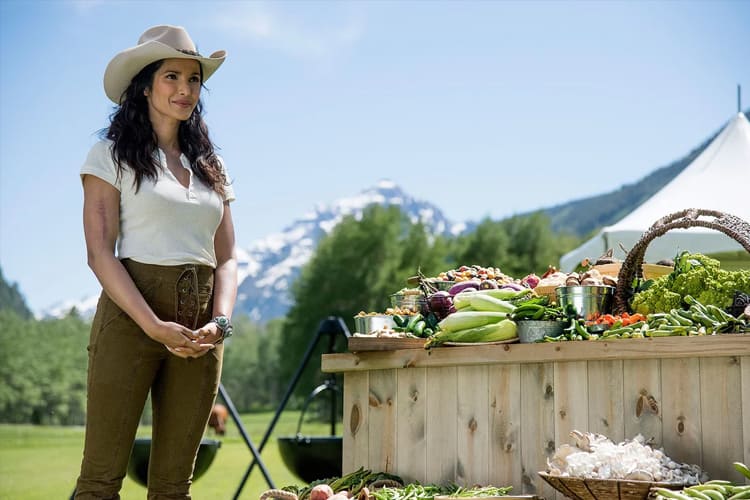 Am sure by now you must be thinking how soon to adopt padma lakshmi's beauty secrets. You better do it fast, if you want to show age-ing THE DOOR. Write in and tell us how you found this post and which product you want to shop the soonest.