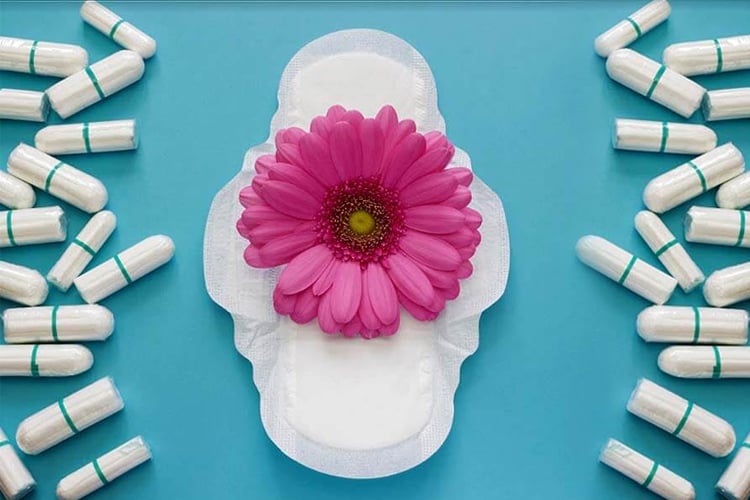 It is a path-breaking move (a lead actually) made by the Kerala Government last week on November 8. Something that is unique in removing the taboo around menstruation, raising awareness about menstrual hygiene, respecting the female hygiene before and after a girl reaches puberty and making sanitary napkins accessible to all.
It is "SHE PAD" – the Scheme to improve Menstrual Hygiene. It is a first-of-its-kind scheme in India to provide FREE sanitary napkins in about 300 Government schools as well as private schools which are affiliated to the state school board.
The Minister for Health and Social Justice K.K. Shylaja inaugurated the project at Janardanapuram Higher Secondary School, Ottasekharamangalam, wherein she handed over the incinerator to Principal V. Sreekala. In her address, the Minister said the project aimed at the physical and mental health of teenage students.
With this measure, Kerala has become the 1st state government to distribute sanitary napkins to school students. That's redefining menstrual hygiene management, don't you think?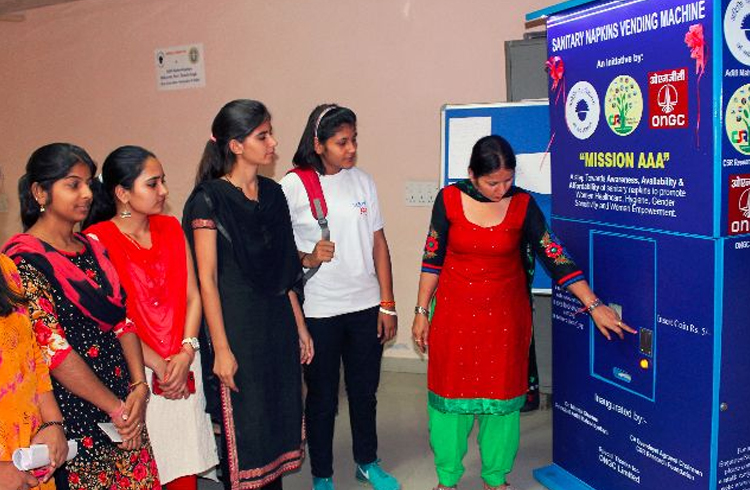 Highlights of the She Pad Scheme
Here is what this menstrual hygiene scheme does and plans to do:
Make free sanitary napkins possible
Facilitate sanitary napkins storage space and environment-friendly waste treatment process at all schools (both government and aided ones) in the state.
Under the innovative menstrual hygiene management, the She Pad Scheme will be implemented in 300 schools across 114 panchayats in God's Own Country, Kerala. This speaks a lot about the Scheme to improve Menstrual Hygiene.
One Q you may have?
Is the She Pad Scheme applicable to only 300 schools?
No, my friend, it will be expanded to all schools in the state of Kerala. "Reach" and "Access" are the defining factors in the She Pad Scheme.
She Pad Scheme On Social Media
The beauty of She Pad Scheme is the way it has been communicated through the social network.
Yeah, it is through a Facebook and Twitter post that the Chief Minister Pinarayi Vijayan explained how the She Pad Scheme will benefit girls of class 6 to 12.
This is what the CM said towards #NAVAKERALAM:
Menstrual hygiene is every girl's right. The scope of the scheme is not limited to the distribution of sanitary napkins. She Pad scheme aims to raise awareness about the need for menstrual hygiene. It also strives to break the taboo around the subject by helping girls to break free from the beliefs of impurity attached to it.

I am hopeful that women friendly initiatives like these will help our girls to lead a life of confidence.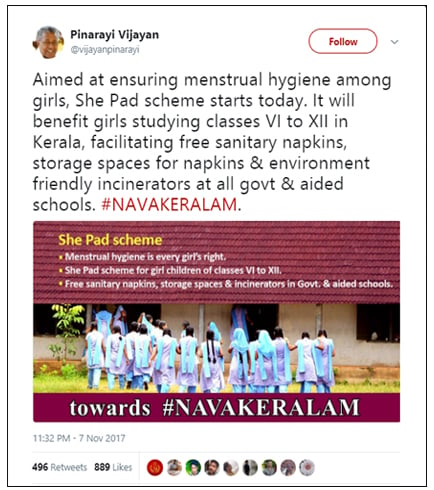 The Cost Factor
The financial cost announced for the She Pad Scheme is about INR 30 crore. This cost is provided by Kerala State Women's Development Corporation (KSWDC) and local panchayats.
Hats off to this confident move made by the CM Pinarayi Vijayan in tackling menstruation in india!!
Actually, this scheme is not just about free distribution of sanitary napkins. It is also an attempt to make the public debates about menstrual hygiene achieve normalcy. Sounds good!
Any Added Benefits?
Under this project, the schools will also get "cupboards" to store napkins and "incinerator" to dispose of the used pads. WOW! The funding for the scheme has been initiated by a local governing body, the KSWDC as mentioned above.
The move behind the She Pad Scheme comes after such schemes were run on a pilot basis in Kerala in certain government schools for about 2 years (both by the current and the previous governments).
According to the National Family Health Survey (latest version) of 2015-16, 9 out of 10 young women in Kerala already use personal hygiene products.
R.P. Khandelwal, chairman and managing director of HLL Lifecare Ltd, a partner in the initiative told The New Indian Express newspaper that the She Pad Scheme apart from making sanitary pads easily accessible in Kerala will also conduct awareness camps in various schools for boys to create a healthy mindset on menstruation in the opposite sex.
Said VC Bindu, the managing director of Kerala State Women Development Corporation (KSWDC), "This scheme is based on the success of the pilot project launched in the government schools in Thiruvananthapuram and Kozhikode in the last two years. Now, this scheme will cater to girls from 11 to 18 years in all government schools".
The Sorry State Of Menstrual Hygiene In India
According to a recent government report released by National Family Health Survey (NFHS)-4 in 2015-16, about 8% of menstruating women in India do not have access to sanitary products. They have to rely on unhygienic options like cloth, ash, sand and husk. OMG! Sounds disgusting, doesn't it?
As a result of which, 70% of women in India are prone to the risk of reproductive diseases.
Grim findings you will hate to chew –
More than half the women in 15-24 age group (which means half of all women in India) have no access to menstrual hygiene supplies.
See the diagram below showing %age of women who use hygienic methods of protection during their menstrual period. That's the disappointing picture of menstruation in india.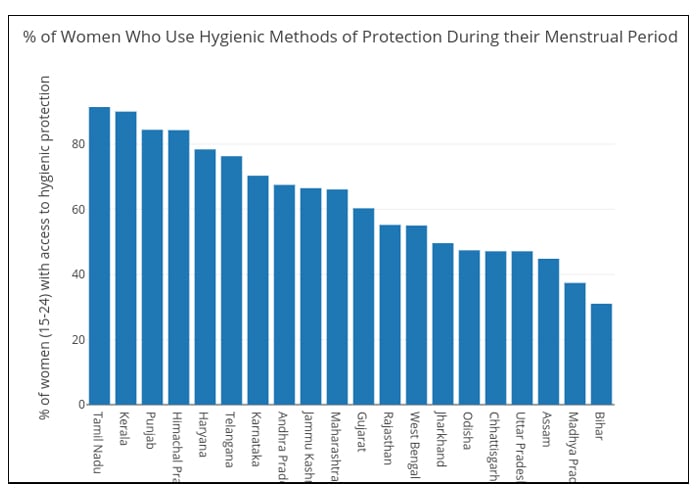 A study conducted by the A C Nielsen 'Sanitary Protection: Every woman's health right' was reviewed and endorsed by the community development organisation Plan India. Following were the findings:
Only 12% of India's 355 million menstruating women use sanitary napkins.
 Around 23% of adolescent girls in the age-group 12 to 18 years are school drop-outs after they start menstruating. Reason? Inadequate menstrual protection like sanitary napkins.
Those who are in school absent themselves for 5 days a month (on an average).
Final Analysis –
LIMITED ACCESS TO SAFE AND AFFORDABLE SANITARY PRODUCTS is one of the main reasons for limited attendance in school, high school dropout rates, and ill-health due to infection.
Kerala Shows The Way
A huge round of applause for the Kerala government to expose myths around menstruation and sensitizing the girls about the same.
Earlier this year, the Government colleges in the state of Haryana and University of Hyderabad decided to install "sanitary pad vending machines" and "incinerators" in the colleges.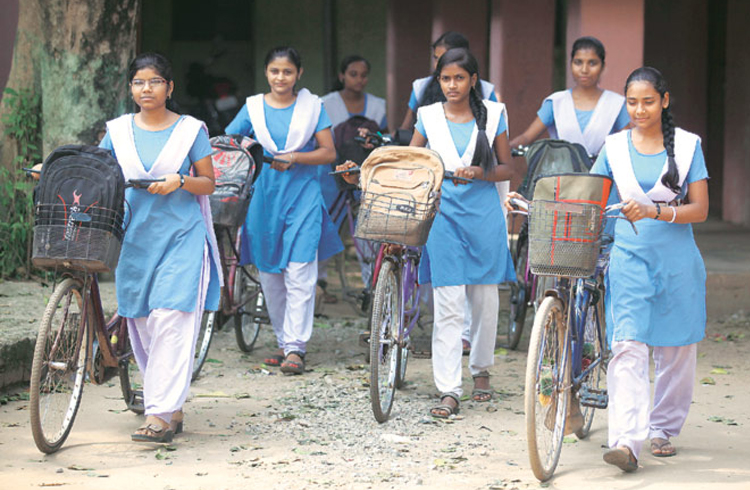 KSWDC officials indicate that access to affordable sanitary pads in the school premises will be of great blessing to every girl child in our country.
Frankly speaking, it is with these initiatives that India will be able to raise a generation of confident girls. It will be nice if other states of India join this revolutionary She Pad Scheme. Yay or Nay?
How did you find this innovative concept of She Pad Scheme – the Scheme to improve Menstrual Hygiene? Do write in your replies and comments.
Images Source: Pinterest / Twitter