Race 3 is racing through the upcoming films and we can't wait to get entertained by the mystery, glamour, and drama like the saga of Race like before. Of all the star cast, Jacqueline Fernandez has taken it onto her to promote the film to the fullest and we are absolutely enjoying the lady's vibrant appearances.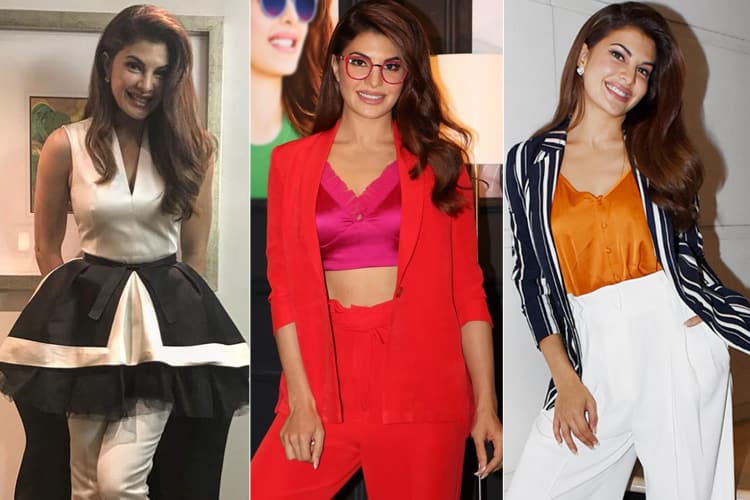 Besides partying, Jacqueline seems to have taken movie promotions quite sincerely and here is the proof. We have pooled her crisp and creative styles and trust us when we say, they are worth the dime and time.
Jacqueline Fernandez at Race 3 Promotional:
In Paule Ka:
Fashion has taken varied courses over a period of time, and as it gets challenging, we have seen our divas stand up to it fearlessly and with utmost grace. One such sighting was of Jacqueline's in Paule Ka outfit. The black and white fit and flare dress with slim fit crop pants and a cape waist down was a creative style and Jacqueline pulled it off with great swagger. The stilettos were an added striking feature to her style. Soft volume filled hair, coral lips, and kohl defined eyes struck the beauty chords beautifully.
In Intrinsic and Silky Bindra:
One look at Jacqueline in a pantsuit and we were strongly reminded of Sonam Kapoor. It felt like a twinning moment. Jacqueline Fernandez was spotted doing a pantsuit style in Intrinsic along with a Silky Bindra brassiere. Red-rimmed geeky glasses, side-parted wavy hair, and luscious lashes rounded her beauty game. The entire ensemble seemed very similar to her bestie, Sonam Kapoor's style. Don't you agree?
In Mango:
Blending multi colors has always been challenging and phenomenal but Allia Al Rufai took the fashion a level higher by blending stripes with solid in three different colors while styling Jacqueline Fernandez. The diva, for one of the promotional events of Race 3, dressed up stylishly in the satin tangerine top and high-waist baggy pants by Mango. To top it all, she added a stripes blazer from Hera by Aj. Soft hairdo, deep plum lip, and clear skin makeup rounded her style.
Hope you enjoyed Jacqueline's racy styles!
June 14th, 2018
Author: Sai Bhargavi Chintaluri
---
Jacqueline's Latest Styles Are A Sight You Cannot Miss!
Race 3 movie is queued for its big release and while the movie is yet to hit the screens, the leading lady, Jacqueline Fernandez took out her time and invested it in the promotions of her movie, Race 3. Every chapter of fashion that the diva showcased was worth carving on our minds and hearts forever. Dig in here for details for some pure fashion entertainment.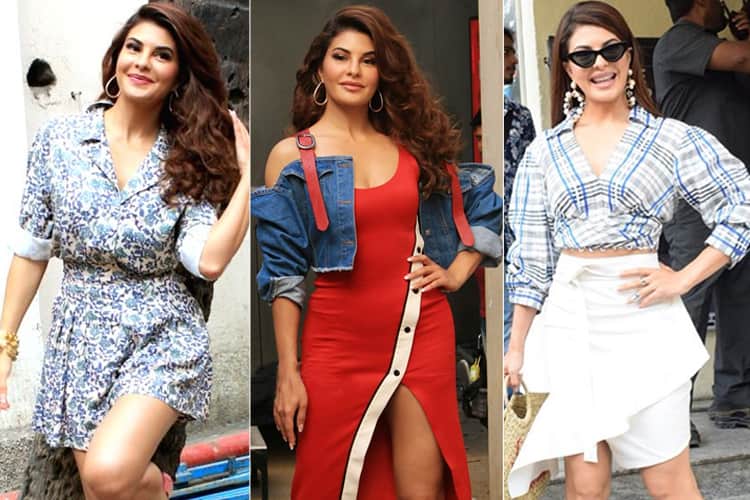 Jacqueline's Latest Styles:
In Jonathan Simkhai:
Looking summer-friendly and sweet like a pie was Jacqueline Fernandez at the launch party of a restaurant that she invested her time, money, and efforts in. Wearing an off-shoulder Jonathan Simkhai dress, she looked simple yet sexy. To the bodycon dress, she added a sleek, slim belt and by adorning layered necklace, she looked as fresh as cotton and as delicate as a feather. Side-parted ponytail, matte-finished lips, and well-contoured makeup highlighting the right features rounded her style.
In Prabal Gurung and Sashe:
For the Allah Duhai Hai song launch featuring in Race 3 movie, Jacqueline Fernandez graced her presence looking stunning. A checked Prabal Gurung crop shirt and ruffled skirt by Sashe were her pick for the event. Coupling her fancy skirt style with Vincenzio Robertina pumps, and pearl-based oversized Isharya hoop earrings, she was drop-dead gorgeous. Side parted sleek hairdo, neutral makeup and a pair of shades and the all-famous wicker bag rounded her style.
In H&M:
For one of the Race 3 promotional event, Jacqueline Fernandez opted for a light, casual printed mini dress by H&M. Adding a pop of cotton candy color with Prada pumps, she tossed in an interesting beat to her style. Viange Vintage jewelry, side-parted wavy hairdo and with matte-finished lips, she rounded her perfect 10 styles.
In David Koma:
A racing red dress with denim add-on feature has always got us excited. Doing the same style to our heart's content at Race 3 promotional event was Jacqueline Fernandez. In a David Koma thigh-high slit dress, she created an inspirational and impacting appearance at one of the promotional event. Topping it with Appapop denim off-shoulder jacket, she drew a typical yet trendy style. Luscious locks curling down her shoulders, blush-toned makeup, and glossy nude lips rounded her style.
Which style of the diva would you like to try this season?
June 6th, 2018
Author: Sai Bhargavi Chintaluri
---
Jacqueline Fernandez Sports Effortless Styles For Race 3 Promotions
Whenever a new movie trailer gets launched, we are all ears and eyes, and try our best to seep into the promotional styles of the leading ladies. One of the recent movie ventures that fell in our purview is Race 3 with Jacqueline Fernandez leading the show.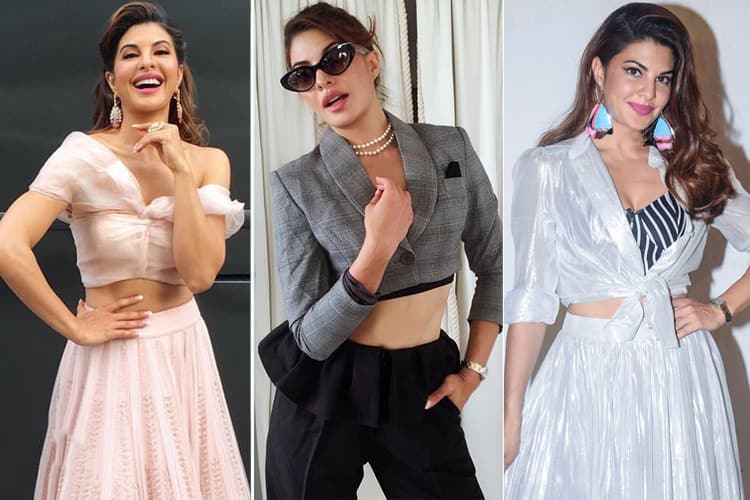 Jacqueline Fernandez At Race 3 Promotions:
The Srilankan native is known to have stolen millions of hearts with her captivating styles, attitude and infectious smiles and laughter. She is back in the game with Race 3 promotional styles, filling our fashion pages. And we can't stop ogling at her ease with varying styles.
Bossy Bomb:
A bit bossy, but every bit sassy was Jacqueline Fernandez, at one of the promotional events wearing an Asos cropped blazer in elegant gray, flaunting her toned abs, along with Rimzim Dadu fancy pants. She rolled out a creative and catchy style. Yves Saint Laurent classy pumps, fancy shades, and double-stringed pearls blended a feminine touch with bossy style. An updo and glossy coral lips rounded her beauty theme. Doesn't this style inspire you to hit the gym? It most certainly does for us!
Sweet Desi:
Unlike the former style, Jacqueline was spotted doing an ethnic style at one of the promotional events, in Jade by Monica and Karishma. Although the pastel lehenga looked very routine, the puffed off-shouldered blouse made the style click. It was the striking feature of the style the diva carried with sheer delicacy. Adorning Anmol Jewellers baubles, opting for half-pinned, side-parted, puff hairdo, and blush-toned makeup, she looked as sweet as a rose.
Bling Magic:
Party-ready was Jacqueline, at one of the promotions of Race 3. In a Kate Spade NY glazing white outfit with a striped bustier, she rocked the skirt style. Wearing blue ankle strap Louboutin sandals, she added an interesting contrast to the white and black style. Funky earrings, side-parted wavy hairdo along with winged liner and matte-finished lips, were her choice for the event.
Icy Hot:
Sticking to the oxymoron 'Icy Hot' was Jacqueline at the trailer launch of Race 3 in a white bodycon Lavish Alice outfit. While the white outfit, besides being trendy, gave an elegant look, the red wide belt added to the hotness factor. With Viange Vintage earrings, Misho Designs rings and Yeezy Mafia sheer heels, she rolled out icy hot vibes. Half-pinned hairdo with streaks of strands falling casually on either side and with red hot lips, she was worth melting for.
Styling credits go to Lakshmi Lehr!
Looks like as much as the movies are getting competitive, so are the promotional styles of the divas. So step up ladies, and get inspired by our favorite Jacqueline, who shows us how to switch styles effortlessly!
May 21,  2018
Author: Sai Bhargavi Chintaluri
---
Jacqueline Fernandez Makes A Perfect Impression Of The Fashionable Marilyn Monroe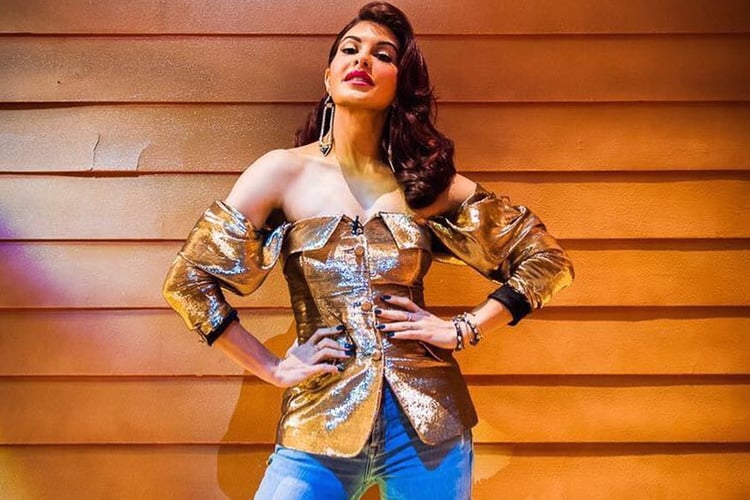 Who doesn't remember the American model and actress, Marilyn Monroe? Everyone does! And doing an exact replication of the famous fashionista, Marilyn Monroe, whose quotes we often refer to was the modern day Jacqueline Fernandez.
The diva stepped onto the sets of 'The Kapil Sharma Show' to promote her upcoming film, 'A Gentleman' looking retro and glamorous.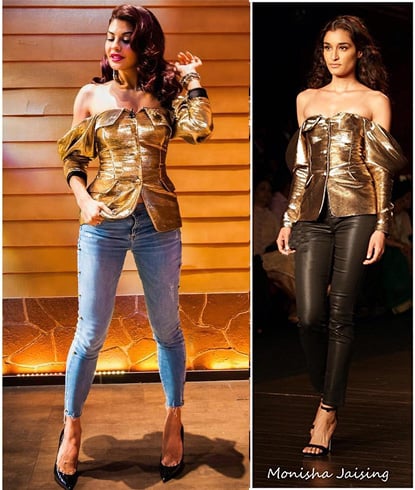 In a gold toned Monisha Jaising off-shoulder top over a pair of tightly fit ankle length jeans, Jacqueline did a classic retro look. A pair of metallic heels in gold or silver would have overloaded the avatar and we are impressed by the diva's smart choice of black Yves Saint Laurent heels.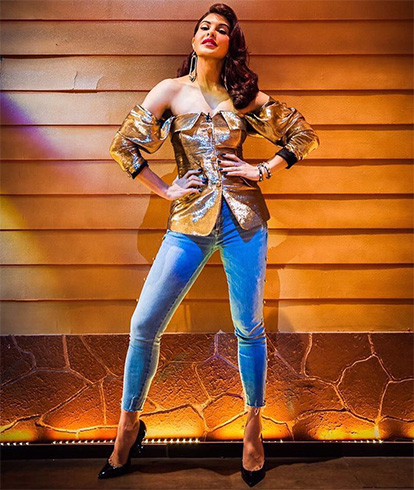 Long dangling Topshop earrings, Deepa Gurnani bracelets spiced up the shimmer and shine avatar of Jacqueline. The classic red pout and the wavy hairdo given by Shaan Muttathil, the beauty expert gave the perfect magical vibe of Marilyn Monroe.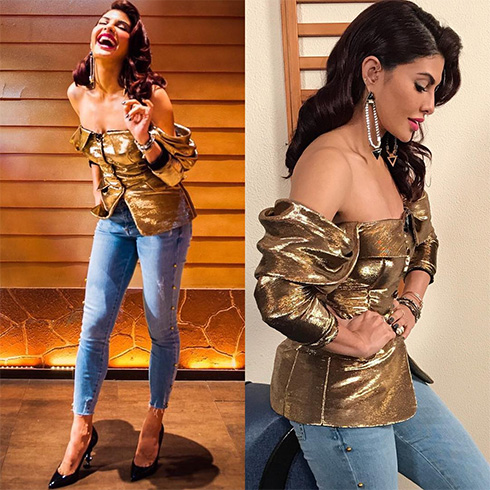 Anaita Shroff Adajania and Lakshmi Lehr were the masterminds behind such an interesting and rock star-ish style of Jacqueline Fernandez. Hands down we are impressed and we know you are too!
August 18th,  2017
Author: Sai Bhargavi Chintaluri
---
Jacqueline Fernandez Height, Weight, Age, Husband And Family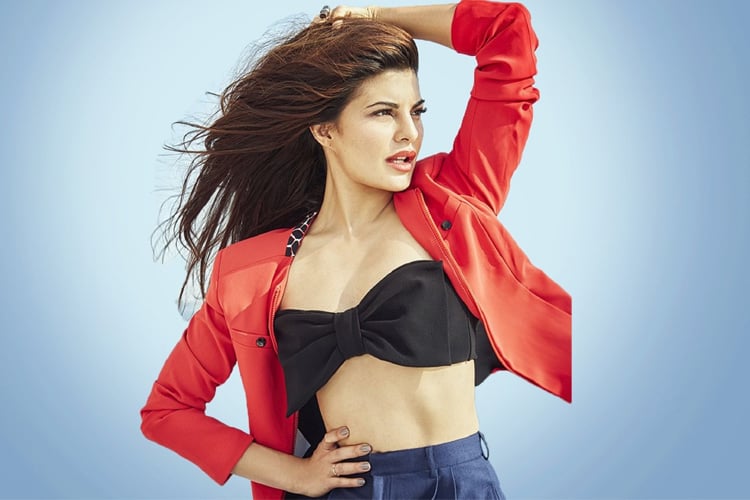 Personal Details
| | |
| --- | --- |
| Name | Jacqueline Fernandez |
| Birthday Date | 11 August 1985 [celebrity_age_calc data="1985-08-11″] |
| Sun Sign | Leo |
| Eye Color | Dark Brown |
| Hair Color | Black |
| Nationality | Sri Lankan |
| Religion | Christianity |
| Education | Sacred Heart School (Bahrain), College in University of Sydney (Sydney), Grad. In Mass Communication |
| Occupation | Model and Actress. Restaurateur too! |
| Marital Status | Single |
Family Details
| | |
| --- | --- |
| Father | Kim (Canadian and Malaysian ancestry) |
| Mother | Jennifer 'Jenny' Clarke, an enterpreneur |
| Siblings | 2 Elder brothers, 1 Elder sister |
| Spouse | None |
| None | NA |
 Body Status
| | |
| --- | --- |
| Build | Slim |
| Height | 5 ft 7 inches |
| Weight | 56 kg |
| Waist Size | 27 inches |
| Hip Size | 35 inches |
| Shoe Size | 7 |
| Dress Size | 6 U.S size or 36 EU size |
| Body Measurement | 34-27-35 |
Jacqueline Fernandez Without Makeup
This woman believes in flaunting her natural beauty than to show just the shades of a makeup-coated look. In her most natural form, Jacqueline was adored by many due to charming face. Her beautiful face and on-point eyebrows don't leave room for any flaws when it comes to beauty. Seen in the most casual attires, Jacqueline is a bombshell to look out for. Her classic beauty is one that is timeless. Three cheers to this flawless beauty.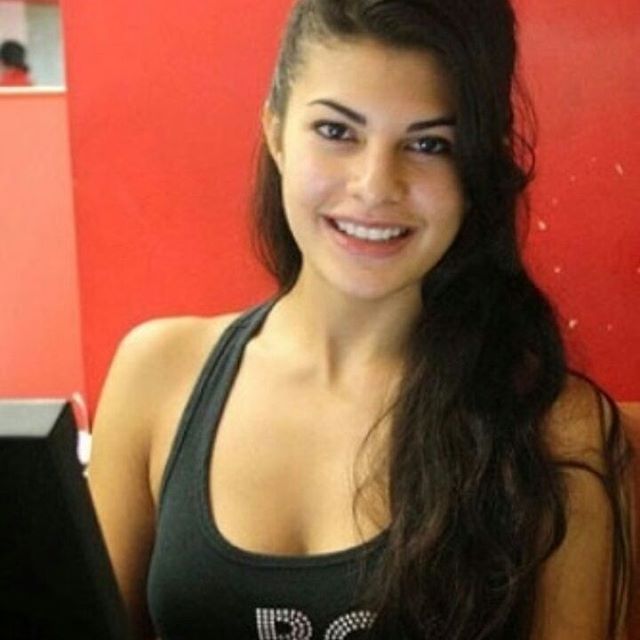 What are the things that interest Jacqueline? Many, actually…
Favorite Things and Hobbies
This is an interesting list:
| | |
| --- | --- |
| Color | White |
| Food | French cuisine, Fish is a major part of her diet |
| Place | It is Italy! |
| Sport | Gymnastics, Swimming, Horse-riding |
| Brand | Issey Miyake perfume |
| Actor | Shahrukh Khan, Leonardo DiCaprio |
| Actress | Angelina Jolie |
| Film | Gone With The Wind, The Bridges Of Madison |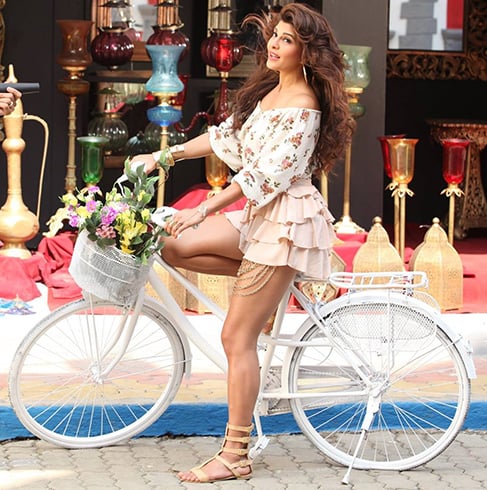 Now what does Jacky do to stay slim and trim?We find out:
Jacqueline Fernandez Weight Loss
1. Workout Plan:
Fitness mantra of JF? She works out in gym and at home.
Her workout includes:
Anushka Parwani is Jacqueline's yoga instructor.Jacky has the following to say about her fitness plan "I alternate my fitness routine with yoga; I practise Hatha, Ashtanga or Iyengar with cardio and strength training."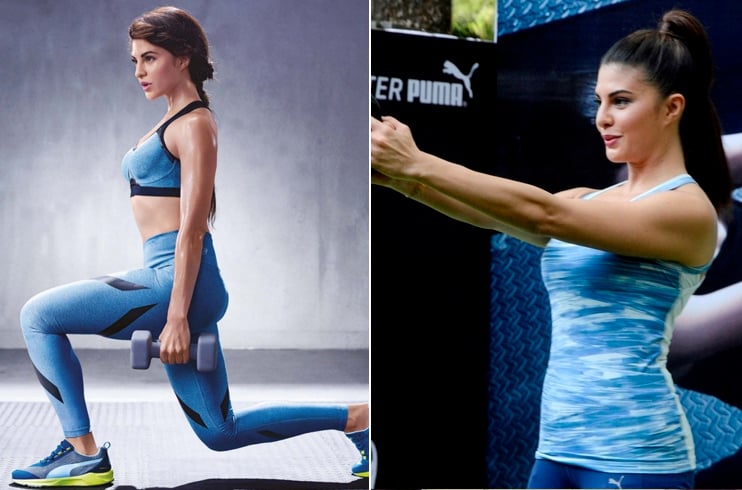 2. Diet Plan:
Says Jacqueline "Take care of yourself by eating right, sleeping right and exercising regularly! These are the only rules I swear by. If you follow this religiously and use the right products, your skin and hair will thank you."Highlights of Jacky's diet plan:
Post workout ,she likes to take a protein-shake
Her meal plan is divided into three primary sources of nutrition: – carbs, proteins and vegetables.
A mix of rice, beans or proteins, and stir fried veggies with salad is her go-to food.
Any home stuff she carries for her shoots to munch whenever hungry? Yeah, nutri balls, dry fruits and seeds
Sushi and salmon – YES, sugar – NO
Dinner is light. In fact, Jacqueline eats dinner only when she feels hungry
Must-haves in her food basket includes super foods, nuts, nut milks, quinoa, salads, green vegetables and fruits."I grew up in Bahrain where it was always scorching hot, so I used to drink a lot of coconut water to keep myself hydrated and it worked wonders for my skin as well. I now swear by it and add it to my juices and smoothies. I also keep my skin hydrated by spritzing on rose, mineral or aloe vera water." Adds Jacqueline Fernandez.
Social Media Profiles

June 6th,  2017
Author: Deepika Dewan
---
5 Jacqueline Fernandez Peppy Styles We Can't Stop Crushing On

Few of the songs playing over and over again on our playlist are 'disco disco' and 'baat ban jaye' from the upcoming film, 'A Gentleman'. As much as the music and the catchy lyrics have got us tapping our feet and rocking our heads, the pretty sight of the leading lady, Jacqueline Fernandez was too hard to miss.
Jacqueline Fernandez is known to heed fashion advise from her BFF and fashionista of Bollywood, Sonam Kapoor. Having sought the tips and tricks from the best of the B-world, Jacqueline has earned her fair and quite a big share of fashion followers and we are one among them.
Here is a sweet package of her stunning styles for you to savor. Dig in!
Lace, sheer and everything glitter
Looking smoking hot during one of the promotional events was Jacqueline in a Saloni outfit. The lace sheer navy blue top paired with red hot shimmering skirt gave both sensuous and classy vibe in perfect balance. While we were expecting nude or classic black heels, Jacqueline chose to do a metallic silver theme with Louboutin heels. With her hair brushed to one side, metallic shimmer eye makeup given by Shaan Muttathil, the beauty expert, she looked every bit glamorous.
The styling credits go to the Style Cell team which includes Anaita Shroff Adajania, Akshay Tyagi, Anisha Jain, Sukriti Grover, Sanam Ratansi and Lakshmi Lehr.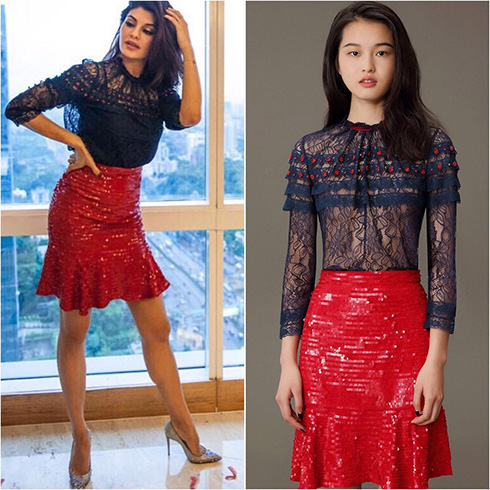 Luscious Lingerie Style
Sending most of her ardent fans hearts for a sky-rocketing race was Jacqueline captured in La Perla lingerie. Purple Paisley corset and micro shorts complemented her curves royally. Jimmy Choo shoes tossed in a street feel to the sensuous style. A messy bun and crystal clear makeup defined her flawless beauty. Leepakshi Ellawadi is the creative mind behind the luscious look of Jacqueline and we admire her gutsy style thoughts.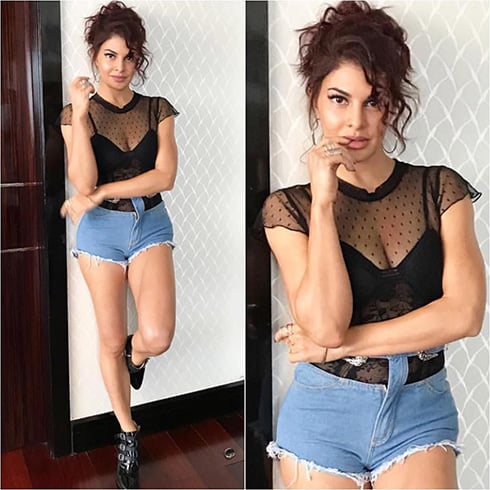 Strike It with Stripes
For one of the promotional event, Jacqueline was styled to look fashionable and stunning in a black and white sequin dress by Hasan Hejazi. Love the balance of sequin bottom with a solid colored, plain top. Manolo Blahnikhq ankle strap sandals were her choice of comfort while on move.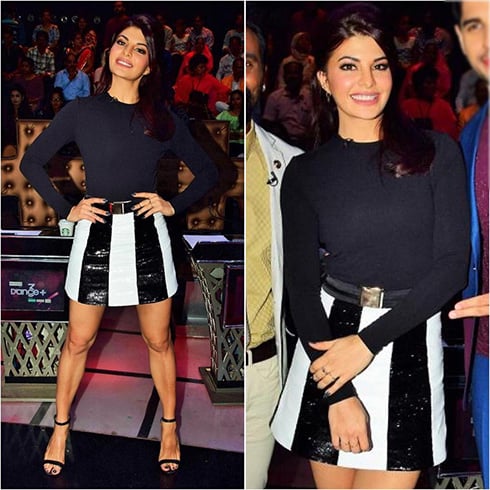 Floral and Ethnic
This summer we have simply seen wonderful creations of ethnic apparel with beautiful floral prints. Playing this fashion note at one of the promotional avatars was Jacqueline in a Mahima Mahajan whimsical Fantasies wrap lehenga. Soft gold toned Misho single drop earrings went great with her outfit style. The partially braided and pinned hair gave her a sweet, adorable touch to her ethnic avatar.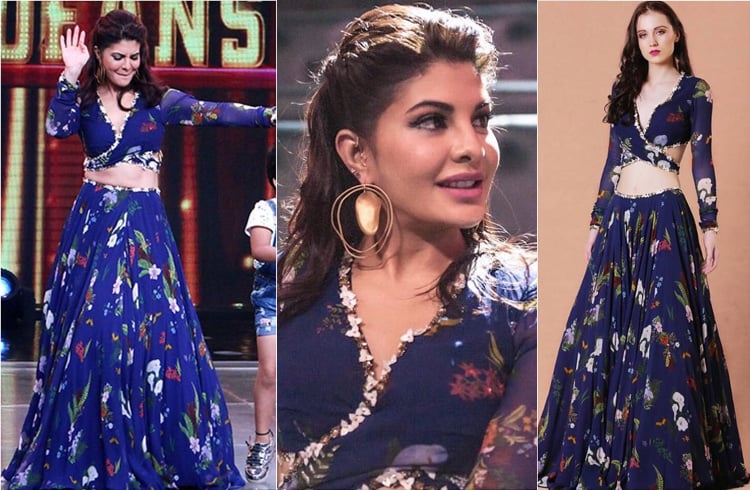 Crops Featuring Style
Cropped and fringe hem-lined top from Pull & Bear, crop pants from Topshop were Jacqueline's pick for a movie promotional event. By adding statement necklace from Topshop, Jacqueline punched in a boho chic vibe. Black heels and white Stella McCartney white handbag accentuated her funky look. Geeky glasses and straight hair closed her assorted trendy avatar.
Hope you bookmarked Jacqueline's peppy hippy styles.
August 17th,  2017
Author: Sai Bhargavi Chintaluri
---
Jacqueline Fernandez Joins The Movie Promotions Club Fashionably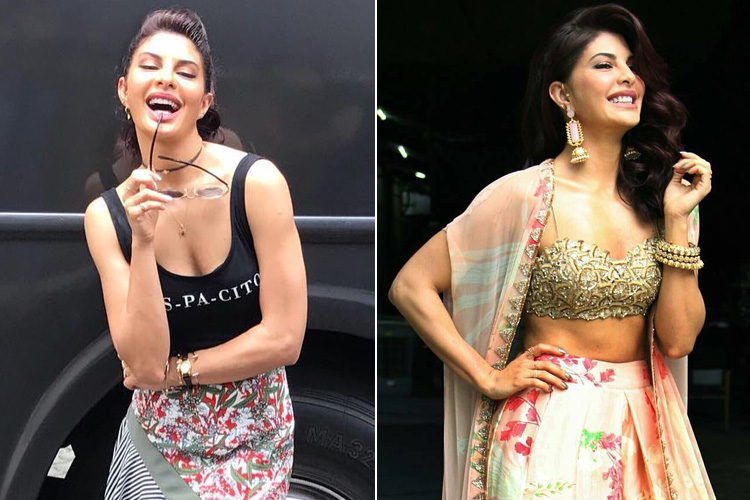 Of all the promotional avatars of the B-town ladies, we always found Jacqueline Fernandez styles highly entertaining and trends chic.
The talented and gorgeous lady has been busy off-late promoting her upcoming film 'A Gentleman' and trust us when we say we found her styles total fun and fascinating. Here is quick preview-Chic & CharmingHave you heard the song 'Despacito' that's raging in the music world? No! You definitely should! The diva Surely showed her love for the song by wearing a 'Despacito' labeled bodysuit by Bershka. Over the sexy suit, she clipped an asymmetric frilled skirt by Madison and gave us the total Mexican chica feel.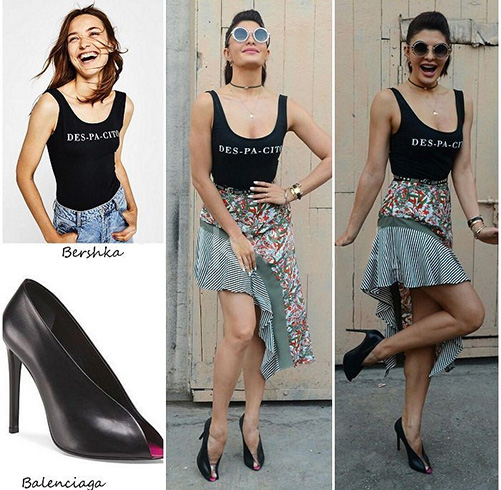 The footwear from Balenciaga that Jacqueline took comfort in for this style left us puzzled. Wonder how the diva managed to balance herself in such a creative footwear!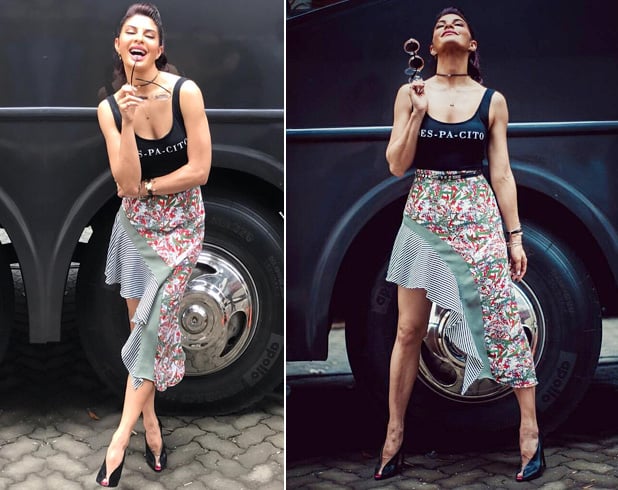 Shaan Muttathil, the beauty expert played his cards well in enhancing her beauty theme. Puffed ponytail, choker, and round rimmed shades rounded her chic look.Traditional & TrendyIn an ethnic style, Jacqueline rolled out for one of the promotional events. We have to admit that pink brings a beautiful blush on her face. In an Arpita Mehta floral lehenga and sequined blouse, she stunned us all with sheer grace. Unlike the usual flowing lehenga patterns, Jacqueline chose the minimal pleated lehenga. With loud and extravagant dangling earrings, she nailed the style. With soft wavy hair swept to one side, neat and flawless makeup, she looked glamorous.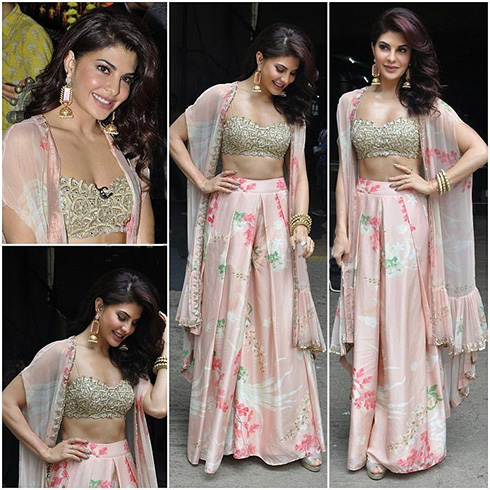 Love what you see? We do too!
August 9th,  2017
Author: Sai Bhargavi Chintaluri
---
Jacqueline Fernandez Makes Looking Trendy Easy And Effortless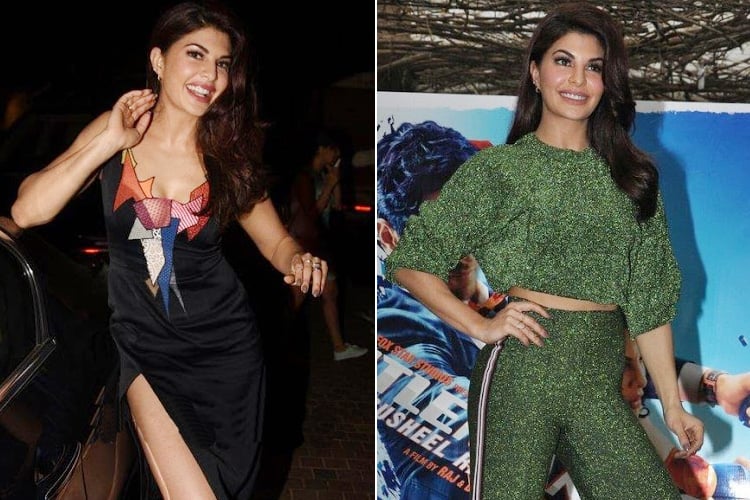 It's been a while we spotted Jacqueline Fernandez making rounds in the movie world and when she did, she chose to knock us off our feet with her style.After A Flying Jatt, Jacqueline is back with another superhero film, A Gentleman and we totally admire her for taking up such challenging movies. Having said which, we took great delight in decoding her styles during promotions.LBDJacqueline did the little black dress theme during one of her promotions in a Christopher Kane label. The graphic neckline, the thigh-high slit, and shocking pink heels was a perfect combo of hues and just gave her a rocking look. Soft and wavy hair swept to the side, glowing makeup rounded her look.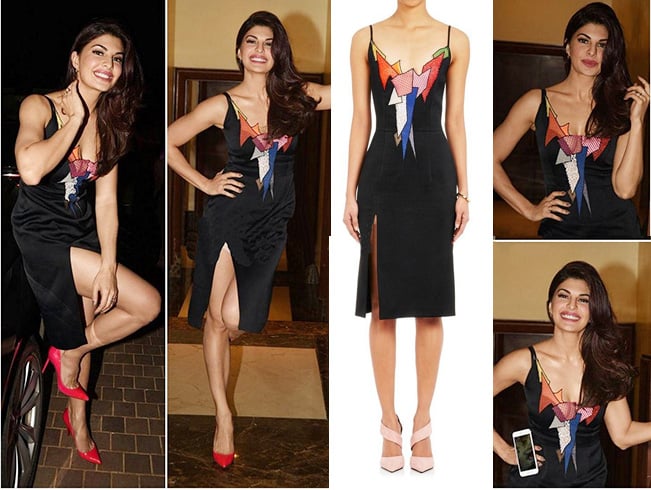 PantsuitA shimmering green is not a very sought shade yet Jacqueline convinced us that it's a color to bring to light this summer. In a cropped top and ankle fit straight pants from H&M, Jacqueline looked sassy and peppy. While we expected the diva to go with nude shoes, she surprised us by opting for metallic heels. Soft hair and natural makeup looked lovely on her.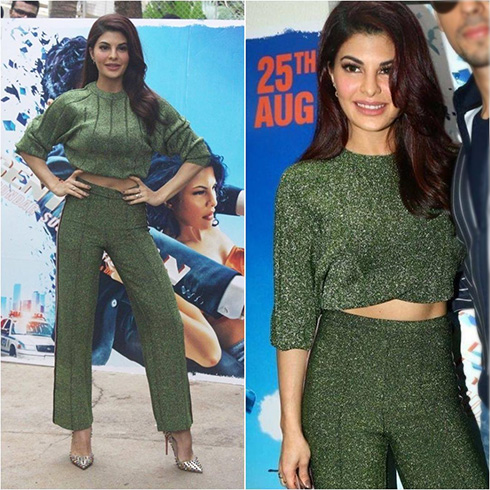 We are happy to spot the jolly, lively and beautiful actress, Jacqueline back in the fashion and cinema world. Hope you loved the post!
June 12th,  2017
Author: Sai Bhargavi Chintaluri
---
Jacqueline Fernandez Portrays The Perfect Bridal Avatar On Harper's Bazaar Bride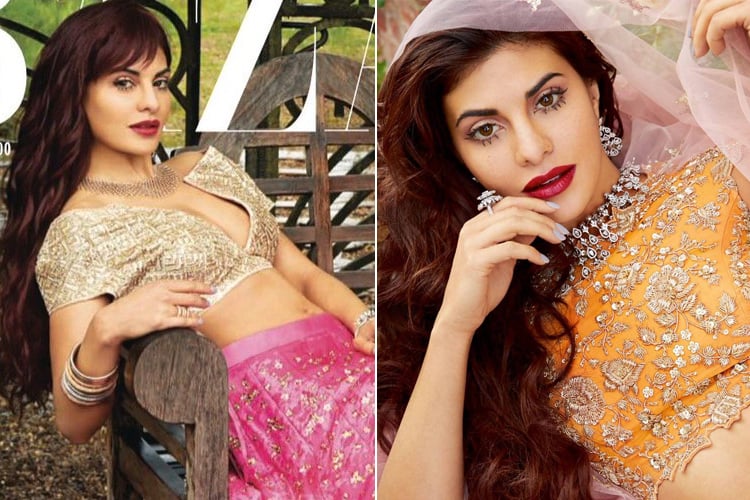 This June 2017, Harper's Bazaar Bride decided to feature the Srilankan diva, Jacqueline Fernandez, who cast her strong, charming spell on Bollywood on their cover. Giving us major bridal goals and going pure ethnic for the photo shoot, the diva flashed intoxicating styles.All through the cover story, the diva was captured looking magnificent in larger-than-life Anushree Reddy bridal outfits. Since it was just one label all through her shoot, we decided to focus on the vibrant color choices and her beauty game.For the cover image, the beautiful actress chose a pink heavily embellished lehenga that carried a red hemline. With a gold tone, plunging neckline blouse, she looked fascinating. With brunette tresses long and slightly messy rolling down her shoulders, she closed an ace bridal look.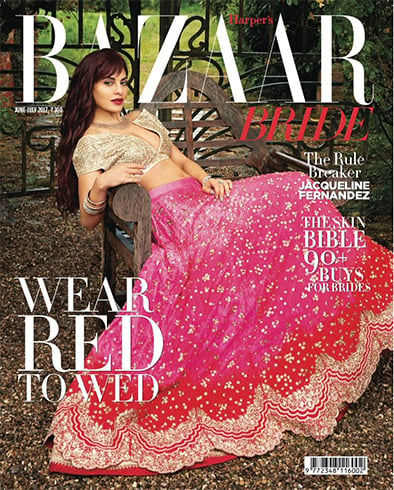 A wedding theme photoshoot would be incomplete without a red lehenga, don't you agree? Yes! And Jacqueline brought beauty and life to the color by donning it in a gorgeous style. The beauty of the colors and the intricate work on the lehenga was purely a death-defying combination. Flaunting her slenderness, rolling out a red-tinged hair and makeup, she swept us off our feet.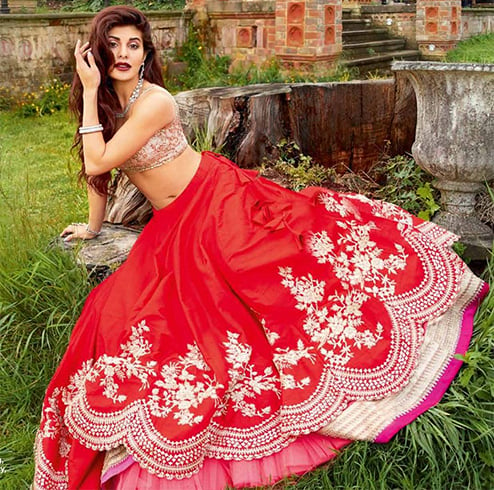 We have seen many Harper's Bazaar Bride covers and we are pleasantly surprised to catch the cover this June 2017 showcasing the routine bridal shades in the most buoyant way ever. Jacqueline looked cool and definitely hot in a blue lehenga choli. We surely have taken a liking for her brunette bangs and messy curls on the diva. Luscious lashes, sparkling jewelry spiced up her look.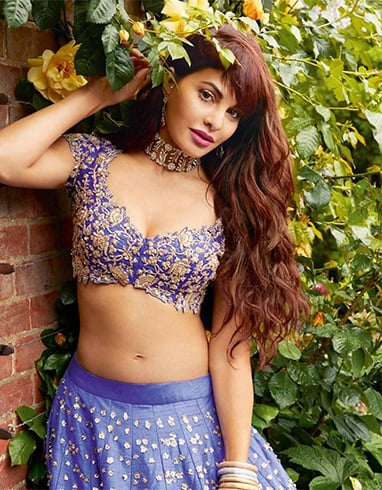 The pastel pink and yellowish orange is a rare blend of hues when it's wedding on the mind. But Jacqueline showed us exactly how wonderful and extravagant the combination can look. With pink eyeshadow, glossy deep red lips and luscious lashes, she looked like a fairytale princess.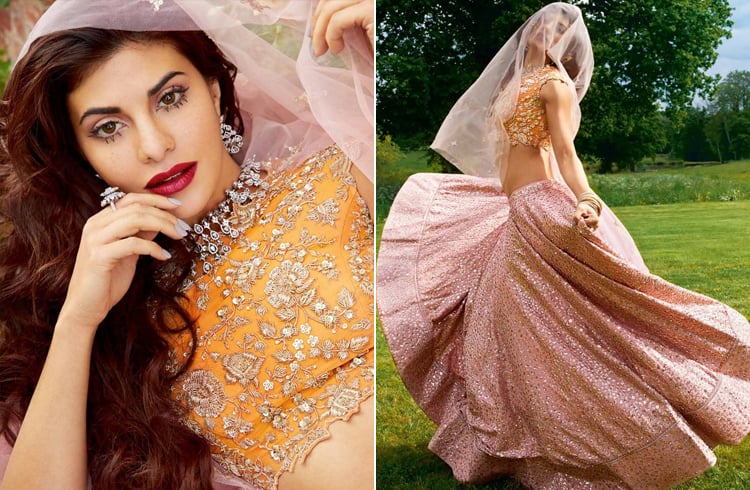 Lastly, Jacqueline sported an indo-western theme in Anushree Reddy label. She easily and gracefully carried an off-shoulder cape style top with a lehenga in white and gold. Like a dove perched on a chair, she looked magical. Nirav Modi Jewels danced on her and sparked up her look.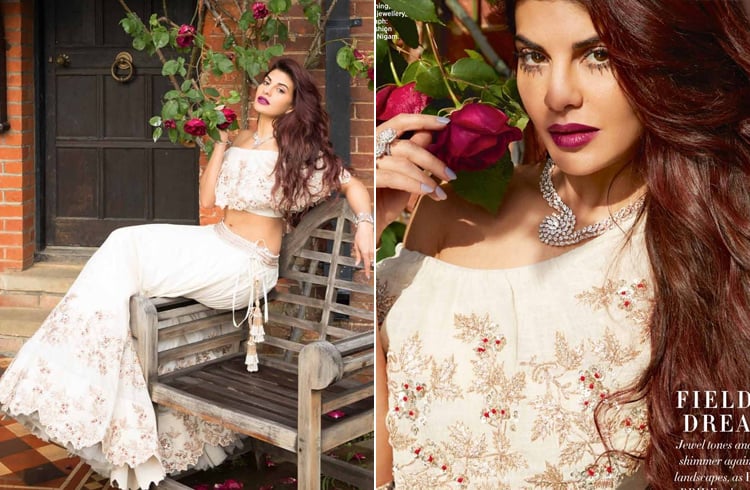 Shaan Muttathil, the beauty expert did an excellent job in playing Jacqueline's beauty card alongside the gorgeous outfits.Don't these bridal thoughts look promising?
Recommended Articles:
Radhika Apte Age, Height, Husband, Wiki and Latest News
Shraddha Kapoor Height, Weight, Age, Boyfriend, Family And Biography
Kareena Kapoor Khan Height, Weight, Age, Body Measurements And Bio
Amy Jackson Age, Height, Wiki And Biography
Tamannaah Bhatia Age, Height, Weight, Wiki And Biography
Sonakshi Sinha Age, Height, Boyfriend, Wiki and Latest News