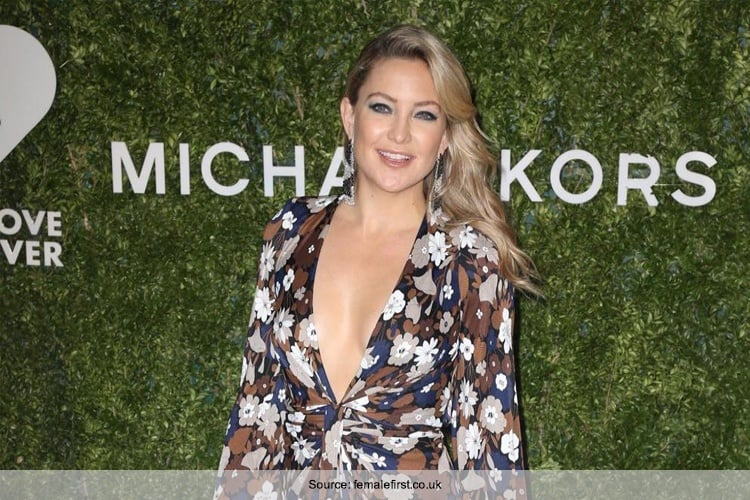 Kate Hudson was born in Los Angeles, California, on April 19, 1979. She is the daughter of actress Goldie Hawn and Bill Hudson. Hudson is best known for movies like How to Lose a Guy in 10 Days, Raising Helen, and Bride Wars. The actress married The Black Crowes frontman Chris Robinson in 2000 before divorcing in 2006. The couple had a son, Ryder Russell Robinson. Hudson was also engaged with Muse frontman Matt Bellamy and had a son, Bingham Hawn Bellamy, in July 2011.

Kate Height | Kate Age | Kate Boyfriend | Kate Family | Kate Professional Career
Personal Details
| | |
| --- | --- |
| Name | Kate Garry Hudson |
| Birthday Date | April 19, 1979 |
| Birth Place | Los Angeles, California, USA |
| Sun Sign | Aries |
| Eye Color | Green |
| Hair Color | Blonde |
| Nationality | American |
| Religion | Judaism |
| Education | Graduated from Crossroads School for Arts and Sciences (1997) and New York |
| University Occupation | Actress |
| Marital Status | Unmarried/ Single |
Family Details:
| | |
| --- | --- |
| Father | Bill Hudson |
| Mother | Goldie Hawn |
| Siblings | Boston Russell, Oliver Hudson, Wyatt Russell, Lalania Russell, Emily Hudson, Zachary Hudson |
| Spouse | Chris Robinson (2000-2007) |
| Children | Bingham Hawn Bellamy, Ryder Robinson |
Past Relationships
Kate Hudson date the following:
Matt LeBlanc (1996) – Both the actors dated for a brief period of time.
Chris Robinson (May 2000-October 2007) – The musician and the actress dated from 2000 before parting ways in 2007. The pair met at a party before getting into a live-in-relationship. They got married on December 31, 2000, and the couple has one child, Ryder Russell Robinson. However Kate announced her separation with Chris on August 14, 2006. The divorce was filed on November 18, 2006 and finalized on October 22, 2007.
Owen Wilson (September 2007-June 2007) – Both actors met on the sets of 2006 movie "You, Me and Dupree." They ended dating after 10 months.
Dax Spepard (July 2007-October 2007) – dated briefly.
Owen Wilson (February 2008-2009) – On and off relationship before calling it quits in 2009.
Lance Armstrong (May 2008- July 2008) – Dated briefly and remained friends.
Alex Rodriguez (May 2009- December 2009) – Dated for couple of months in 2009.
Matthew Bellamy (May 2010- December 2014) – Hudson dated Matt Bellamy; English musician, composer, and Muse band front man. The couple got engaged in April 2011 and had a son, Bingham Hawn Bellamy on July 9, 2011. The pair called off their engagement on December 9, 2014.
Nick Jonas (2015) – Hudson was rumored to have had a fling with singer Nick Jonas.
Brad Pitt (2016) – The actors were rumored to have had a fling.
Currently Dating
Danny Fujikawa (2017-Present)- Hudson is currently dating musician Danny Fujikawa, co-founder of Lightwave Records.
Body Status
| | |
| --- | --- |
| Build | Hourglass |
| Height | 5 ft 6 or 168 cm |
| Weight | 55 kg or 121 pounds |
| Waist Size | 23 inches |
| Hip Size | 34 inches |
| Shoe Size | 6 (US) |
| Dress Size | 2-4 (US) |
| Body Measurements | 34-23-34 or 86-58.5-86 cm |
Favorite Things and Hobbies
| | |
| --- | --- |
| Color | White |
| Food | Candy, Chocolates, Pineapple, Chicken Salad |
| Place | Aspen, Colorado, Cambodia |
| Sport | NA |
| Brand | NA |
| Actor | Bradley Cooper, Michael Fassbender, Leonardo DiCaprio |
| Actress | Bette Davis |
| Film | This is Spinal Tap, Desert Blue |
Professional Career
| | |
| --- | --- |
| First Debut | Desert Blue (1998), Party of Five (1996) |
| Brand Endorsements | Almay (2010) |
| Career Achievements | Almost Famous (2000) playing Penny Lane for which the actress won a Golden Globe and nominated for an Academy Award for Best Supporting Actress |
| Remuneration | Bride Wars (2009) $7,000,000, My Best Friend's Girl (2008) $7,000,000, Raising Helen (2004) $7,000,000, How to Lose a Guy in 10 Days (2003) $4,500,000, The Four Feathers (2002) $750,000, Ricochet River (2001) $7,000, Desert Blue (1998) $8,000 |
| Net Worth | $38 million |
Kate Hudson Weight Loss
Hudson maintains a balanced lifestyle by working simultaneously in the gym, eating healthy, and taking out time to laugh and be silly.
The actress pays attention to fitness without obsessing over small things. Hudson believes in staying active and credits her weight loss to Pilates. "I love pilates, that's always what I will do, and I know it's boring but it really is the foundation of everything that I do. I believe in traditional pilates because I think that our bodies need to be aligned, and what that does for your body is it makes it so strong."
Hudson's personal pilates trainer is Nicole Stuart. The actress has been working with Nicole for over 15 years. Nicole reveals that Kate does pilates three times a week for one hour. She also practices cardio exercise, yoga, and spin classes.
Workout Plan
20-30 minutes each of cardio, strengthening and stretching or sculpting, 1-2 times a week
15 minutes of cardio/strength/stretch on other two days
A dance cardio, butt and core exercises for 30 minutes, arm workouts for 10 minutes, triceps push-ups and wide-arm push-ups for 20-30 minutes two times a week
Diet Plan
Kate follows a high alkaline diet devoid of processed and oily foods.
Takes wholesome foods rich in nutrients.
Majority of her daily caloric intake comes through fruits, veggies, nuts, and tofu.
Occasionally includes lean meat.
Does not believe in heavy breakfast- "I'm not one of those people who wakes up hungry." Instead Hudson takes a cup of coffee or green juice. After her pilates workout, she takes a protein shake.
Limits her sugar intake by avoiding meat, dairy, and gluten.
Typically takes salad for lunch and late-afternoon snack before dinner.
The actress takes five small meals daily.
Two of her guilty pleasures are Hawaiian pizza and Annie's gluten-free macaroni and cheese.
Facts about Celebrity:
Kate Hudson's interests include playing guitar, dancing, exercise, watching movies, and acting.
Hudson loves whipping her own meals like pasta, meatballs, and lasagna.
Her favorite season is summer.
The actress loves jewellery. In fact when she is not feeling good, she put on lots of jewellery. Also she loves borrowing pieces from her actress mom Goldie Hawn.
Hudson is of Jewish, Italian, English, and Hungarian descent.
Kate Hudson started her own production company Cosmic Entertainment in 2003.
Doesn't like watching herself on the screen. After watching her performance on screen for the first time, Hudson got cold, shakes, and sweats.
Does not love makeup and prefers a natural look.
Uses Cetaphil as facewash.
Hudson's best friend is Liv Tyler.
The actress knows how to speak French.
Not a fan of romantic comedy movies.
Has three dogs Clara (Pomeranian), Doctor (English bulldog), and Bella (Neapolitan mastiff).
Quite a hippie at heart.