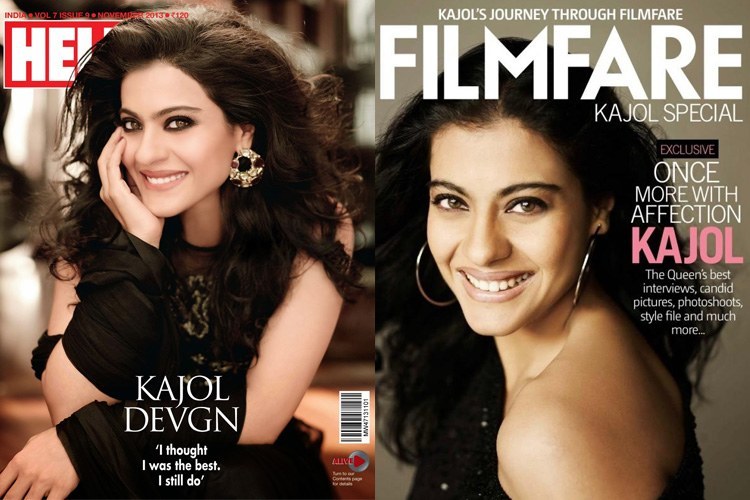 The following men in her life are 'given' – Shah Rukh Khan when it comes to her co-star in the films, Manish Malhotra when it comes to designing her costumes, and ace directors Karan Johar, Aditya Chopra and Rohit Shetty when it comes to directing her films.
[Also Read: Alia Bhatt Magazine Cover]
Is there anything more to look upto when it comes to Kajol? Yeah, Kajol magazine cover is there, which is reasonably sufficient to explain her beauty, charm, attitude and pedigree.
Want to know how Kajol on the magazine cover page looks over the years? Get ready to see Kajol magazine cover photoshoot. It will make you realise her enigmatic persona and talent which spills out like anything.
Vogue India December 2015
When Vogue celebrated well-known couture designer Manish Malhotra's 25 years in the Indian film industry, particularly Bollywood, it featured five most wanted ladies dressed in designs done by him. Our Kajol happened to be one of them.
Don't you think the man in question MM should also have been there on the cover?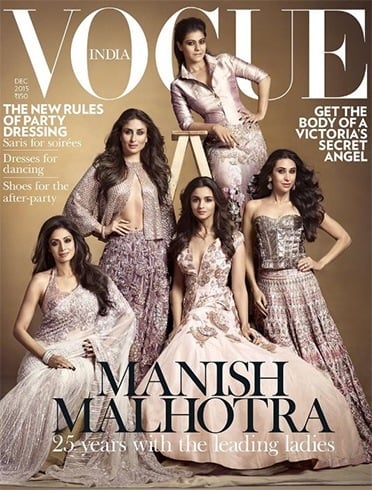 Elle August 2015
Yes, she has been a comeback queen. And no better way to announce this, when you hold Kajol magazine cover photos in August issue of Elle.
[Also Read: Madhuri Dixit Magazine Cover]
Dressed in jacket done by Namrata Joshipura and with a Dior palm cuff on hand, Kajol magazine cover indeed looked striking to the T.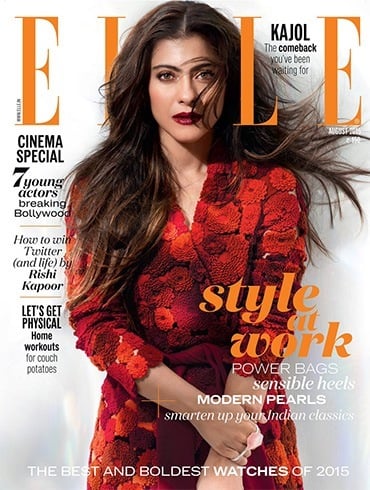 Masala! August 2014
Dressed in blue pant suit designed by Cue – Rohit Gandhi Rahul Khanna, you can't miss out on Kajol. Her hair has been done vintage style. And yes, her smokey eyes and pink lips completed her look.
This magazine cover is an insight into Kajol's private life. The cover caption "The Superstar Gives Us A Rare Glimpse Of Her Home And Family" is an apt description for what lies inside.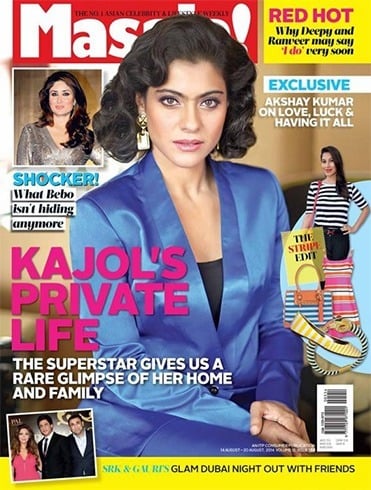 Cine Blitz June 2014
She means business when you read her saying "I am all set" on this Kajol magazine cover. Dressed in a gorgeous James Ferreira hot pink gown, paired with YSL cuffs, Kajor redefines elegance. Her styling was done by Triporna Majumder.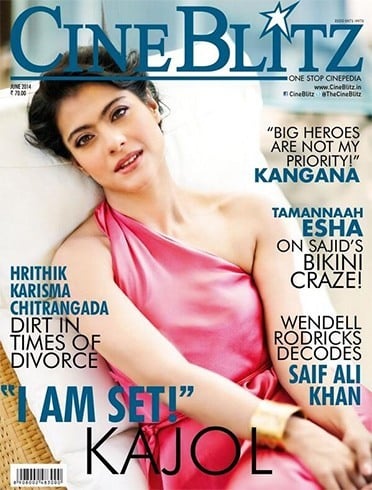 Asia Spa India May-June 2014
Did Kajol magazine cover photoshoot for this publication confirm the rumour that Kajol has gone through a melanin surgery in order to look fairer? Avid readers, what do you think – true or false?
[Also Read: Kangana Ranaut Magazine Covers]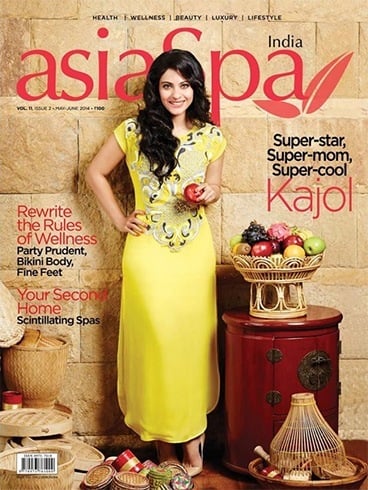 L'Officiel April 2014
Nice to read the caption "Bollywood's pin-up mommy" on Kajol magazine cover of L'Officiel April 2014 issue. Doesn't Kajol look a delicious mommy in this issue?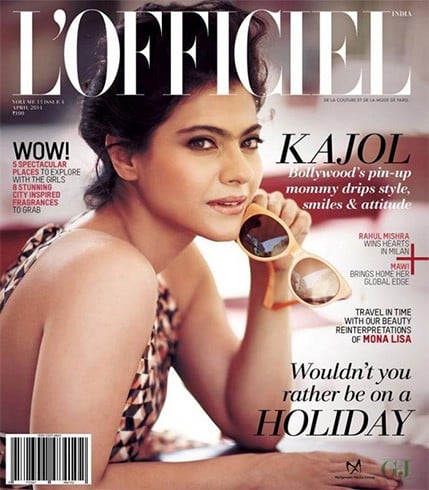 Harper's Bazaar June 2013
Draped in Just Cavalli gown, this Kajol magazine cover is surely apt when it comes to her makeover.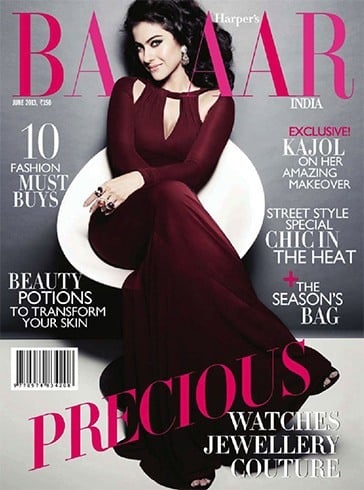 Filmfare June 2013
Dressed in Pernia Qureshi costume, Kajol on the magazine cover page is a good read on her trip from going fat to fab. Yes, this Kajol magazine cover traces Kajol's amazing transformation pretty well when it comes to looking slim and trim.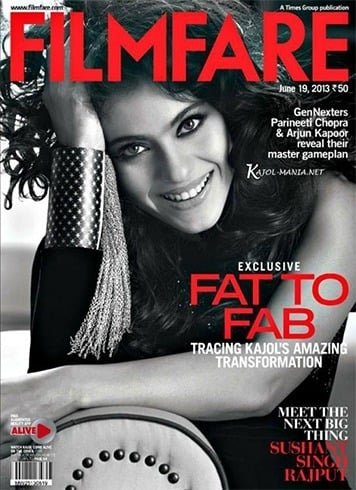 [sc:mediad]
Good Housekeeping October 2012
What does this beautiful smile behind Kajol on the magazine cover page say? Lots and quite meaningful too, when Kajol says she has grown older, and therefore is choosy about roles.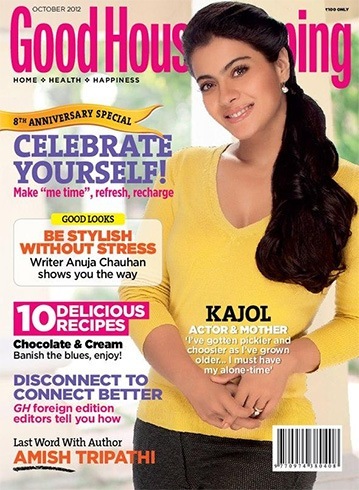 Vogue India August 2012
India's sweetheart she is lock, stock and barrel as you hold Kajol magazine cover photos. Call her a diva or style personified it is hard to resist Kajol magazine photoshoot.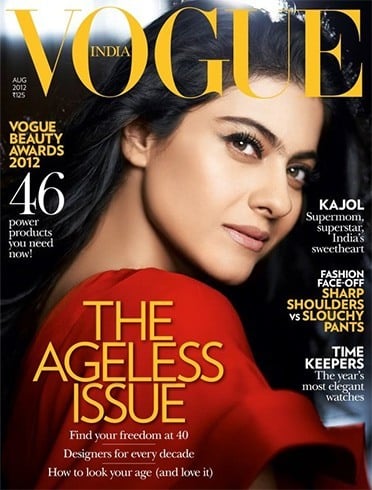 Filmfare March 2012
The glow on her face fades away all negative vibes about her. Kajol poses with effortless and stylish ease on a virgin-white quilted chair.
Kajol magazine photoshoot makes this Bong babe look eye-candy in the sunshine yellow Shantanu and Nikhil gown.
[Also Read: Sonam Kapoor Magazine Cover]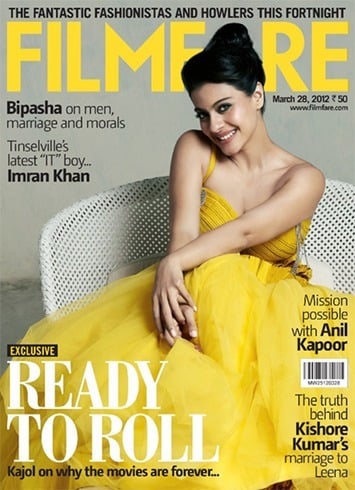 Anokhi April 2010
In this Kajol magazine cover photos, you will see Kajol give an insight into her life as an actress, wife and mother.
It's tough for a woman to slip into so many roles, don't you think so?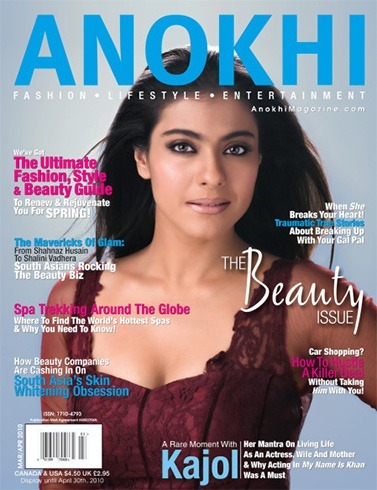 Now that you have had a fair glance of Kajol on the magazine cover page, let us know which of the covers make you think she looks hot and desirable?