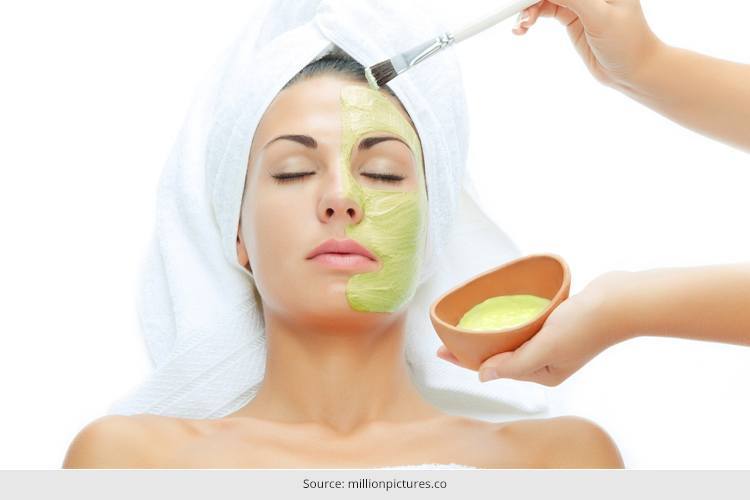 We all are aware of the multi-faceted benefits of Aloe Vera. The herb works as a great moisturizer for the skin, rejuvenates and hydrates it leaving you looking fresh throughout the day. The gel in the leaves of Aloe Vera has rich anti-microbial, ideal for treating pimples and acne. And it serves as an anti-oxidant that occurs abundantly in nature. There are also other properties in Aloe Vera leaves and its gel that makes for great anti-aging cream, and cures inflammation and topical pain from cuts and burns. Insect's bites, sun burns, and eczema can also be treated by using Aloe Vera.
Aloe Vera Gel Work For Dry Skin
Let's check out the different ways how Aloe Vera gel work for dry skin and it's over all wellbeing
1. Aloe Vera Face Mask To Get Glowing Skin
Ingredients:
Aloe Vera
Milk and Honey
Turmeric
Rose water
Method: Make a thick paste with a teaspoon of honey, two tea spoons of milk and few drops of rose water. Peel out the Aloe Vera leaves and extract the gel. Beat and blend the gel into a paste and mix it well with the turmeric paste we already have, Apply this pack evenly on your face and neck. Wash it off with lukewarm water after 20 minutes. Use this pack three times a week and say hello to glowing skin.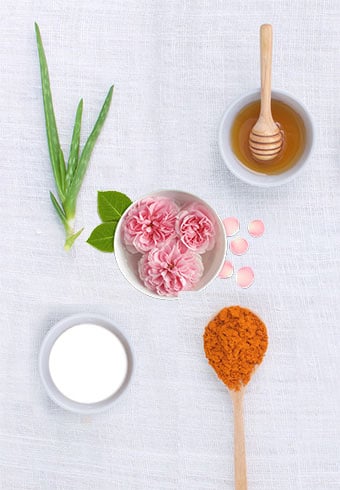 2. Aloe Vera Face Pack To Remove Tan
Ingredients:
Aloe Vera
Lemon Juice
Cucumber Juice
[Also Read: Rosacea Skin Treatment Tips]
Method: Extract the Aloe Vera gel as guided above. Now beat this gel into a paste and squeeze out the juice of half a lemon. Spread it all across the tanned face and let it rest for not more than 10 minutes. Leaving lemon juice on face for more than 10 minutes is not advisable because of its acidic properties. Wash pack off from your face and tone the face with cucumber juice.
3. Detox Face Pack With Aloe Vera
Ingredients:
Aloe Vera
Lime Juice,
Mango
Method: Smash up the Aloe gel extract with 2-3 pieces of mango. Dilute this smash with 3-4 tea spoons of lime juice. Spread it evenly on your face and let it dry out. Rinse off with cold water after 30 minutes. You will love the fresh and detoxified effect it brings to your skin.
4. Aloe Vera Face Mask For Pigmentations and Marks
Ingredients:
Method: Make a semi-liquid paste by blending in one tea spoon of Aloe Vera gel and 4 tea spoon rose water. You can apply this lotion either on your full face or just the affected area with a cotton ball. This lotion has a wonderful cooling effect and will help fade out your pimple marks, age spots, injury and pimple marks, in addition to treating hyper pigmentation. What's more, this lotion works as a fairness agent too. You can keep this lotion of your face for about 20 minutes and rinse off with cold water. Pat your face dry and spray some rose water again for toning the skin.
[Also Read: Aloe Vera Beauty Products]
5. Aloe Vera Face Pack For Extra Sensitive skin
Ingredients:
Aloe Vera
Yogurt
Rose oil
Cucumber juice
[sc:mediad]
Method: A smooth paste of all the above mentioned ingredients can be applied on face every night. You may want to let it sit for 15 minutes and rinse if out with cold tap water. This mask helps in ridding your skin off the dirt and impurities your face catches during an entire day of work. It can also be used for oily skin treatment at home
6. Using Aloe Vera For Oily Skin
Ingredients:
Method: Now this one is a wonderful and simple oily skin care tip that can be used every day. Boil small pieces of Aloe Vera leaf in a bowl of water and grind it into a paste. Now add a tea spoon of honey and even it out of the face. Wash off your face after 30 minutes. Repeat this process regularly or 3-4 times a week.
[Also Read: DIY Face Masks]
7. Scrub Off Dead Skin With Aloe Vera
Ingredients:
Aloe Vera
Oatmeal
Raw Milk
Method: Blend Aloe Vera dices and oatmeal with raw milk to form a paste. Even out this paste gently on your face and let it dry a little, but not totally. When your face feels a little tight, start massaging gently in circular motions. This process will shave out the dry skin cells from your face. Continue with this process for 5 minutes, then wash it off.
[Also Read: Benefits Of Pumpkin Face Mask]
8. Hydrating Face Pack With Aloe Vera For Dry Skin
Ingredients:
Aloe Vera
Cucumber
Cottage cheese
Dates
Lemon juice
Method: Blend a tablespoon each of Aloe Vera gel cubes and cottage cheese in a mixer. Now add few crumbs of seedless dates and cucumber slices and blend again. Empty this paste in a bowl and squeeze half a lemon to it. You can make this mask in bulk and store in your fridge. Apply the mask on face and neck and keep it 30 minutes. Wash off with running water followed by toner.
9. Magic Aloe Vera Face Mask Dry Skin
Ingredients:
Aloe Vera
Almonds
Raw Milk
Method: Add some finely crushed almonds to 2-3 teaspoons of Aloe Vera gel. Dilute the mix with raw milk and it will form a paste. Apply this paste on face and neck and leave it for 15 minutes then wash it off. You might have heard how wonderfully Aloe Vera gel works for dry skin, this time experience it. Don't miss to follow up with a moisturizer.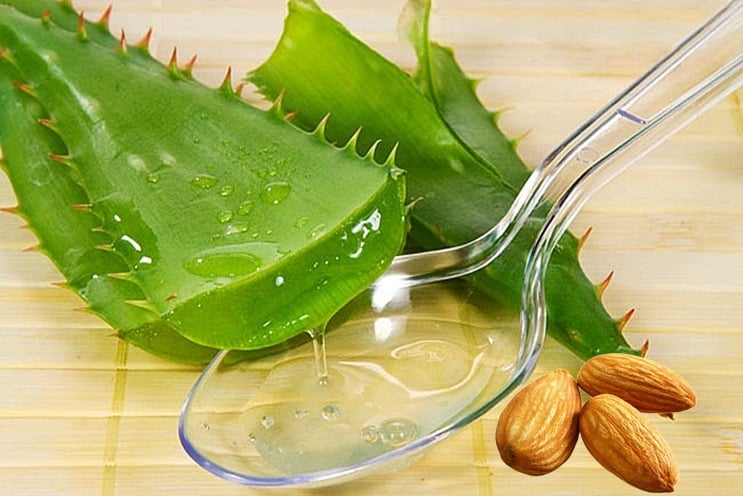 10. Epic Aloe Vera Face Pack For Dry Skin
Ingredients:
Aloe Vera
Olive oil
Shea butter
Method: Form a thick paste of Aloe Vera gel and shea butter diluted in olive oil. This rich paste can be applied all over your face and neck and be left for about 20 minutes. You must rinse it with lukewarm water, else the extra oil won't go off the face. As we already know the benefits of Aloe Vera for dry skin, this will prove to be an ideal mask loaded with natural moisturizers.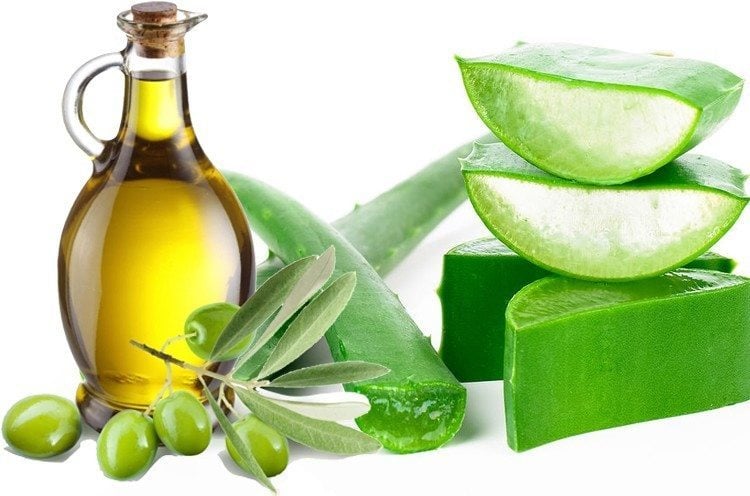 Aloe Vera has been used as the go-to plant for all kinds of skin troubles. Not only does Aloe Vera help dry skin conditions, the one with oily skin benefits using Aloe Vera too. Though you get various forms of processes Aloe Vera gel and juice at the stores and many moisturizers and creams are using the extracts of this wonder plant, nothing can equal the goodness of using fresh extracts from Aloe leaves at home.