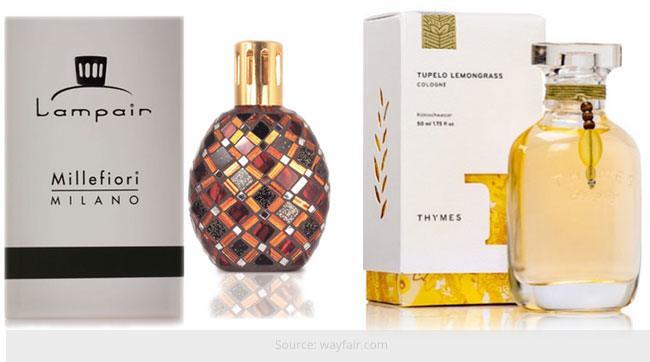 These days the demand for the lemongrass perfume has soared because of its unique fragrance. While it is widely used in the different types of herbal teas and non-alcoholic beverages; the lemongrass oil is also used in perfumes, soaps, detergents, potpourri, incense and cosmetics as well. Lemongrass also helps in rejuvenation, especially during jetlag and extreme stress. That being said, let's just go through the top 5 lemongrass perfumes available in India. Do have a read!
The main ingredients of lemongrass oil include Geranyl Acetate, Neral, Myrcene, Neroli, Citronellal, Geraniol, Limonene and Citral and all these constituents contribute in making this fragrance unique and popular.
Here are the top 5 lemongrass perfumes for women:
1. Coconut Lemongrass Perfume by Orglamix
Pure pleasure wrapped in impulsive charm of chic beauty and fragrance
As per the brand, this lemongrass perfume is laden with tropical charm, good elements of palm trees and a sparkle of the ocean. The top notes of this lemongrass perfume include coconut, Neroli, orange, jasmine tea leaves, sandalwood, amber and lemongrass. The fragrance is extremely refreshing and addictive that instantly makes you feel enjoying in any vacation.
2. Tupelo Lemongrass by Thymes
A patchwork of vitality and light
The top notes of this perfume include lemongrass, clementine, neroli, Tupelo honey, privet leaves tonka bean and sweet lily of the valley. The perfume comes packed in an attractive glass bottle.
This is one of the top perfumes for women. Once you use it, it's sure to become your favourite.
3. Lemongrass E Cassis by Borsari
The legendary Italian perfume brand launched Lemongrass E Cassis in 2010. While the top notes of this fragrance include grapefruit, cassis, bergamot and peach; middle notes include lemongrass, jasmine, magnolia and peony. Base notes include musk, sandalwood and vanilla.
[sc:mediad]
Borsari, the perfume designer established his namesake brand in 1897. His first perfume designed by monks, Violetta de Parma was made for the second wife of Napoleon Bonaparte, Marie Louise. This lemongrass perfume endures fresh and timeless aroma.
4. Millefiori Lampair Mosaic Catalytic Diffuser
The brand claims to create an enchanting environment by using an avant garde technology soon after applying the perfume. This distinct woody perfume is formulated with good notes of Moroccan cedar wood, white peach, lemon peels, orange flowers and litsea cubeba along with lemon grass.
5. Lemongrass Natural Roll-On Perfume
The brand claims to offer you spa-like feeling soon after you roll the perfume on your skin. The lemongrass notes make you feel rejuvenated, while other top notes including grape-seed oil, Jojoba oil and lemongrass essential oil awaken your senses. The benefits of lemon grass oil on skin are plenty.
Here is a testimony shared by one of the users –
"The lemongrass natural perfume is amazing. This scent is so fresh, invigorating and uplifting. I have sprayed it on our towels and linens and it makes waking up in the morning that much better. I also love that is all natural. The products I ordered came very quickly and this will be my new Bath and Body works!"
So those were the top 5 lemongrass perfumes you need to try. Hope this helps!