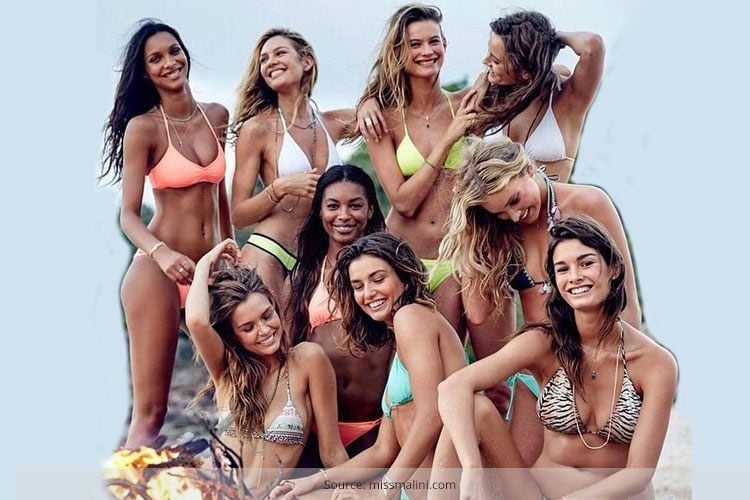 This past month has been very traumatic to the Fashion industry. Though supermodel Gisele Bundchen's retirement was expected and timed, her fans still took an emotional beating. Seeing her walk for the last time was such an overwhelming experience! But as they say, let bygones be bygones.
What we are going nuts about currently is the latest announcement made by Victoria Secrets! Just today they introduced 10 Angels. Can you imagine that? 10 brand new Angels? We can already feel the change in the weather. Just like Gisele was revolutionary, we are sure that these girls are going to be equally revolutionary.
These new Angels will be working alongside Angels Lily Aldridge, Alessandra Ambrosio, Adriana Lima, Behati Prinsloo, and Candice Swanepoel.
By the way, totally off topic! Behati and Adam Levine make such a cute couple right? *fan girl screaming*
Back to the Angels now! Without any further ado, let us introduce these hottie's to you!!
1. Jasmine Tookes
Born and raised in California, this 24 year old started her career as a model at the age of 19. Standing 5 feet 9 inches tall, Jasmine Tookes has the perfect body of an angel! Her measurements? 34-24-34!! Are you jealous yet?
2. Romee Strijd
If you can commend Jasmine for starting her career at 19, what can you say about Romee Strijd, who at 19 became an official model? Well, the world is full of talented women! Standing 5 feet and 9.5 inches tall, Romee has the perfect model-esque measurements of 31-23-33
3. Sara Sampaio
This Portuguese beauty started her career way back in 2007 and made her debut at the Victoria Secret walk in 2013 and today, she's an official angel. With 5 feet 8 inches and a body figure of 32-23.5-34, there is no way that she won't make it big as an angel. Looking forward to see her!
4. Lais Riberio
Hail from Brazil and not have a successful career as a model? Impossible! Lais Riberio started her career in 2009 and also has a kid now. But can you see it? Nope. With 5 feet 11 inches, she towers over general population and looks magnificent in her 31.5-23-33 figure!
5. Stella Maxwell
At 5 feet 9 inches, Stella is a true Belgium beauty with her perfect blend of Irish roots. Having started her career at the age of 21, she has walked for many popular designers during the short span. Her 32-22.5-33 figure makes her a favourite among front row socialites.
[sc:mediad]
6. Monika Jagaciak
Jac is another model who has used her 5 feet 11 inches frame to her advantage. Added to this height her figure of 31.5-23-34.5 makes her the perfect candidate to be an angel. And her Polish roots get her brownie points as well!
7. Martha Hunt
A dazzling smile, glowing blonde hair, 5 feet 10 inches of height and 34-25-34 figure makes Martha a rather delectable model. Someone who can melt the audience with the wink of her eye
8. Elsa Hosk
The only model out of the lot who is 26. But you know what they say about age right? It's just a number! Her height 5 feet 9.5 inches and figure of 34-23-35.5, makes her just the perfect angel. Agree?
9. Taylor Hill
Taylor Marie Hill, the name just rolls of your tongue right? Anyway! Taylor is another hottie who was chosen by Vitoria's Secret to be their angel. Height? 5 feet 9.3 inches. Figure? 23-22-33. What more do you need? A brilliant smile? Check!
10. Kate Grigoriev
How could the angel team be complete without a tinge of some Russian hotness? Brining the Russian flavour to the team is Kate in her 5 feet 11 inches frame and 32.5-24-35 body!
Cannot wait to see what these New Victoria Secrets' Angels will do with their special angel privilege! #Sigh!