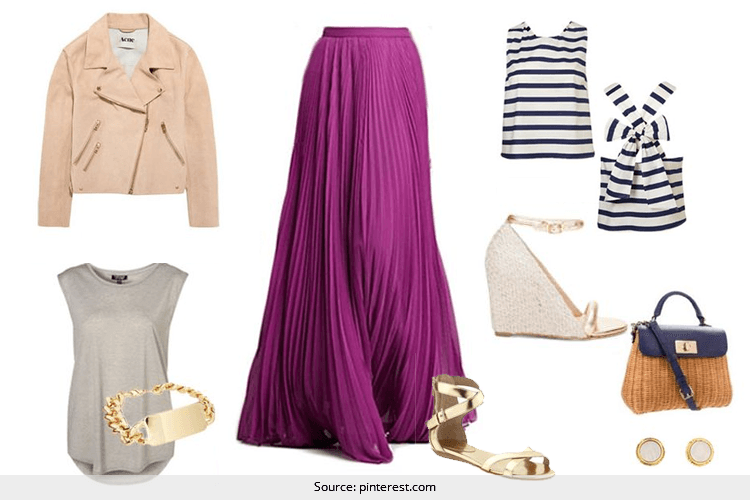 Do you know that ultra-chic outfits can be mined from inexpensive street shops too? Often these flea markets and low-end shops offer some irresistible outfit that are purely in vogue. Just a little bit of mending and tagging on some tips can make the outfit look like a million bucks. Having an urbane style statement should not be bemused with having to spend your entire earnings. Read on some simple rules of high/low dressing and some ways to make your outfit look expensive.
1. Fitting matters
Yes, it's all about fitting! A simple tailoring fix like shortening sleeves, a little nipping at the waist or slimming trousers can make a huge difference. An outfit that doesn't fit properly or is a little too long can make even pricey clothes look dowdy and cheap. While street shopping, invest in some simple, yet chic clothes and head to a tailor for the perfect fitting. It will instinctively create a sense of better quality.
2. Wash care rules
Ever noticed the wash care label inside your dress? It is important to follow them as it will simply make your outfits easy to stay crisp, expensive looking and will make them last longer. Shrunk and faded outfit give the impression of being dowdy and cheap. Avoid too much washing as it will wear out the fabric and fade the colour. If the label say "Dry clean only", do not wash it at home. Dry cleaning cheap clothes immediately make them look better.
A bizarre tip to avoid washing – Leave your clothes in the freezer for overnight if it starts stinking.
3. Steaming and ironing
Steaming and ironing can blast wrinkles and effortlessly make your outfit look crisp and fresh. If you think ironing is a hassle, invest in a good steamer. It can remove wrinkles in couple of minutes and is a perfect option for synthetic fabric. Hang your outfit on the hanger soon after steaming and ironing.
4. Avoid big prominent Logos on outfits
Logos are usually meant to declare that the item is expensive. But you need not shout it loud with a big over embellished logo. A well tailored crisp plain shirt looks much more expensive than loud emblazoned logo shirt. Often the outfit with flashy logos give the impression of it being a knock-out product and can look very tacky. Also, as said, simplicity is the ultimate form of sophistication. There are many known brands that put modest logo on clothes, making it noticeable yet in the limits of sophistication.
5. Accessorize it well
Do justice to your clothes. Complement it with a pricey looking neckpiece or well structured bag to enhance your entire look. When you shop for clothes during clearance sales, check for chic statement accessories too. A colourful scarf in rich fabric or a statement pair of earring or fabulous sunglasses can add oomph factor to your mundane outfit making it instinctively expensive looking.
6. Take grooming into consideration
Grooming yourself is equally important to create a style statement. Peeled nail paint or dull face can take down your entire look in no time, no matter how chic garments you wear. On the other side, if you carry your outfits with panache and with a right hairdo and make-up, your simple looking outfit can look ultra-chic. You don't have to rush to salon daily, a simple and neat look will do.
7. Replace tacky buttons or trims
Many a times, you must have come across stunning dress on street shop, but changed your opinion after finding tacky buttons or trims. Simply replace those tacky plastic buttons or trims with an expensive looking one and it can immediately elevate the piece. You can find them on online sites or pull it out from old clothes you don't wear anymore.
[sc:mediad]
8. Storing your belongings
Even if your outfits aren't expensive, still a little extra care while storing will make sure they last longer. Store it in your wardrobe either by hanging them on wooden or suede hanger or by properly placing folded clothes on shelf making sure they are not crinkled.
9. Wear only 'like new' outfits
While buying clothes during clearance sale or from street store make sure to examine for any loose thread or ripped seam. If you notice a stain, remove it as soon as possible and if nothing can be done, either donate it or make them your night dress (of course, if it is comfortable enough).
10. Plan your wardrobe
Plan your wardrobe strategically, so you can mix and match classy expensive items with low-range trendy items. In this way, even inexpensive outfits will appear to be pricey. You can easily dig crisp button down shirt from street shops or online stores and invest in unique and fascinating branded items that anyway will be focus of your look.
11. Choosing the Innerwear
Bra lines and visible panty lines can make your outfit appear flimsy and ill-fitted. For such low-priced outfits, appropriate innerwear is very important. In order to create a smooth silhouette under your outfit, look for seamless underwear, lightweight shape-wear or a comfortable slip. If you are wearing backless, follow our set of do's and don'ts while wearing backless outfits.
12. Fabric says it all
Look for fabric that adds a dash of exclusiveness to the outfit. Flimsy fabric can spoil even the trendiest outfit and there is no way you can mend cheap fabric, they are just obvious. Avoid buying outfit with fabric containing more than 20 percent synthetic and look for in-vogue fabrics like cotton, butter georgette with high GSM etc.
13. Opt for saturated colours
The colours are the first thing anyone notices in your look. Including rich and saturated colours in the look automatically uplifts the 'not so expensive'outfit. Look for neutral palette like black, navy, white etc. or go for bold and in vogue colours such as indigo, marsala etc. If you love wearing soft pastels, try to pair it up with neutral or rich colour palette.
14. Streamline your look
Remove unnecessary accessories and trims from the outfit and keep it simple. Avoid cheap embellished top with beads or sequins. Because of the cheap quality, it will wear over time. The sequined top will look dowdy as soon as few sequins start to fall off. Same goes for accessories, avoid stacking unnecessary bracelets or carrying a bag with millions of dangling charms, it can bring down your outfits.
15. Style it up!
Create your own unique statement, style your inexpensive outfits in such a way that it instinctively elevates the look of the outfit. For example, play with the dramatic proportions or belt up your tunic or go for white on white look. Follow few fashion bloggers for latest styling tips.
Hope this article on simple yet important ways to make your outfit look expensive is helpful to you all. Do share your comments with us.