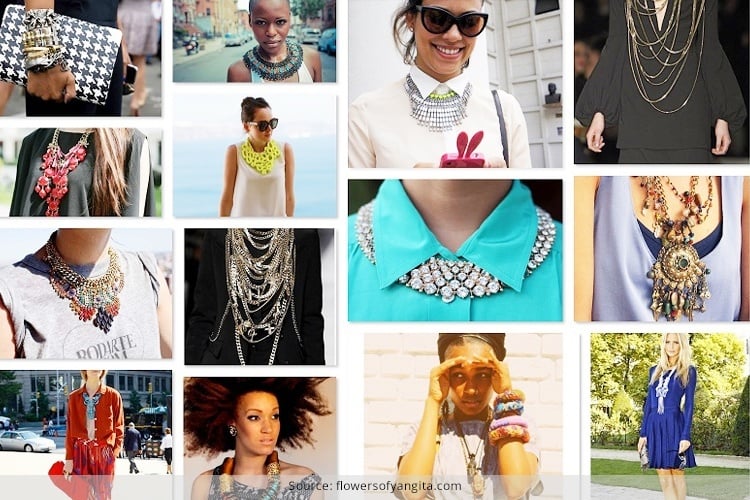 Since fashion changes frequently, nothing can be a good start than a New Year to adopt new trends! Just like outfits and footwear, the accessory designs also keep changing adhering to the changing taste and requirement.
As jewelries are mostly worn to complete an outfit or suit one's personality, the jewelry designs play a huge role in defining the wearer's fashion statement.
Now breathe in new trend and jazz up your wardrobe by adding a few touch of sparkles with some latest pieces of statement jewelries.
So all those holiday sales are over! Never mind. As the year has just started, you do not have to score high upon the expensive designer outfits and pricey footwear. Instead of spending a fortune, a few smart tricks can work, no matter whether it's a LBD or a simple maxi dress. You'll look great and glamorous in the trending 2014 statement accessories for sure. Here we go!
#1 Brooches
I am finding a lot these days. If you thought these are only vintage jewelries which are passed on to the next generation from their grandmas then you are wrong. While in India, they have always had a strong place among women's accessories, in West it's regarded as a symbol of luxury until lately it became rock. Thanks to Rihanna and other celebs, who are now frequently seen wearing the brooches.
Embellished brooches are great way of adding some glamor to the traditional LBD. Make sure the dress is enabled with a lapel, so as to wear the brooch conveniently. If your little black dress does not have a lapel then kindly get it stitched from your tailor.
You can either wear it as Queen Elizabeth dons her diamond and sapphire brooches on her right shoulder or you can wear it at the bottom line of V-shaped neckline or even fix it on your waistband to give an edge to your look.
However, you should be extremely cautious in choosing the design, as different outfits demand different styles. If you're wearing a western outfit, you cannot just pair it with a kundan brooch that is too traditional.
If you're a fan of brooch then you can collect a couple of pieces or else smartly purchase a fusion item that can go with any outfit. This winter, you can go for the trending Givenchy brooch, which is encrusted with the gorgeous emerald stones on this would be the perfect combination to your winter party wear.
#2 Necklaces
A statement necklace doesn't have to be necessarily pricey like any Harry Winston jewelry. And neither it should be too cheap to spoil your personality. A large colorful embellished necklace can do the talking. Since collar necklaces are quite a rage these days, you can grab one to only jazz up your dress, but also your regular shirts and kurtis to dramatically enhance your look.
If you have any oxidized vintage necklace then you do not have to go for shopping, as it can make a great pairing for your LBD or any other party-wear outfit pertaining to any occasion. While Zara's version radiates beauty, BaubleBar's 'Victoria' is a stunning piece to spice up your look instantly.
Another great necklace that is hugely trending these days is the BaubleBar's latest collection of multicolored flowers and gems. It's now commonplace from TV and movies to malls and streets.
#3 Ear cuffs
This is the third most trending jewelries of this month. This runway fashion staple are now popping up at almost every store rapidly. The moment you enter the store, it's hard to overlook them.
Be it Rodarte's dragon cuffs or Roberto Cavalli's tiger ear cuffs, they are now a huge trend. Click here to know more about ear cuffs.
Hope you enjoyed this post!