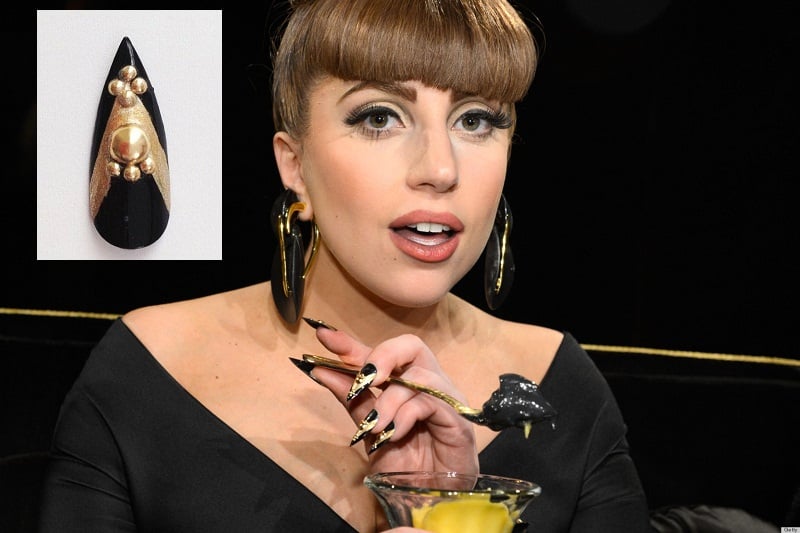 Did you know Lady Gaga's acrylic nail was sold out for whopping $13,000 in an auction?
Yes, it is true that the acrylic nail sticker worn by the pop diva went under the hammer for $13K. However, this auction was not held for any charity purpose though just like we have seen how Late Princess Diana's dresses raised over £600,000 at a charity auction last year in March.
Here goes the story!
A pop star accidentally loses one of her fake almond-retto enhancement nails in one of her stage performances and the fake nail just ends up being sold online at an outrageous amount. Hats off to the crazy fan to have spent $13,000, where he could have used the same amount in purchasing a brand new car.
The 'Pokerface' singer had first worn this black and gold acrylic stiletto nail at the launch for her fragrance, Fame in September. Then she wore it again at a concert in Dublin, which she subsequently lost it on the stage.
One of the crew members found it and put the nail up for auction online. To prove the authenticity, he also uploaded the video where Gaga is seen performing onstage in Dublin with a missing fake nail in one of her fingers.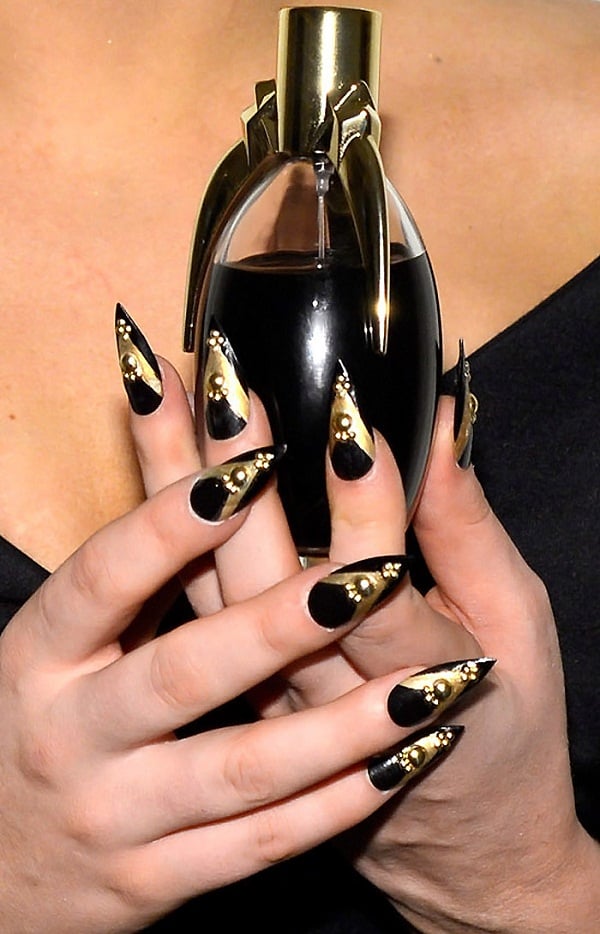 The crew member was heard saying, "I noticed an object on the floor of the stage which at first I thought was a guitar plectrum. When I picked it up, I saw it was Gaga's acrylic nail."
The monster nail went viral soon after it was put on online auction and was settled for jaw dropping $13K. This proves when it comes to being fan of Lad Gaga, most people would just do about anything. The crazy fan not only won his icon's nail but also a Gaga memorabilia with photographs of Gaga, where she is seen wearing the monstrous fake nails.
Designed by Aya Fukada, the black acrylic nail enabled with intricate gold embellishments was supposed to be worn by Mother Monster a day later at her Born This Way Ball concert in Dublin, Ireland, but before that it had already gone under the hammer.
Miley Cyrus Late Night Nail Salon
While Gaga loses her acrylic fake nail to her fan (thanks to the crew member by the way), Miley Cyrus has had a great time on Late Night with Jimmy Fallon lately.
Miley Cyrus joins host Jimmy Fallon on his show only to reveal that she runs a Nail Salon. She also makes it clear that her salon unlike other parlors does not use real hands instead fake arms are used to groom her clients.
Watch this funny clip and enjoy another crazy yet hilarious act by Miley Cyrus, where she plays a manicure expert and plays around with Jimmy with various fun tricks. She not only files Jimmy's fake arms' nails using her own fake arms, but she makes him put his fake arms into wax and then into a heat lamp. Girls, you need to watch this video to see the mess!
Watch out this hilarious video!
I hope you enjoyed this post, especially the video. Do let us know your views on the Lady Gaga's auctioned nail!