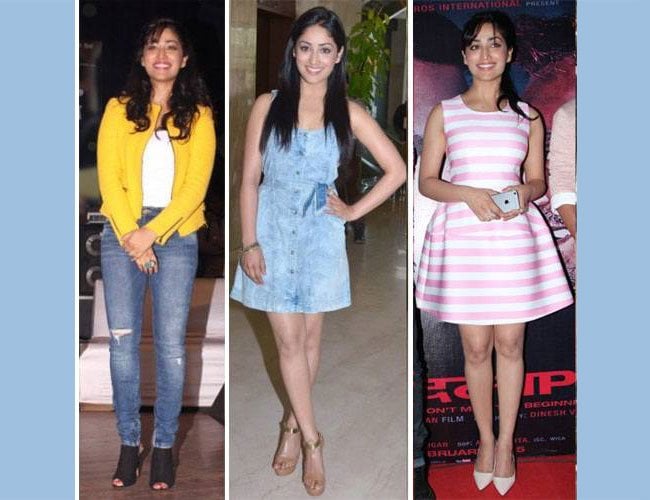 Ever since the trailer for Badlapur released, everyone has been going gaga over how hot Varun Dhawan looks and how this new look has suited him so much. But, all the praises for him stopped the moment the film's leading lady Yami Gautam started promoting their upcoming movie. On occasions more than one, Yami took our breath away with her effortless style and then on some occasions she was just herself, which was so refreshing. Lets' take a look at what she wore while promoting Badlapur
Cutie in Forever 21 shorts
Could this lady get any more simple? We just love her affordable fashion sense. Other celebrities often wear different brands and look gorgeous but not Yami. She is happy with aam janta brands and this, we adore about her. At a round of movie promotions, it was a simple white t shirt paired with a jacket by Zara and cute shorts from Forever 21 for Yami. Completing her look were classic nude pumps from Steve Madden. We approve!
Dressed for music launch
While at the music launch of Badlapur, it was a chic Madison dress for Ms Gautam. White pumps from Zara, a ring from House of Shikha and a ponytail with front bangs completed her look. Like what you see?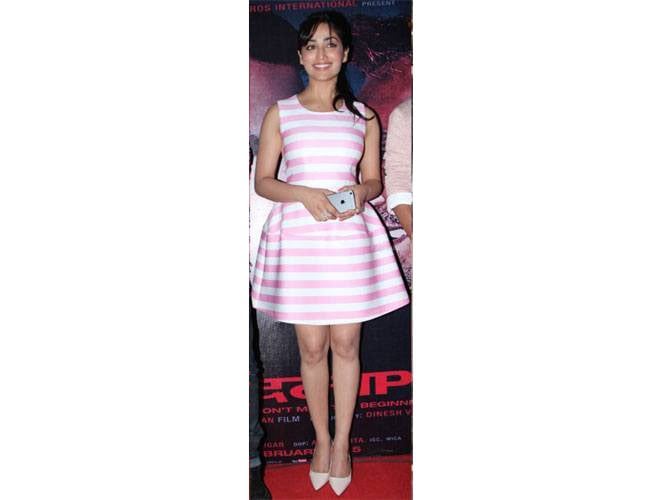 College fest? Lets go!
Striped pencil skirt? Why did we never think of that? Looks amazing and compliments her height, don't you think? To make this striped pencil skirt from Shivangi Sahni look more casual, Ms Gautam opted for a pyjama party printed tee from Zara, bracelets from Forever 21 and nude pumps from Steve Madden. We totally love how she's repeating the thing in her wardrobe.Totally praise worthy!
Demin all the way baby!
[sc:mediad]
While promoting Badlapur in Delhi, Yami went the demin way and wore a not so short demin dress by Gas. Straightening and leaving her hair open, she tried giving us the girl next door image and we think it worked. Completing her look were brogues from Zara. What do you guys think? Yay or Nay?
Pop of colour
For another round of promotions in Delhi, Yami decided to keep it ultra casual by wearing a white tee shirt and demins. The only pop of colour in the entire look was her blazer jacket. Her shoes however, we aren't so sure about. Simple thong sandals in nude would have looked so much better right? But that doesn't mean to say that Ms Gautam didn't carry her black booties!
Blessings in white
It is mandatory for Bollywood celebrities to offer their prayers at a scared place and take blessings from the Lord to make their movie a success. While on a sacred visit to the Golden Temple in Amritsar, Yami Gautam went with a traditional anarkali by Aharin. Love the pink jacket on her otherwise plain anarkali.
It's a wrap!
For the wrap up party of Badlapur it was a very relaxed outfit for Yami. Cute yellow shorts from chemistry, layered top from Zara and nude flats completed her look. We are totally in love with her orange Stella McCartney bag! #sigh!!
P.S – It was my first experience writing about Yami Gautam and I have gotta say that I totally loved her style. All throughout the promotions, she kept it simple. Be it her outfits, her make up or her hair. And I totally loved her for her simplicity!