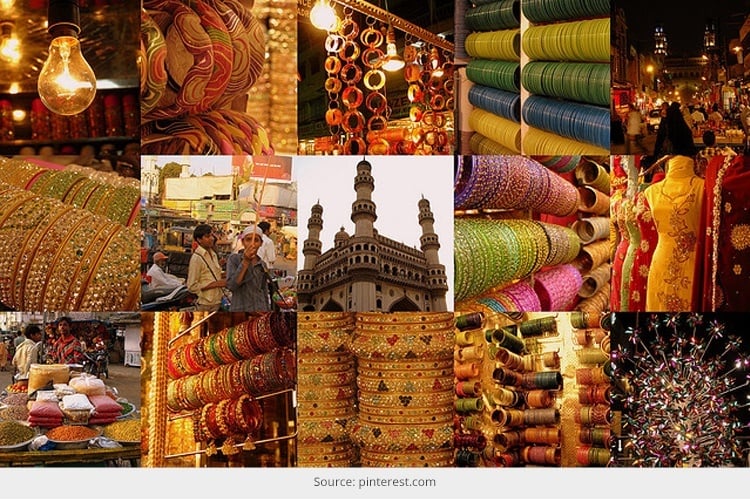 This edition is dedicated to the Hyderabadis!
What better way to jazz up your wardrobe this Eid than by visiting the Old City and foraging for some uber chic picks at killer prices!!
If you hail from Hyderabad then you must be knowing for sure the best time to shop in this city, especially all of the fashionable items at thrifty prices.  Although the Holy month is coming to an end, the Charminar and other shopping arcades are still bustling with crowds looking for fancy items.
If you've any plans of visiting the Old City this weekend then hunt hard enough in the bazaars and streets as this area is too blingy for your taste. By scouring across the market places, you'll come across great cheezy items which you just don't get elsewhere!
Don't be surprised to see some apparels, accessories or embellishments which are trending this season. For, these retailers do know that people of this city are extremely fashion conscious and know the score what fashion domain has to offer this season.
And if you're visiting this city for the first time and have stepped out on a shopping expedition then make sure you come equipped with your biggest travel bag. You're surely going to grab something huge from here.
The market streets of Hyderabad, especially of Old City are always full of surprises. The stores are quite unpredictable as you'll always find something sporadic in bits and pieces. Don't be surprised if you see fabrics and laces in neon colors, bright pink, lush greens and cherry yellows, which are trending this monsoon.
While apparels, accessories and footwear are commonplace in any market area, this shopping plaza has something else to offer too. You can find some beautiful laces, borders and hemlines for salwars, kurtis, dupattas and sarees. These fabric pieces are available in a myriad of colors with heavy embroidery, sequin patterns and exquisite handcrafted designs.
Pick one of your favorite hues and the design, which you think can match with your salwar kameez or saree. You can also show your creative side by stitching those laces or borders on a plain kurti or saree. This will not only spice up your wardrobe but also enable with a party wear number designed from the laces which you'd bought for a dime a dozen down the street.
Apart from white and neutral colors, you can also use these pieces on block colored long kurtis, thereby revamping them for your college/office wear.
[sc:mediad]
The price of these embroidered borders vary depending upon the embellishment and type of fabric. However, you can surely procure one of them for cheap –  from ₹10 onwards per meter.
If traditional designs and ethnic colors are of your choice then Charminar won't disappoint you either. It has something for everyone. You can find here stunning ethnic borders especially for sarees and dupattas with elaborate embroidery and sequin work.
However, such cloth pieces with intricate handcraft will be bit costlier. They will ask for ₹200 to ₹450 per meter. But again it all depends upon your bargain skills!
Apart from such items, how can you just miss the accessories stalls over here. The fancy danglers, beautiful earrings will inevitably drag you to at least end up buying a one or two pair of jhumkas or loops.
How can we just ignore pearls and bangles, which are not only famous in India overseas as well. The pearl jewelries and bangles, define Hyderabad's centuries' old cultural and artistic significance and they are a must in every visitor's shopping list.
Give the bling a break! Instead, pick some sturdy clay and wooden bangles which are not only funky and vibrant but extremely cheap and high on fashion.
Hope you enjoyed this post! Please mind sharing your shopping experience ever in this Pearl City!
Eid Mubarak!!