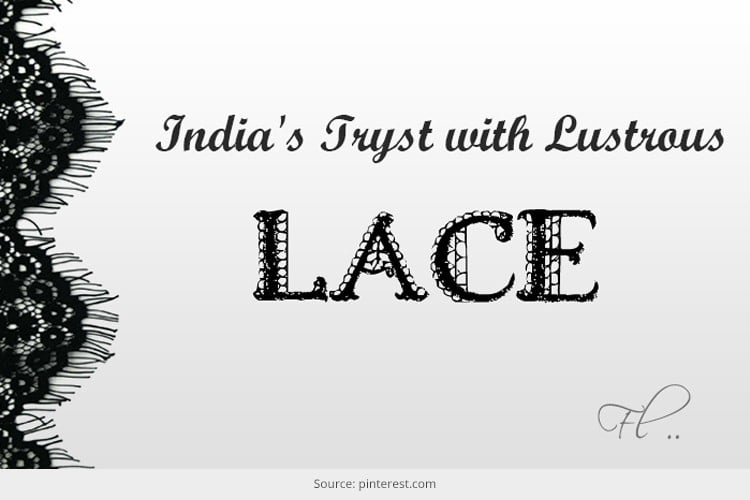 Since ages, lace has been making a striking exhibition on the fashion runways. Its exquisite variety could be one the major reasons why it always receives such huge admirers wherever it is showcased.
While white crochet lace depicts the onset of another promising summer full of fashion and elements, the red lacy party-wear dresses continue to remain a symbol of sophistication and elegance.
In this edition, I will take you through a fascinating journey which enumerates the recognition of this ever-charming, the ever-lovable lace.
Origin
It originated in bygone Europe during late 16th century, where revolutionary fashion trend involved twisting and knotting the shredded edges of garment altogether so as to make the worn-out apparels feel new once again. This kind of ingenious technique gave a definition to the world of fashion.
The initial technique speaks hugely about its craftsmanship. In those days, the making of lace was firmly entwined within the fashion sphere. It was designed initially to replace the embroidery as it was believed to be more efficient in transforming dresses than hours of handcrafted embroidery work could do.
One of the greatest advantages this style of fabric had that it could be unsewn from one fabric and used on another.
Thanks to its versatility and beauty, lace soon became a major fashion accessory, which was seen on collars and cuffs both men and women. It soon became a mark of royalty, as Queen Elizabeth I heavily donned outfits made up of laces.
India's Connection with Lace
In India, the lace making involved a specific style featuring three popular methods: openwork, cutwork and classic whitework. While the openwork involves drawing and pulling threads, cutwork includes cutting out fabric shapes followed by stitching the edges in a  decorative manner.
Classic whitework makes use of white embroidery to create soft and darker shadows. This kind of work often includes fine linen, musin, nets, organdie and batiste.
The typical yet classic whitework is best crafted in chikan work and a floral variety of elements which are of Indian origin.
[sc:mediad]
Lace and the Fashion Parade
Even though fashion shows had always accepted the lace with open arms, this fine fabric actually made its impact during the Spring-summer collection of 2011. It was during this time that international fashion houses like Ralph Lauren, Christopher Kane and Roberto Cavalli showcased their creations in 70's Bohemian style using more advanced lace in laser cut-outs and appliques.
It's true fashion keeps changing, but I am not sure if we'll ever fall out of love with lace. The best example I can give here is the abiding bond between lace and a bridal dress. We all know a bridal dress is incomplete without a touch of this fabric.