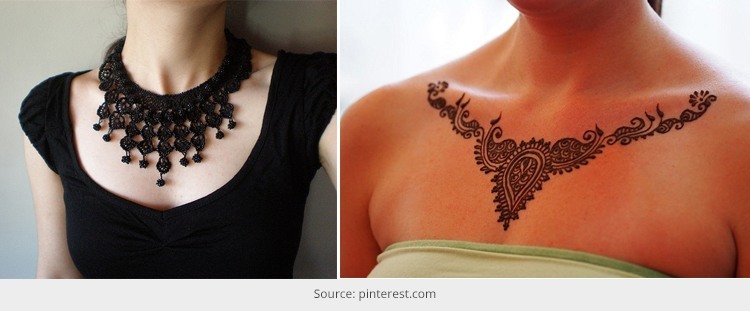 You would have come across hundreds and thousands of mehndi designs in your life, but have you ever heard of mehndi-inspired jewelries/accessories?
I always like to share with my readers whenever I come across anything unique but related to fashion. Have a read!
It's not like there were never before crochet necklaces or mehndi designs for neck, but a mehndi-inspired crochet necklace is something quite unique.
A North Carolina based crochet designer, Lori M. Carlson, has conceived some beautiful unique crochet designs, such as mehndi necklace, mehndi bracelet etc. by taking inspirations from mehndi designs.
It's surprisingly true that her mehndi necklace took her almost one year to compete. the mehndi motif was inspired by actual mehndi designs which she had found on numerous Asian tattoo websites.
While she was still working on her mehndi necklace, there was a time when Lori was struck with the thought of what kind of neck band would go with her designed motif? After much thoughts and trials, she finally included some elements. Her first creation was made in black thread along-with a raspberry pink accent, just like the original bracelet.
After having designed this piece of crochet jewelry and after having displayed her creation at crochet designers' guild meeting, she was again hit with an idea of transforming it to a slave bracelet, just like we have our traditional bridal haath phool back in India.
[sc:mediad]
Her mehndi bracelet resembles our haath phool thought but very much looks like a mehndi art drawn on the wearer's hand.
Although her black and raspberry items looked Victorian-Gothic style, so she decided to make another in purple-grape color with a matching lighter shade for the motif.
[Also Read: Crochet Gloves]
Her superb creations can easily go with a casual wear, Indian traditional wear such as kurti, salwar kameez and also saree.
Fashionlady's Tip: A white v-neck top paired with a full-length printed skirt accessorized it with a mehndi necklace will make you a fashionista in no time.