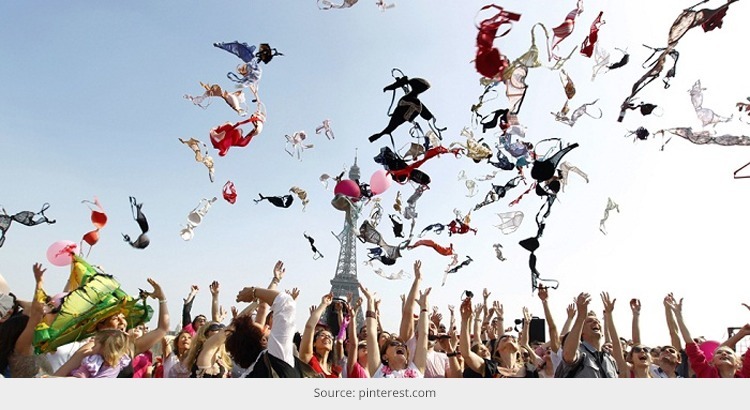 The science of lingerie is now not just about steamy laces and deep cleavage. Fashionlady offers you an insight on the technological advancements which enable the making of the best comfortable and fitted lingerie of 21st century.
Gone are the days when inner wears used to be the over-looked items among the glamorous catwalk couture and read-to-wear collections by different labels. And if we talk in general then most of the women pay little yet expensive attention to their inner wears until and unless there is a requirement say any occasion or event such as their wedding night.
Even at such rare occasions, frills and lace foreshadow comfort only for the shake of the seductive appeal. Same is the case with color and style and in this kind of fashion fad, women heavily compromise on comfort and fit.
Anything we are supposed tow ear should give us comfort followed by style. A piece of lingerie goes through different phases before it is finally displayed at the stores.
If the act of transforming fabric to fashion is considered as a skilled art then creating a piece of lingerie is far more complicated. Sometimes, it is crafted with moulds and wires, while it is engineered sometime with the highly advanced fabric.
[Also Read: Wedding Lingerie]
Fashionlady offers you a lay down on the technology involved in the manufacturing of some of your favorite lingerie collections. Continue reading!
Shapers
They come with seamless edges, augmented waistbands and front-control panels which enable a glove-like fit to the wearer.
Fit and shape go hand in hand when it comes to undergarments. Quite recently, the lingerie pioneer Triumph launched their Shape Sensation range of body-suits.
These 3D spacers come with the features already mentioned above. Its 3D hip-mould feature provides illusion of a perfect curve. Even Marks & Spencer's Waist Sculpt models offer you an hourglass figure with extra panels which breeze at the waist.
"A good bra is a bra that you forget about." ~ Madam Pérèle
However, the most amazing innovation, Top Model is by Simon Perele, a French brand. Their products consist of caffeine, ceramides, retinol, aloe vera and vitamin E in micro-fibers. All of these ingredients start releasing as soon as they come in contact with skin, thereby reducing the showing-up of cellulite.
[sc:mediad]
Whether you're super slim or ultra curvy, cellulite is the trouble for some women out there. From firming body lotions and detox diets to potions, ladies make no option left in the market to help banish their bumps.
But this latest innovation claim to have cellulite-busting powers, which assure to break-down the cellulite whenever you wear them.  The brand claims that the shape wear, which lasts for 100 washes, has body-sculpting actions which flatten the stomach and slim the hips as well as lifting the buttocks.
Bulge Vanquishers
One of women's never-ending bane are the unwanted bulges which appear from the sides of the bra. Marks & Spencer's Flatter Me Bra features flexible wiring or boning designed especially for the sides – two on each side instead of one. These wires help suppress the unwanted flesh, thereby giving you a smooth finish.
The Double Trouble
For those with double-boob problem, the Scottish brand Ultimo has launched a super-hit bra, The One. It claims to solve this problem by offering an additional satin fabric extended satin fabric over the cup to smoothen the unwanted bulging.
It is also enabled with silicon gel to render thinner women a fuller look. The brand took almost two years to launch this item, which is available for women of all sizes even including a G size cup.
Irrespective of the innumerable technology and high-end fabrics which are used to design the best possible lingerie, all these are only worth a woman's salt provided she knows to pick the correct one, especially the correct size.
Lastly our Desi Innovation – Incredible Indian Brains
Recently the experts at Indian Institute of Technology (IIT) have designed an online fit test and recommendation engine, which helps women to find bra that fits them perfectly. This online test takes into consideration the bust and breast shape, including some unimaginable factors like space between breasts.
Bet you would never have thought your bra can go hi-tech some day, did you?