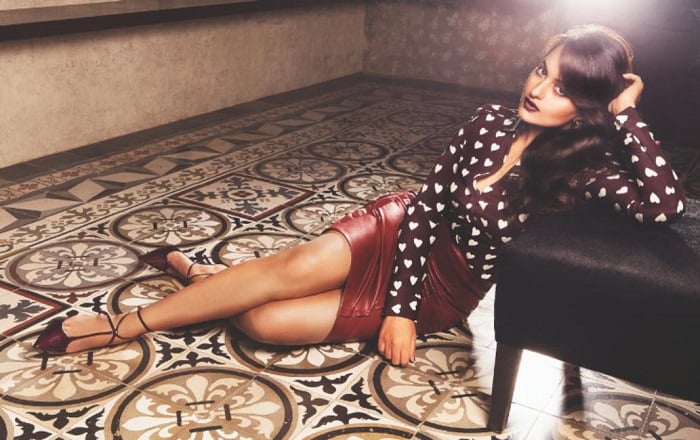 The latest buzz is Sonakshi Sinha gifts herself a star tattoo on her birthday. The Shotgun Jr. recently turned a year older and preferred to celebrate her birthday at her workplace instead of taking an off.
After ushering her birthday with Arjun Kapoor and Sidharth Malhotra, the 27 year old actress celebrated her natal day on 2nd June with her co-star Akshay Kumar on the sets of her upcoming movie 'Holiday – A Soldier is Never Off Duty'.
Sonakshi later that day shared her cake cutting image on Twitter with a tweet – "Holiday – Sona is never off duty. Not even on her birthday!! Cutting my 12th cake with @akshaykumar. The blur behind is Vipul Shah our producer who dint give me an off."
Sonakshi's style evolution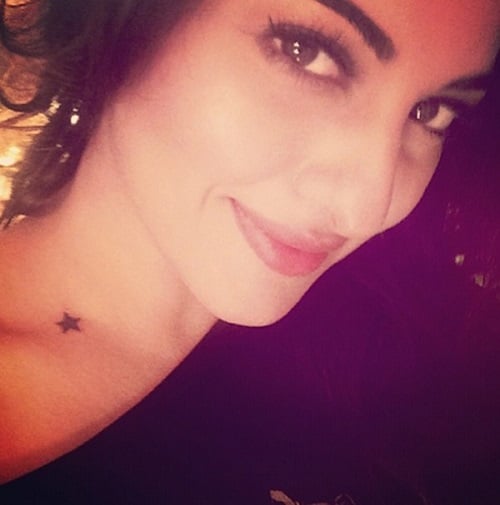 The Lootera actress surprised her fans by getting inked. Sonakshi got a tiny star near her collar bone, which she says is her guiding star.
The bubbly-turned much toned and slim Sonakshi is riding high on the wave of professional good fortune these days. Even for her weight loss, she has now embarked on fashion wheel for every public appearance she has been making these days.
When there was a time, when Sonakshi was counted among actresses like Vidya Balan and Konkana Sen, who are talent houses but average in terms of fashion; the Shotgun Jr. has overcome this pitfall as well.
With a new image makeover of svelte & slim figure, the girl is all set to rule the fashion world as well and is soon going to be a strong contemporary for the already famous fashion divas like Sonam Kapoor and Deepika Padukone.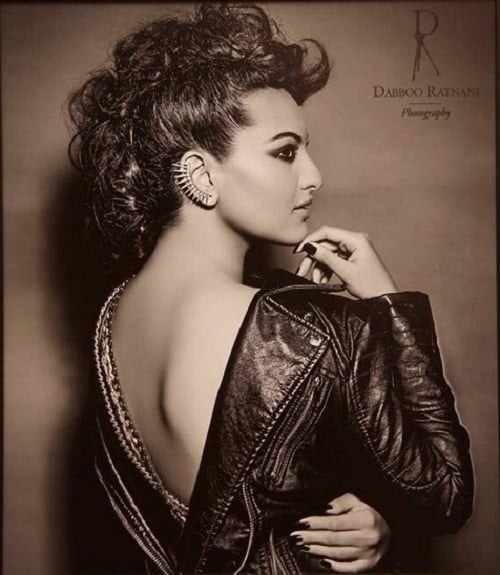 The Dabbang actress, who always had on and offs with her weight issue, finally roped in Shahid Kapoor's personal trainer post Rajkumar movie. Besides her mentor Salman Khan, even Shahid is believed to have huge influence on her, for which she became determined to get into the shape.
Lately we have been seeing her gym and workout photos across Twitter and Instagram. Sonakshi Sinha posted a picture of her doing workout on Instagram, captioning it "Look like a beauty, train like a beast! #extreme". Click here to know more.
Probably this is the very reason; the girl is showing so much confidence through her style quotient these days. The best example being her Filmfare photo shoots for June issue.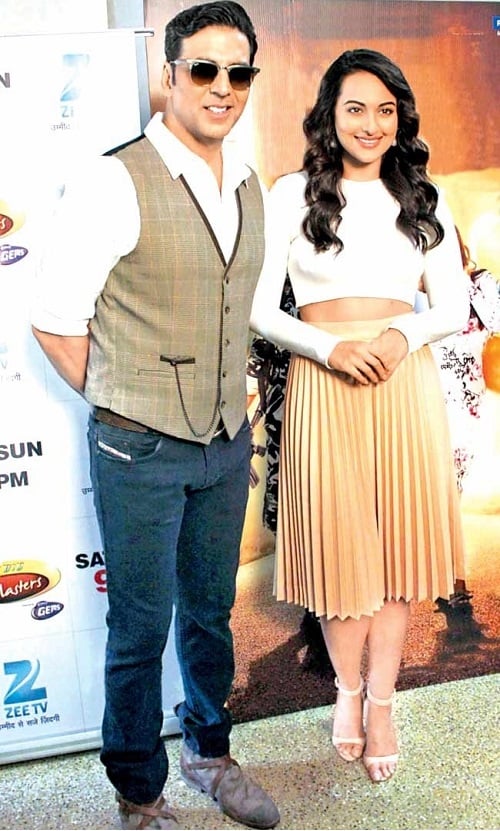 The Holiday actress, who is busy promoting her upcoming movie these days, has given an array of sensual photo shoots for Filmfare. Do have a look!
Sonakshi's Filmfare photoshoot
The June 2014 cover page of Filmfare is quite a rage these days, as it features a whole new Sonakshi Sinha titled 'Beware! Curves ahead: Sonakshi Sinha on her dramatic weight-loss and lots more'. There's more to the actress' latest makeover, which has been elaborated in the inside pics with an exclusive interview of hers.
[sc:mediad]
The Rowdy Rathore actress flaunts a Diesel dress for the cover pic, whilst keeping her style non-indulgent with her hair loosely tied in side graces. However, as you turn over the pages, you would find a hot and seductive Sonakshi Sinha with her sensuous photo shoot where she reveals her other side.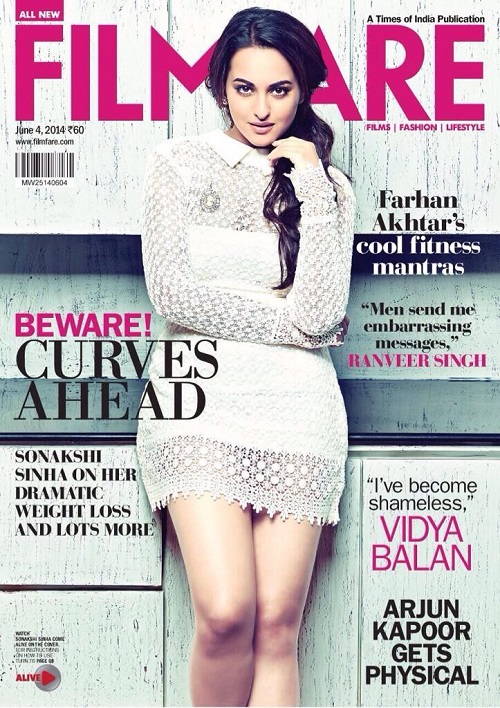 The 27 year old actress boasts her now slimmer frame in a striking Diesel white lace dress with matching pumps. The knitted knee length dress highlights her curves perfectly, while her loosely tied hair in side graces keeps her overall look composed yet glamorous.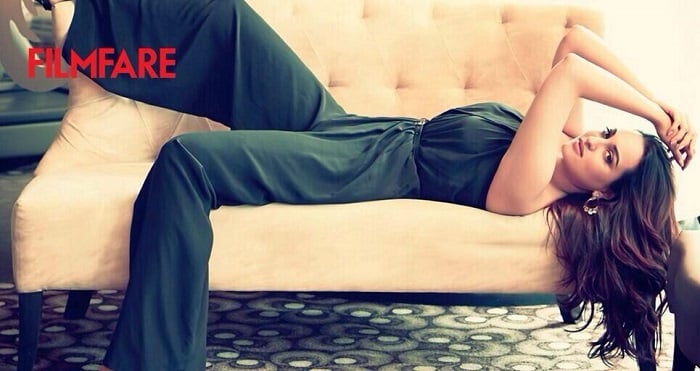 Sonakhsi looks resplendent, as she lies on a cream coloured cushioned couch in a marble green jumpsuit which she has paired up with strappy heels. Her hair is tousled over the edge with half-open magazine lying next to her on floor, makes this photo shoot even more interesting.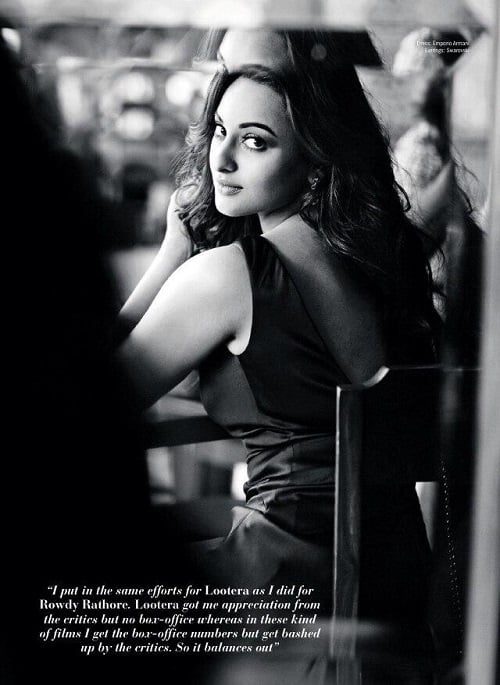 This is one of my favorite from this photo shoot and I believe even Sonakhsi's too. In this image, she poses sheepishly before the camera wearing a regal black dress, as she gets ready for the photo shoot.
Her plunging back reveals how hard the girl had worked to look that great.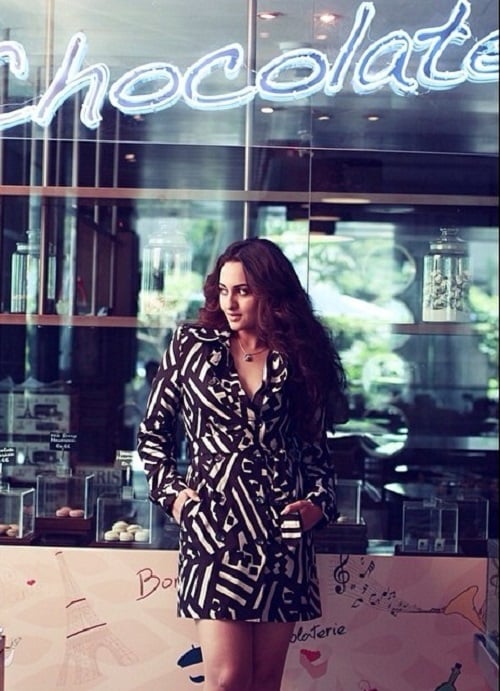 The Holiday actress looks stunning in a black & white striped outfit, as she poses outside a cafe door. This is an indication that the girl is all set to catapult her image in the Bollywood industry.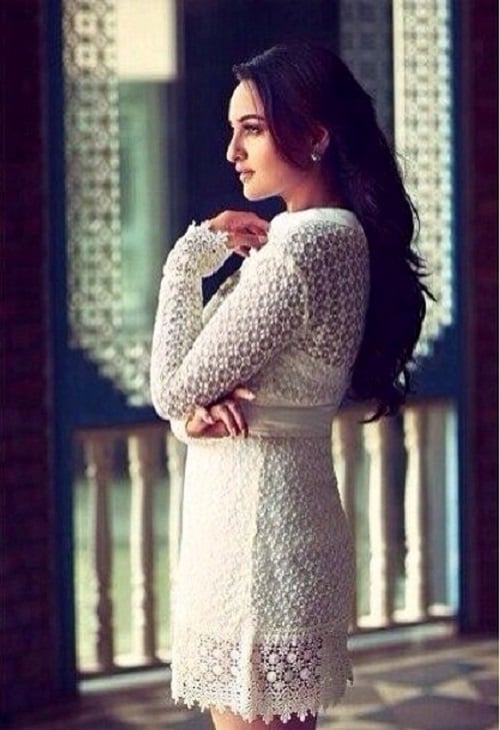 Absorbed in deep thought, the Dabbang actress perfectly justifies the phrase 'Beauty with brains'. Sonakshi here strikes an amazing pose, being dressed up in the same white lace dress looking out from a verandah during photo shoot.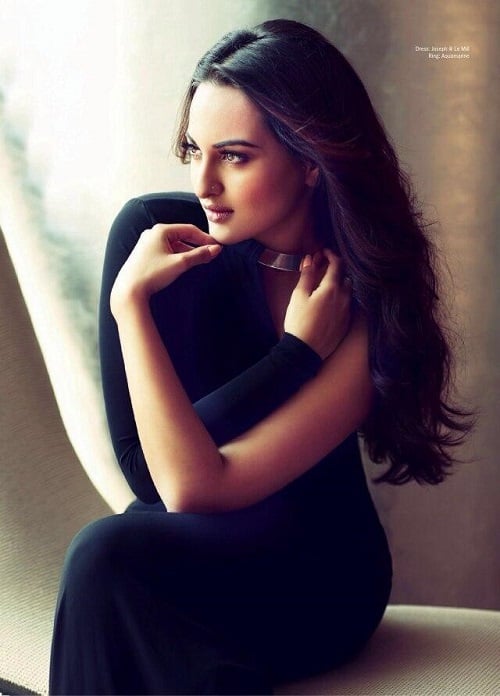 Sonakshi Sinha, who has never believed in the size zero trend, has always reminded us of the 70's and 80's Bollywood beauties through her raw Indianness essence which has painstakingly faded from Bollywood.
Hope you enjoyed watching Sonakshi in a whole new avatar!!