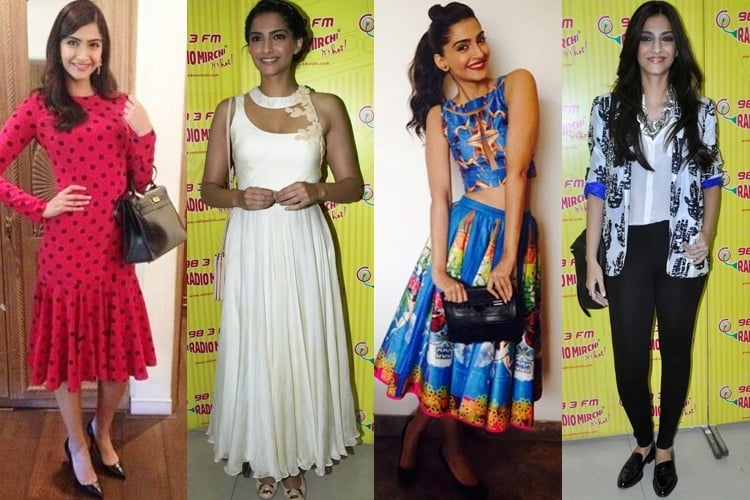 Quirky, upbeat, a dazzling smile and a very enchanting personality, ladies brace yourself for the one and only style icon of this day and age- Sonam Kapoor. Ever since she jigged to the song Masakali, alighting from the tube with earphones in her ears, most PYTs across the nation have been emulating Sonam Kapoor fashion. Can't blame the PYTs, since Sonam does show us college goers how to look chic and ultra trendy in the simplest of outfits! Without much ado, let's show you some of the best casual looks and Sonam Kapoor fashion diary entries of our Bollywood diva, which you can emulate year round!
[Also Read: Sonam Kapoor's Absolute Fashion Hits!]
Sonam Kapoor Dresses – 12 months 12 styles
Needless to say, our Bollywood lass loves being funky and she doesn't have inhibitions showing it too. What we love of the rockabilly floral cocktail dress is the play of colours quite different from the signature statement ensemble worn otherwise! One of the best Sonam Kapoor dresses to emulate so far.
She Loves Her Florals
A floral dinner jacket and leggings for the bottoms with ballerina shoes in black! Sonam sure knows how to keep warm when the cold winter months in January strike! We simply love this girl-next-door look, flaunted by our Bollywood diva.
She Plays With Graphics And Prints
Who wouldn't want to be a little more adventurous with their clothing sense, even if backstage for an eminent event? Talking of being daring and being caught on camera, Sonam flashes her pearly whites wearing graphic grey bottoms and a sleeveless black halter top! Nude footwear gracing her feet and hair left loose- perfect for spring time!
She Plays With Peplums
Simply love the play of colour blocks and in very bold shades that too. Dark blues for the bottoms, for the casual look and so vivid, with a collared top with ruffles and adding to that her peplum waist coat- college fresher's welcome day ensemble!
She Loves Tarun Tahiliani It Seems
So if there is an important event in college and you've been asked to compeer the show, what would you wear? Seek inspiration from Sonam Kapoor outfits, as she sought her own manna from eminent designer Tarun Tahiliani, wearing mustard dhoti pants and a white crocheted top!
She Loves Her Whites And Being a Nerd
Nerd is the new sexy it seems in this day and age, which is why airport fashion wise, Sonam flaunts a white an all white midi skirt with a white top- complete in lace and crochet, with flat animal print ballerinas for the feet. Check out her nerdy glasses, cool Sonam Kapoor dressing style, isn't it?
She Loves Her Off-White Salwars
Perfect for an important day at college or maybe for the summer months too- what we love is the play of the sexy backless choli, embossed with floral touches. Someday we would tell you a little about the Sonam Kapoor sarees to flaunt on graduation day!
She Loves Flaunting Her Statement Pieces
We aren't talking about her smile only, but look at the statement piece below. One gorgeous big piece adorning her neck and with a tribal fancy tote bag for company, against the white ensemble number she flaunt- voila, marhabba!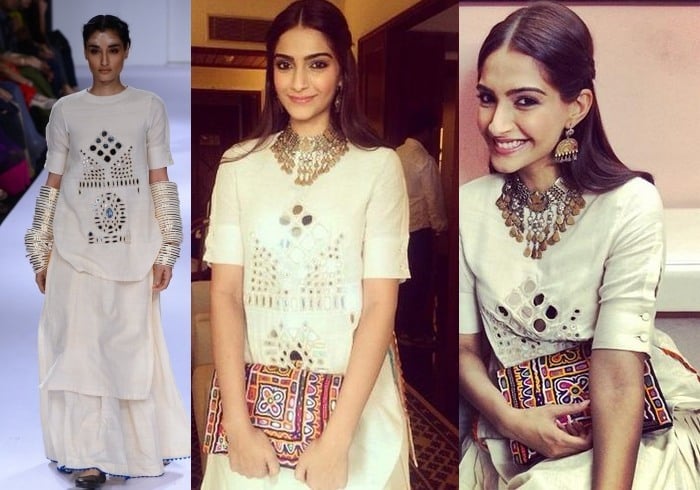 She Loves Her Crop Tops And Sheer Skirts
Caught on a girl's night out with her BFF Jacqueline Fernandez, Sonam shows us how to style the crop top with a pretty black sheer skirt! Lace up sandals for the feet. All while keeping it minimal and crazy simple! Sonam Kapoor style personified!
She Is The Lady In Red
Sonam in red seems to be the signature colour that works wonders for her. This time though at a red carpet shoot, Sonam was caught in a vintage gown made from sheer fabric, lace and net. That too embossed with floral touches- an all-red haute moment!
She Loves Her Shades Of Grey And Black It Seems
Once again caught at the cinemas with a very quirked up smile as usual, Sonam in grey denims and a black dinner jacket- ready for a show are we?
She Loves Being The Polka Dotted Chick
Needless to say, Sonam we are floored by your sense of style. It isn't easy to carry large polka dots on red so easily, but trust Sonam to do that with utmost grace and elegance!
So here were the twelve looks of diva Sonam Kapoor we could steal for college days and important college events. Do you have other snap shots of Sonam Kapoor suits and dresses to share, do ping us!