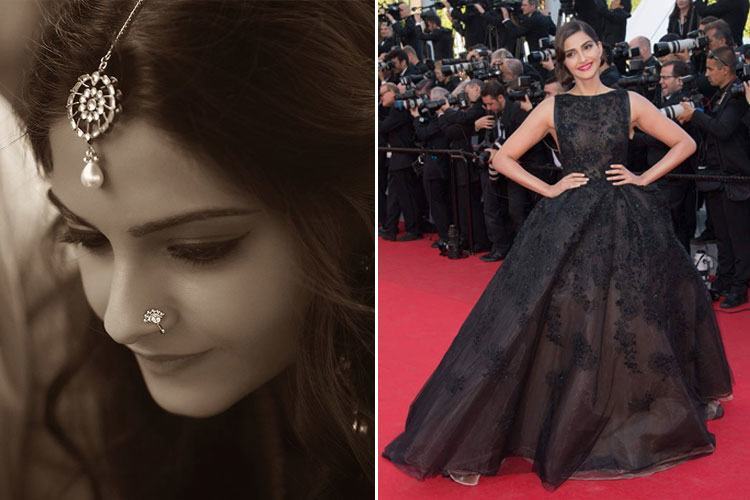 She's a self-proclaimed fashionista alright! You like her, you hate her, doesn't matter. We all know, at the end of the day, we just gotta love her style! There have been times when all we have done was stare at her in awe.
Just last week we did a post on Sonam Kapoor's instagram account and how jealous we were about all the special goodies that she keeps getting. But deep down, we also know one thing – goodies/freebies or not, this girl has got some serious style!
Let's take a look at her biggest Fashion moments which have been drilled on our memory.
1. Elie Saab
We literally have no words to describe how we feel about this image. A total Cinderella moment perhaps?
2. Another Elie Saab
Very few people can make black look dreamy! Sonam Kapoor is one of them. We just love her in Elie Saab coutures!
3. Dolce & Gabbana
When we first saw this appearance of her, we had to take a moment to relax ourselves. What's not to like about Dior gowns and Harry Winston jewels?
4. Dolce & Gabbana
Every princess needs a red dress and so does Sonam! With matching red shoes of course.
[sc:mediad]
5. Toni Maticevski
There are times when Sonam Kapoor looks posh and then there are times when her smile is just infectious!
6. Elie Saab!
What's a fashion hit without some pastels and chiffon?
7. James Ferreira
In her ivory James Ferreria gown, Sonam had her Greek princess moment. Only thing missing was the floral band!
These appearances, apart from the many Ananmika Khann/Sabyasachi appearances that she gave us are our favourites!! Do you guys have a favourite look? Comment below to let us know!
Here's wishing Ms Kapoor a very Happy Birthday!