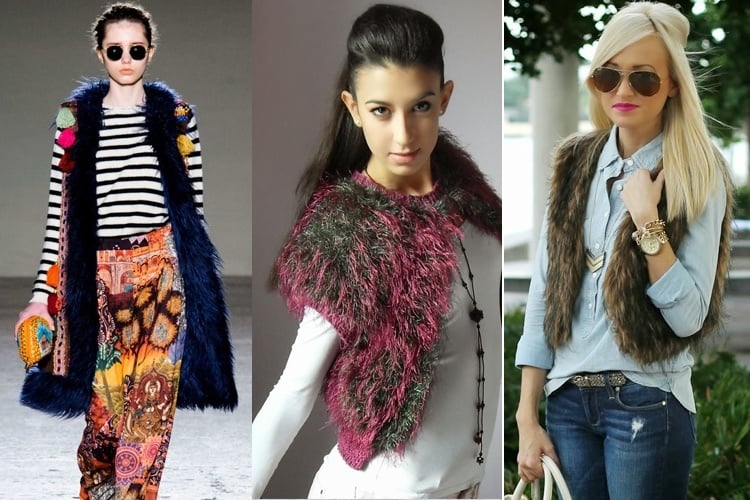 Since all the old trends are returning; so why would the fur vest be left behind? Wondering how to wear fur vests to add a fashion quotient to your ensemble? Fur vests are adaptable and comfy, and can conveniently be mingled with any piece of clothing you own and worn on any occasion. Got a romantic date? Throw on a fur vest with your dress! Going to office? Pull on a fur vest with you skirt and shirt!
Fur Vests Fashion – How To Wear Fur Vests: 11 Tricks To Glam Up
Whether your attire is formal or casual, fur vests fashion quotient is high and can add the much needed flair and charm to your ensemble. Along with the touch of style, it is fantastic to wear during the winter season as it provides the warmth of a coat. So wondering how to glam up your attire with a fur vest? Fashion guidelines on how to match it at every occasion.
1. The All Black Attire
Pull on your black long sleeve top, black tights or leggings, black boots and fur vest! Accessorize with a funky necklace and bright clutch.
Now you're ready for dinner!
2. The Skinny Jeans Attire
Wear your skinny jeans with a long sleeves top. Pull on your boots and fur vest and you're good to go. Don't over accessorize since this is an already bold look. A watch will do. Now you're ready to uptown funk it up!
3. The Distressed Denims Attire
Your torn jeans, plaid buttoned down shirt, shades, ankle boots and your fur vest will blend together to create a casual look. Wear a blanket scarf if you're feeling cold and to further enhance the look.
Perfect for a visit to your grandparents.
4. The Dress Attire
Classy dress, high heels, dark lipstick and a stylish tote is all that is required to rock the look. Also of course your fur vest. Dress and fur vest in contrasting hues shall create a stunning look. Keep your accessories minimal to a long pendant chain or a bracelet, let the fur vest create rest of the magical aura for you.
5. The White Shirt Attire
A lightly hued fur vest with a white shirt and jeans with the right accessories can give a wonderful attire. Lending a soft, feminine look, team this ensemble with boots and a duffle bag or a tote. It makes for a splendid day attire.
6. The Cardigan Attire
Throw over your fur vest on a cardigan or sweater to get the complete and warm look. Grab your sling bag and ankle boots to integrate the whole outfit.
This is super cute outfit perfect for girls day out!
7. The Hat Attire
Style it up by wearing your fur vest with a hat and some over-the-knee boots. You can select any top to wear under your fur vest, which mixes with the rest of the clothes.
[sc:mediad]
Hey there cow-girl!
8. The Maxi Skirt Attire
Add a dash of glamour with fur vests to breezy, boho maxi skirts. Save this style for those transitional days when there is slight chill in the air. Fur vests beautifully outlines the silhouette by balancing volume of the skirt. You can further amp up the style quotient by teaming up your ensemble with Huge scarf or multiple junk jewelry necklaces and handbag to exude a homey and cozy appeal to your attire.
9. The Leather Attire
To give the tough and bold vibes do not hesitate in layering your fur vest over or under a leather jacket. If you have leather pants, throw them on too! Add on boots to complete the outfit. You will look super rad and feel extra confident.
10. The Printed Trousers Attire
Got a pair of printed pants? Team it up with a pastel colored blouse, fur vest and totes for a formal look. Wear this with either heels or boots and accessorize accordingly. A classy pearl necklace will do justice to the outfit.
Alternately to reveal the punk, you can team up a funky printed pants with a simple tee, accessories with an embellished clutch and a cool waist belt. For a casual appeal team up the ensemble with loafers or sneakers and complete the look with stunning glares. Voila!
11. The Denim On Denim Attire
Get hold of all your denims and team up your soft hued denim shirt with your favorite pair of jeans. Wear your fur vest over this along with bright coloured heels, handbag and necklace. Toss in some shades if you want!
Half tucking in your shirt in jeans will give a further casual look and lend a laid-back vibe making you look effortlessly cool and stylish.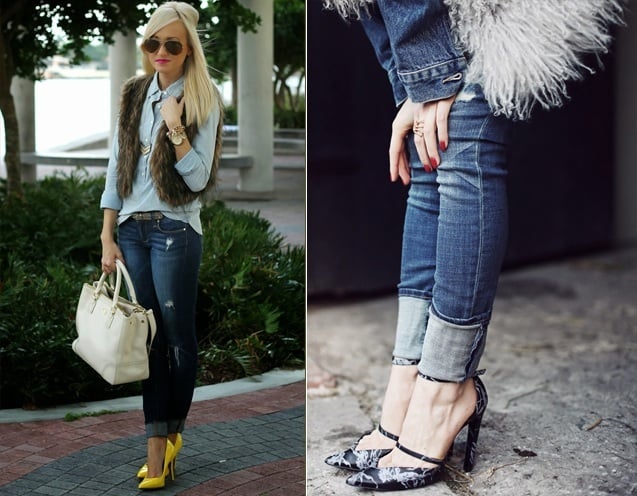 Grab your fur vest and try these styles! Wear them casually over a basic top or go glam and stay cozy. If you have some better tips on how to wear fur vests and rock the look, do share with us and enlighten fellow readers.