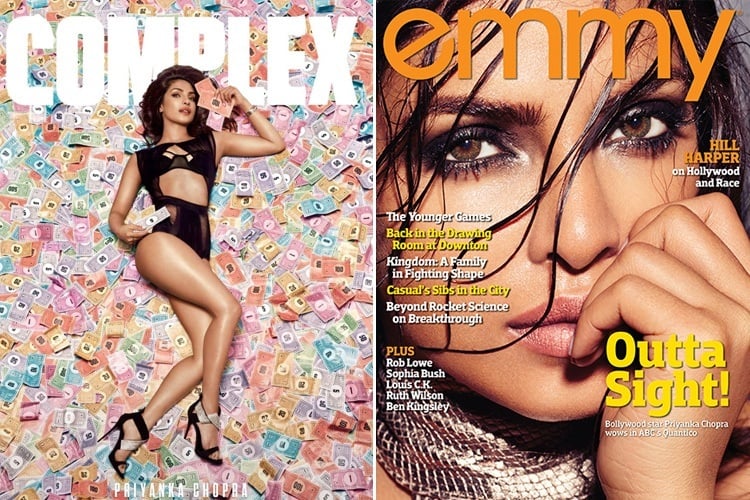 'Nowhere to go but everywhere to be', the Instagram status of our hot favorite Priyanka Chopra speaks a ton about her ubiquitous lifestyle.
A while ago, after admiring the pulse escalating photo shoot of the Priyanka Chopra on Esquire magazine, we decided that it's one of the best smoking hot photo-shoots of the actress ever. We were under the impression that no other can ever beat this tremendous magazine cover.
And it is true, that only she herself can compete with her looks and ascend the ladder of sensuality. We have here, mind-boggling magazine covers of Complex and Emmy that set our hearts on fire.
On Complex Magazine Cover
The diva widely known for speaking her mind out and loud, disclosed her thoughts and experiences on racism and unraveled to us her rise to fame in this alluring Complex magazine.
Lazing on a bed of colorful cash in the most sumptuous way, she posed in a black sheer bodysuit with cutouts. The well-toned long legs with just a pair of black ankle strap heels amplified the hotness radar to breaking point.
With hair looking shiny and wavy, smokey eyes with piercing gaze and raisin-colored lip she reeled us into her orbit.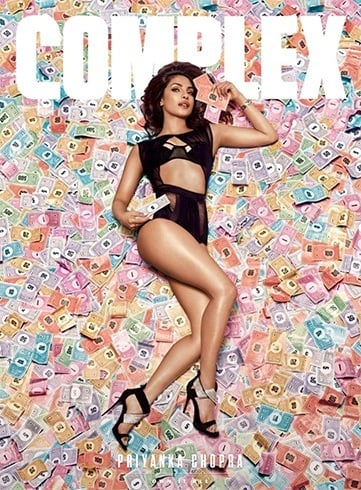 For one of the clicks, she sported a Norma Kamali teal colored swimsuit with a CC Skye bracelet. With her wind blown hair and wine red lips, she looked like a goddess.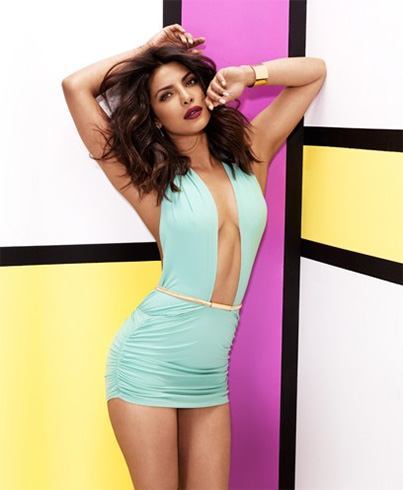 She rocked a sexy boss look dressed in Chromat cutout bra, La Perla shorts, a blazer by Dan & Dean Caten (#dsquared2). The glossy finish of the shorts and blazer added the classy business look. She added a CC Skye ring to the ensemble and finished the look. Leaving her hair and makeup untouched with the deep pink pout, she had the magnetism which no one can ever resist.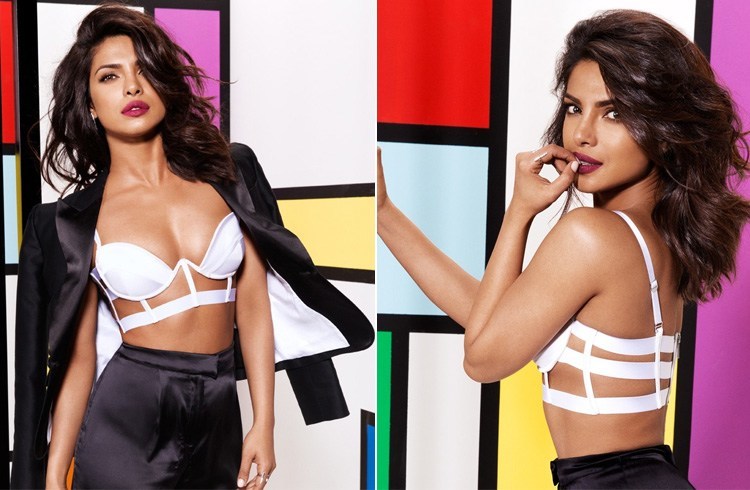 Intoxicating like a bottle of whiskey was her look in a black front zipped dress by Dan & Dean Caten (#dsquared2), she posed on solid colored blocks. With an enticing gaze, deep wine red lips and hair all swiveled to the side, she completed her look with a pair of Giuseppe Zanotti Design metallic sandals.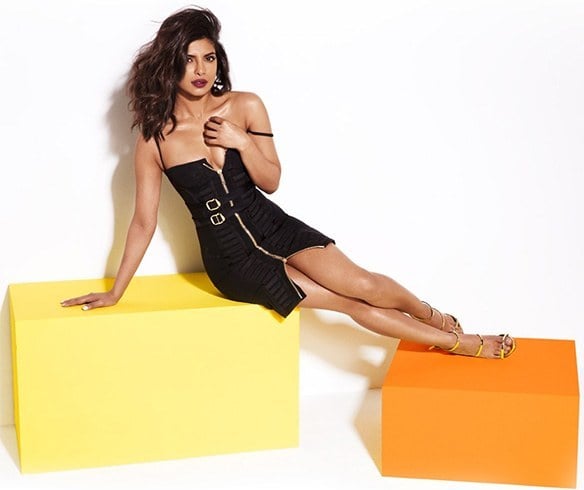 Take a look here at the fun filled photo-shoot here: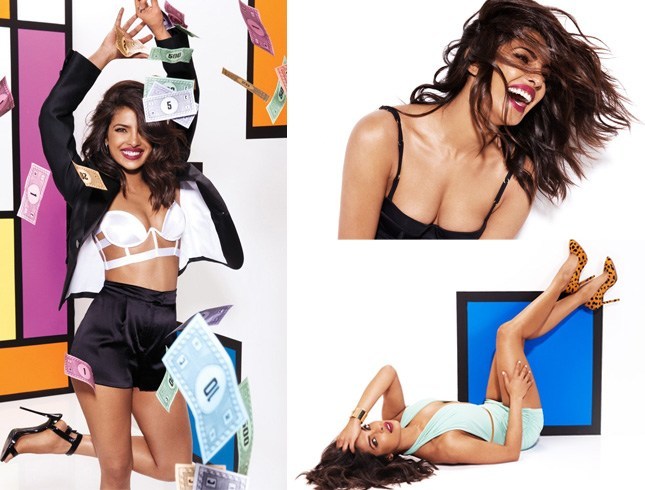 [sc:mediad]
On Emmy Magazine Cover
Sharing thoughts that are quite similar to the ones on Complez magazine, the diva ascended another step in delivering fantastic photo-shoot for Emmy.
We will never quite understand the way this lady works, especially with tumultuous work schedule, altering looks, and shuttling across the borders.
For the Emmy magazine cover, the diva was shot up and close focusing more on her razor sharp eyes and attitude stricken looks. Her brown eyes were brought to light with the smokey eye make-up. With her skin unblemished and well-contoured, and with natural lips, she makes us want to surrender our soul. Few wet hair strands were swept across her face not blocking the prickling gaze.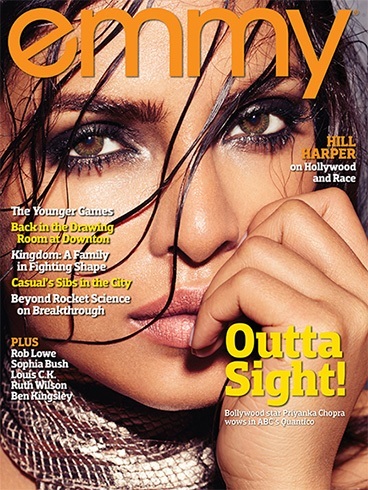 She posed in a beige flowy floor length skirt, a navy blue bralette over which she donned a printed blazer. She stood tall and magnificent in a pair of black booties and finished the shoot with wind blown hair.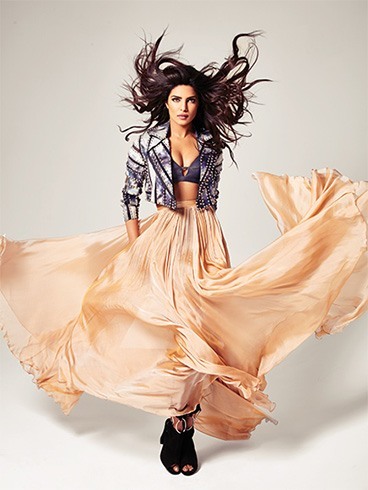 She flaunted her curves to the fullest in a black dress. She strapped her legs in gold toned metallic knee length sandals. With striking black eyes and hair swept to the side looking wet and messy, she spiked up the summer heat. With dewy sultry texture on her skin, she makes us fall in love with her unconditionally.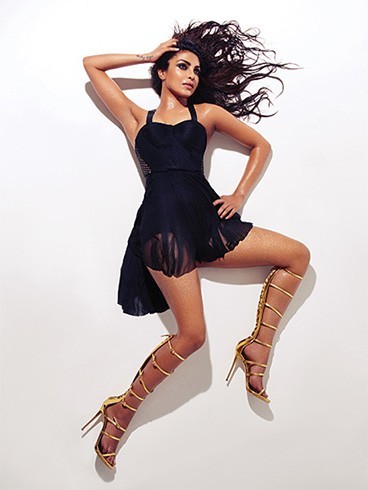 She rocked a gray ruffled cover up on a black bodysuit looking painstakingly beautiful. She wrapped her legs in a pair of black leather thigh high boots. With a well defined face and braided hair, she finished her look stoning us forever.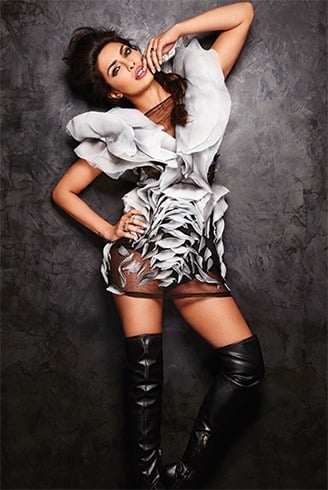 We greatly admire the photo-shoots of the magazines and are eagerly waiting to lay our hands on the first edition. What about you?
Images Source: complex.com, people.com