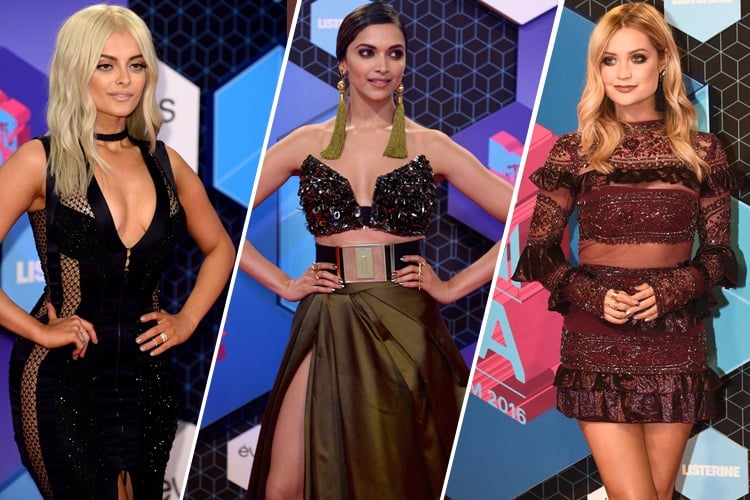 Rotterdam just celebrated the biggest party in Europe that surrounds the who's who in music. Europe's most popular award's night brought together artists from across the globe. But it was not just a feast for the ears, look at these wardrobe choices and calm your eyes down.
[Also Read: All The Shinning Stars On The MTV Movie Awards Red Carpet]
Baba Rexhaha
The American singer did not shy away from flaunting those super curves as she hosted the evening at Rotterdam. We are still debating if the neckline was more plunging or was the slit more dangerous. There was a strategic fishnet knit by the sides that brought more movement to the otherwise solid black dress. Basic strappy heels are claiming all the glory, and it was a safe decision for Rexhaha to opt for it.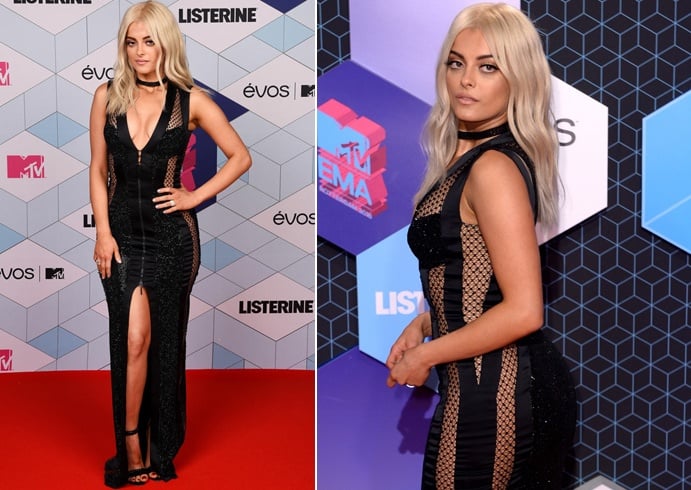 Becca Dudley
Now we are not really confirming or denying our support for Becca's sheer outfit. We are in fact still in the process of figuring out what all is going on that piece of fabric though. Is that floral applique, or stone embellishment on her maxi dress? But one thing we are sure of is we can't get enough of that ashy silver hair.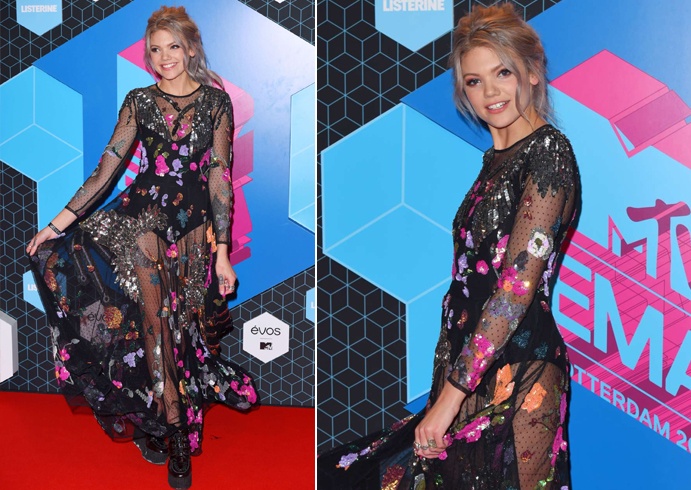 Jourdan Dunn
Every red carpet needs a super model and this one laid out at the Dutch city couldn't get any luckier. In a grey ensemble, that we gather as a turtle neck body suit that gave way to a sheer skirt didn't hesitate one bit to show off those mega pins. The chainmail attire clung to the model's perfect frame and was effortless in having Jourdan stand out in the crowd.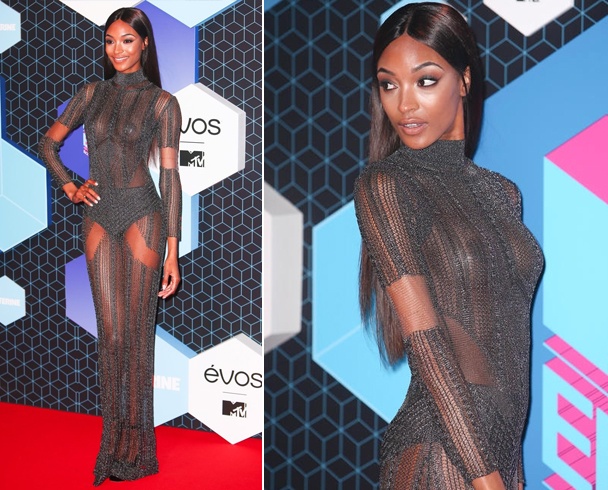 Charlotte Crosby
There was a love of black inundating the award night. Though we can't complain ad black is always the safest and wisest choice it does leave us craving some vivacity. Coming back to the reality television personality – yes, the tube little dress in black was a secured choice and those cut outs were cute too. Your Animal print pouch, however, grabs all the limelight, honey!
[sc:mediad]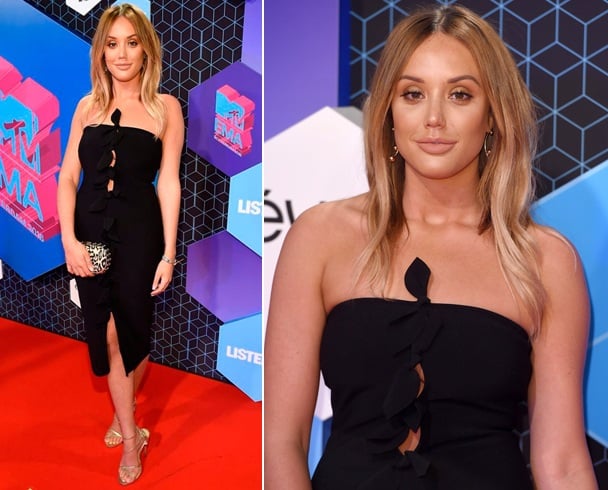 Nina Dobrev
The singer from Canada, along with Shawn Mendes, is one of the best imports US has made from its good-hearted neighbor. Nina looked like some angel, as always, in a lavender gown. The halter neck dress shimmering with sequin dropped till the floor and was synched at the waist with a matching belt.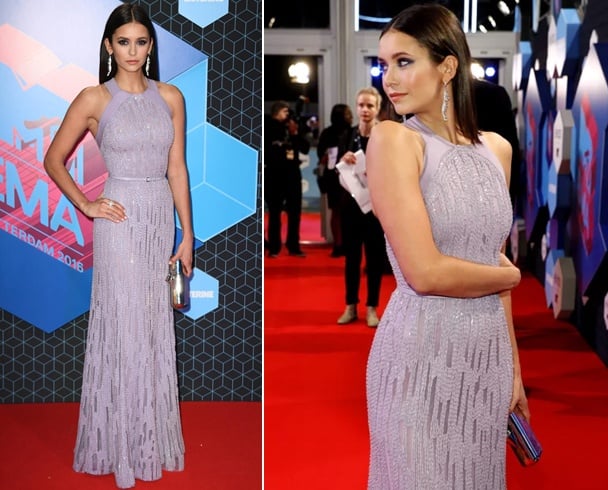 Laura Whitmore
MTV's very own, Laura left no stones unturned to look super gorg for the evening. We would talk about her dress, but can we hold our breath for a moment to appreciate those stunning copper locks. We are loving the wavy lob teamed with those dark eyes and neutral lips. Then comes the dress that is a little of everything but an over board of nothing. The uber glam shift dress cut out of embellished sheer fabric, covered the apt amount of skin and covered all the right places. And, honest to God, what women doesn't like a few frills here and there?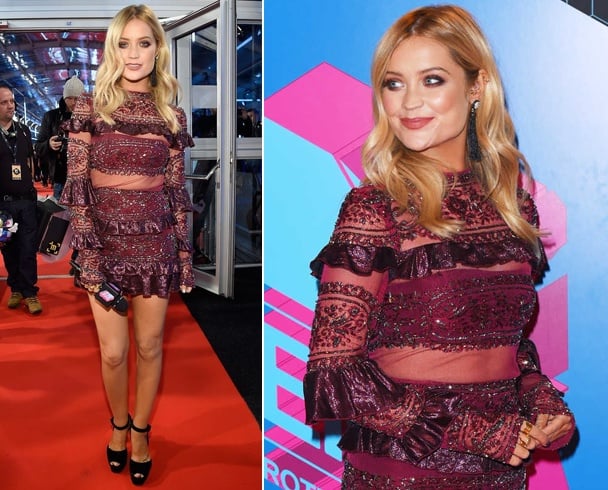 Winnie Harlow
Yet another super model came all prepared to slay. The gothic gown with its super sexy ensemble. Laces are all the rage this season and there is no gain in denying the obvious. Winnie's lace number was splendid, in its own artsy way it covered her completely and didn't cover at all. Now that, my friend's, is how you wear a puzzle.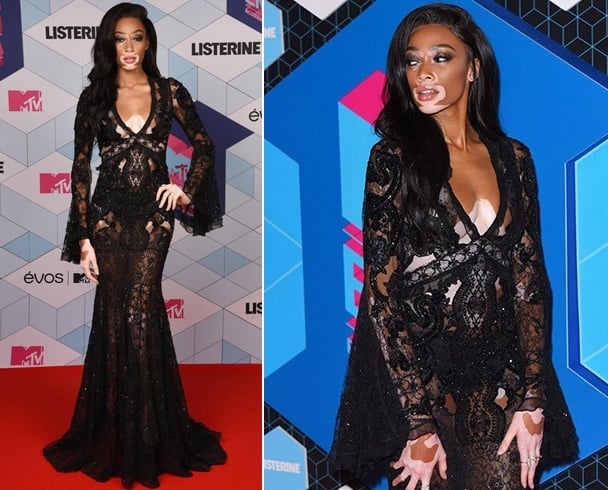 Zara Larson
The Swedish singer has her career on the rise now, and was present at the MTV music awards to collect her Award for Best Worldwide Act. The songstress rolled up in a white dress. Guess what was the fabric of her knee length gown – Well, no awards to you for guessing it was a lacey number!! She kept it demure in full sleeves and high neck. Though lace was a monotonous trend, we were happy she opted for white instead of the popular choice of black. We would have loved had she picked matching sandals, though those strappy heels look amazing.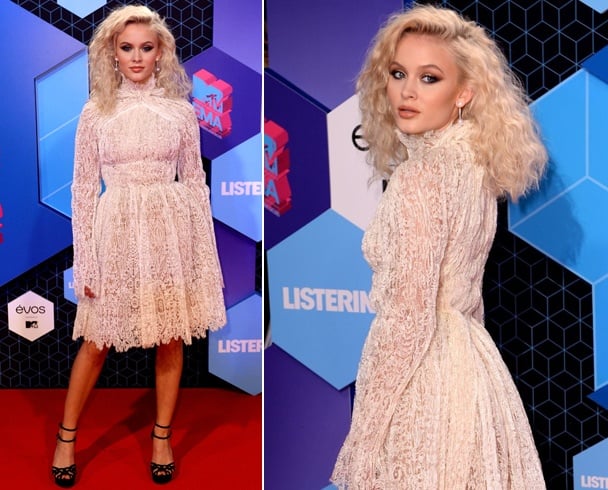 Deepika Padukone
The MTV Europe Music Awards also marks Bollywood actress Deepika Padukone's first walk on any Hollywood red carpet. Now we were quite offended at Daily Mail's verdict of classifying her as one of the worst dressed and going to the extent of calling her a Bollywood blunder. Honestly, not only that we applaud her for choosing a native designer from her country, we must say her olive green slit skirt was a fresh break from the sheer fabric everyone was boasting. Yes, we love her chunky bralette also. Her attire was completely different from the followed trend and had a uniqueness to it. You go girl!
[Also Read: Deepika Padukone]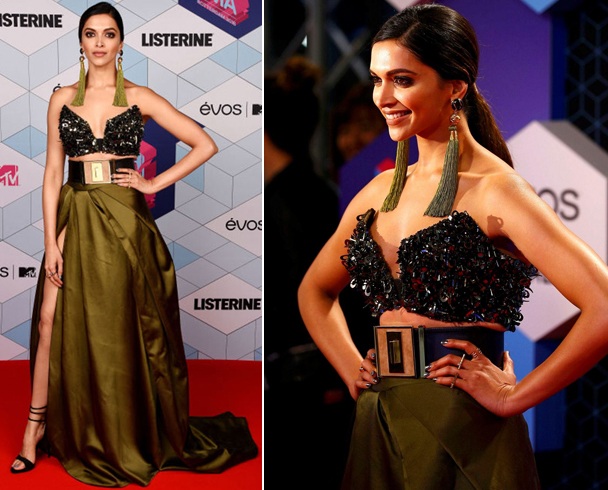 Talking about fashion is always so refreshing. Be it good, not so good or downright disastrous! The glitz adorning the celebs adds the extra luster to a star studded night, and we strive and get you the best of it
Images Source: mtv.co.uk, eonline.com