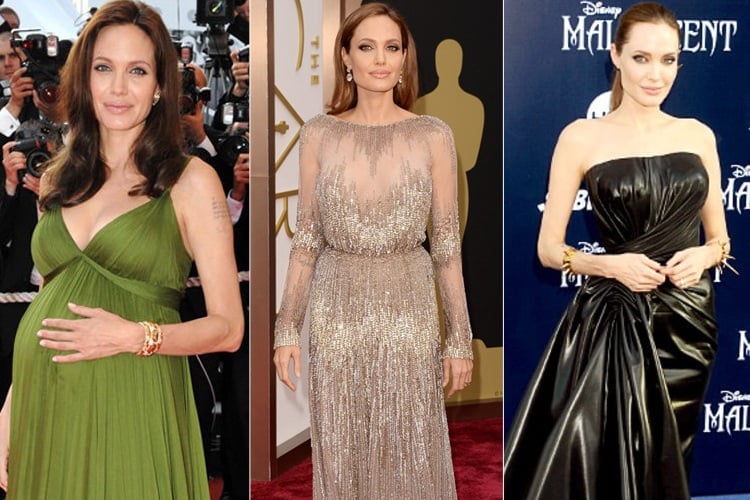 The world is falling apart (read sarcasm) since Brangelina is not "Brangelina" anymore. Now we will have to call them Brad and Angelina –whose fault it is and what went wrong, is something we consider none of our holy business. But what is our holy business is giving you a final look at all those gorgeous outfits Angelina wore on the Red Carpet with Brad.
The Wedding Gown
The 39 year old bride walked the alter in a beautiful Versace silk gown. But what remained memorable was her veil adorned with art work by her six children.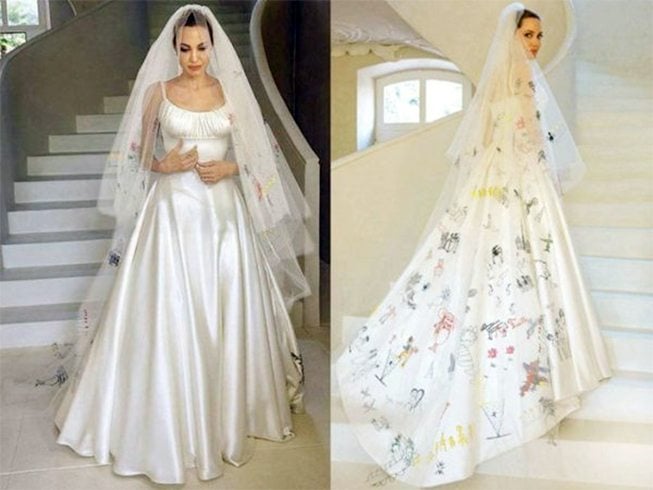 [Also Read: Angelina Jolie and Brad Pitt Wedding]
The Baby Bump
Though way back her engagement or marriage to Brad Pitt, let's not miss out on capturing the beautiful floor length gown she chose while showing off her first baby bump. Her Max Azria flowy dress did full justice to her perfect baby bump.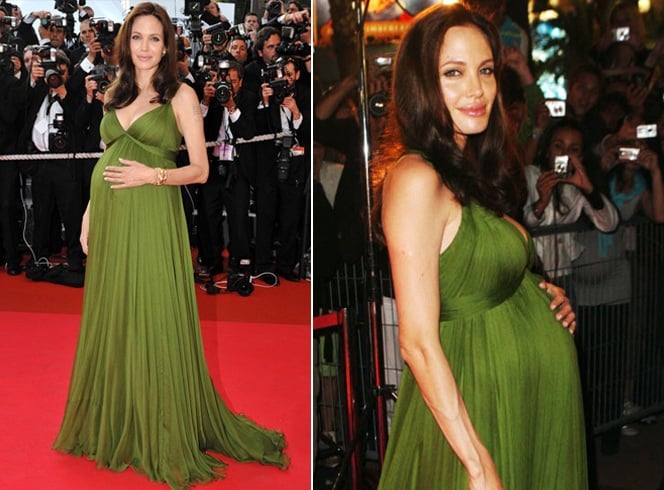 The Angelina Leg
With Brad, Angelina has walked the red carpet numerous time. Now be you on Team Jennifer or Team Angelina, you will have to agree that Angelina knows how to look drop dead gorgeous every time she sets foot out of her door. Speaking of setting foot out, do you recall that black dress that made headlines? Let's take you down memory lane. That was the evening of Oscars 2012, when Angelina Jolie showed up at the red carpet flashing an acre long leg through the thigh high split of Atelier Versace gown. Though Brad Pitt was nominated for best actor's award, all the attention and focus was on Angelina's leg – that leg, I believe has a Twitter account of its own.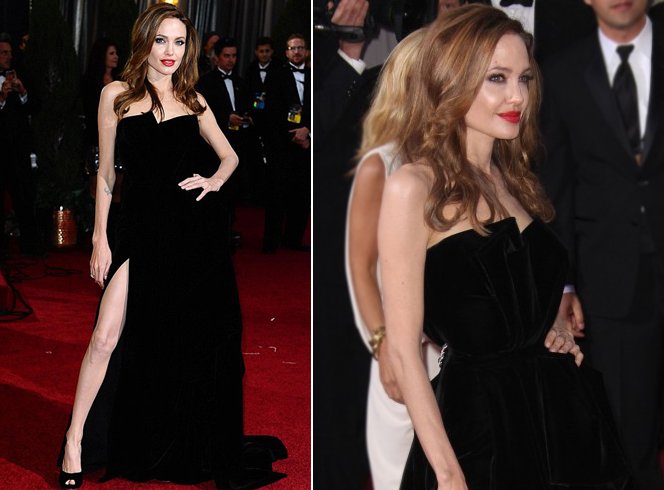 Sparkling At Oscars
Jolie was picture perfect at the Oscars 2014 also. Though her best accessory was her the-then beau Brad Pitt, she didn't take her look for granted. Her Elie Saab sparkly gown with rose gold sequences adorning the slim frame throughout was bomb.
[sc:mediad]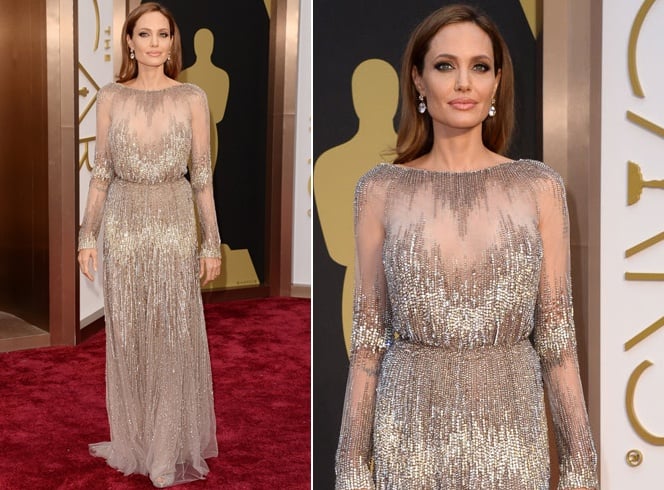 The Disney Vamp
Now let's all just agree that Angelina Jolie is one of those divas who can practically wrap a garbage bag around and look a million bucks. For the premier of Disney movie Maleficent, the soon-to-be bride dressed-up in a villainess structured dress. Atelier Versace made her this strapless dress out of rubberized silk that would, on anyone other than the actress, look like – as we said – a garbage bag. But Angelina knows her game way better than most of us.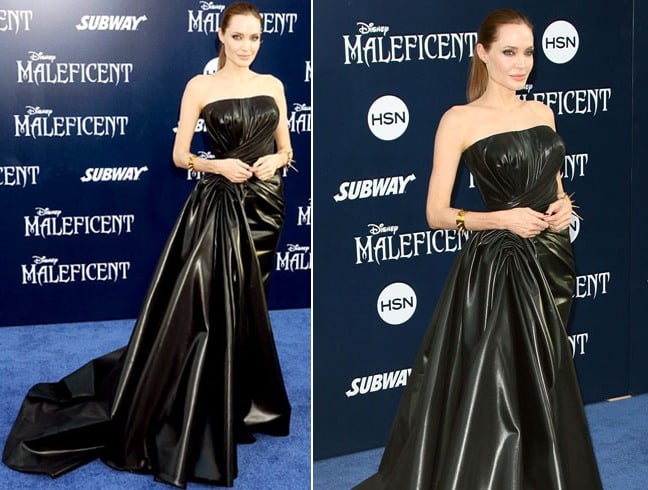 That's so Veteran
One of her first appearances right after her September 2014 wedding was in UK. Mrs. Pitt attended the premier of "Unbroken" at Odeon Leicester Square dressed immaculately in a Ralph & Russo Couture. The cream number hanging a few inches below her knee with its mini cape had a military vibe to it.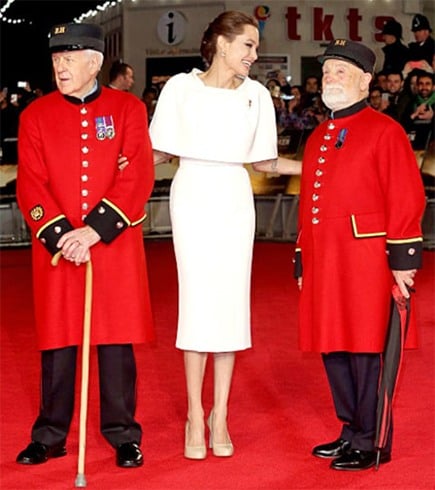 Matronly, you say? Hell – No!
At the 20th annual Critics Choice Movie Awards Angelina arrived at the Hollywood Palladium, looking exceptionally flawless in her ultra-flattering silk dress with the silver just reflecting in her eyes. Though a lot of critics pointed out that she looked more matronly in her favorite Atelier Versace's night gownish creation, we are not anything less than mesmerized.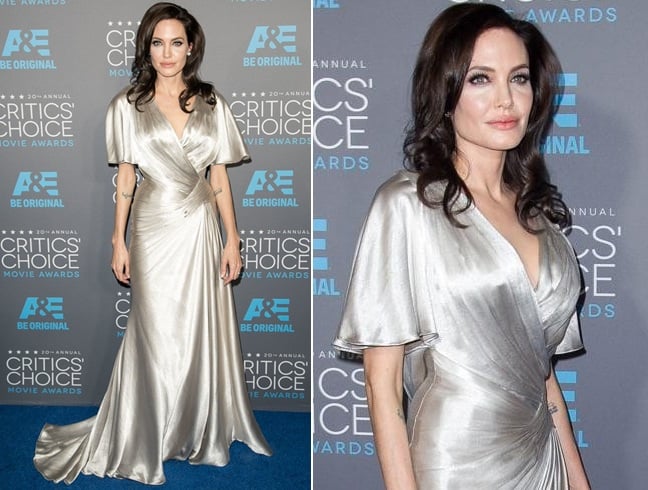 By The Shimmer
Versace was again who she picked while zeroing on her look for the premier of 'By the Sea'. She shimmered again throughout the gala event in an ivory strapless gown that adorned with sequins across. Jolie kept the look simple, with her smile being the major accessory.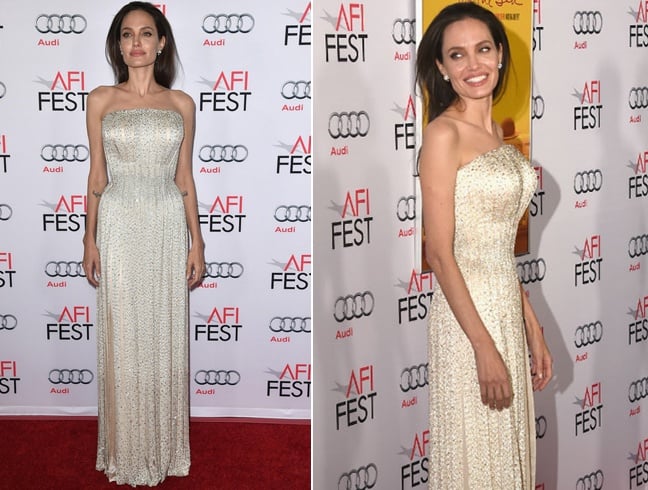 The LBD
The mother of six showed off her super skinny frame this January at the premier of Kung Fu Panda. For once she ditched those floor length dresses in favor of a little black dress and basic black stilettoes. She looked pale and many thought she appeared unhealthy too. But once in a while every woman wants to take a break from loads of make-up and step out in her own natural skin. Must admit, Angelina had some flawless skin to make up for all the absence of glamor.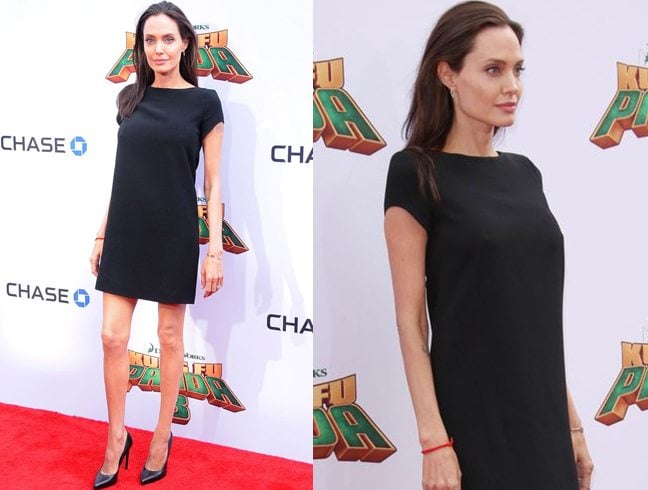 Cannes 2016 – Legs for Days
One of the last times we'd seen Angelina still as a part of Brangelina was at the Cannes. The nude dress flowing like fluid on Angelina was again a Versace number. And that killer slit right there – yes, we know – she had legs for days right there.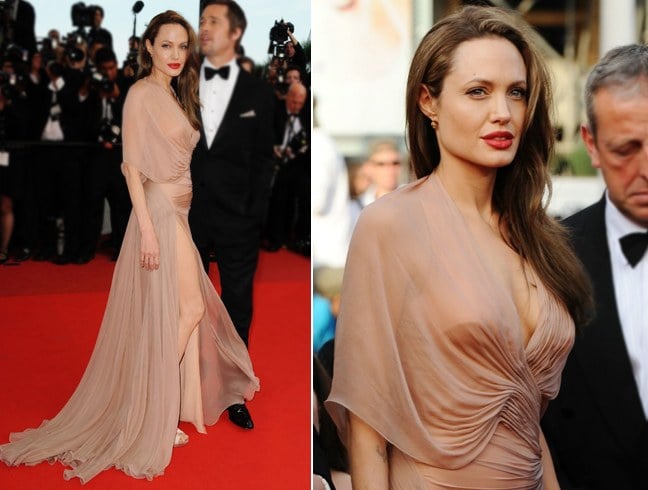 Those were the 10 glorious moments Angelina rocked the red carpet as a vital suffix of Brangelina. Let's maintain a moment of silence paying our respects for Hollywood's 'have been' power couple. Now let's roll on to the next fashion article.
Images Source: usmagazine.com, justjared.com