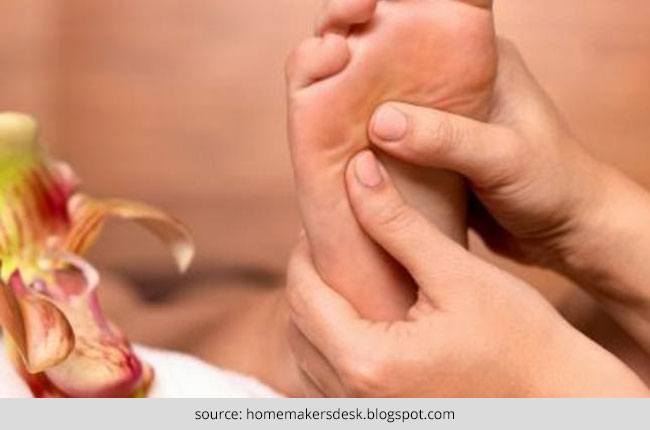 Corn is the least thing you would ever tolerate on your feet. It not only makes movement uncomfortable but it is also quite painful if not treated in time. In this post I offer you top 5 home remedies to remove corn, a skin ailment usually caused due to ill-fitting shoes, high heels and also exposure of feet to rugged surfaces.
And if not treated early then corn may lead to hardening of skin which further worsens the condition. This hardening of skin eventually converts into corn.
While small surgery can remove the corn, there are over-the-counter-ointments and specially designed band-aids for treating corns. However, these are not as easily available and convenient as home remedies. Even though these remedies are not of immediate effect but cures corns permanently and softens the hardened skin.
Go through these easy home remedies and get rid of corn!
1. White vinegar
White vinegar is common in all Indian kitchens. Apart from improving the taste of any dish, white vinegar is a superb tried and tested remedy for corn on foot.
Method: All you need to do is to take a medicated cotton ball and dip in vinegar and then place the cotton on the corn and secure its position with a duct tape. Leave it for 3-4 hours and then remove the tape.
Now let the dampened corn dry for 30 minutes and then repeat the process. Follow this home remedy twice a day for period of 2 weeks and then you can reduce it to once in a day for a week. After that you'll notice the corn has fallen off and the skin is also healed up.
2. Tea tree Essential Oil
This oil has antifungal and antibacterial properties which are excellent for treating corn.
Method: You can follow the above steps for this home remedy. Take a cotton ball and dip in tea tree oil and then place it over the corn.
Now secure the cotton with duct tape and leave it for 3-4 hours. Now wash the affected area with medicated soap and dry it with a towel. You'll now need tea tree oil based cream to apply it on the corn.
Follow this procedure every night before going to sleep for one week. This is a faster treatment than white vinegar as you'll get to see results in just one week.
3. Banana Peel
Even banana peels are among excellent home remedies for treating corn.
Method: Peel off a banana and scrap the inside white part. Make sure you've scraped out a tablespoon of the white portion. Now place this white substance over the corn and wrap it with a bandage to secure its position.
Leave it for couple of hours and then wash the area with clean water. Do not use soap. Repeat this procedure twice a day till one week and see the results. If this seems to be exhaustive then you can directly wrap the banana peel around the corn and secure it with a bandage.
4. Hydrogen Peroxide
Hydrogen peroxide, which is mainly used as bleaching agent, also treats foot corns.
Method: For this, you need to take a small bowl and fill it with half cup of water. Now add one cup of H2O2 to the water and stir well and let it rest for 5 minutes. Now soak the affected foot in the water and make sure the corn is dipped in the solution for 15 minutes.
[sc:mediad]
Remove the foot and wash it with clean water and dry it with towel. Now apply the tea tree essential oil over the corn. Continue this procedure for three weeks to get permanent relief from the corns.
[ Also Read: Hydrogen Peroxide Sore Throat]
5. Garlic
Garlic comes with anti-oxidant properties and is thus useful in fighting against bacterial and fungal infections.
Method: Take 3 pieces of peeled garlic and crush them. Now roast three cloves and crush them into powder form. Mix these clove powder with garlic and apply it over the corn. You can also use a gauge to secure the powder.
Leave it for three hours and then wash it with medicated soap. You can also leave the powder over the corn overnight and wash it off in the morning for better results.
So these are the top 5 home remedies to remove corn. Hope this helps!