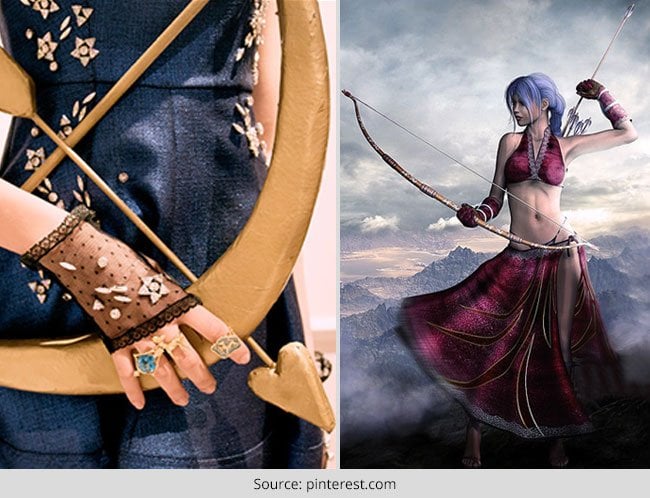 The Sagittarius zodiac sign fashion rules sweats and sneakers
If you are born between November 22 and December 21 then you are in the right place to explore the fashion traits of the beauties with this super-charged zodiac sign. Sagittarians like Scorpions have a great sense of style; let's just have a sneak pick into their style diary.
Sagittarius symbol – Archer
Sagittarian style traits: Easy-going, practical, sporty, fuss-free
Lucky colors: Purple, Royal Blue, Indigo
Before we do a closet raid of the Sagittarians, let's find out what the horoscope has to predict about you for the following month –
You are all geared up to reach your target but damn it you're going to get ahead of yourself! So if you've already set some goals then you are in the right direction. Your moon Neptune is going to take control of what's going to happen tomorrow. Make sure you don't get any cold feet in your road to creativity. There is no feeling like accomplishing what you'd dreamed for, so carefully put forward your step, whilst enjoying your present. Chances are there are some amazing sources waiting right at your door at the moment so just don't blink your eyes at the wrong time, you might miss a great opportunity. Stay alert, stay active, anchors aweigh!
Style traits of Sagittarians
Sagittarians are quite fond of their wardrobes. Well, not because of the furniture but for their fabulous taste which they see right hanging there. They are practical, elegant and even super sporty at times. A true Sagittarian fashionista can gracefully pull off a designer gown and can also look effortlessly chic in a sportswear. Whether it's a high end event or simply hanging out with friends, they know exactly know what to pick from their wardrobes. Even for those born under the Archer, for a simple jogging they make sure they are dressed properly.
Did you know most of Olympics champions are Sagittarians?
Some of the lucky Sagittarians are blessed with flexible body and vast energy so they are quite good at physical exercises. This is the reason you'll find them for fit and healthy than other fashion enthusiasts.
Sagittarius zodiac sign fashion entails a free-spirited and passionate character. Furthermore, a Sagittarian fashionista is upbeat and excited about the trends going around and anything that makes a big impression is in their checklist.
Sagittarians love to head wherever the wind takes them and so is the case with their dressing sense. They prefer to wear considering the venue, season and of course their mood. They mostly prefer comfortable clothing that's not monotonous. A Sagittarian fashionista is an inquisitive person who loves experimenting with all the styles that are trending.
To summarize archers are always on the haunt for one-of-a-kind pieces that can give them a strong fashion statement.
Having said that they also love casual ensembles like cropped jeans and patterned top. They are always prepared for prerequisites, so they carry a large satchel along-with them instead of an envelope bag. Now coming to footwear choice, they would always pick flats over heels if they feel they are not comfortable. And not to mention they love accessorizing their dresses.
So here are the top preferred Sagittarius zodiac sign fashion elements –
Jeans, top, satchel, flats, neckpieces, pumps, clutch, loops and maxi dresses.
And for formal look they pick an ensemble with simple silhouette in a bold shade. They usually pair this silhouette with a nice pair of peep-toe heels and chandelier earrings that complement their overall look. They complete their look with a statement-making clutch.
Here is a list of Sagittarius celebrities, who have stood true to their sun sign traits. Continue reading!
Miley Cyrus – She might be one-of-the-kind craziest living celebs on the planet doing all the weird stuff, but when it comes to creating a style statement the singer turned actress exactly knows how to play it safe. Miley is all about fun and so are her fashion elements which define Sagittarian fashion.
[sc:mediad]
Nicki Minaj – As I had mentioned that a true Sagittarian is bold enough to flit around her ensemble. And Nicki Minaj is an embodiment who time and again has never shied away from flaunting her bold side.
Rita Ora – Already a favorite of top leading fashion magazines right from Vogue and Glamour to Elle and GQ, Rita is super sporty and rocks the sportswear as well.
Julie Delphy – Sagittarians prefer bold patterns and prints and it's proved as Julie prefers to make such understated style statements.
Scarlett Johansson – How could we even dare discounting Scarlett, the epitome of grace? Yes, this Sagittarian celebrity can effortlessly pull off any look especially the elegant and sophisticated poise.
Here is a list of Bollywood actresses born with the same zodiac sign and who stay true to their sun sign fashion traits.
Dia Mirza – Dia tops the list for she has always proved she is a true Sagittarian, not only for her dressing sense but the character she exhibits. And as far her style quotient is concerned, she is a savvy in that area too. She always plays it safe. While she prefers simple dressing with minimal makeup and hairdos; it's only special events when you see her in a melodramatic ensemble. Having said that, Dia as a true Sagittarian prefers bold shades.
Yami Gautam – The Action Jackson actress is known for her girl-next door image and is a fashion icon in the country. Endorsing for top beauty and fashion brands like Fair and Lovely and Jabong and walking the ramp for Rana Gill at Lakme Fashion Week, the actress has surely emerged as a fashion icon in the country.
Mahi Gill – The Dev D actress has earlier this month walked the ramp for Archana Kochhar at Lakme Fashion Week. Honestly speaking, I did not like the way Mahi Gill was dressed up as the show stopper, especially her makeup. Holy Christ she was looking awful! But then that doesn't mean the actress doesn't score on fashion meter. This Sagittarian does know how to impress others. I loved her makeover in her last movie Gang of Ghosts.
Sharmila Tagore – The dimpled grace was discovered by none other than Satyajit Ray and when she made her Bollywood debut with Kashmir Ki Kali, her brush-cut and arched eyebrows flanked by Cleopatra-inspired eye makeup and not to mention her dimple cheeks took the entire country by storm.
It was in Waqt that Sharmila first showed her glamorous side where she had played the character of a rich man's daughter. But it was in Shakti Samanta's An Evening in Paris that she brought in a revolution, a bold decision of wearing a one piece swim suit which was highly unlikely for mainstream actresses during that era. Even her knotted blouse design from the movie became a rage and she immediately turned out to be a high end fashion icon, who was already an inspiration then.
Almost all throughout her career playing as a lead actress, the Bengali siren had maintained her signature beehive hairstyles and cat eye makeup.
Comfort was her key to dressing. Mostly she opted for chiffons and disliked overdoing of accessories. She always preferred dressing up elegantly than being overdressed and criticized at. Even though she had to take character into account, but always made sure to maintain her signature style.
So those were my top picks from the list of celebrities with Sagittarius zodiac sign. Hope you enjoyed this post on Sagittarius zodiac sign fashion.