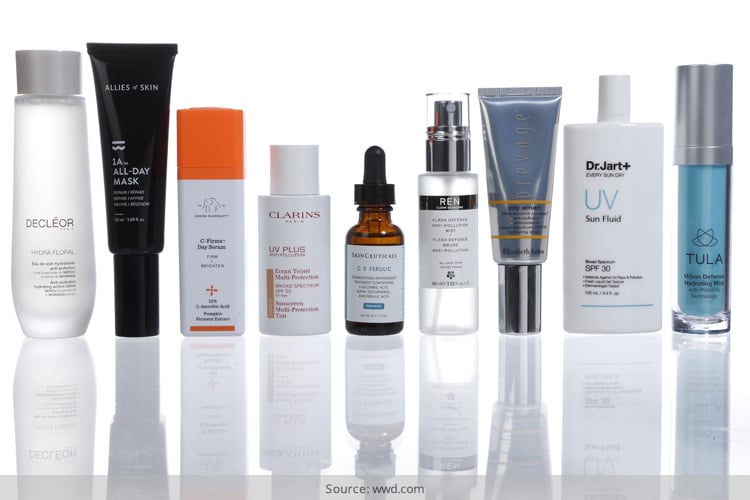 Air pollution such as ultraviolet or ozone rays, voltaic organic compounds, and foreign particulate matters affect the outer layer of our skin. They tend to induce dryness, dehydrate skin, amplify pigmentation, and ageing. Smog also leads to free radical formation and reduces antioxidant levels in the skin such as Vitamin E and Vitamin C. It can further lead to an increase in skin sensitivity, atopic dermatitis, and redness. This can further clog the pores and build-up dead skin cells. In addition, pollution is another reason for increasing skin's stress levels.
How to Prevent Air Pollution Effects on Skin
Here are few ways you can deal with air pollution and its harmful effects on skin:
Wash your face twice or thrice a day.
Double cleanse your face using an oil-based cleanser followed by a water-based one.
Apply sunscreen whenever you step out.
Wear a scarf and sunglasses.
Use micellar water or hydrating cleanser for cleansing makeup, dirt, and grime without drying off skin.
Once a week, make use of a scrub that contains Vitamin A and C recommended for removing dead skin cells.
Always apply a night recovery cream before bedtime-a cream that offers antioxidant protection is a good choice.
When buying skin care products, always select the ones that contain antioxidants and multi-vitamins.
For instant skin refreshment, use aloe vera.
Drink plenty of water and snack on fruits daily.
Get 7-8 hours of uninterrupted sleep daily.
What Ingredients to look for while selecting anti-pollution skin care products?
Anti-oxidant rich serum, mist, and night recovery cream to repair skin damage.
Face wash which cleanses skin, de-clogs pores, and repairs skin's outer layer.
Sunscreen which protects against UV rays and infrared radiation.
Night cream containing retinol to fight off ageing signs.
Here's our edit of products that will keep your skin looking fresh and fabulous all day long.
Our top picks featured below are those that work most effectively while protecting your skin from environment pollutants.
Here are our top 15 picks:
1. Clinique Pep-Start Double Bubble Purifying Mask
Clinique pep-start double bubble purifying mask is a refreshing facial product that instantly bubbles onto skin for a deep cleansing and purifying experience. This pink gel-mask turns into a thick layer of bubbles for getting rid of oil, dirt, and debris. The bubble foam helps to smooth out skin's texture for a radiant and purified look.
Key Benefits:
Dullness and uneven skin tone
Skin Type:
How to use:
Shake the product well and apply an even layer of makeup free skin.
Leave on for two minutes.
Massage well using warm water.
Pat dry and moisturize skin.
Ideal to use twice or thrice a week.
2. L'oréal Paris Hydrafresh Anti-Ox Grape Seed Hydrating Aqua Balm
L'oréal Hydrafresh Aqua Balm contains powerful antioxidants to fight against dryness and dullness. This hydrating facial balm is enriched with double hyluronic acid & Lipidure to boost skin's hydration levels.
Key Benefits:
Fights skin dryness, dullness, and fragility
Moisturize dry skin and keeps it hydrated
Neutralize free radicals caused by daily pollutants
Rich in effective antioxidants
Skin Type:
How to use:
Simply dot your face with the facial balm.
Apply before using your sunscreen for maximum protection.
3. The Body Shop Vitamin C Skin Boost
This instant skin smoothener contains Vitamin-C rich Amazonian camu camu berry and Community Trade Brazil nut oil to work along skin-smoothening.
Key Benefits:
Contains Amazonian camu camu berry, which has one of the highest contents of vitamin C in nature.
Antioxidant vitamin C brightens skin, encourages collagen production, improves elasticity, and works along with skin-softening vitamin E to protect skin from environmental aggressors.
Community Trade Brazil nut oil moisturizes and softens skin.
Skin Type:
How to use:
Apply in an upward, circular motion after moisturizing for a smooth and healthy glow.
4. Pond's Pure White Anti-pollution Facewash
Pond's Pure White Anti-pollution face wash provides you an effective way to get radiant skin. It is infused with active ingredients to cleanse your skin thoroughly. This anti pollution skincare can penetrate deep into your skin cells to remove clogged dirt, dust, and grime.
Key Benefits
Pond's Pure White Anti Pollution Face Wash reveals radiant and flawless skin
This face wash is infused with active ingredients to provide clean skin underneath
It penetrates deep into your skin cells to remove clogged dirt, dust and grime
It revitalizes skin for younger and smoother skin
The face wash cleanses deep layers of dead skin cells
Skin Type:
How to use:
Massage well using cold water.
5. Kiehl's Cilantro & Orange Extract Pollutant Defending Masque
Kiehl's masque is a protective and replenishing, overnight face mask. It is formulated with cilantro and orange extract to strengthen skin against environmental pollutants.
Key Benefits:
Dullness and uneven skin texture
Replenish skin to reduce visible effects of pollution
Skin Type:
How to use:
Apply a thick layer of the face mask after cleansing and moisturizing.
Leave on for five minutes and wipe off.
Pat off excess while leaving a thin layer on skin to work overnight.
Can be used thrice per week at night time.
Continued use can treat dull and unhealthy skin.
6. Vichy Idéalia Life Serum
Vichy Idéalia can brighten plump skin caused by daily pollutants through daily stress and fatigue. This serum is also ideal for those with oily skin.
Key Benefits
Smoothing and renewing properties
Mild exfoliating effect for softer skin
Contains 15 minerals for strengthening skin's moisture function
Skin Type
How to use
Apply a pump of serum over face in the morning and night.
Use it alone or under a moisturizer.
7. Clarins Extra-Comfort Anti-Pollution Cleansing Cream
The clarins uv plus anti pollution formula is enriched with extracts of purifying Moringa and nourishing shea and mango. This ultra rich cream is effective for restoring skin's purity, radiance, and comfort.
Key Benefits:
Removes makeup and impurities
Protects skin from harmful effects of pollution
Nourishes, softens, and hydrates
Skin Type:
How to use:
Massage cream onto skin both in the morning and night
Rinse off using warm water
8. Innisfree Smart Foundation
This is a high coverage foundation specially formulated for perfectly concealing skin imperfections. It has a smooth, long lasting coverage and includes the goodness of Jeju mineral powder and green tea.
Key Benefits:
Gives a smooth, flawless coverage
Covers all blemishes, dark spots and various skin imperfections
Has skin refreshing ingredients like Jeju mineral powder and Jeju Green tea.
Skin Type:
How to use:
Apply an appropriate amount of product onto face.
[sc:mediad]
9. Lancôme UV Expert Youth Shield Aqua Gel SPF 50
This skin formula is enriched with a powerful filtering system YOUTH SHIELD™ that effectively protects skin from ageing.
Key Benefits:
Protects against darkening
Skin Type:
How to use:
Apply this formula after cleansing face daily.
10. Organic Harvest Protection Pollution Defense Cream
This non-sticky formula has effective properties that supports skin's repair mechanism and reduces UV damage as well. It can also strengthen skin's defense system effectively.
Key Benefits:
Keeps skin young, clean, and flawless
Protects skin from pollutants
Contains no artificial color or fragrance
Skin Type:
How to use:
Apply cream generously using fingertips onto face and neck in upward strokes.
Ideal for useing twice a day.
11. REN Flash Defence Anti-Pollution Mist
This anti-pollution mist can instantly form a protective barrier to shield skin from ageing signs. It can diminish the appearance of dullness and fatigue signs. Regular application of this mist can help to reduce the appearance of premature ageing caused by pollutants.
Key Benefits:
Skin Type:
How to use:
Apply one or two pumps of the fine mist onto face, neck, décolleté and hair before exposure to pollutants.
Reapply this mist over moisturizer or use after makeup.
12. Murad City Skin Overnight Detox Moisturizer
This formula is boosted with antioxidants from marrubium plant stem cells for detoxifying skin and for visibly reducing lines. It detoxifies and revitalizes skin while sleeping. The presence of Vitamin C helps to brighten skin tone while nourishing botanicals visibly reduces fine lines and wrinkles. You can use this formula daily for waking up to radiant looking skin.
Key Benefits:
Dullness and uneven texture
Skin Type:
How to use:
Massage the cream evenly on face, neck, and chest.
13. Decléor Hydra-Floral Anti-Pollution Hydrating Gel Cream
The Hydra Floral Moisturizing Gel formula deeply hydrates skin tone. It has a 70% water-based texture for optimal skin hydration. Its lightweight gel can even out your complexion. Rich with Moringa Oleifera Extract, this gel-cream provides skin with a protective layer to defend against pollution.
Key Benefits:
Skin Type:
How to use:
Apply this rich formula onto face, neck, décolleté and hair before exposure to pollutants.
Reapply this moisturizing formula over makeup.
Ideal to use once or twice a day or as required.
14. SkinCeuticals C E Ferulic
This is a rich antioxidant serum with a blend of Vitamin C, Vitamin E, and ferulic acid. It contains effective antioxidants to help prevent sun damaged skin, wrinkles, and dark spots. This formula has also won Best of Beauty Award three times in a row.
Key Benefits:
Protects against free radicals
Skin Type:
How to use:
It has a clear, pale-yellow liquid that fades quickly.
The formula leaves a sticky film until you apply moisturizer or sunscreen on top.
15. Shiseido Anti-Aging UV Care Urban Environment UV Protection Cream SPF 30
This anti pollution cream shields the skin from harmful environmental aggressors. The product spreads easily and provides long-lasting moisture to the skin.
Key Benefits:
Skin Type:
How to use:
The product spreads quickly and offers long-lasting moisture to the skin.
Ideal to be used as a makeup base for a flawless finish.
Easily cleanses off with daily cleanser.
These are our top 15 picks of anti pollution skincare products. Have you been using any? Do let us know of your favorites.