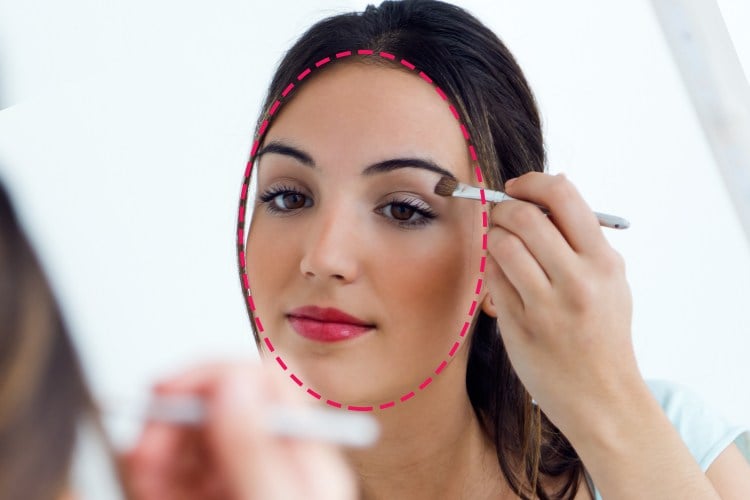 Makeup, as we all know, is a woman's best friend. When applying makeup, your face shape also plays an instrumental role. And good makeup application plays an important role in getting you the right look.
Otherwise, it can turn out to be a disaster. If you are blessed with an oval face you already have a chiseled visage. So you don't need to do much contouring. It is just that your makeup needs to accentuate your looks. Half the battle is won naturally for you!
The basics of makeup for oval faces also depend on many factors – your skin type, your skin tone and your face cut.
In the words of NYC-based makeup artist Sonia Kashuk "The best thing about having an oval face shape is that you don't need to work with makeup to try to fix anything. Instead, focus on bringing out the angle".
She further adds "Playing up your best features is the goal here, as nothing about the face shape is extreme or needs to be balanced".
Says makeup artist, hairstylist and author Eva Scrivo, "Many models have oval-shaped faces, and talent agencies often seek it out. The symmetry photographs do exceptionally well due to the balance of bone structure at every angle."
Smart observations from both the makeup artists (more will follow as you read along).
And so, the bottom line??
Oval faces have a proportionate shape that works great with just about any makeup trend.
Now that we have inputs from two makeup pros, here are some guiding words on enhancing the glam appeal of oval faces – 8 top makeup tips for the oval face that actually work! Read them and see how you go attracting eyeballs, rather than looking out of place. Ready?
1. Stay Loyal To Your Normal Foundation:
Most of the makeup tips for oval faces sometimes need you to change the color of your foundation. At times even change the brand name.
Don't do it.
You don't have to change the foundation color of the brand you are using just because you are oval-faced. All you should concentrate on is applying simple foundation for oval face. And see to it that it is the one which is closest to your skin tone.
Says Jessica Lauren, New York makeup artist "If you want to make your face appear a little bit shorter and thinner, you can apply foundation [along your jawline] one shade darker than your natural skin color."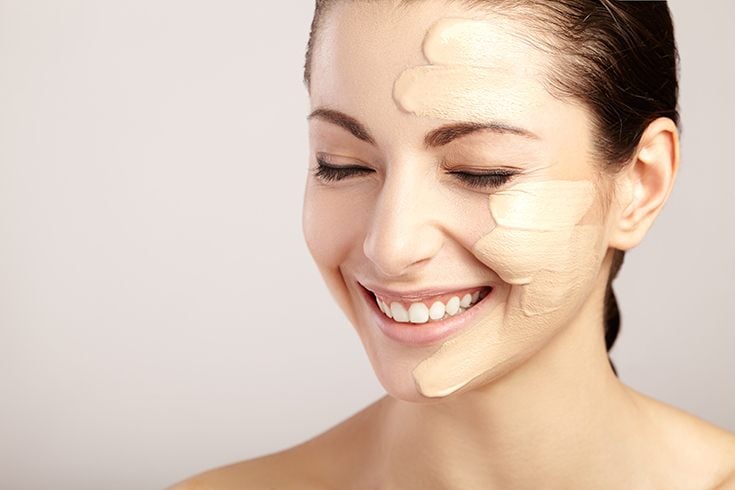 2. Focus On Only One Feature:
Two things – eye makeup for oval face and lip makeup should not be done at the same time.
Most of the oval faces are proportional from the jawline right up to the forehead. If you have a flashy lipstick to show off, tone down your eye makeup.
In fact, this is one of the 8 top makeup tips for an oval face which ladies tend to forget or skip.
3. Do Contouring With Bronzer :
Actually, with oval faces, you don't need much of contouring. That doesn't mean you completely avoid it.
Do a little bit of contouring around your cheeks and you will see a huge difference in the way your face looks.
This is an awesome makeup tip for oval faces.
4. Enhance Your Eyes:
Suppose you want to forget doing lip makeup. No problem, get into doing eye makeup for oval face. Drawing people becomes easier when you play up your eyes with pinks, reds, purples, and greens.
Remember one thing–
When you are busy highlighting your eyes, tone down on the lips.
You don't want to mess up your makeup and look like a Christmas tree, right?
5. Keep The Natural Arch Of Your Brow:
Flaunt your curves, and by that we mean your brows to make the most of your face shape.
An arched brow will up your glam quotient and make your face cut look super hot.
6. Plump Up Your Cheeks:
Cheeky Affair! All oval-faced lasses might find their cheeks left out a bit. Cheekbones, as you know, occupy the widest part of an oval face. So highlighting your cheekbones is the biggest factor which can "make" or "break" the overall look.
Since "BLUSH" is the most under-utilized product when it comes to makeup, do use it a little.
When you put a pink hue on your cheeks, it will add a rosy glow and increase your feminine charm.
[sc:mediad]
7. Lip Gloss:
Saw something?
We have covered almost all parts of your face except the lips.
Did you know, a lip gloss is a fantastic product when it comes to makeup tips for an oval face? Either way, it works – when you are using a lip gloss to tone down the lips or you want to make them shine.
So, whenever you feel you have been constantly criticised for lip makeup, then all you need to do is add plenty of drama to your lips by using dark lipstick shades, lip glosses, and sparkles.
While highlighting your lips, keep your eye makeup simple.
8. Bring Out Your Best Features:
The highlighter is one blessed thing, I tell you. Use it in the center of your forehead and on your chin to bring these "not so hidden" areas of your face forward and prominent.
Add a little bit of the highlighter at your temples, and blend it downward underneath your eyes.
If you want your cheeks to look a little more chubby, then add one darker shade of bronzer or blush in the hollow space under your cheekbones. Balance it off by adding a lighter shade of the bronzer on the apples of your cheeks.
In all oval faces, there is one thumb rule to follow while doing the makeup – how the width of your forehead, cheekbones and jawline measure up to one another. Academy Award winner Reese Witherspoon is a perfect example of a heart-shaped face, wide forehead, high cheekbones, and a pointy chin.
So all girls out there reading this post, I hope you liked these 8 top makeup tips for oval face and will use them to look like a diva the next time you are stepping out to paint the town red. Tell us if you have any more beauty tips to share by writing in the comment box below.