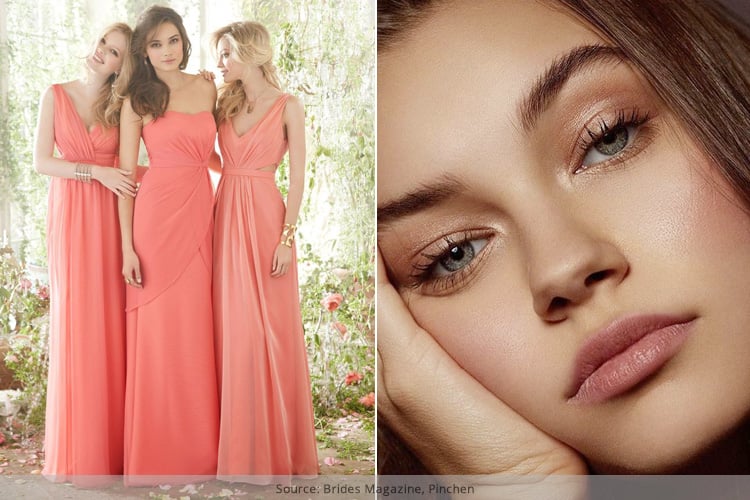 Are you planning to wear a coral dress for a special occasion? Then it is essential that you pair your gorgeous coral dress with the perfect makeup to turn into a head-turner. The good news is that a coral colored dress compliments all skin tones and hair colors. And using the right makeup can add that dash of glamor to your look.
Most women make use of light subtle makeup to blend in with their coral dress. But you can also add more drama to your makeup with some bold choices. Read on to learn more about makeup tips for a coral dress.
4 Makeup Tips To Follow While Wearing A Coral Dress:
If you are a fashionista or a makeup queen you are gonna love these super simple makeup tips that will help you metamorphose from the girl-next-door to a dream diva next time you wear a coral dress and step out to paint the town red. What are you waiting for? Go ahead and check them out!
1. Base Coverage
The coral colored dress is the most favorable color to suit any skin tone. So the good thing is you do not need layers of concealer and foundation to pancake your face. Instead, you can select a concealer that matches your skin tone.
Use a concealer brush or your fingertips to dab concealer underneath your eyes.
Apply concealer in the shape of an upside down triangle. Draw the inverted triangle under your eyes until your cheekbone and nose area to camouflage your dark circles. Blend the concealer well.
Once you are done with the concealer application, apply a tinted moisturizer to your face. Select a moisturizer that suits your skin type.
If you have a pale skin tone, then you can make use of a darker shade of foundation. This can bring about a warmer tone to your face.
Finish off the base makeup with a translucent powder.
This base makeup can give you a fresh and dewy look without going OTT.
2. Tone Down The Lips
If you are wondering what color lipstick to wear with a coral dress, you can select a nude lipstick to perfectly blend in with your coral dress. You can also go for a glossy coral lipstick to match with the dress. Look up for a shade that has a similar color as your dress or a shade darker than your coral dress.
During application, trace the outline of your lips using a nude liner and fill it up with a lipstick of your choice.
A nude or a light peach lip color will be perfect for a formal do or a wedding reception.
3. Dramatic Eyes:
A coral colored dress looks best with bold, dramatic eyes. A smoky eye makeup using metallic eyeshadows, for instance, calls for instant glamour. Here are a few tips for the perfect eye makeup for a coral dress:
Prime your lids before applying a light metallic eyeshadow of your choice. An eyeshadow in a creamy formula works best for the base.
Line the top inner rim and top lash line using a black pencil.
Buff out the liner so that it's smudged out and begins to fade up. Make use of a long-lasting eyeliner that has a pointed tip and smudger at the end.
Mix a taupe and a taupe-metallic pigment to create a rich metallic color. Blend the two shades on your eyelids using your fingertips lightly. Do not use a brush for this as it can create a messy look.
Contour the crease of the eyelids by making use of a blending brush and soft gray color. Use a darker shade of gray on the outer corner of your eyes.
Make use of an angled liner brush to apply the deep gray shadow in the lower lash line.
Wet your angled brush before dipping it in the gray eyeshadow because this can ensure that the pigment can be applied easily.
Then use the black pencil to line the lower inner rim.
Play up your eyes using a half strip of wispy false lashes and apply them to the inner corner of your eyes to create the smoky look and look like a ramp scorcher.
4. Highlight Your Facial Assets
You can add a bronze glow to your face to glam up your look while wearing your coral dress for a date night. To get the perfect glow, you can choose the perfect highlighter. This can include a cream concealer, contouring makeup, foundation, highlighter, translucent powder, blush, and high-quality makeup brushes.
[sc:mediad]
To create a glowing complexion, you need to highlight the center of your face. For this reason, you need to create the effect by applying a creamy concealer which is one shade lighter than your skin tone.
Make use of short strokes and a concealer brush while applying the concealer in the middle of your forehead, nose, along brow bones, underneath your eyes, and center of your chin.
After that, use contouring makeup for creating depth. Use light strokes with a tapered contour brush to create a straight line under your cheekbones to add more definition to your face.
Next, use a foundation with a liquid or creamy consistency to add luminosity and glow to your skin.
For a pop of color on your cheeks, select a blush that is close to your natural skin tone. Blend the color onto the apples and upward toward your temples.
Add a shimmery highlighter to draw attention to your bone structure. Apply it onto the middle of your forehead, center of your nose, and cheekbones.
For the final touch, apply translucent powder to set the look.
Hope you enjoyed reading these makeup tips for the coral dress! You can also try these tips as prom makeup ideas for the coral dress. Now that you know how to wear the right makeup for the coral dress, which of these tips will you try? Write your comments below.