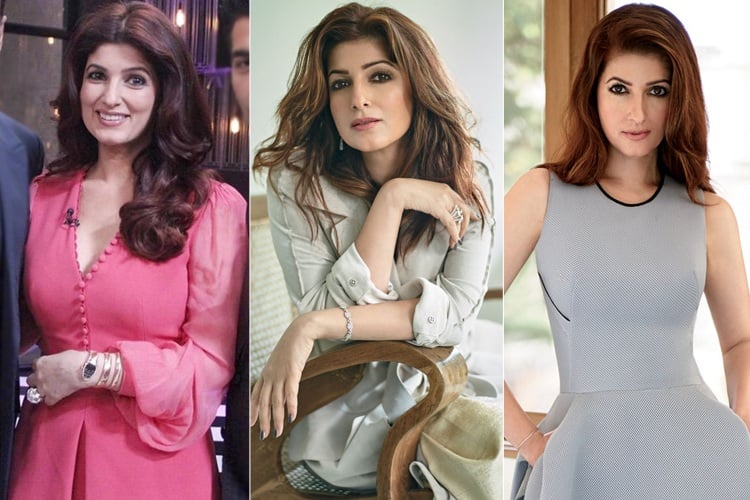 Twinkle Twinkle, You are still a star.
She's witty, she's sassy and she is everything a star wife should be. She is bold and does not shy away from speaking her mind.
Gorgeousness combined with an epitome of style is what Koffee with Karan, Season 5 brought on screen last Sunday. After a whole lot of effort by host Karan Johar, for the first time ever, Akshay Kumar and Twinkle Khanna, together graced the television on the second episode of B-Town's most sensational chat show.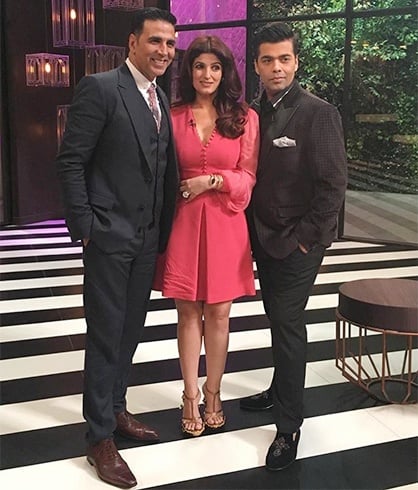 While Akshay continues to mesmerise us, it was Twinkle Khanna aka Tina who totally stole the show. Candid, opinionated and graceful to the core, the lady wooed us with her impromptu responses and that witty sense of humour. And yes not to miss, her chunks of solitaires adding all that sparkle to her persona.
We have to admit with much candour, Twinkle accepted that movies was never meant for her and that she was a horrible actress of sorts. In a way we are glad that Tina made a timely exit from the tinsel town and restored her career as an interior designer and now an established and popular writer.
Courtesy the lady's intellect Mrs. Funnybones is blessed with an immaculate ability of putting across societal facts adding in a distinct humour element. Tina actually forces her readers to ponder over the smaller aspects of life yet ensuring the reader leaves the book with a light heart.
[sc:mediad]
One vast distance Twinkle has traversed from her Mela days, is with respect to her personal style. Today Twinkle is counted among the top dressers in B-Town, with her confidence soaring higher with every passing day.
The lady definitely knows how to deck up the classy way. With few of her past spotting we noticed her extraordinaire with respect to dressing up just right for the occasion.
The lady seems loyal to the strictly no over dressing rule. Sophistication, panache and mostly an endearing colour palette seem to be her defining guidelines.
Be it casual chic or the desi attire, Twinkle Khanna carries all outfits with much ease and style. We give all the credit to her slender frame and her charming persona.
Top Looks Of Twinkle Khanna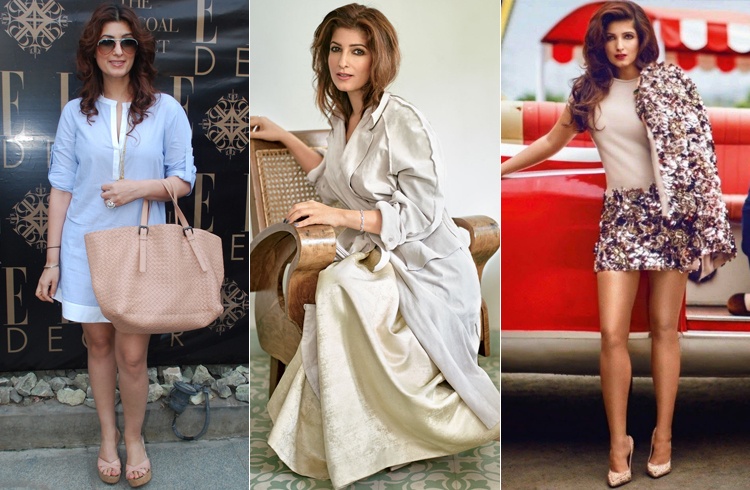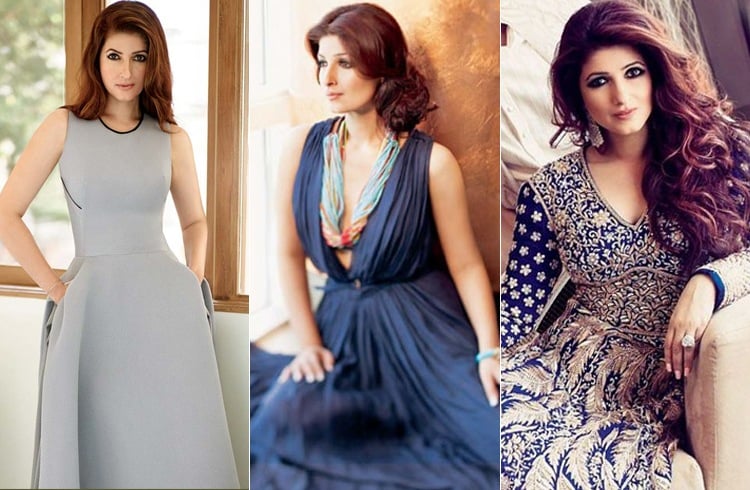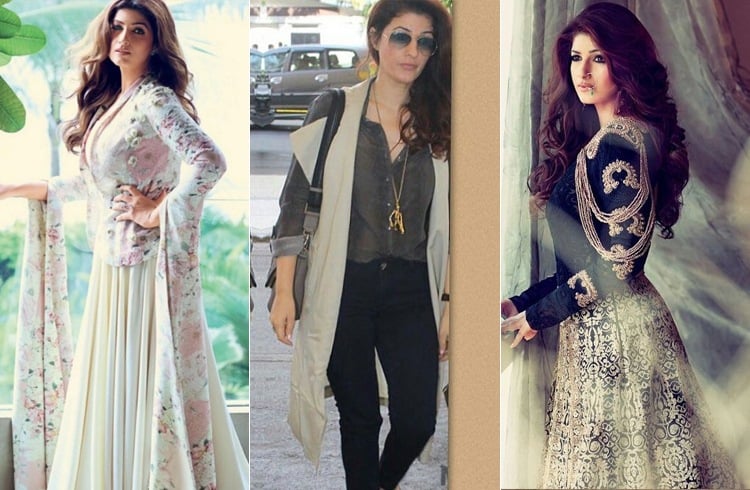 For her debut on the Koffee with Karan couch, Twinkle dressed up pretty in pink. Senior editor Vogue, Priyanka, draped her muse in a knee length number from Alexander McQueen. The complimenting accessories from Bulgari surely added the royal touch to Twinkle's appearance. Rocking the plunging neckline with a pair of solitaire earrings and ring, Twinkle redefined her class.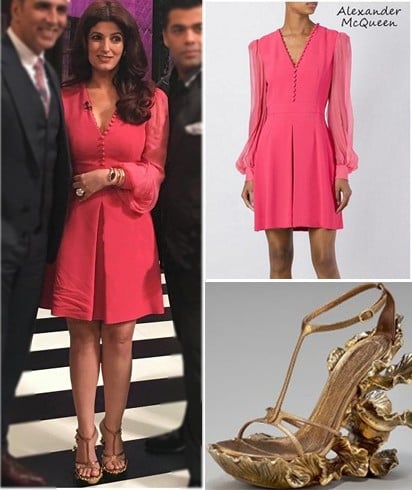 The episode was a power packed one with a host of revelations, stories, fun filled moments topped with a romantic moment created by Akshay for his beloved.
With the show being all about interesting revelations this episode too gave a peek into the secret life of Twinkle Khanna.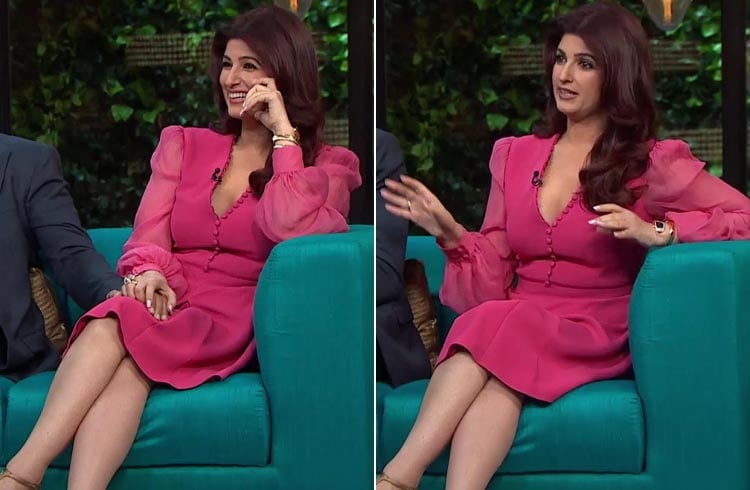 Did You Know
Twinkle was arrested for unbuttoning Akshay's denim during the Levis Unbuttoned Show and the case is still ongoing.
The cupid that led to their marriage was actually Twinkle's movie Mela. The condition being, if the movie failed, Twinkle will marry Akshay. Had the movie been a success, we did probably not have this couple.
Dimple Kapadia refused for the marriage thinking Akshay was a gay. The couple had to spend a year together to tie the knot.
Every column Twinkle writes is proof read by Akshay and the hubster is supposed to even rate the column on a scale of 10.
Instead of matching kundalis Twinkle Khanna actually resorted to studying the genetic history of Akshay's family. The lady had made two charts defining the diseases and genetic abnormalities running in his family and the other one defining pros and cons of marrying Akshay Kumar. Well indeed progressive thinking lady.
For the first birthday after the duo started dating, Akshay gifted the lady a crystal paperweight. Ahem! It was simply courtesy his short term memory combined with no time to shop. But Tina surely got things going her way demanding for a solitaire of the same size in lieu of this mishap. Ladies afterall.
Karan Johar and Twinkle Khanna were childhood buddies and have been schooled at the same boarding school in Panchgani.
She was named Twinkle for the sole reason of having her name rhymed with her mother and aunt, Dimple and Simple. The other two probable options were Sparkle and Sprinkle.
Both Akshay and Twinkle sleep by 9 and are up with the first light of the morning.
If you still haven't got a taste of Twinkle Khanna's wit, then scroll through her responses to the famous rapid fire questions. We bet you will understand why we are in love with this beauty. Both Karan Johar and Akshay Kumar were left speechless when the diva spoke.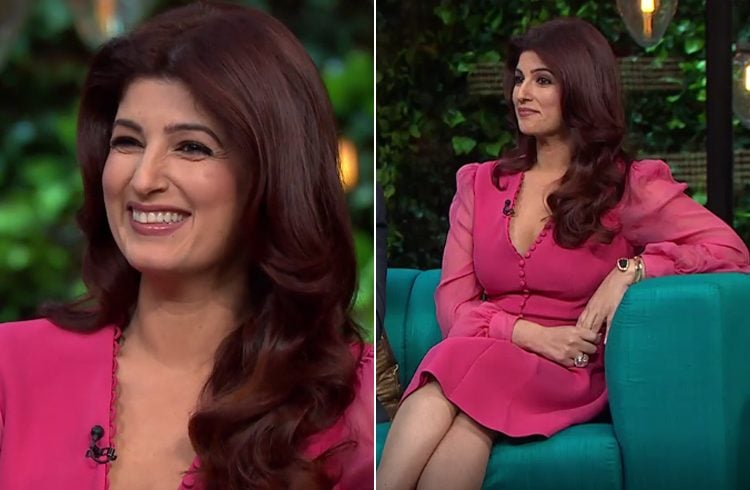 Mrs. Funnybones Top Rapid Fire Moments On Koffee With Karan
K : What does Akshay have that the other Khan's do not have?
T: A few extra inches! Well she meant his foot size, that's 12.
K: If you wrote a book on Bollywood, it will be titled?
T : Tentacles to Testicles
K : Women find Akshay sexy because?
T : He looks like he is built to last.
K : The meanest thing one has said about your writing?
T : When you started writing columns they said Karan Johar is the new Mrs. Funnybones.
We have always admired Twinkle's fashion picks, but after this interaction over Koffee with Karan, we are totally swayed by the politically incorrect Tina. Karan, we cannot blame for having Twinkle as the first and last Lady love of your life. She is indeed a stunner.
[Also Read: Best Dressed Celebrities On Koffee With Karan]
Do give Twinkle's second book, Mrs Funnybones The Legend of Lakshmi Prasad a read. We are sure this one will be equally flattering and will leave you in splits.