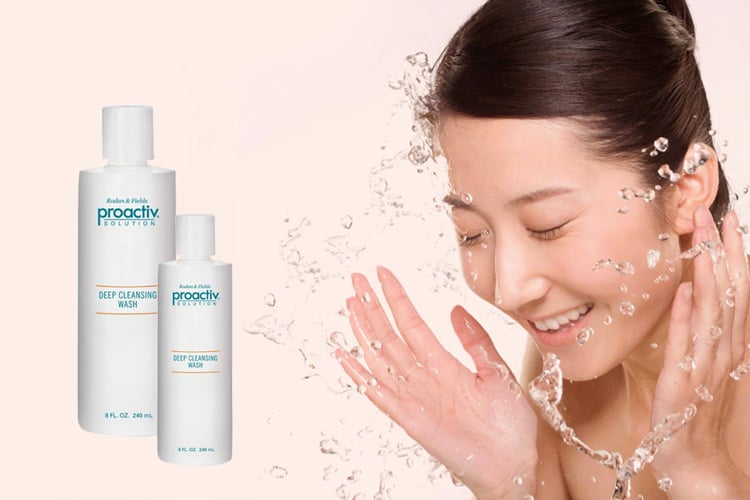 Acne is not just bound to teenage years or puberty, unlike the common notion. However, they do appear predominantly at this time. Along with onset of puberty hits a freight of physical changes and this is boosted by alteration in hormone levels. Though acne is the bane of adolescent years, it is not absent from adulthood days either as changes in hormonal level can affect any age group. Reasons could be many; be it stress, lifestyle, developing of PCOS or other health ailments – could affect hormone levels of an individual, on setting acne outbreak, excess sebum production and more.
However, many over-the-counter and prescription drugs are available to help you sail through these difficult times. Change in lifestyle along with right tropical treatment can completely heal acne problems.
We shall discuss one such product – Proactiv deep cleansing wash, its review, effectiveness and how the formulation works to give you clean, clear skin.
What Is Proactiv All About?
Proactiv is a widely known product for acne treatment which has also been endorsed by a number of celebrities. It easily makes to any list of top acne treatment solutions available today. Created by dermatologists Katie Rodan and Kathy Fields, Proactiv compares against other top scoring acne treatments and emerges as the crowd favorite.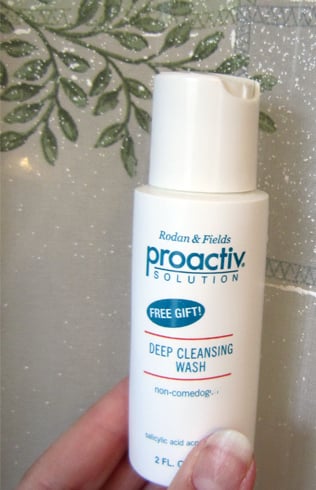 What Makes Proactiv So Effective?
Proactiv is one of the world's largest producers and marketers of acne prevention products for acne-prone skin. What sets the Proactiv products apart is the fact that they work on both facial and body acne. The company claims that its fresh formulated acne products heal acne faster and are gentler than any other Proactiv acne treatment products that have set foot in the industry before. The company also claims that the reformulated acne products come with fewer side effects than ever before.
But the question still is do they really work? Let's have a look at the leading Proactiv acne action products one by one.
1. Proactiv Deep Cleansing Wash
The Deep Cleansing Wash may cost you a little more than comparable products but it seriously works wonders on acne prone skin. This Proactiv product combines salicylic acid, a deep action skin peel that contains polyethylene beads which make it a useful skin scrub. But, as per Proactiv deep cleansing wash reviews, the problem with this Proactiv face wash is that you tend to rinse off the salicylic acid down the drain before it has a fair opportunity to peel the dead skin from the openings of pores. You can help yourself by rubbing the cleanser a little longer than usual. This Proactiv solution deep cleansing will help you get pimple free, glowing skin.
2. Proactiv Solution Advanced Blemish Treatment
This Advanced Blemish Treatment contains 6 percent benzoyl peroxide which is strong enough to kill acne bacteria on contact and fights pimples like a pro. A lot of people have doubt over the strength of the benzoyl peroxide in this over the counter acne products as it can easily cause dryness, stinging, burning, and peeling of skin. The good news here is that the new formulation of Advanced Blemish Treatment has been approved by the US Food and Drug Administration for use. The new formula is less drying and irritating than any old comparable formulation, as it has done away with the alcohol content. You will lose about two thirds of your pimples and one thirds of your black heads and white heads during the very first month itself. This product used along with the Proactiv deep cleansing wash works absolute wonders on your acne.
3. Proactiv Plus
Proactiv Plus is an advanced acne treatment system which has 2.5% benzoyl peroxide along with added medicinal herbs oils, built in hydration ingredients that makes it an all new and smart way to treat acne. The Proactiv Plus is an all revamped 3 Step System that is completely reformulated from the ground up for serving the dual purpose of delivering acne free clear skin and a radiant complexion. The company claims Proactiv Plus is their first ever dual therapy acne and skincare system that has been specifically designed keeping in mind the promotion of healthy pores. The three synergistic steps combine the most powerful acne treatment ever with advanced and effective skincare ingredients.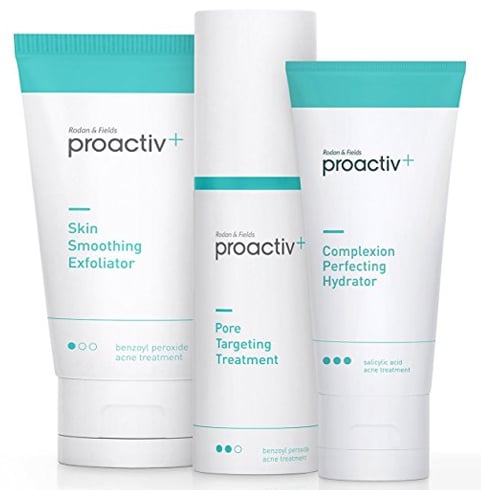 The three steps are given as follows:
Step One: Skin Smoothing Exfoliator
Step Two: Pore Targeting Treatment
Step Three: Complexion Perfecting Hydrator
Though you might find a number of acne treatment products in the market, the Proactiv ingredients are definitely one of the best acne fighting machines available in the market today. Don't believe us? Just take a slight peek into the internet with hundreds of proactive reviews and you can have a look at the number of women and celebrities vouching for the same product.
Images Source: proactiv.com