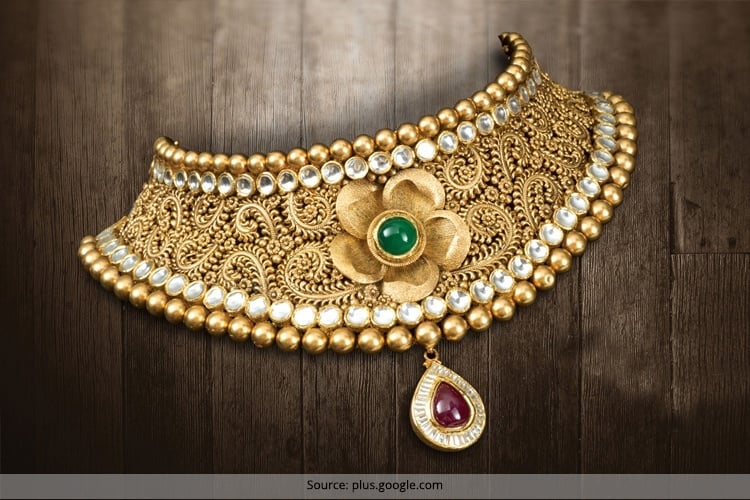 Hyderabad is the city of Nizams and everything is royal about the heritage of this city, the food, the culture, clothing and people. The same stands true when we talk about the jewellery of Hyderabad. The intricacy in the designs of Hyderabadi Jewelry is a charm that has enthralled many. If you land up in this city, you just can't afford to skip on visiting some of the best gold shops in Hyderabad.
hyderabad jewellery shops
Here is a list of a few Hyderabad jewellery shops who might want to visit on your next visit.

[Also Read: Jewellery Shops in Delhi]
Chhaganlal Jewellers
Chhaganlal Jewelers are one of the notable jewellery stores in Hyderabad. They use the best quality of diamond and gold in their products as they aim at nothing but the best for their customers. You can expect to see some of the most intricate yet contemporary designs in Chhaganlals. Their display also boasts some heavy antique style pieces for weddings and other traditional occasions. Chhaganlal Jewellers, with their five outlets in the city, are famous as the utmost pioneers in the designing of expensive pure gold jewellery and prized diamond pieces. Their collection comprises pendants, lockets, necklaces, rings, bracelets, solitaires, bangles, earrings and other accessories. Precisely it is the one-stop where you will get all your hunger for jewellery satisfied.
[Also Read: Where to Buy Pearls in Hyderabad]
Shree Jewellers
Shree Jewellers is yet another chain of jewellery shops in Hyderabad, and enjoys an undisputed reputation when one calls for minute and complex designs in gold and diamond jewellery. Their expertise lies in their broad variety of precious and sporadic jewellery. Shree also specializes in diamond, kundan, solitaire and other gold collections. Uncut pieces are their forte. Apart from diamond, they also deal in other precious stones like pearl, ruby, and emerald. They maintain very high standards when quality is in question and the shoppers of Hyderabad have never gotten a chance to complain about their services.

[Also Read: Kerala Jewellery Designs]

Kirtilals Jewellers
Kirtilals are basically dealers of diamond jewelry. Though they do have a rich manifest of pure gold jewellery too, a Hyderabadi would rather refer to the Kirtilals Jewellers as the diamond buyer's destination. However, it is not limited to the costliest of pieces only. Their spectrum is pretty wide and there is something for every pocket. In fact, Kirtilals are famous for the most exquisite of diamond jewelry at the best and reasonable prices.

[Also Read: Mehndi Artists in Hyderabad]
Krishna Jewellers
For some of the best gold jewelry pieces, you must visit Krishna Jewellers. It serves as the counterpart of Kirtilal Jewelers when the concern in about pure gold jewelry, especially for your darling daughter's wedding. It is a splendid jewelry store and exhibits a spectacular variety of pendant sets, kadas, rings, earring, necklace sets and more. They thrive on the belief that elegance is for everyone and hence they have put forward such pieces which suits one and all. They have been in the Hyderabad jewellery market for over three decades now and enjoy a loyal customership with unquestionable goodwill.

[sc:mediad]
Taruni Jewellers
Taruni Jewellers have employed some of the best craftsmen to come up with extraordinary designs with peerless finishing of detailing. They have earned a high name for their customer service and are always ready to go that extra mile to serve their customers with the best designs and cuts that suit individual personalities. Taruni has a special eye for jewelry in both gold and silver and they are one of the few jewelers that have an extended range of pieces for both men and women. They have a wide display of designs in gents' chains and rings as well, which is what makes the Taruni stand out from the hoard of other gold shops in Hyderabad.

[Also Read: Makeup Artists in Hyderabad]
Kalyan Jewellers
Kalyan Jewellers Hyderabad are not obliged by any mention. They are a brand in themselves and are a celebrated chain of jewelry store throughout the southern part of the country. They are now being recognized and applauded for their marvelous collection of jewelry in other metro cities of India as well. Kalyan Jewellers have grossed themselves a huge consumership in Hyderabad, owing to their extravagant designs that display conventional motifs. Kalyan Jewellers brings high end as well as daily wear ornaments in a widespread price range. They excel in high quality gold products and also sell precious stone studded jewellery for occasional and regular use.

[
Also Read
:
Maharashtrian Jewellery Names
]
GRT Jewelers
The last, yet not the least name in the list of best jewelry stores in Hyderabad calls for the famous G. R. Thanga Maligai, which is popularly summoned as the GRT Jewellers by the Hyderabadis. GRT boasts itself to be the country's foremost jewellery house that brings a striking assemblage of ornaments in gold, silver and platinum for its buyers. It also claims to have some of the finest artisans in the country to craft their jewelry and work on the cuts and shapes of precious stones. The collection of GRT encompasses light-weight pieces for students and office goers on one hand, while on the other they also possess some of the very heavy wedding collections that one could never look away from.

If you are in a mood for a little indulgence in a pleasing extravaganza, you might as well walk into any of these stores any day of the week and buy a little charm for yourself. Again, given that the festivities followed by the wedding season is knocking at the door, this would be a great time to invest in some heavy gold jewelry that you can render as an asset for life. Do keep an eye on the seasonal sale, almost all of them offer on the making charges. Happy shopping ladies, well… gents too!